This is a sponsored conversation written by me on behalf of Meijer. The opinions and text are all mine.
The boneless eye of round roast is a surprisingly tender and lean roast that is perfect for slicing thin and slathering with richly flavored brown gravy.
Oh, the weather outside is frightful, which makes me so delightful... because that means it is time to start talking about holiday roasts! Actually, the boneless eye of round roast makes a phenomenal family dinner or a holiday roast! It is also economical, flavorful, and easy to prepare! What else could you want!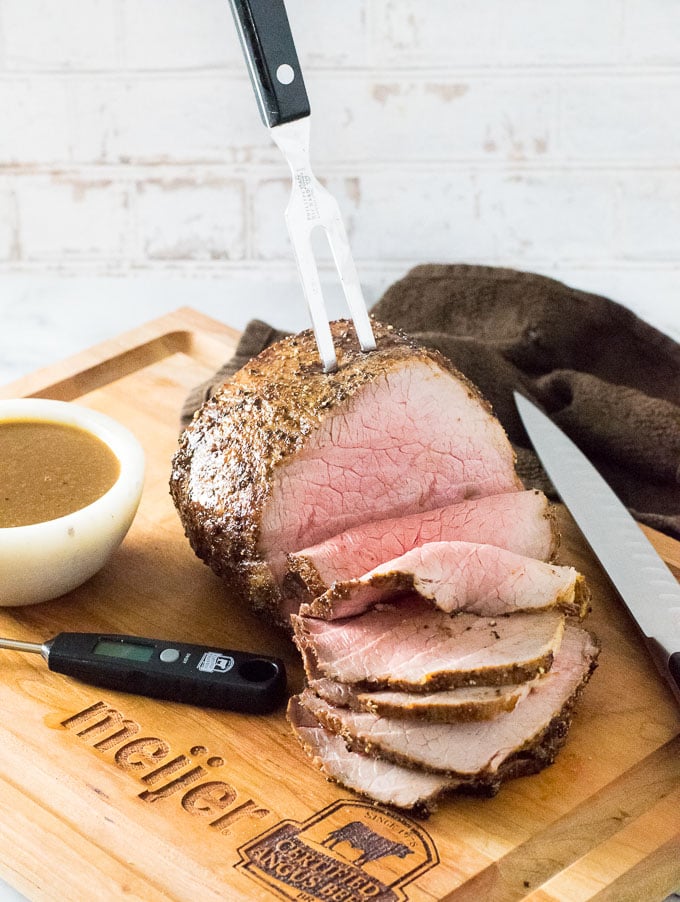 Eye of Round Roast
I swung by the Meijer meat counter and the butcher and I were discussing the various roasts and the uniqueness of the boneless eye round roast, which comes from the rear leg of the cow (because I am a meat nerd and that is my idea of a fun casual conversation). Many inexpensive beef roasts are tough and fatty, destined to cook long and slow until they can finally be shredded, such as a chuck roast used in a Mississippi Roast recipe. However, the eye of round roast is exceptionally lean, yet still miraculously tender and flavorful when sliced thin.
If you want to ensure you are getting the highest quality roasts, I recommend the Certified Angus Beef brand. Not all Angus cattle are the same, only 3 in 10 qualify to be Certified Angus Beef. Strick criteria regarding marbling, size, and age ensure you will get a consistently flavorful eye of round roast each and every time!
How to Roast Boneless Eye of Round
My favorite way to make a boneless eye of round roast is to start it in the oven at a very high temperature to sear the exterior, then shut off the oven and let the interior gently come to temperature. I find approximately 6 minutes per pound at 500 degrees and 25 minutes per pound with the oven off is sufficient for a 3-pound roast reaching medium rare. However, since roasts and ovens will vary, I highly recommend using a digital meat thermometer for your oven from Meijer to keep tabs on your roast while it cooks.
The only easier way to prepare perfect roasts is to use the Roast Perfect app! What is the Roast Perfect app, you say? Well, I am happy you asked! The Roast Perfect app is half miracle, half wizardry, telling you exactly how long to cook pretty much any beef roast in whatever size you purchase! Yes, it is as amazing as it sounds. You simply select the roast you intend to cook, enter its weight and desired degree of doneness, then the app will tell you exactly how long to sear, roast, and rest it for perfect results. Search for "Roast Perfect" on your smartphone's app store to start using it today.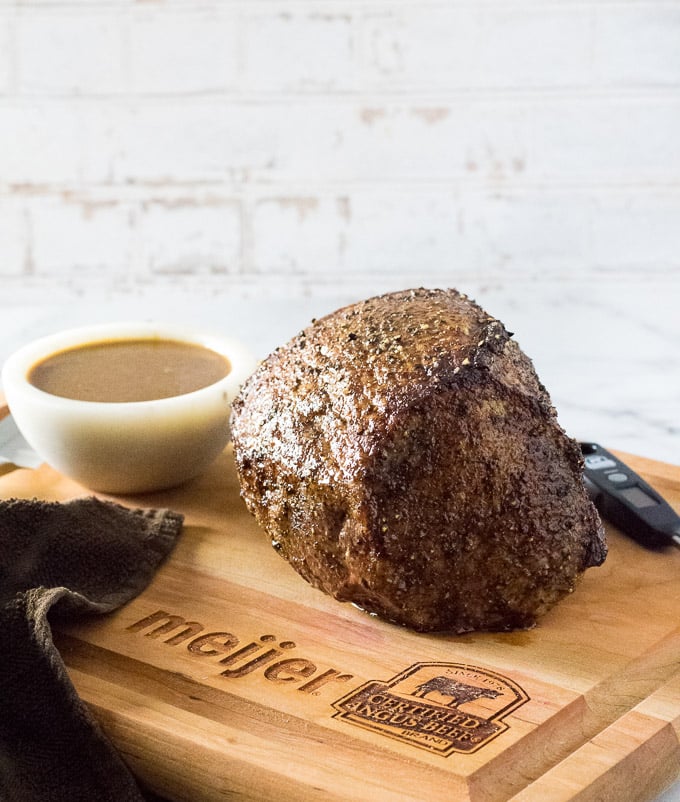 How to Make Brown Gravy
My favorite thing about roasts is the excuse it gives me to eat copious amounts of brown gravy! Many people are intimidated to make their own gravy from scratch but this brown gravy recipe is dead simple. When the roast is done cooking reserve ¼ cup of drippings in the pan and deglaze any burnt on fond with a few splashes of beef broth while whisking to incorporate into the liquid. Then sprinkle a quarter cup flour into the pan and continue whisking to ensure the flour doesn't burn. As the flour cooks and thickens additional beef broth can slowly be added. It is important not to add too much beef broth initially or the flour won't fully incorporate and you will end up with lumpy gravy.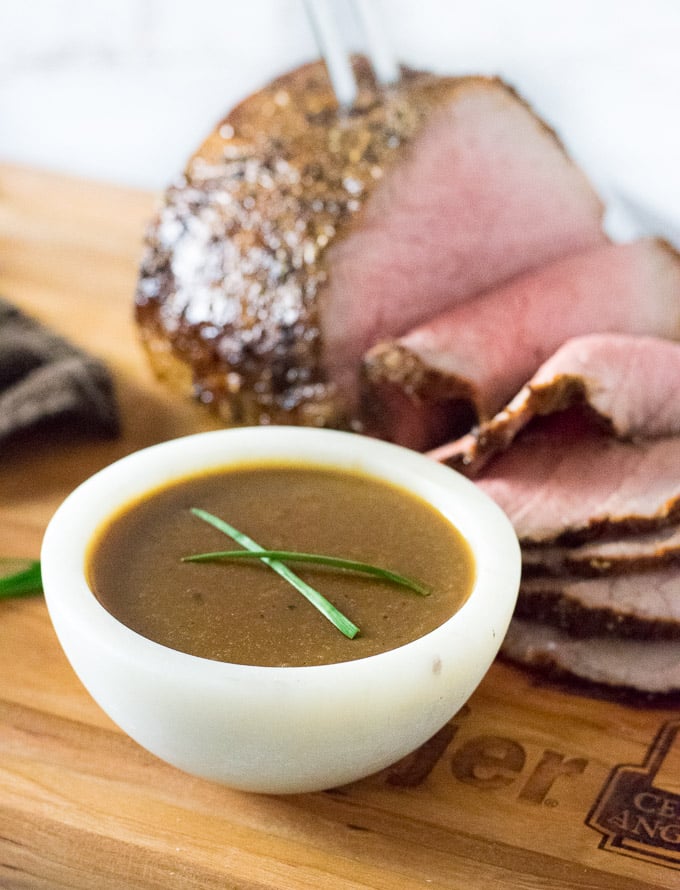 Holiday Roasts
The boneless eye of round roast will certainly make a fantastic holiday roast, however, if you want another suggestion, you can never go wrong with a standing rib roast, the king of holiday roasts! Once again, Meijer is my first stop for a specialty roast like this because even if they don't have it displayed in the meat case the butchers at Meijer are always happy to special cut whatever you are looking for!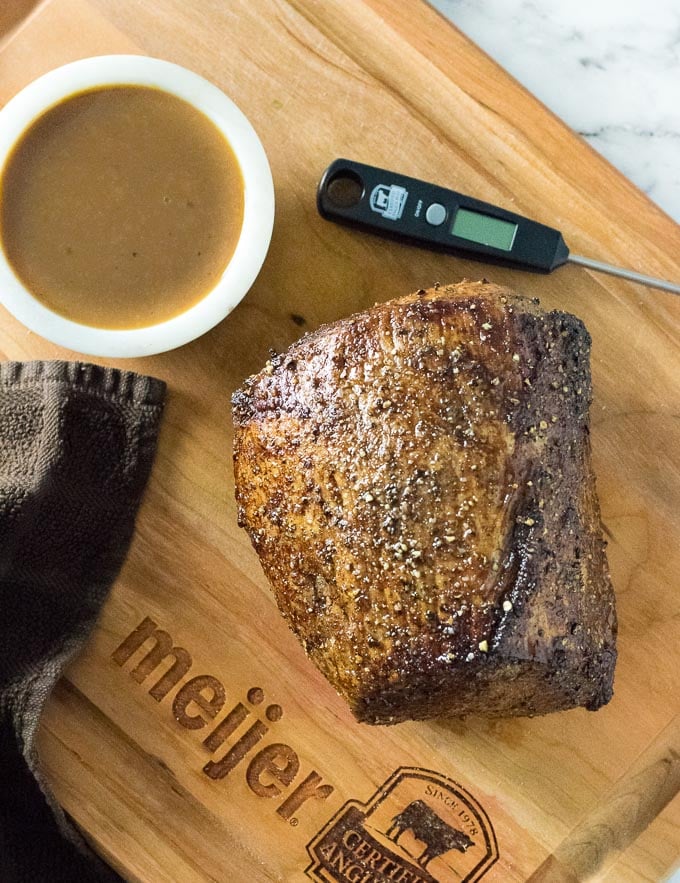 Boneless Eye of Round Roast with Beef Gravy
The boneless eye of round roast is a surprisingly tender and lean roast that is perfect for slicing thin and slathering with richly flavored brown gravy.
Print
Pin
Rate
Save
Saved
Ingredients
Beef Roast
3

lb

Boneless Eye of Round Roast

1

teaspoon

Cooking Oil

Kosher Salt

Black Pepper
Brown Gravy
¼

cup

Beef Drippings

¼

cup

Flour

2

cups

Beef Broth

as needed

Salt as needed

Fresh ground pepper to taste
Instructions
Beef Roast
Preheat oven to 500 degrees.

Rub roast with cooking oil then lightly dust with garlic powder. Season the roast liberally with fresh ground pepper and kosher salt.

Set in a roasting pan and place in the oven for 18 minutes to sear.

Keeping the oven closed, shut off the oven and let the roast continue to cook for 75 minutes, or until the internal temperature reaches 130 degrees, or your desired level of doneness.

Remove the roast from the oven, tent with foil, and let rest for 20 minutes. The temperature of the roast will continue to rise a few degrees while resting.
Brown Gravy
Reserve ¼ cup of beef drippings in the pan (add butter to the pan if there are not enough drippings), then add a splash of beef broth to the pan and whisk vigorously to deglaze the burnt on fond from the bottom of the pan.

Sprinkle the flour into the pan and cook for 4 minutes, while continuing to whisk. Then slowly add remaining beef broth a little at a time to ensure it fully incorporates into the flour. Add fresh ground pepper and salt to taste.

If gravy is too thin, cook it longer. If gravy gets too thick, add a few splashes of water to thin it out.
Nutritional Information
Calories:
498
kcal
|
Carbohydrates:
4
g
|
Protein:
62
g
|
Fat:
23
g
|
Saturated Fat:
10
g
|
Cholesterol:
193
mg
|
Sodium:
590
mg
|
Potassium:
979
mg
|
Vitamin A:
285
IU
|
Calcium:
60
mg
|
Iron:
6.1
mg
If you enjoyed reading my Boneless Eye of Round Roast with Brown Gravy recipe then you should probably like me on Facebook and follow me on Pinterest too. That's what I would do at least, because if you don't get to know me but you still use my recipe it is kind of like taking candy from a stranger, and your mom taught you not to do that. Don't disobey your mom, subscribe to Fox Valley Foodie today.