The floral flavors of gin come alive in this bright and crisp cocktail, craft a Moscow Mule with gin for a refreshing twist on a classic.
Let me tell you how great of a father I am. Yesterday I brought my toddlers grocery shopping to pick up booze for this recipe. Kids shopping for booze always looks good, right? Well, on top of that, my daughter didn't have a winter jacket because my wife accidentally took it to work, and my son didn't have shoes on because the dog hid them on us. I figured I should just wear an old torn jacket so people just thought I was poor, instead of a bad father. Oh well, extra blankets for the win!
Of course, we made it six feet into the store before the cart boy turned to my daughter and exclaimed, "It's too cold for a dress!" Ah, the joy of watching kids while working from home!
What is a Moscow Mule
A traditional Moscow Mule is a classic cocktail comprised of vodka, lime, and ginger beer served ice cold in a copper mug. This drink is occasionally referred to as a vodka buck. The original Moscow Mule was invented at Hollywood's Cock 'N' Bull bar in 1941 when the owner was struggling to sell cases of vodka and ginger beer. The bartender crafted the first Moscow Mule simply as an attempt to clear out inventory.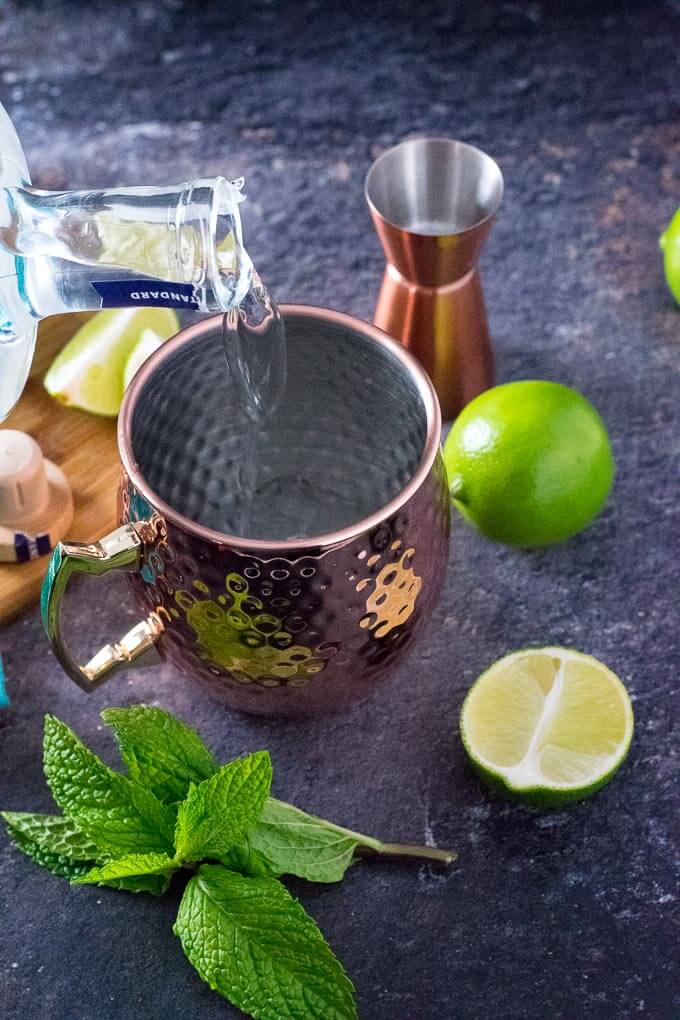 Moscow Mule Copper Mug
The famous copper mugs served with the classic Moscow Mule were the result of a Russian immigrant's attempt to sell almost worthless copper mugs she had made in Russia. Luckily the Cock 'N' Bull purchased them from her in an attempt to make their popular new cocktail stand out.
Today the drink of often served in a copper plated mug. Serving the drink in 100% copper mugs is illegal in some states, such as Iowa, in fear of copper poisoning from the reaction of the copper and the acidic drink.
Moscow Mule with Gin
As with any popular cocktails, variations quickly pop up. I enjoy making a Moscow Mule with gin for the added flavor gin provides over vodka. Mint leaves pair beautifully with the floral flavors of most gins, and a dash of simple syrup provides added sweetness.
Simple syrup is extremely simple to make at home (hence the name), just check out my simple syrup recipe.
Gin Moscow Mule Recipe Customization
As with any cocktail recipe, it is important to customize it to fit your own tastes. Not everyone enjoys the taste of alcohol, so some people prefer it be masked completely, while other's insist it be a starring player.Cut back or add gin according to your tastes. If you are unsure, it is always best to start with less gin and add more as desired.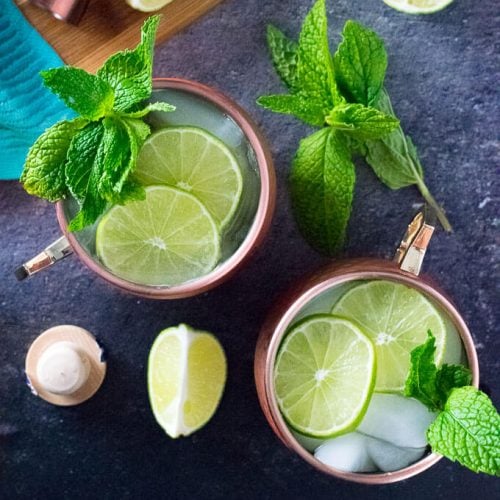 Print Recipe
Moscow Mule with Gin
The floral flavors of gin come alive in this bright and crisp cocktail, craft a Moscow Mule with gin for a refreshing twist on a classic.
Ingredients
7

Mint Leaves

(approximately)

2

oz

Lime Juice

1

oz

Simple Syrup

2

oz

Gin

4

oz

Ginger Beer
Instructions
Muddle mint leaves in a cocktail shaker with lime juice and simple syrup.

Pour liquid into a copper plated Moscow Mule mug filled with ice.

Pour in gin and top with beer. Stir and serve garnished with lime and mint.
Notes
IF YOU LIKED THIS COCKTAIL check out my Gin Gimlet recipe too!
Loved this recipe?

Be sure to rate it and share you thoughts below!
*Calories listed are a vague estimate and accuracy should not be assumed.
If you enjoyed reading my Moscow Mule with Gin recipe then you should probably like me on Facebook and follow me on Pinterest too. That's what I would do at least, because if you don't get to know me but you still use my recipe it is kind of like taking candy from a stranger, and your mom taught you not to do that. Don't disobey your mom, subscribe to Fox Valley Foodie today!