If you find your pantry without baking powder, don't worry. You can easily make delicious pancakes without baking powder using whipped egg whites and a few simple ingredients. Best of all, they still have a perfectly fluffy texture!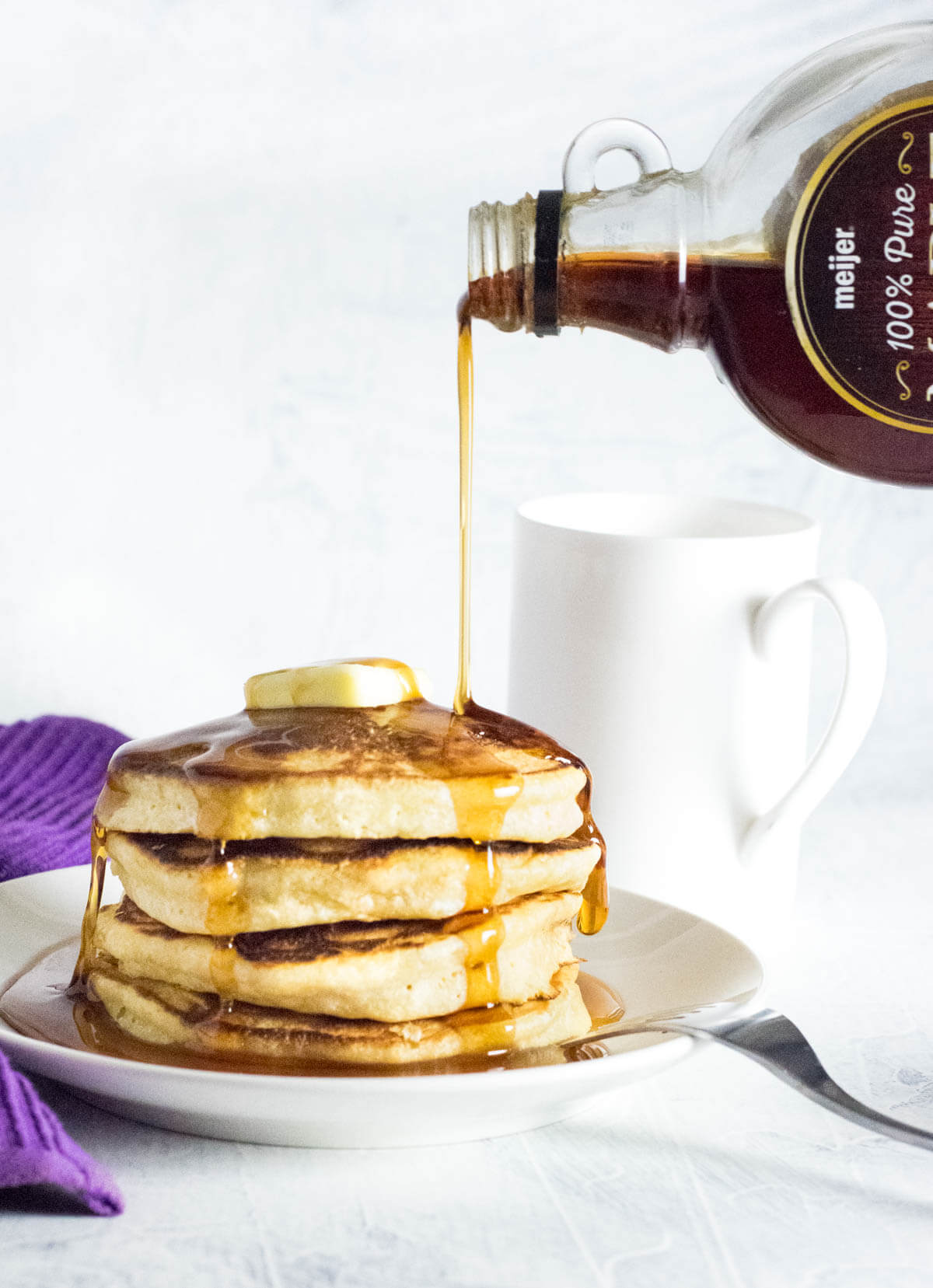 Baking powder is called for as a leavening agent in regular pancakes because it gives baked goods their distinctly light and airy texture. Without baking powder, you would be left with flat, thin pancakes.
However, by beating the egg whites into stiff peaks we can easily replace the airiness needed in your homemaker pancakes without using baking powder. This method even works in traditional pancake recipes if you want extra rise!
Ingredients & Substitutions
All-purpose flour
White sugar
Table salt
Large eggs - You can make egg-free pancakes, but they are the key ingredient needed in this recipe.
Milk - Buttermilk is even better! You can add a squirt of lemon juice to whole milk to mimic the flavor of buttermilk. However, if you have a dairy allergy, you can make pancakes without milk.
Vanilla extract - This is optional and can be left out if needed.
Maple syrup
Butter - Butter is used to grease your griddle, but you can also melt ¼ cup of butter to mix into the batter for added flavor.
How to make them
Make this easy pancake recipe without baking powder by first separating the egg whites from the yolks. The easiest way to do this is to crack the shell in half and then pour the yolk back and forth over a large bowl until just the yolk is left in the shell and all of the whites have fallen into the bowl.
Next, beat the egg whites with an electric hand mixer, or whisk vigorously, until stiff peaks form. This means your beaten egg whites should look like stiff mountain peaks that don't bend down when your whisk is held vertically.
Combine your flour, sugar, and salt in a large bowl. Then mix together the egg yolks, milk, and vanilla extract in a separate bowl. Once combined, add the dry ingredients to the bowl with the wet ingredients and mix to combine.
Note: Do not overmix your pancakes will be dense. You want visible lumps to still be seen. They will work themselves out in the batter and make your pancakes fluffier.
Pour the beaten egg whites into the bowl with the pancake batter then gently fold them in with a rubber spatula. Do not over-mix, or you will press out all of the air bubbles.
Heat your griddle to 350 degrees, and grease the surface with melted butter or olive oil. Pour ¼ - ⅓ cup of pancake batter onto the hot surface and cook until bubbles form, then flip and cook until golden brown. Work in batches as needed until all of the pancakes have been cooked.
Serve these delicious pancakes with butter, maple syrup, fresh fruit, and any of your favorite toppings.
Storing & Reheating Leftovers
Leftover pancakes should be kept in an airtight container and can be frozen or refrigerated. If kept in the refrigerator, they should be eaten within one week. However, they can be frozen for up to three months.
Gently warming pancakes in a 350 degree oven, or in a nonstick frying pan set over medium-low heat, are the best ways to reheat them. However, you can reheat them in the microwave for faster results, but the texture will suffer.
Can you do me a favor? If you enjoyed my post would you mind sharing it with your friends? You can see more of my recipes by liking me on Facebook and follow me on Pinterest too. Otherwise, stay up to date by getting each new post sent directly to your inbox by subscribing today.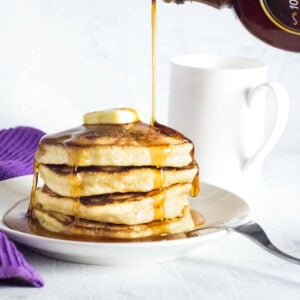 Pancakes without Baking Powder
You can easily make deliciously fluffy pancakes without baking powder by using whipped eggs whites instead.
Print
Pin
Rate
Save
Saved
Ingredients
1 ½

cups

flour

2

tablespoons

sugar

¼

teaspoon

table salt

2

large

eggs

1

cup

milk

1

teaspoon

vanilla extract
Instructions
Separate your egg yolks from the egg whites and place the egg whites in a mixing bowl. Using a hand mixer, beat your egg whites until they turn completely white and stiff peaks form.

In a separate bowl, add the egg yolks, milk, and vanilla extract, then whisk to combine.

Combine the flour, sugar, and salt together in a large bowl, then pour the mixture into the bowl containing the wet ingredients and mix together. Do not overmix, you will want some lumps to be visible.

Add the beaten egg whites to the pancake batter and gently fold them in with a rubber spatula.

Preheat your griddle to 350 degrees and grease with butter.

Pour ⅓ cup of batter onto the hot griddle to form each pancake. Cook until bubbles form on the surface, then flip and let the pancake cook through.

Serve with additional butter and maple syrup for topping.
Notes
This recipe will yield approximately 5 fluffy pancakes. Double or triple the recipe as needed.
Nutritional Information
Calories:
538
kcal
|
Carbohydrates:
90
g
|
Protein:
20
g
|
Fat:
10
g
|
Saturated Fat:
4
g
|
Polyunsaturated Fat:
1
g
|
Monounsaturated Fat:
3
g
|
Trans Fat:
0.02
g
|
Cholesterol:
201
mg
|
Sodium:
410
mg
|
Potassium:
356
mg
|
Fiber:
3
g
|
Sugar:
19
g
|
Vitamin A:
468
IU
|
Calcium:
193
mg
|
Iron:
5
mg
More Delicious Homemade Pancakes