Kartoffelpuffer are German potato pancakes fried up crisp and golden in a skillet and traditionally served with applesauce.
Though this is a traditional German recipe, it is still popular in the United States in areas with German heritage, such as Wisconsin. Requiring only simple ingredients, this recipe is inexpensive to make which may explain part of its longevity in rural areas such as where I grew up.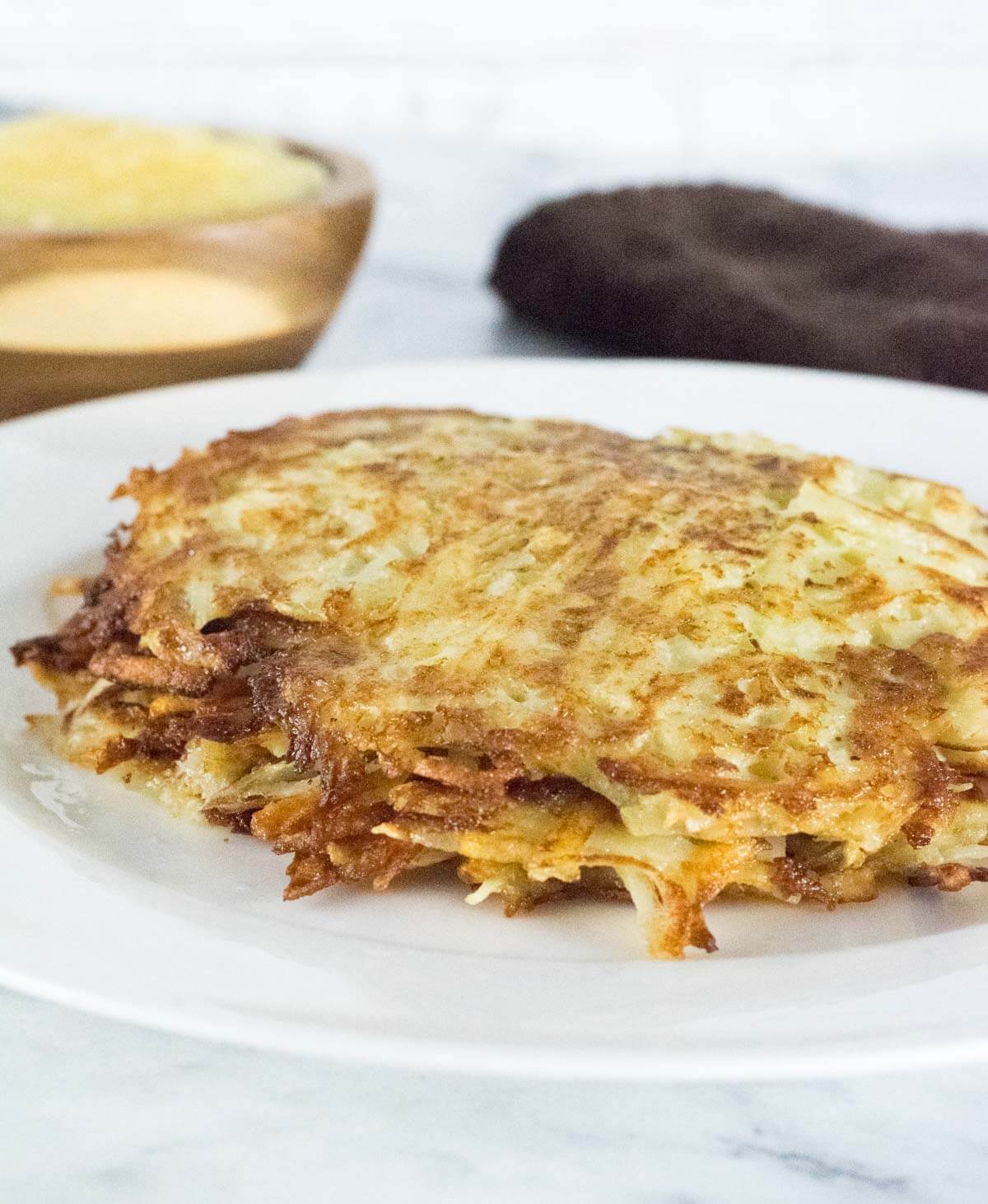 Kartoffelpuffer
Kartoffelpuffer are potato pancakes popularized in Germany. They are made with shredded potatoes dusted in flour, egg, and seasonings. I use a box grater and coarsely shred them the same way I do when making homemade hash browns. However, you can shred them finer if you prefer.
Potato pancakes are very similar to latkes, separated by only a few nuanced differences, and depending on the recipe variation sometimes there are no differences at all other than Kartoffelpuffer being a German creation and latkes being a Jewish dish.
German potato pancakes ingredients
2 pounds russet potatoes - You want to use starchy baking potatoes, such as russets. Waxy potatoes don't work very well, and almost taste goey.
2 eggs - Eggs are used as a binder to create a batter and hold everything together.
2 tablespoons all-purpose flour - Flour combines with the eggs to act as a batter and binder.
3/4 teaspoon salt - Anyone who has ever eaten French fries knows that fried potatoes taste best generously salted.
1/4 teaspoon fresh ground black pepper - You can adjust black pepper to taste.
1/3 cup finely grated onion - The potato pancakes will carry a noticeable onion flavor, however, onion can be omitted if desired.
1/4 cup canola oil - Any neutral oil is good for frying, canola is great because it also has a high smoke point.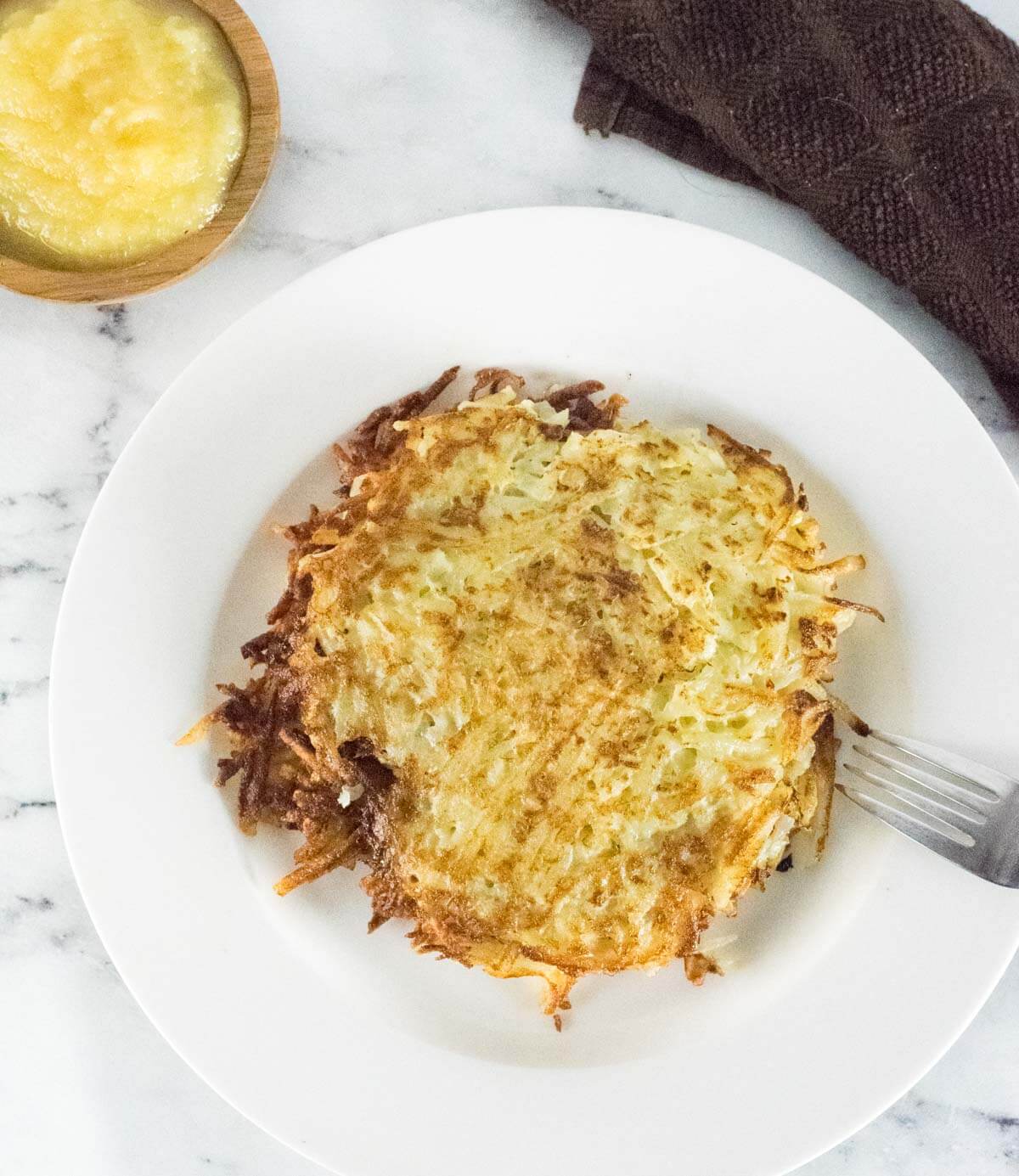 How to make Kartoffelpuffer
Begin by peeling and shredding your russet potatoes. As they are shredded add them to a large bowl of water. Soaking them in water prevents them from oxidizing and turning gray, brown, and black. In a separate dish combine flour, eggs, and seasonings. Mix together. Squeeze the potatoes of excess liquid then add the potato and onion to the flour mixture and stir to fully combine.
Fry the potato pancakes in a skillet set over medium heat. Add enough oil to coat the bottom of the skillet in a thin layer, then add 1/2 cup of the pancake mixture. Press it flat into a disc and let cook for 3 minutes per side, or until golden brown. You will likely have to work in batches to cook it all. You can keep the finished pancakes warm in a 250 degree oven.
What to serve with potato pancakes
Applesauce is the most common accompaniment to German potato pancakes. However, these are also frequently served with yogurt or sour cream. Alternatively, it can be served as a sweet dish with powdered sugar, however, I would personally omit the grated onion if I were serving them with sugar.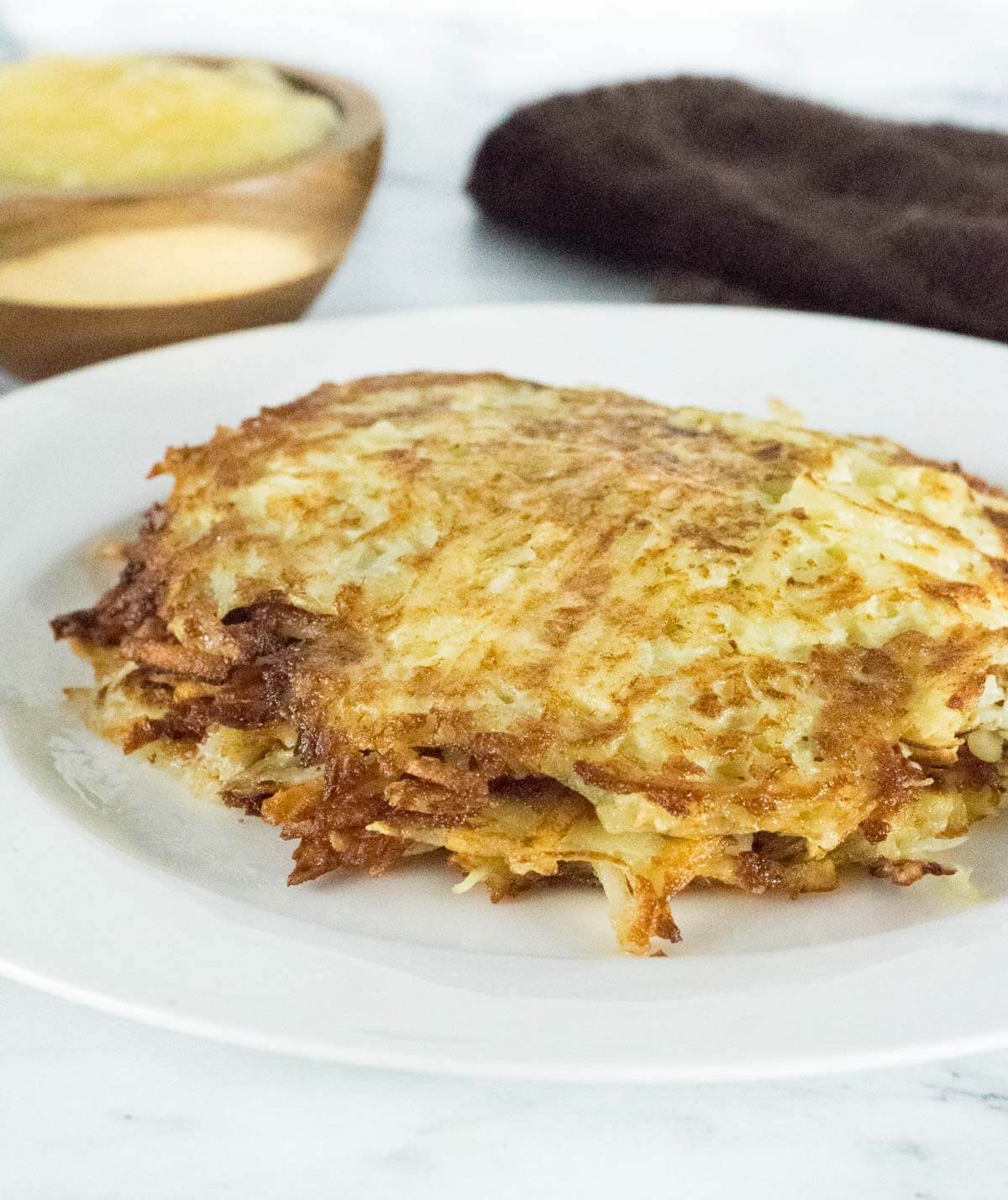 More German recipes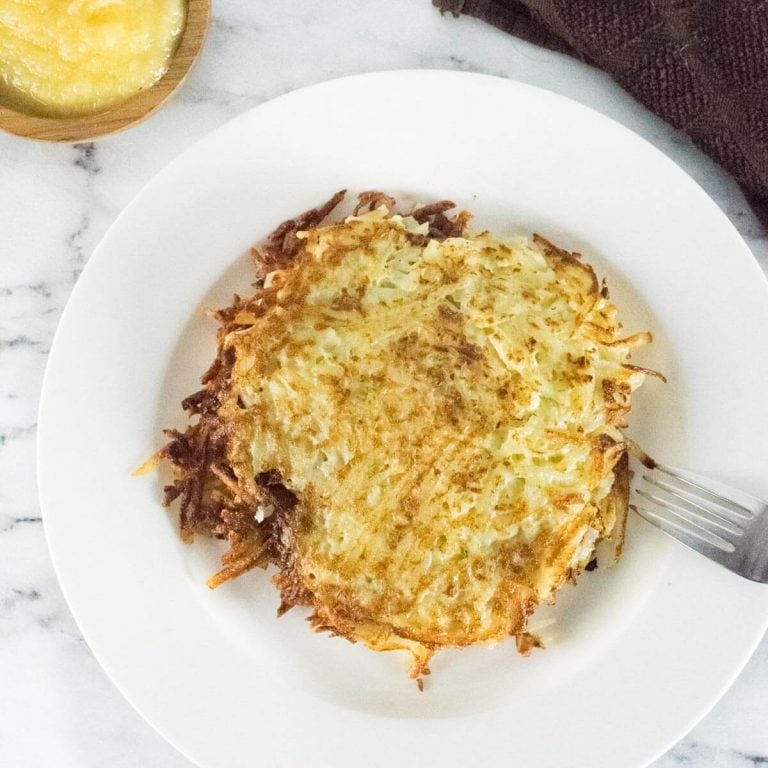 Print Recipe
Kartoffelpuffer German Potato Pancakes
Kartoffelpuffer are German potato pancakes fried up crisp and golden in a skillet and traditionally served with applesauce.
Ingredients
2

pounds

russet potatoes

(grated)

2

tablespoons

all-purpose flour

2

eggs

(beaten)

3/4

teaspoon

salt

1/4

teaspoon

fresh ground black pepper

1/3

cup

finely grated onion

¼

cup

canola oil

(or as needed)
Serving
Applesauce

(optional)

Sour cream

(optional)
Instructions
Grate the potatoes with a box grater and add shreds to a large bowl of cold water to prevent oxidation.

In a separate bowl, combine flour, eggs, salt and pepper.

Remove potato shreds from water one handful at a time and squeeze out excess liquid, then add to the bowl with the flour mixture. Repeat this process until all of the potato shreds have been removed from the soaking water and squeezed of excess liquid.

Add grated onion to the bowl and mix all of the ingredients together to evenly coat.

Set a skillet over medium heat on the stovetop and add enough oil to coat the bottom of the skillet. Add approximately 1/2 cup of the pancake mixture to the skillet (or whatever size you prefer) and press flat into a disk. Fry for 3 minutes, or until golden brown, flip and fry for an additional 3 minutes.

Work in batches until all pancakes have been made, adding additional oil as needed. Keep potato pancakes warm in a 250 degree oven until ready to serve.
Notes
Customize the ingredients to fit your tastes. Any of your favorite fresh herbs are a great addition.
IF YOU LIKED THIS RECIPE you will also love my Deep Fried Sauerkraut Balls.
Loved this recipe?

Be sure to rate it and share you thoughts below!
*Calories listed are a vague estimate and accuracy should not be assumed.
Can you do me a favor? If you enjoyed my post would you mind sharing it with your friends? You can see more of my recipes by liking me on Facebook and follow me on Pinterest too. Otherwise, stay up to date by getting each new post sent directly to your inbox by subscribing today.