Learn how to make a patty melt like your favorite diner and you'll soon be slinging out juicy burgers from your kitchen like a short-order cook, whenever the craving hits!
Patty melts put the 'greasy' in greasy spoon diners. Glistening in butter, beef drippings, and melted cheese - this is one of those meals that I sometimes enjoy ordering at a restaurant rather than making at home, simply because then I can pretend to be ignorant of how much butter and fat is loaded into each mouthwatering bite. Oh, but they are so easy to make and soooo worth every sinful calorie!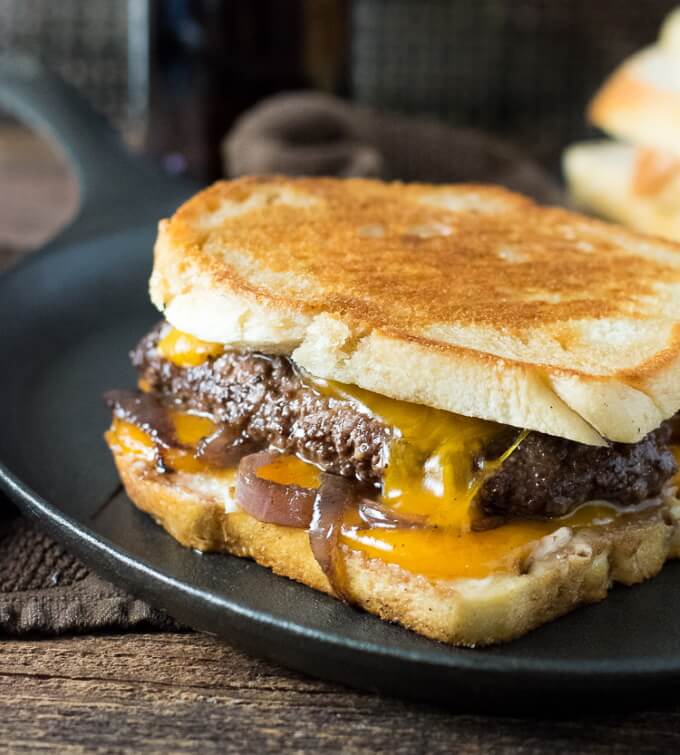 How to Make a Patty Melt Patty
The patty is the backbone of the patty melt. To get the perfect texture and best flavor out of each bite, there are a few easy tips to adhere to that will transform the melt from a so-so burger to amazing diner-worthy fare!
The hamburger should be ground chuck. It has the perfect fat to meat ratio to give you that juicy bite you crave. If you don't see ground chuck, any 80/20 beef will work fine.

Don't overwork the patty. Use fresh ground chuck and separate it into ⅓ pound chunks, then press it into a patty. You don't need to play with the beef any more than this.
To form the patties, press them out to be considerably larger than your slices of bread. The patties shrink as they cook and you will want them to still fill the bread. TIP: An easy way to do this is to put each unformed patty

into a sandwich-sized ziplock bag and start pressing on it. It will form into a nice large rectangular patty, and keep your kitchen clean!
Best Bread for a Patty Melt
Skip the bread aisle. The best bread for any patty melt is going to be freshly baked. Most grocery stores have a fresh bakery nowadays, so head over there and find a good looking loaf of rye or sourdough and ask them to slice it for you.
Rye is the classic choice, but many diners use sourdough instead because of its complementary tangy flavor. TIP: Before making my patty melt I lightly toast the bread to firm it up slightly. This helps prevent the inside from getting soggy.
Patty Melt Toppings
Sauteed onions are the classic filling for Patty Melts. However, you will go crazy over the flavor of adding caramelized onions. Check out my tutorial on how to make Caramelized Onions.
In my opinion, the best cheese for a patty melt is mild cheddar. It melts easily and has a creamier flavor than medium or sharp cheddar. However, you can certainly substitute your favorite cheese.
Bacon jam would be a non-traditional topping that would still taste phenomenal on your patty melt. You don't have to limit yourself to these ideas though, so get creative.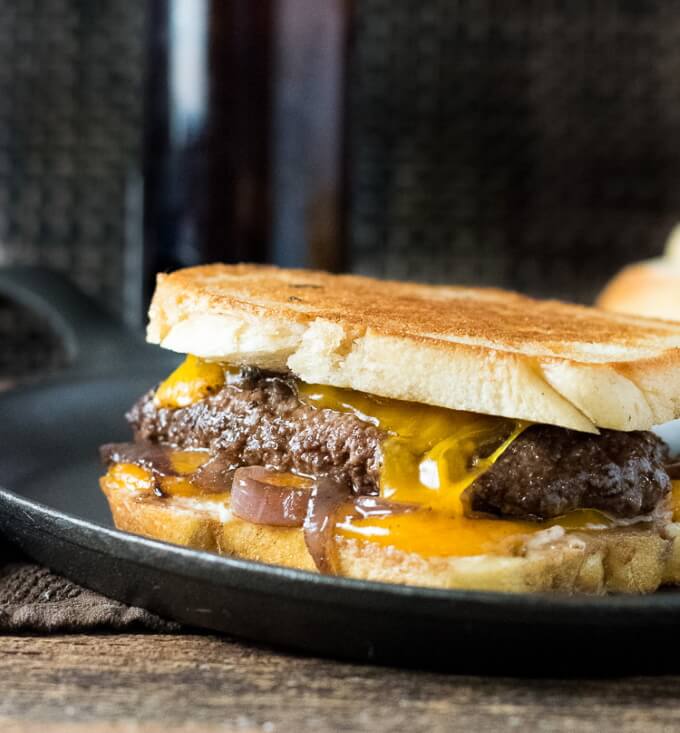 How to Make a Patty Melt
Despite this being classic Americana diner fare, you can easily make a Patty Melt in your own kitchen that rivals your favorite greasy spoon restaurant. The process is a little different than typical homemade burgers, but still easily executed.
Begin by melting butter in a medium skillet (I like cast iron for this - affiliate link -) with a handful of sliced onions. Mix the onions around to coat with butter and saute until tender. Remove these from the pan or off to the side and add a patty dusted with salt and pepper. Cook the patty on medium-high heat until cooked through.
Now you are ready to assemble your patty melt. Top a buttered slice of bread with cheese and add the beef patty, another slice of cheese, and a generous serving of onions. Spread mayo (or my balsamic peppered burger sauce) on the inside of the remaining slice of bread and place on top of the patty melt. All that is left to do is to place the patty melt in the skillet to brown the exterior of your bread and melt the cheese!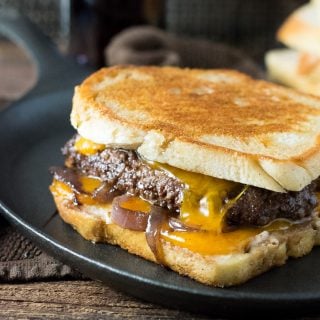 How to Make a Patty Melt
Read this to learn how to make a Patty Melt and you'll soon be slinging out juicy burgers from your kitchen like a short order cook, whenever the craving hits!
Print
Pin
Rate
Ingredients
6

slices

Sourdough or Rye Bread

1

lb

ground chuck

6

slices

mild Cheddar cheese

½

red onion

(sliced)

10

tablespoons

butter

(divided)

3

tablespoons

mayo

Salt

Pepper
Instructions
Very lightly toast the bread to firm it up, then set aside.

Divide ground chuck into three equal portions and flatten each into a large rectangle, 1-2" longer than the bread. (it will shrink during cooking)

Liberally salt and pepper each side of the meat.

In heated skillet, melt 2 tablespoons of butter and add onions. Saute until browned. Remove and set aside.

Return skillet to heat and add 2 tablespoons of butter then add hamburger patties, cook on medium-high, working in batches as needed. Flip once and cook until patties reach your desired degree of doneness.

While patties are cooking spread 1 tablespoon of butter to exterior of each piece of bread and spread the inside of slice for each sandwich with mayo. Place buttered side down and add a slice of cheese to each slice of bread.

Place the patty on non-mayoed slice of bread, top with onions, and cover with the mayoed bread.

Place patty melts in clean skillet on medium heat and let cook till toast turns golden brown and cheese has melted, flip and repeat.
Nutrition
Calories:
1047
kcal
|
Carbohydrates:
3
g
|
Protein:
41
g
|
Fat:
97
g
|
Saturated Fat:
49
g
|
Cholesterol:
272
mg
|
Sodium:
872
mg
|
Potassium:
490
mg
|
Fiber:
1
g
|
Sugar:
1
g
|
Vitamin A:
1727
IU
|
Vitamin C:
1
mg
|
Calcium:
446
mg
|
Iron:
3
mg
This recipe was originally published on FoxValleyFoodie.com January 9, 2017.