Read this to learn how to make a Patty Melt and you'll soon be slinging out juicy burgers from your kitchen like a short order cook, whenever the craving hits!
My wife's car died. Well, the engine anyway. The mechanic was trying to lead me to believe there apparently is some sort of obscure rule that you need to keep them full of oil? Pfft, ok snake oil salesman… Either way, we are now car shopping, which I hate. I think I am just gonna buy her a horse. Don't have to worry about oiling those up, unless you wanna get kicked.
If we get a horse, maybe we'll just turn Amish. I could still blog though, right? I feel like the Amish blogging niche is a largely untapped market. I bet after a long day of blogging about barn raising, a juicy patty melt loaded with sauteed onions and melted cheese would taste pretty darn good!
How to Make a Patty Melt
Despite this being classic Americana diner fare, you can easily learn how to make a Patty Melt in your own kitchen that rivals your favorite greasy spoon restaurant. The process is a little different than typical homemade burgers, but still easily executed. Here are a few tips:
The hamburger should be ground chuck. It has the perfect fat to meat ratio to give you that juicy bite you crave.

When forming the patties, press them out to be considerably larger than your slices of bread. The patties shrink as they cook and you will want them to still fill the bread. TIP: An easy way to do this is to put each unformed

patty

into a sandwich sized ziplock bag and start pressing on it. It will form into a nice large rectangular patty, and keep your kitchen clean!

Use rye bread or sourdough bread. Rye is the classic choice, but many diners use sourdough instead because of its complimentary tangy flavor. I begin by lightly toasting the bread to firm it up slightly. This helps prevent the inside from getting soggy.

Sauteed onions are the classic filling for Patty Melts. However, you will go crazy over the flavor of adding caramelized onions. Check out my tutorial on how to make Caramelized Onions.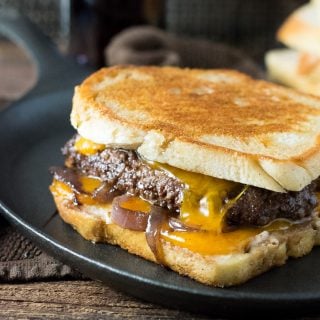 Print Recipe
How to Make a Patty Melt
Read this to learn how to make a Patty Melt and you'll soon be slinging out juicy burgers from your kitchen like a short order cook, whenever the craving hits!
Ingredients
6

slices

Sourdough or Rye Bread

1

lb

Ground Chuck

6

slices

Mild Cheddar Cheese

1/2

Red Onion,

sliced

10

tbsp

Butter,

divided

3

tbsp

Mayo

Salt

Pepper
Instructions
Very lightly toast the bread to firm it up, then set aside.

Divide ground chuck into three equal portions and flatten each into a large rectangle, 1-2" longer than the bread. (it will shrink during cooking)

Liberally salt and pepper each side of the meat.

In heated skillet, melt 2 tbsp butter and add onions. Saute till browned.

Clean skillet then return to heat and add 2 tbsp of butter then add hamburger patties, cook on medium-high, working in batches as needed. Flip once and cook till patties reach your desired degree of doneness.

While patties are cooking spread 1 tbsp of butter to exterior of each piece of bread and spread the inside of slice for each sandwich with mayo. Place buttered side down and add a slice of cheese to each slice of bread.

Place the patty on non-mayoed slice of bread, top with onions, and cover with the mayoed bread.

Place patty melts in clean skillet on medium heat and let cook till toast turns golden brown and cheese has melted, flip and repeat.

Serve immediately.
*Calories listed are a vague estimate and accuracy should not be assumed.

If you enjoyed reading How to Make a Patty Melt then you should probably like me on Facebook and follow me on Pinterest too. That's what I would do at least, because if you don't get to know me but you still use my recipe it is kind of like taking candy from a stranger, and your mom taught you not to do that. Don't disobey your mom, subscribe to Fox Valley Foodie today!