This hot Pastrami sandwich features tender pastrami, melted cheese, and tangy coleslaw piled high on rye bread slathered in an old-school Russian dressing.
Like the Mona Lisa, the Sistine chapel, and whatever that Picasso guy painted, a proper hot pastrami sandwich is a masterpiece! Tender, crunchy, melty, tangy, it strikes the perfect balance of contrasting textures and flavors. Plus, unlike some old dusty painting, no one is going to yell at you for taking a bite.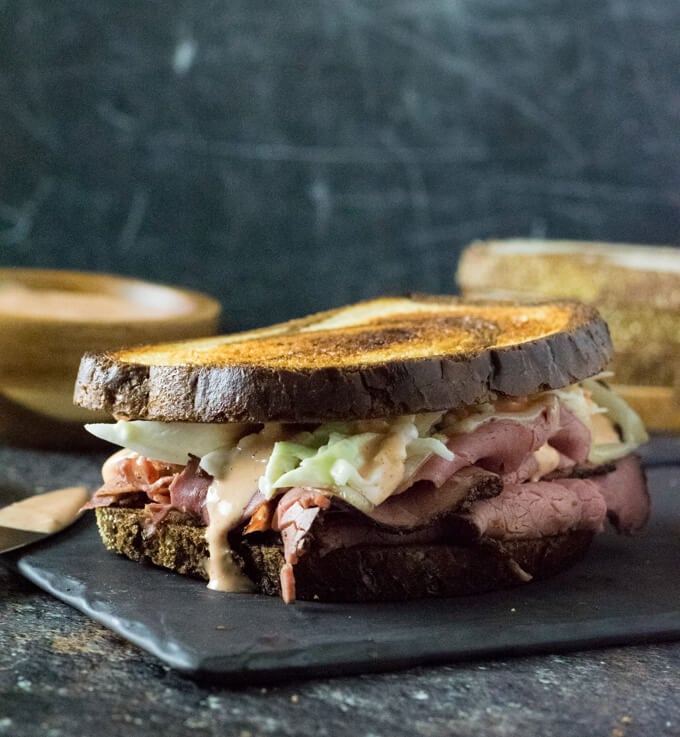 Hot Pastrami Sandwich
Invented in 1888 by Sussman Volk, a pastrami on rye is a classic New York-style sandwich popularized by Jewish delicatessens. Pastrami on rye can be served cold, but a hot pastrami sandwich is particularly delicious as melted cheese, toasted bread, and warm slices of pastrami completely transform the flavor.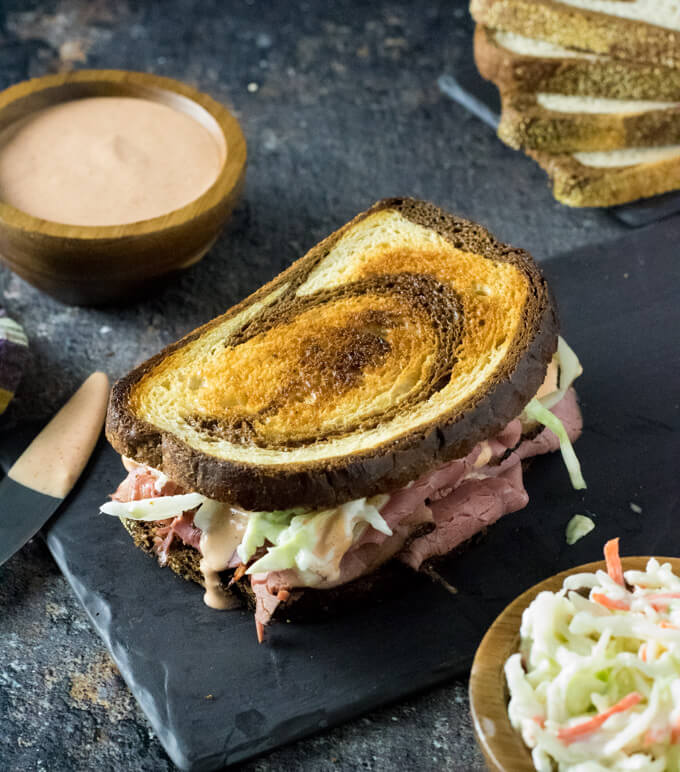 What Goes On a Pastrami Sandwich?
My hot pastrami sandwich has a lot in common with the popular Reuben Sandwich. Pastrami is used instead of corned beef, my coleslaw recipe is substituted for sauerkraut, and Russian Dressing is served rather than Thousand Island.
Each of those ingredients obviously has a lot in common with their substitution, while the Swiss cheese and rye bread remain the same. It is easy to say this sandwich is the Reuben's cousin, if not brother from another brother.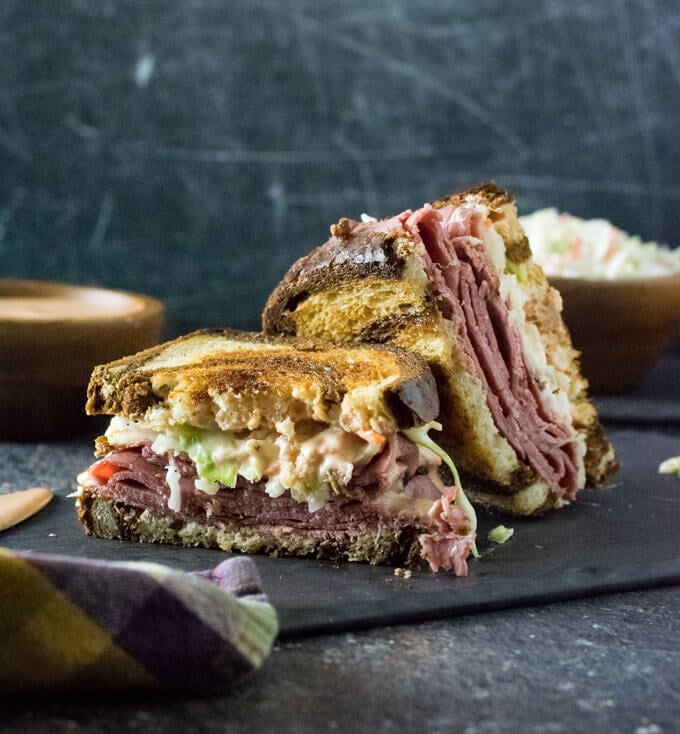 How to Make a Hot Pastrami Sandwich
If you attempt to make a hot pastrami sandwich by fully constructing the sandwich and then placing it in a skillet to warm up, the bread is going to burn before the meat ever warms up. Instead, you need to warm the meat separately prior to crafting the sandwich.
The best way to warm the meat is to steam it. Boil a small amount of water in the bottom of a pan or skillet and place the meat in a steamer basket above it. Personally, I prefer to use a fine-mesh strainer (affiliate link).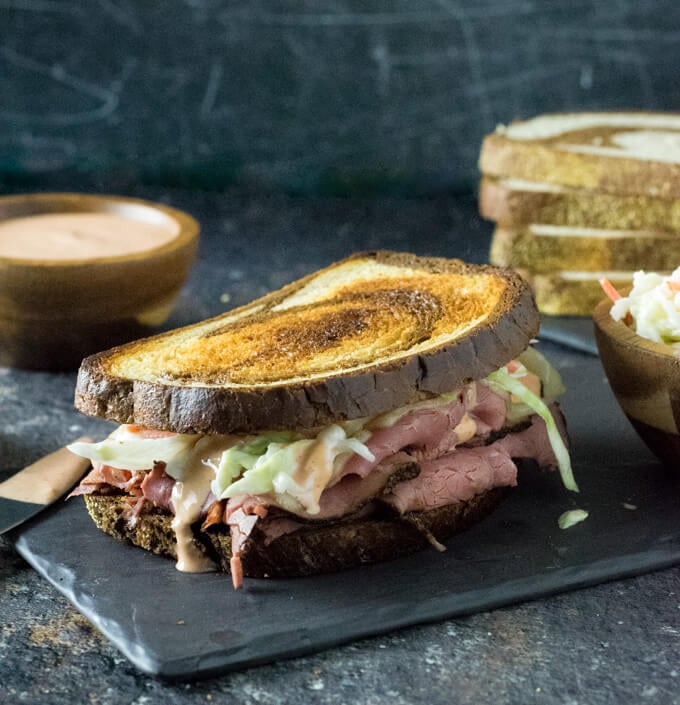 Alternative ways you can warm the meat is to quickly place it in a skillet set to medium-low heat, however, you risk cooking it too much with this method. I have also warmed it in the microwave for about 10 seconds per side, on a glass plate. Once again though, this method risks overcooking it but is quick and easy.
To finish the sandwich, I lightly toast the bread then brown it in a skillet with butter. This adds great texture and flavor! You can brown the bread before assembling the sandwich, but it is best if the sandwich is fully assembled when you do so because it will help melt the cheese.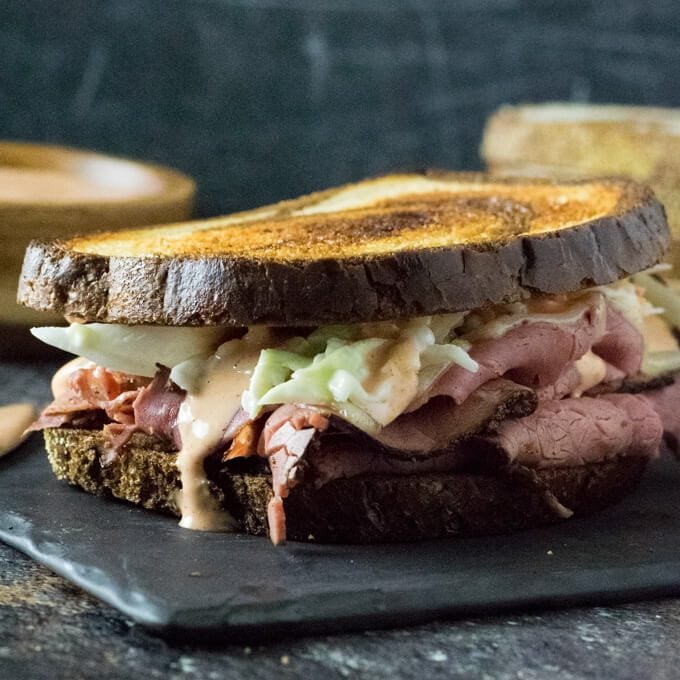 Print Recipe
Hot Pastrami Sandwich
This hot Pastrami sandwich features tender pastrami, melted cheese, and tangy coleslaw piled high on rye bread slathered in an old-school Russian dressing.
Ingredients
2

slices

rye bread

(traditional, marbled, or pumpernickel)

1 ½

tablespoons

butter

(divided)

4

oz

sliced pastrami

1/3

cup

coleslaw

1

slice

Swiss cheese

2

tablespoons

Russian dressing
Instructions
Warm pastrami by placing it in a steamer basket (or strainer) over boiling water. Flip the slices of pastrami to ensure they heat evenly. This should take less than a minute per side.

Lightly toast the bread to firm it up, then coat one side of each slice with butter. Assemble the sandwich by adding warmed pastrami topped with cheese, coleslaw, and dressing, then place the sandwich in a skillet set over medium heat.

Leave sandwich in the skillet for ~2 minutes, or until bread slightly browns, then flip and repeat.

Remove sandwich from the skillet, cut in half and serve.
Loved this recipe?

Be sure to rate it and share you thoughts below!
*Calories listed are a vague estimate and accuracy should not be assumed.
If you enjoyed reading my recipe then you should probably like me on Facebook and follow me on Pinterest too. That's what I would do at least, and if you are willing to take my advice on the food you put into your body you should probably follow my advice on that too.