Cured and brined in pickling spices, corned venison is a deliciously enticing way to enjoy deer meat in a whole new way. If you are bored with simple steaks, roasts, and stews, give my easy brining process a try to infuse your venison with a whole new flavor. It tastes just like classic corned beef, but much leaner.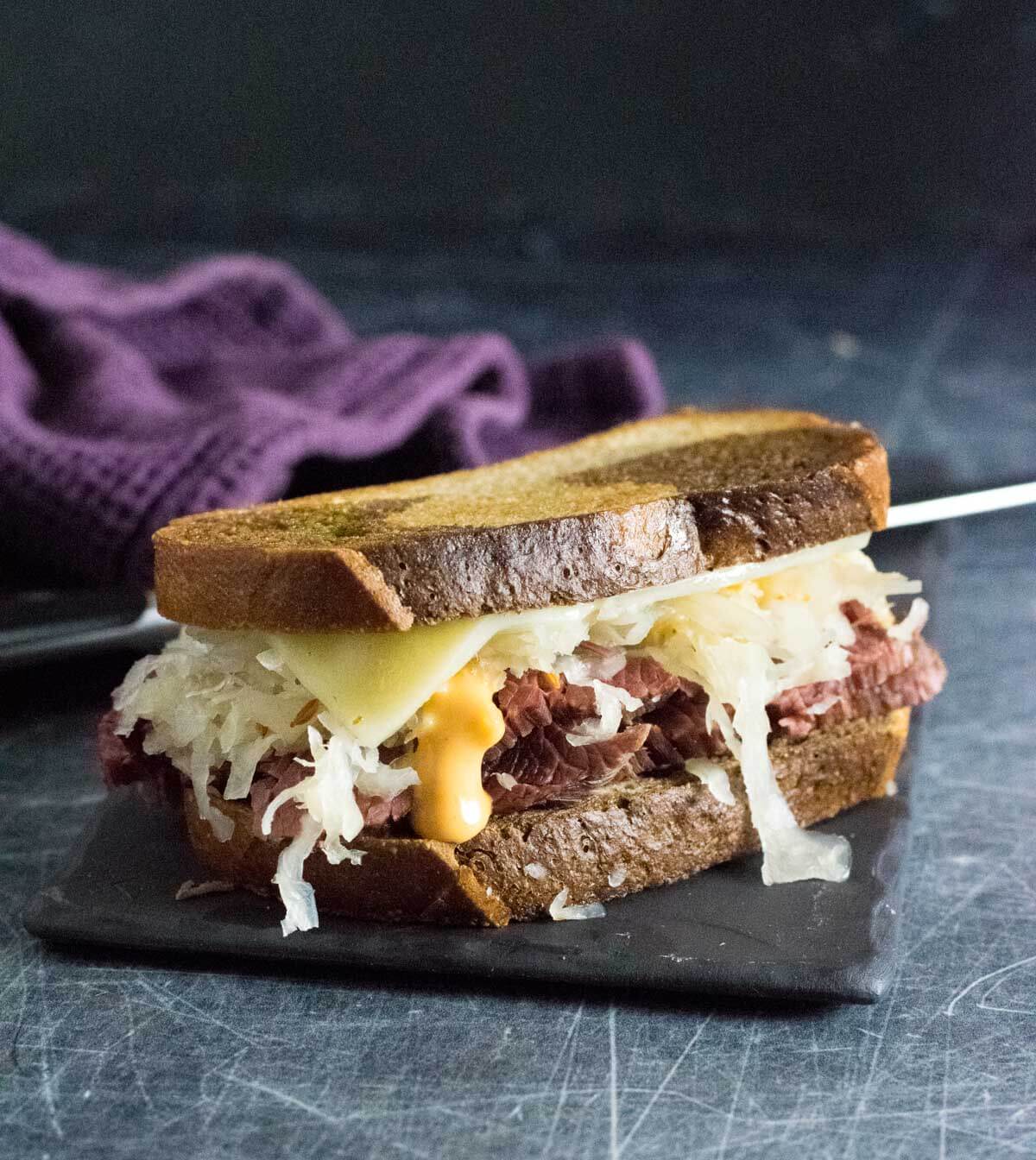 What is corned venison?
Corned venison is very similar to corned beef, but it uses deer meat rather than beef. The venison is brined for 10 days in a solution of sodium nitrite, sugar, salt, and pickling spices which cures the meat and gives it that distinctive pink color. It is then boiled until tender, sliced, and served. The flavor of the meat is slightly tangy and completely infused with the flavors of the spice blend.
Ingredients Needed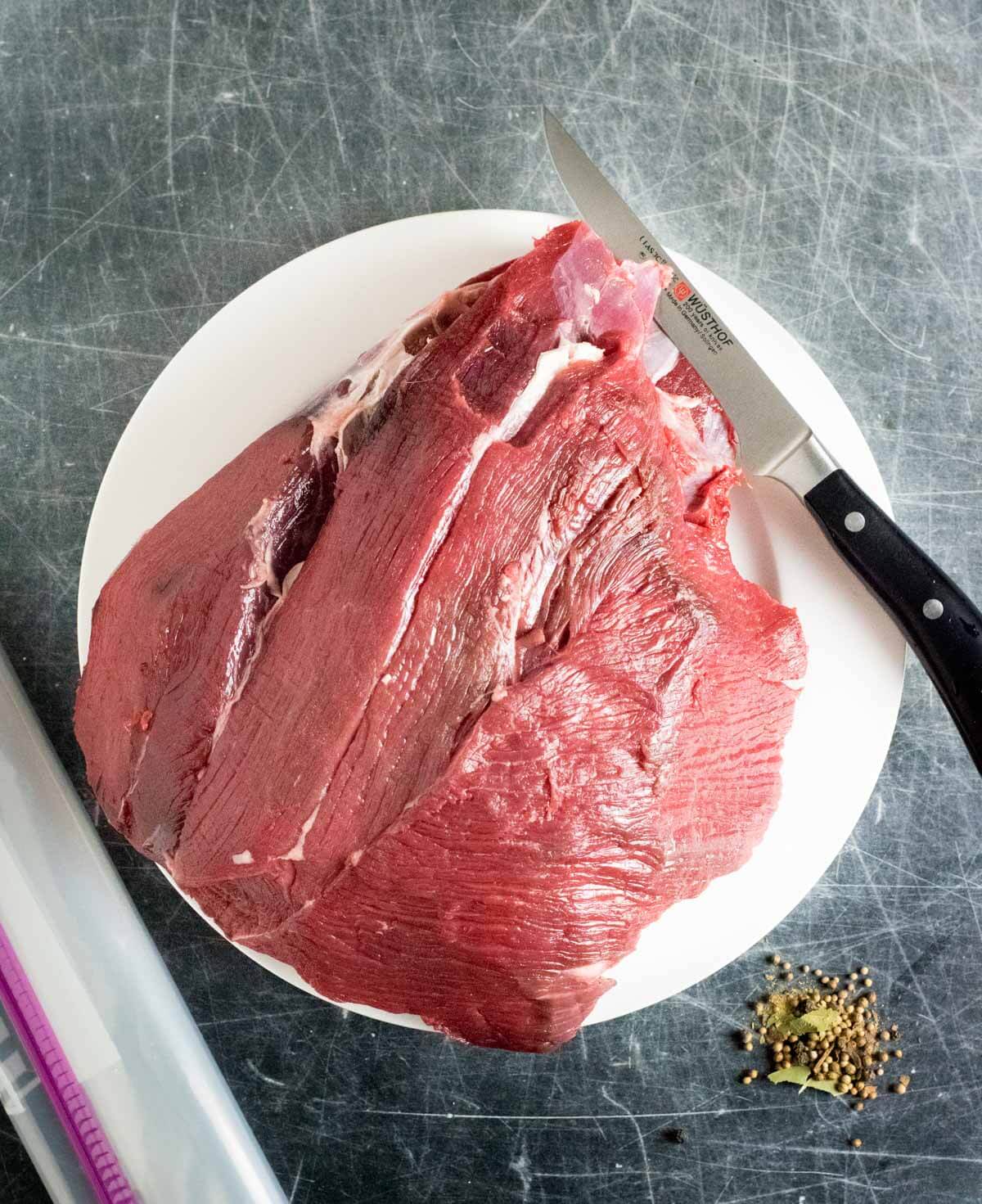 Venison - I recommend using a boned out hind quarter.
Kosher salt - It is important to use kosher salt, not table salt.
Pink cure - Click the link if you are unsure what this is, grocery stores typically do not typically carry pink salt so you will likely have to order it online. The sodium nitrite is important to keep the venison fresh during the long time it takes to brine it properly.
Pickling spice - You can use my recipe or you can substitute your favorite store bought blend.
How to brine venison
Brining venison begins with creating your brine solution. Do this by bringing a half gallon of water to a boil in a large pot along with the brine ingredients - kosher salt, pink curing salt, brown sugar, and one tablespoon of pickling spice. Reduce the heat to a simmer and cook for 10 minutes to ensure the sugar and salt dissolve well.
Next, place your brine in the refrigerator to cool completely. If you place the meat in the hot brine it will start to cook, which we do not want.
Once the brine has cooled down to at least room temperature, add your boneless venison to a large plastic storage bag and pour in the brine. It is important to seal the bag in a way that allows the brine to fully submerge the meat. Notice in my photo how I twist the bag after sealing it to ensure there is no room for excess air.
Place the brine bag on a rimmed baking pan and set in the refrigerator to brine for ten days. You can flip the bag every few days to ensure the meat is brining as evenly as possible.
How to cook corned venison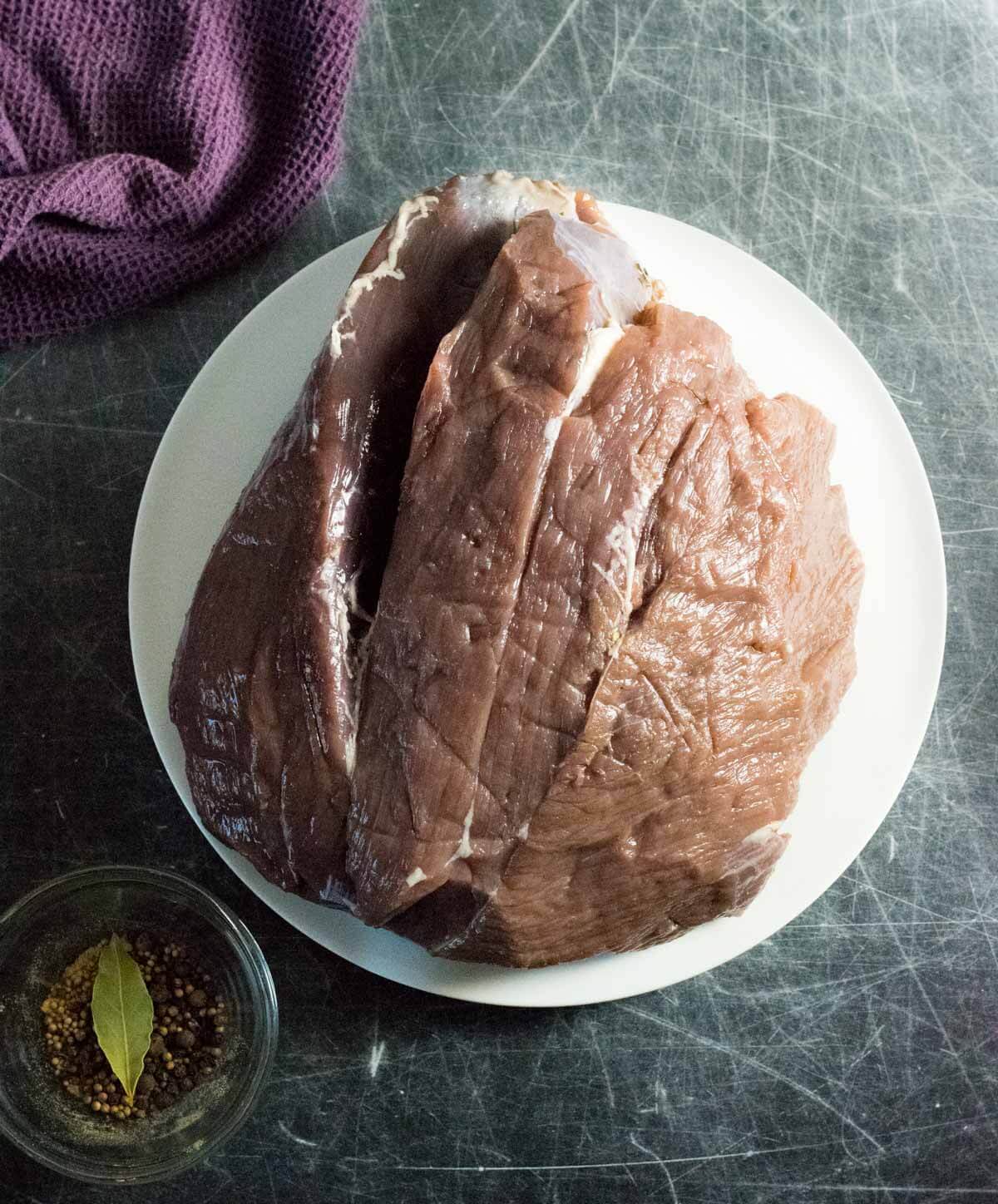 Once the meat has finished brining, remove it from the bag and discard the liquid. Rinse the meat well under cold water. Meanwhile, add fresh water and the remaining one tablespoon of pickling spice to a large stock pot and bring to a boil. Place the corned venison in the pot and ensure there is enough water to cover it by one inch. Boil the venison for three to four hours, adding more water as needed.
After three hours the venison will be slightly firm and still hold together well. At four hours the venison will be exceptionally tender and have a shreddable texture that comes apart easily. Cook to whichever is your desired doneness. Personally, I enjoy the really tender shreds for making sandwiches.
What to do with corned venison
Enjoy this corned venison recipe in the same way you would eat corned beef. Any of these suggestions would taste phenomenal.
Enjoy corned venison for St Patrick's Day with boiled cabbage, carrots, and potatoes.
Make a venison corned hash with potatoes and a fried egg.
My personal favorite is to make a corned sandwich on rye bread, or venison Reuben sandwiches.
You can use it to craft a Reuben dip as a party appetizer.
How to store it
Corned venison does not contain a large amount of fat like corned beef brisket, so it is easier for it to dry out. For this reason, it should be stored in the refrigerator soaking in the cooking liquid to keep it moist. Keep it in an air-tight container and enjoy within a week.
Whatever you do not plan to use that first week should be frozen. The corned deer meat should be placed in the leftover cooking liquid prior to freezing. This will keep it moist and prevent freezer burn. Enjoy within three months.
Can you do me a favor? If you enjoyed my post would you mind sharing it with your friends? You can see more of my recipes by liking me on Facebook and follow me on Pinterest too. Otherwise, stay up to date by getting each new post sent directly to your inbox by subscribing today.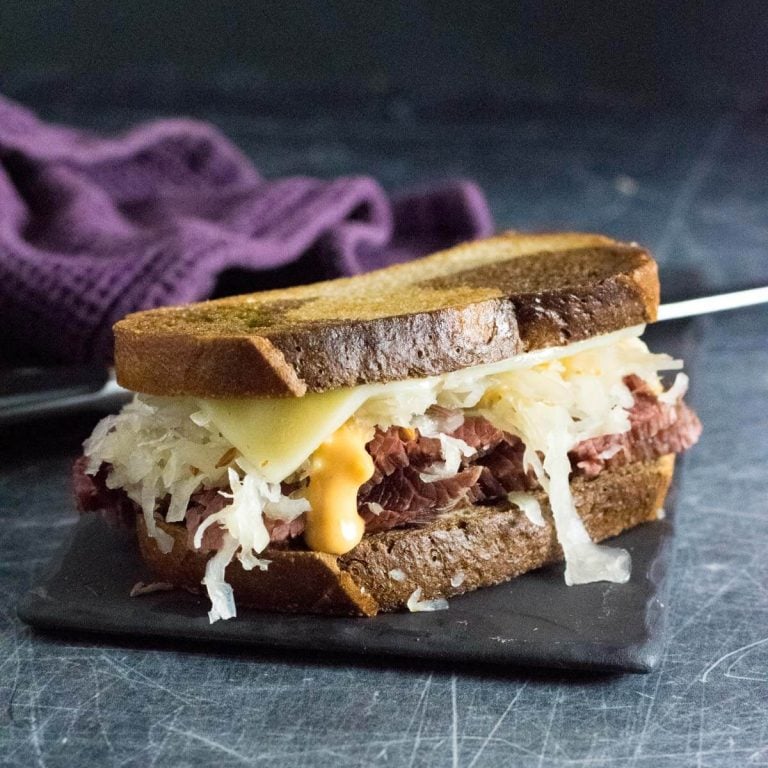 Corned Venison
Cured and brined in pickling spices, corned venison is a deliciously enticing way to enjoy deer meat in a whole new way.
Print
Pin
Rate
Save
Saved
Equipment
Large plastic storage bag
Ingredients
5

pounds

venison

I recommend hind quarter
Pickling Spice blend
2

teaspoons

coriander seeds

1 ½

teaspoons

whole black peppercorns

1 ½

teaspoons

mustard seeds

¾

teaspoon

allspice berries

3

bay leaves

crumbled

1

inch

cinnamon stick

crushed into small pieces

½

teaspoon

crushed red pepper flakes

½

teaspoon

ground ginger

10

whole cloves
Instructions
Prepare the brine by adding water, salt, pink cure, brown sugar, and 1 tablespoon of pickling spice to a large pot. Set over high heat and bring to a boil then reduce to a simmer.

Let the pot simmer for 10 minutes, or until all of the sugar and salt has dissolved.

Place the brine in the refrigerator to cool completely.

Place the boneless venison in a large sealable plastic bag and pour in the cooled brine. Seal the bag completely ensuring the brine fully covers the meat.

Set the brine bag on a rimmed baking sheet to contain any potential leaks and place in the refrigerator for 10 days. Flip the bag daily to ensure the meat brines evenly.
Cooking Corned Venison
Remove the brined deer meat from the bag and rinse well under cold water.

Bring a large pot of water to a boil along with the remaining tablespoon of pickling spice. Place meat in the pot, ensuring the water covers it by at least an inch and cook for 3-4 hours. Add more water as needed while it cooks. The meat will be more firm at three hours, and more tender at 4 hours, cook to your desired preference.

Serve immediately, or store in the refrigerator in a container filled with the (cooled) boiling liquid to keep the meat moist.
Notes
You don't have to use the pickling spice blend included in this recipe. Any store-bought blend with work.
I feel this recipe works best using a boned-out hindquarter, however, it is important to only use 5 pounds of meat to ensure the right ratio of meat and pink cure. Using too much cure can be unhealthy.
Boiling is the traditional cooking method for corned meats, but you can switch things up by cooking it with my smoked corned beef recipe instead.
Nutritional Information
Calories:
152
kcal
|
Carbohydrates:
4
g
|
Protein:
26
g
|
Fat:
3
g
|
Saturated Fat:
1
g
|
Polyunsaturated Fat:
1
g
|
Monounsaturated Fat:
1
g
|
Trans Fat:
1
g
|
Cholesterol:
96
mg
|
Sodium:
385
mg
|
Potassium:
384
mg
|
Fiber:
1
g
|
Sugar:
3
g
|
Vitamin A:
7
IU
|
Vitamin C:
1
mg
|
Calcium:
23
mg
|
Iron:
4
mg