Learn how to make a Reuben Sandwich as good as your favorite restaurant's. This classic sandwich can easily be perfected in your own kitchen!
This dangerously tangy sandwich has earned a cult following for good reason, there just aren't many sandwiches out there that can match its aggressive ingredient pairings. Really, it is a work of art. The Reuben Sandwich is a classic at any deli or diner, but few people tackle it in their own kitchen, which is a shame. With the right ingredients, that classic taste can easily be replicated and perfected at home. So let's dive into how to make a Reuben Sandwich!
Reuben Sandwich Ingredients
Using quality ingredients is the key to making a great Reuben at home. First and foremost, unless you are trying to reminisce about mom packing your lunch box, use real corned beef rather than deli meat.
You will find there are two choices of corned beef: Point cut and flat cut. Point cut will be the cheapest and also the fattiest, however, flat cut corned beef is ideal for making Reubens as it has a more uniformed thickness and less fat. If you want to go another route, it is acceptable to make a Reuben sandwich with pastrami as well, however, corned beef is more traditional.
To replicate the classic Reuben flavor, you need the right Reuben Sandwich sauce. Simply whip up a batch of my Russian Dressing, or pick up a bottle Thousand Island dressing from the store. Slather either of these on hearty rye bread - light, dark, pumpernickel rye and marble rye all make great Reubens!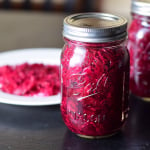 Finally, use a high-quality sauerkraut from the refrigerated food section as it will add a nice sweet tang to each bite. Or better yet, do what I did, and make your own delectably tangy and vibrant homemade fermented sauerkraut! It is one of my favorite recipes! You will never want to eat store-bought sauerkraut again!

How to Make a Reuben Sandwich
The secret to making a great Reuben Sandwich is heating all of the ingredients properly and grilling the buttered bread. I recommend using two skillets to make this sandwich. I like using a cast iron skillet to brown my buttered bread, then I use a separate skillet to heat the meat and kraut. Everything is then piled together and served. The reason I don't first assemble the sandwich and then grill it like a panini is because the bread will typically burn long before the interior of the sandwich sufficiently warms up.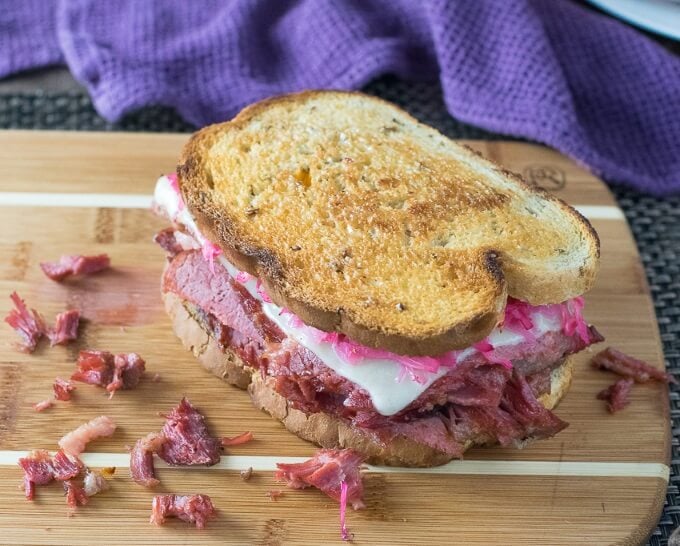 Reuben Sandwich Origin
The origins of the Reuben Sandwich are quite contested, as is often the case with popular dishes. Two of the more prominent stories involve gentlemen named Reuben, shockingly enough. One version is Reuben Kulakofsky made it for poker night at the Blackstone Hotel, eventually earning a spot on the regular menu.
Another tale says it was invented at Reuben's Delicatessen in New York City, however, even within this claim, the stories can't agree. Some claim the owner, Arnold Reuben, created the sandwich, while others credit the chef, Alfred Scheuing. The motivations for the sandwich's creation are equally as murky. As for me personally, I suspect it was invented by a man named Reuben James, and that was true reason Kenny Rogers loved him so much. (Yay for lame jokes no one will get!)
How to Make a Reuben Sandwich
Learn how to make a Reuben Sandwich as good as your favorite restaurant's. This classic sandwich can easily be perfected in your own kitchen!
Print
Pin
Rate
Save
Saved
Ingredients
2

slices

Rye Bread

8

oz

Corned Beef

(flat cut is best) thinly cut slices

~½

cup

Sauerkraut

(drained)

1

slice

Swiss Cheese

1

tablespoon

Russian dressing

(or substitute Thousand Island)

1

tablespoon

Butter

(adjust to cover bread)

Sea Salt
Instructions
Prepare corned beef in advance: Boil corned beef according to packaging ensuring it is tender enough to separate with a fork but not falling apart. Refrigerate to cool (overnight). This will allow you to slice it easier. Once cool trim off excess fat and cut out 8oz for sandwich.

Slice enough Swiss cheese to cover the bread and place the slices on one side of the bread.

Butter cast iron skillet on medium heat and place bread slices topped with cheese in the buttered pan when it is hot to touch. Toast exterior of the bread in butter until golden brown.

In another pan spread corned beef on the bottom of the pan and cook on both sides till heated through. Push beef off to the side and place sauerkraut in a lump in the pan and quickly heat through, flipping the lump once.

While sauerkraut is heating pile the meat on the non-cheese bread slice. After flipping the sauerkraut add it on top of the meat, cover with the cheesed bread, and add a generous helping of Thousand Island dressing to the sandwich. Lightly sprinkle the bread with sea salt.

Slice sandwich in half and serve.
Notes
Note: Adjust the ingredients to fit the size bread you have. Also, if you want a smaller sandwich you can use less meat and kraut.
IF YOU LIKED THIS RECIPE you will love my Hot Reuben Dip!
Nutritional Information
Calories:
939
kcal
|
Carbohydrates:
37
g
|
Protein:
46
g
|
Fat:
66
g
|
Saturated Fat:
24
g
|
Cholesterol:
186
mg
|
Sodium:
3575
mg
|
Potassium:
779
mg
|
Fiber:
3
g
|
Sugar:
7
g
|
Vitamin A:
650
IU
|
Vitamin C:
61.2
mg
|
Calcium:
284
mg
|
Iron:
6
mg
This Reuben Sandwich recipe was originally published on FoxValleyFoodie.com March 15, 2013.
If you enjoyed reading How to Make a Reuben Sandwich recipe then you should probably like me on Facebook and follow me on Pinterest too. That's what I would do at least, because if you don't get to know me but you still use my recipe it is kind of like taking candy from a stranger, and your mom taught you not to do that. Don't disobey your mom, subscribe to Fox Valley Foodie today.