This Spanish rice with salsa recipe is probably the easiest Spanish rice recipe ever. It is essentially just two ingredients: Rice and Salsa. Yet, it tastes amazing!
So, I was walking around my living room like a dinosaur the other day. It's just one of my many talents. It was my attempt at a goofy response to my wife asking me to get something for her off the table. However, I was so deep into dinosaur mode that I realized I didn't really even hear what she asked me to do. What I had originally intended to be merely a goofy response to her question instead turned into a grown man lost in his own dino role-play. By the time I realized this, stopped and turned to look at my wife with a puzzled "what am I supposed to be doing" look on my face, she was already laughing pretty hard at me.
What does this have to do with my Spanish rice with salsa recipe? Well, much like a dinosaur walk, a good Spanish rice recipe is a great way to command attention at the dinner table.
OK, truth be told, that analogy was a stretch. I just wanted to tell my dinosaur story. Rawr.
Easy Spanish Rice
Seriously though, this Spanish rice with salsa recipe is a godsend. It is so easy, you really only need to purchase two ingredients for it. 1 cup of white rice and 16 oz of salsa.  However, tasting it you would never know how easy it was to prepare.  The salsa really amps up the flavor!  There are more cumbersome and traditional Spanish rice recipes out there, but after tasting this recipe I doubt you will ever have the motivation to try anything more laborious.
How to Prepare Rice
To make this recipe even easier I recommend purchasing a mesh strainer (afilliate link). I love using it to rinse the rice under the faucet before I cook it.  Rinsing rice thoroughly helps remove excess starch that will cause your rice to be a clumpy sticky paste when it is done cooking.  My mesh strainer is a staple in my kitchen as it is an excellent, low cost, multitasker.
Spanish Rice with Salsa 
Making Spanish Rice with Salsa is just as easy as making white rice. You simply add the liquid and rice in a medium saucepan and simmer until the liquid is absorbed. However, since salsa adds additional liquid to the party, we cut back the water used slightly. Once all of the ingredients are added to the sauce pan I stir it briefly so they fully incorporate. The dish is done once the rice is tender and the liquid has been absorbed.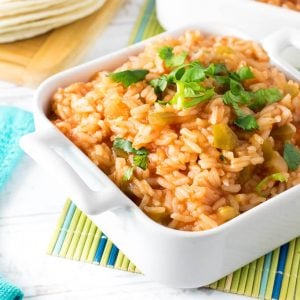 Spanish Rice with Salsa - The Easiest Spanish Recipe Recipe Ever
This Spanish rice with salsa recipe is probably the easiest Spanish rice recipe ever. It is essentially just two ingredients: Rice and Salsa. Yet, it tastes amazing!
Print
Pin
Rate
Save
Saved
Ingredients
1

cup

white rice

(uncooked)

½

teaspoon

Salt

16

oz

salsa

1 ¾

cup

water

Cilantro for garnish

(optional)
Instructions
Rinse rice in water to remove excess starch.

Add rice to saucepan with water, salt, and salsa. Stir briefly and cover with a lid.

Heat to a boil and then reduce to a simmer. Continue to simmer until the water is absorbed by rice.

The Spanish rice is done when the rice is soft and the water has soaked fully into the rice and/or evaporated.

Top with chopped cilantro.
Notes
The time needed to cook will vary depending on the simmering temperature. Try to keep the temperature lower to prevent scorching the rice on the bottom of the pan.
Looking for a great dish to pair this with?  I highly recommend my Cilantro Lime Chicken Tacos.  The tangy Spanish rice is the perfect accompaniment to the taco's bright, fresh flavors!
Nutritional Information
Calories:
201
kcal
|
Carbohydrates:
44
g
|
Protein:
5
g
|
Sodium:
807
mg
|
Potassium:
376
mg
|
Fiber:
2
g
|
Sugar:
4
g
|
Vitamin A:
545
IU
|
Vitamin C:
2.1
mg
|
Calcium:
50
mg
|
Iron:
0.8
mg
This recipe was originally published on FoxValleyFoodie.com April 20, 2015.
If you enjoyed reading my Spanish rice with salsa recipe then you should probably like me on Facebook and follow me on Pinterest too. That's what I would do at least, because if you don't get to know me but you still use my recipe it is kind of like taking candy from a stranger, and your mom taught you not to do that. Don't disobey your mom, subscribe to Fox Valley Foodie today.