Southern fried potatoes feature tender cubed russet potatoes and chopped onions which are pan-fried to create a delectably crisp charred crust.
No one quite does comfort food quite like the good folks of Dixie. I'm in firm belief, southern grandmothers are culinary wizards wielding cast iron skillet magic wands. However, rest assured, there is no magic needed to replicate this rustic side dish, just some potatoes, onions, and glorious fat.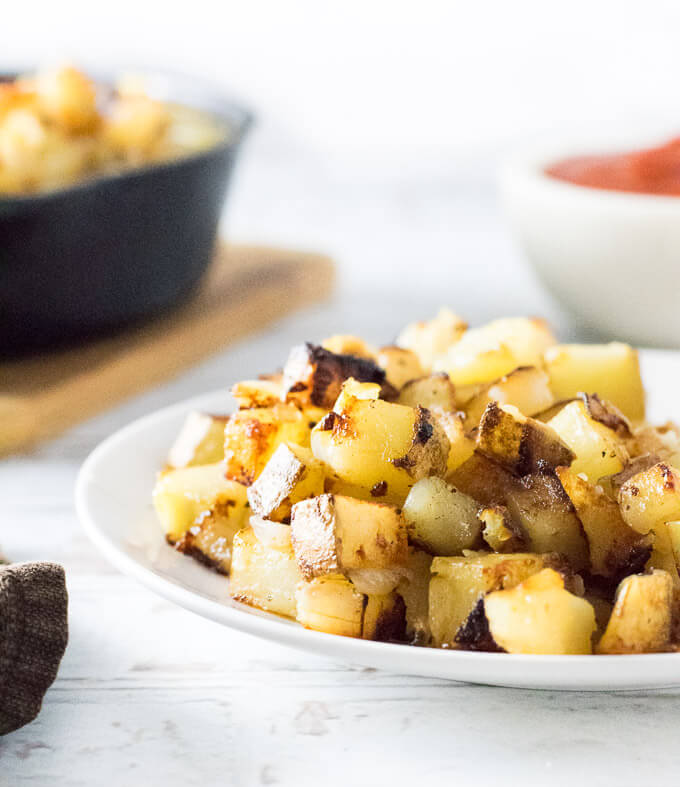 Southern Fried Potatoes
Southern fried potatoes are essentially pan-fried potatoes and onions. As the name implies, this is a popular southern dish, however, it is commonly prepared in other regions as well, often referred to as country fried potatoes (which can vary in preparation).
The basic idea of the dish is to cook the potatoes in a skillet until tender and leave them alone long enough to form a crisp brown crust before flipping and creating more crust on the other side.
Best Potato for Southern Fried Potatoes
You will find recipes calling for all sorts of potato varieties, but russet potatoes make the best southern fried potatoes. Why? One of the primary features that make southern fried potatoes so dang delectable is the crispy crust that forms while the potatoes sear in the skillet. Russet potatoes just crisp better.
Yukon gold and red potatoes both taste great when cooked in a skillet, and you can certainly substitute them in this recipe if desired, however, they won't stay as crisp as russets.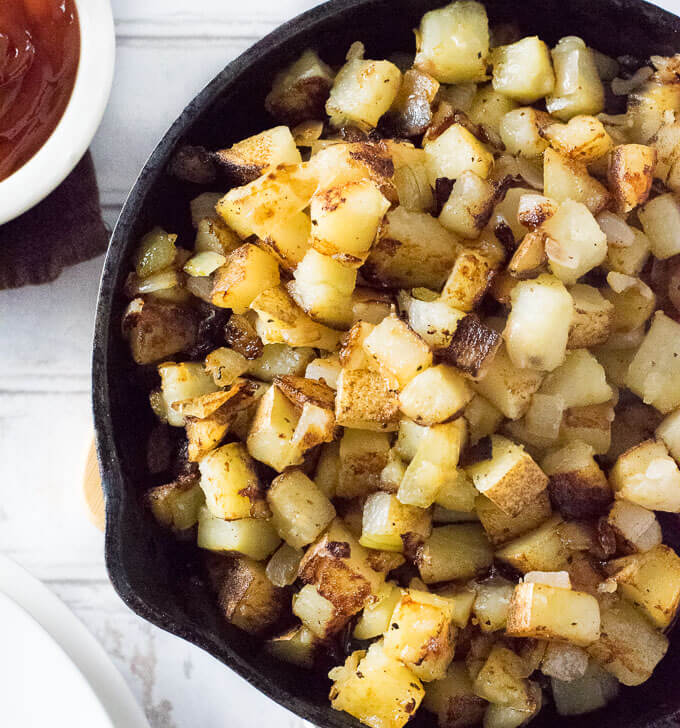 Best Fat for Southern Fried Potatoes
My recipe generically calls for cooking oil and butter, because any ol' oil will work just fine. However, oils with a higher smoke point, such as canola oil work best for higher heat applications in a skillet.
However, in my humble opinion, if you want to go all-out southern on this recipe, the best fat to coat these potatoes in is rendered bacon grease. Bacon grease adds a great smoky flavor to any dish.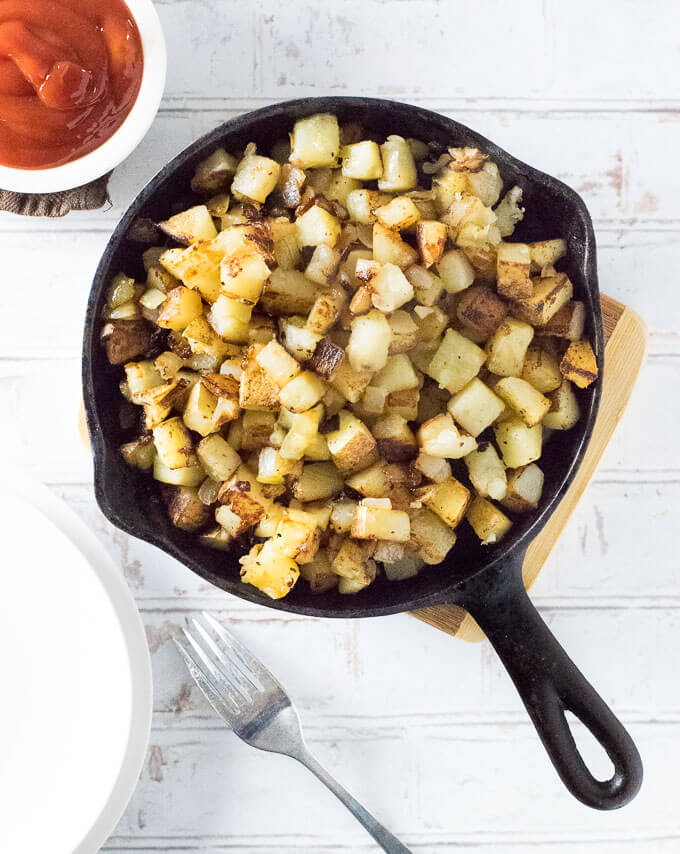 How to Cook Potatoes in a Skillet
The secret to getting perfectly cooked tender potatoes in a skillet is to cook them covered for 10 minutes, then finish cooking them for an additional 10 minutes uncovered, or until done.
Cooking them covered traps in the heat which will help ensure you get tender, fluffy, potato cubes, then cooking them uncovered allows you to get the crisp crust to form. I recommend using a nonstick skillet or the classic cast iron skillet.
What To Serve with Southern Fried Potatoes
Like my homemade hash browns, southern fried potatoes are one of my favorite breakfast side dishes. You can customize this recipe by cooking breakfast sausage with it, or simply serve it with scrambled eggs. However, I personly love a couple over easy-eggs resting on top of it, so the potatoes can sop up the runny yolk!
You don't have to limit yourself just to breakfast though. I would be delighted if someone served me a side of these hearty potatoes with a great meatloaf. This is a great side dish for meatloaf particularly since the meatloaf occupies the oven and the potatoes can be prepared on the stove top. Round out your meal with a side of Southern Fried Cabbage or Southern Fried Corn.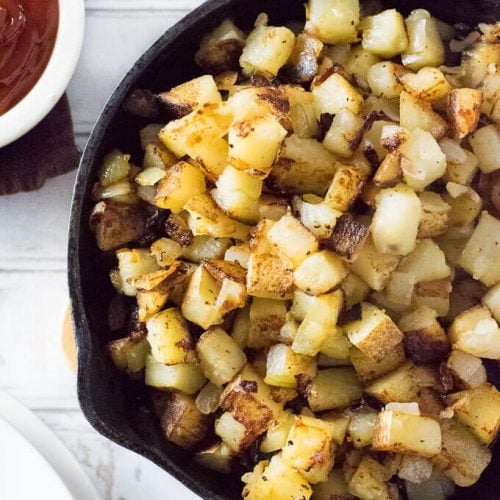 Southern Fried Potatoes
Southern fried potatoes feature tender cubed russet potatoes and chopped onions which are pan-fried to create a delectably crisp charred crust.
Print
Pin
Rate
Ingredients
½

sweet onion

(chopped)

1

pound

russet potatoes

(chopped into ½"-¾" cubes)

2

tablespoon

cooking oil

(or bacon fat)

2

tablespoons

butter

¼

teaspoon

kosher salt

½

teaspoon

ground black pepper
Instructions
Cube potatoes and rinse under cold water. Drain water and briefly pat dry.

Place cubed potatoes into a large bowl and add cooking oil, tossing to evenly coat.

Melt butter in a non-stick skillet set over medium heat and add potatoes, onions, salt, and pepper. Mix to combine and cover, cooking for 10 minutes.

Remove cover and turn the heat up to medium-high. Cook for another 10 minutes, occasionally flipping potatoes with a spatula as a brown crust forms.
Notes
If your potatoes are cubed larger, or if you are cooking at a lower heat, it will affect how long your potatoes take to cook. If your potatoes are undercooked at the end of the listed cooking time, simply cook them longer until tender.
If you wish to add seasonings to this recipe,  garlic powder, onion powder, paprika are all great options!
IF YOU LIKED THIS RECIPE check out my Scalloped Potatoes and Ham recipe too!
Nutrition
Calories:
215
kcal
|
Carbohydrates:
23
g
|
Protein:
2
g
|
Fat:
12
g
|
Saturated Fat:
4
g
|
Cholesterol:
15
mg
|
Sodium:
204
mg
|
Potassium:
522
mg
|
Fiber:
1
g
|
Sugar:
2
g
|
Vitamin A:
175
IU
|
Vitamin C:
8.4
mg
|
Calcium:
23
mg
|
Iron:
1.1
mg
Can you do me a favor? If you enjoyed my post would you mind sharing it with your friends? You can see more of my recipes by liking me on Facebook and follow me on Pinterest too. Otherwise, stay up to date by getting each new post sent directly to your inbox by subscribing today.