I drink coffee like fish breathe water. Actually, I think I need coffee more than fish need water. When fish don't have water they die, and dead fish is delicious. When I don't have coffee I get crabby, and ain't nobody coming to the dinner table for that!
What I love about this coffee crusted steak rub is the coffee flavor really shines through. Even my 5 year old stepson commented, "Is there coffee in here?" He then detected sugar as well. I was quite impressed with his distinguishing palate! And in case you are concerned, the steak rub got his raving approval. He was asking to eat the seasoning right out of the dish!
This rub is quick and easy to whip up, and there is a high probability that you already have all of the ingredients for it in your pantry. After trying this coffee crusted steak rub you will likely want to keep a blend of it on hand at all times. It's that good.
The coffee crusted steak rub is perfect for steaks going on the grill, or being made in the kitchen. When I'm not grilling, my favorite way to make a steak is by cooking it from frozen. I'm serious. If you haven't checked out my recipe for how to cook a frozen steak, you need to check it out. It will rock your world! You will notice in the picture below that my steak does not have an overcooked gray band near the surface of the cut meat, this is because cooking it from frozen allows the interior to stay cold while the outside is searing, only to later come to temperature in the oven. You'll never thaw a steak again!
I do recommend purchasing a coffee grinder. I own the Krups grinder and would buy it again, and again, and again. It's inexpensive and its quiet and fast blades preform better than more expensive grinders I've had the misfortune of purchasing. Fresh ground coffee always tastes better than pre-ground. Coffee beans are like bread, they go stale quickly so anything you can do to preserve the flavor is beneficial. Most people don't realize how easily coffee beans stale because they are only accustomed to drinking stale coffee since pretty much everything you buy in the store is already stale. I would encourage everyone to roast their own coffee beans at home, but I suspect that would be a hard sell for many.
The above link is an affiliate link. Any Amazon purchases made through this link helps support FoxValleyFoodie.com without any additional cost to you!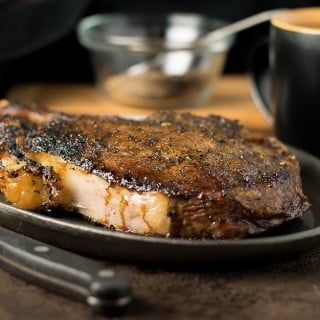 Coffee Crusted Steak Rub
This coffee crusted steak rub is sweet, earthy, and has that coffee kick you'll love! This rub will quickly become a staple in your pantry!
Print
Pin
Rate
Ingredients
1

teaspoon

ground Coffee

1

teaspoon

Table Salt

1

teaspoon

Brown Sugar

¼

teaspoon

Paprika

¼

teaspoon

Garlic Powder

¼

teaspoon

Onion Powder

¼

teaspoon

Black Pepper

fresh ground

Steaks
Instructions
Combine all seasonings together.

Rub generously onto both sides of steak.

Grill steak for 3-5 minutes per side on high heat, or until desired doneness.

Let steaks rest 5 minutes before cutting.
If you enjoyed reading my coffee crusted steak rub recipe then you should probably like me on Facebook and follow me on Pinterest too. That's what I would do at least, because if you don't get to know me but you still use my recipe it is kind of like taking candy from a stranger, and your mom taught you not to do that. Don't disobey your mom, subscribe to Fox Valley Foodie today.