This bold Asian steak marinade is a flavorful way to kick up the flavor of any grilled steak, and great to use on chicken and fish as well! I love this marinade because not only is it fast and easy to prepare, but it is quick-acting. You can marinate a great-tasting steak in under two hours!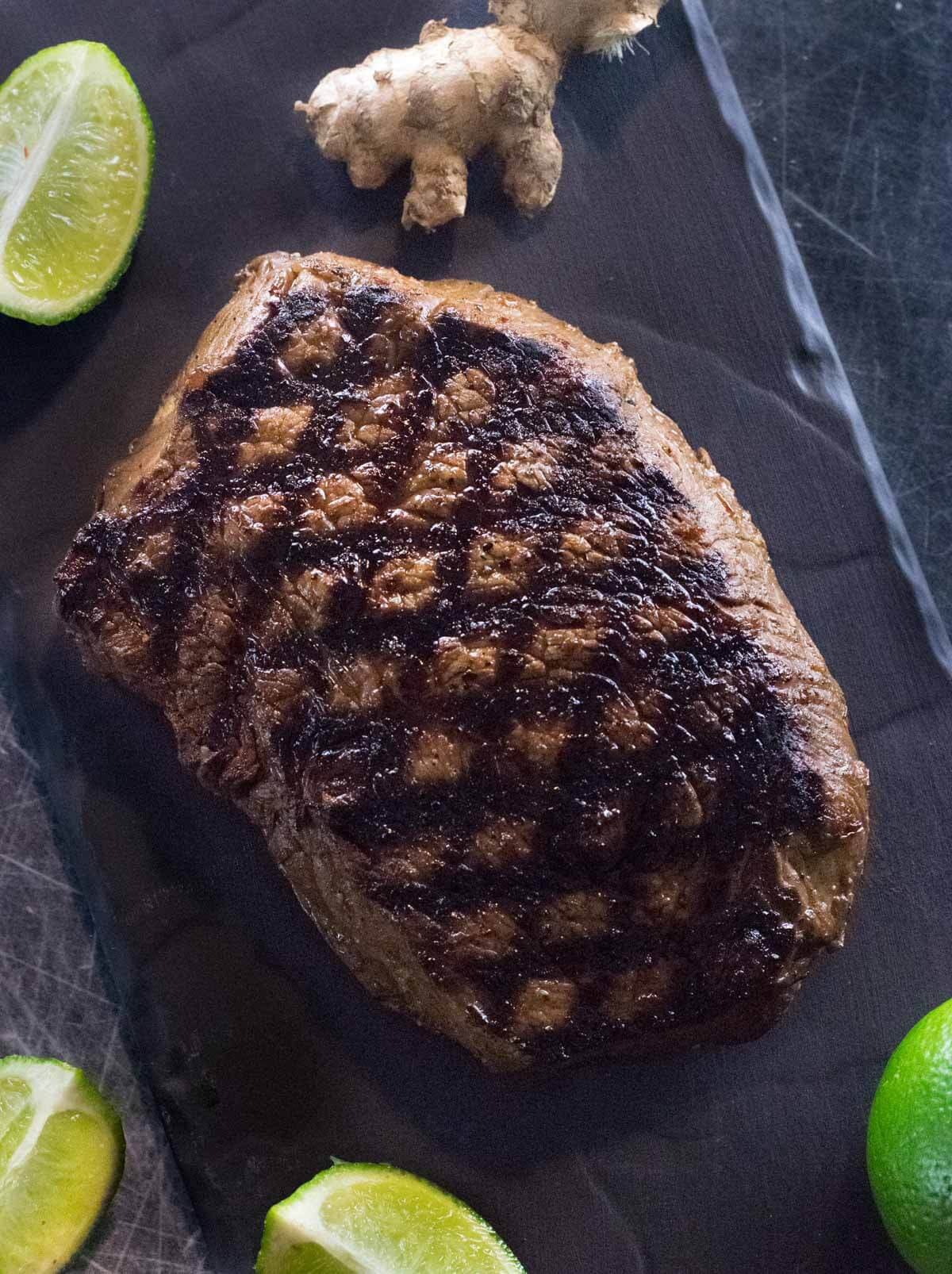 Ingredients you will need
Soy sauce
Rice vinegar - This can be found in the Asian food aisle and also by the other traditional vinegars.
Chili paste - Chili paste is typically found in the Asian food aisle. If you aren't sure what this is, check it out here.
Mirin - Mirin is similar to sake and adds sweetness.
Ginger - You want fresh ginger.
Black pepper - Fresh ground is best.
Lime juice - Fresh or bottled lime juice will work.
Garlic
How to marinate your steak
The salt and vinegar content in this Asian-inspired marinade ensures it is quick-acting. A two-hour soak is all you need. If you marinate your steak for too long the vinegar will start breaking down the texture of the meat, turning it mushy.
Combine all of the marinade ingredients together then pour them in a one-gallon zip lock bag with one or two steaks. Seal up the bag and let it rest in the refrigerator. Be sure to turn the bag every half hour or so to ensure the meat marinates evenly.
Tip: I recommend placing the bag in a rimmed pan to catch the liquid in case it leaks.
Ways to customize your marinade
This is an easy recipe to customize. I recommend keeping the soy and vinegar ratio the same, to use as a base, and then change the remaining flavorings to fit your preferences. Here are some ideas.
Swap out lime another fruit juice, such as oranges or pineapple. The amount of fruit juice used can also be increased.
To make it spicier add some hot chili oil.
Swap out mirin for honey or brown sugar.
Ways to use this recipe
Marinate steak - Any cut of steak will work well. Marinate for two hours. This works well for grilled steak, and reverse sear steaks.
Marinate chicken - This can also be used to marinate your favorite cuts of chicken. Again, I would recommend a two-hour marinade for chicken.
Marinate fish - This would be particularly well suited to use with fresh salmon, however, I would cut the marinating time down to one hour.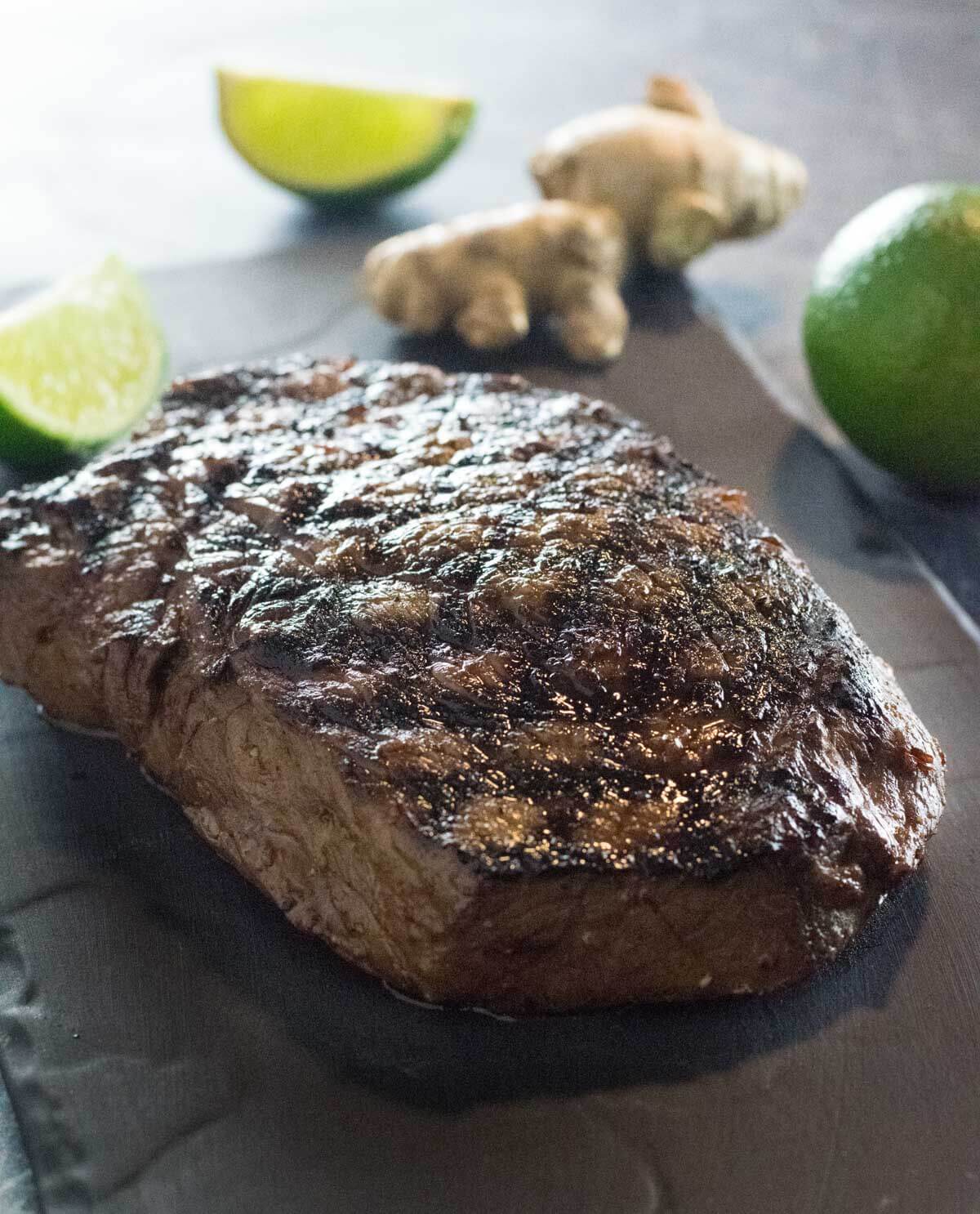 Prep FAQs
What is the best way to juice a lime?
Warm limes yield a lot more juice than cold limes. So prior to juicing microwave for lime for 10 seconds, or just enough to warm it up. Then slice it in half and expel the juice with a lime press.
How do I prep ginger?
The skin on the gingerroot should be peeled or cut off prior to mincing with a knife. This allows more flavor to be extracted without being blocked by a barrier of skin.
How to prep the garlic?
The garlic simply needs to be smashed with a meat mallet or flat side of your chef's knife. This breaks open the clove to release more flavor. The skin should be discarded.
More Marinades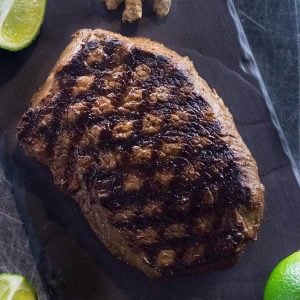 Ingredients
½

cup

soy sauce

¼

cup

rice vinegar

2

tablespoons

Chili paste

2

tablespoons

Mirin

1

tablespoon

fresh minced ginger

1

teaspoon

black pepper

2

tablespoons

lime juice

2

cloves

garlic

(crushed and peeled)
Instructions
Combine all marinade ingredients together and pour into a gallon zip lock bag with steak.

Marinate for two hours and then remove meat and cook your perfered way.
Notes
This marinade can easily accommodate two steaks. Scale the recipe up as needed.
In my opinion, the best way to cook a steak with this Asain-inspired marinade is to grill it. Check out my tutorial on grilled steak for tips.
Nutritional Information
Calories:
186
kcal
|
Carbohydrates:
35
g
|
Protein:
14
g
|
Fat:
1
g
|
Saturated Fat:
1
g
|
Sodium:
6750
mg
|
Potassium:
451
mg
|
Fiber:
2
g
|
Sugar:
13
g
|
Vitamin A:
90
IU
|
Vitamin C:
16
mg
|
Calcium:
57
mg
|
Iron:
3
mg