I've always loved steak. Who doesn't? Well vegetarians I suppose, but they don't count. Don't worry; they won't be insulted by my flippant comment. Vegetarians don't use the internet because it doesn't run on soy, so they'll never see this.
I grew up with a completely underwhelming idea of a steak. You know the ones, ¾" thick, goes from raw to shoe leather in 30 seconds flat – medium rare consisting of a 1/8" red line through the center; reminiscent more of a pregnancy test kit than prime culinary fare. Sadly these are still being passed off as legitimate cuts to many oblivious Wisconsinites at some of the "fine" supper clubs around here.

Side note: I LOVE the idea of Supper Clubs. I hate the execution of most of them around here. They have successfully succeeded in convincing much of the local populace to go there for an elevated dining experience when in reality rural Wisconsin is just mired in low culinary expectations. But I digress…
After becoming an adult I was fortunate enough to travel the country and in doing so eat at some fairly nice restaurants. What did I notice? The steaks were huge! They were at least twice as thick as the steaks I was accustomed to eating, and far more enjoyable. I never wanted to eat thin steaks again.
Recently I got my hands on a quarter cow. Doing this not only saves me a bunch of money by purchasing in bulk, but I also got to provide all of the specifications for the butchering myself, which means I now have a freezer full of 1 ½" steaks waiting to do my bidding!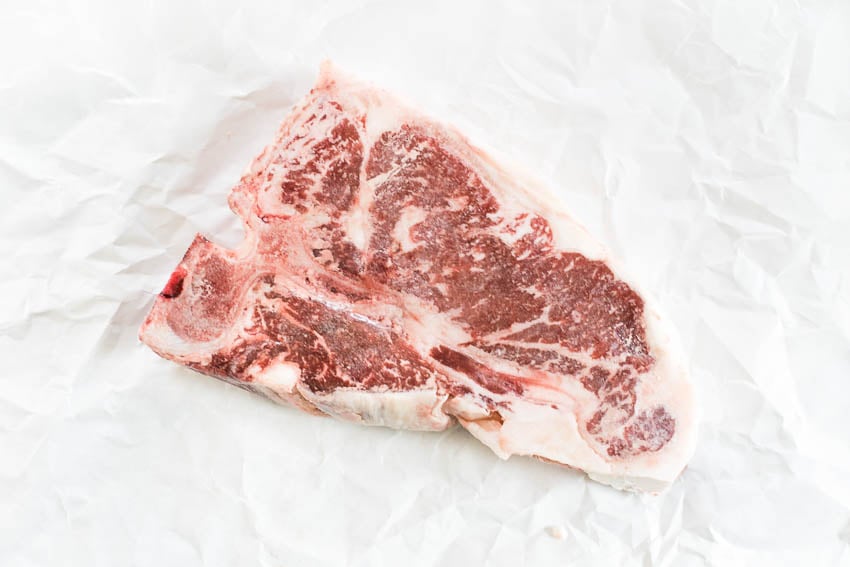 The problem with a freezer full of frozen steaks is that they are, well, frozen! It takes some planning ahead to thaw them out and have them ready for dinner. But what if I told you that it is best to cook frozen steaks while they are still rock hard? I'm serious.
Don't pre-thaw your frozen steaks. Here's why: When browning the steak in the pan the exterior will heat up sufficiently to form a nice crust while the inside stays nice and cold, preventing the residual 'graying' inside the meat nearest to the surface. When you finish the steak in the oven the interior will thaw and gently heat up to your desired temperature. Since the interior is heating up in the oven and not in the pan you will eliminate the gray band of meat encapsulating your medium-rare goodness which means a more tender steak and more moisture.
So how do you do it exactly?
How to Cook a Perfect Frozen Steak
(Printable recipe summary at the bottom)
Gather your ingredients:
2 Frozen Steaks
Cooking Oil
Salt and desired steak flavor enhancer (see my recipe below)
Get out your 12" pan (I recommend cast iron) and add enough oil to cover the bottom (~1/8"). Heat on high and lay your steaks into the pan.
NOTE: Make sure there is not any noticeable ice on the steak or you will have a nasty flare up. If so, let the exterior thaw slightly and pat dry with a paper towel.
Cooks Illustrated, where I learned this trick, recommends cooking at 90 seconds per side. For my gas stove it is closer to 2-3 minutes per side. Use your judgment and adjust time and heat accordingly. You don't want a carbon-dated charred mess but you also don't want the steak to come out gray. If the time is up and it doesn't look like it has browned sufficiently, just put it back in for a bit longer. Relax, you are burning meat. You should be good at that.
You have your oven pre-heated to 275 degrees, right? Ok good. When the steaks are done in the skillet, place them on a wire rack sitting atop a baking sheet. You want the steaks elevated on the wire rack so they cook evenly in the oven.  If they sit directly on the pan there will be more heat transfer to the bottom of the steak.
Now you can season the steaks to your liking. Here is what I brush my steak with:
Mix the following together:
1 tbsp olive oil
1/2 tsp worcestshire
1/4 tsp balsamic vinegar
1/4 tsp high quality liquid smoke (don't let BBQ diehards ever talk you out of buying it)
1 tsp fresh ground pepper
¼ tsp brown sugar
1/8 tsp onion powder
1/8 tsp garlic powder
1/8 tsp paprika (smoked is best)
1/8 tsp cinnamon
Dash of salt
This should be enough to liberally brush two steaks. Once each side is completed remember to generously dust with salt as needed.
Now place the baking sheet in the oven and wait. How long? Well that depends on how well you want your steaks done and how thick they are. So that is going to vary. Figure 15 minutes – 30 minutes, although my 1 1/2″ steaks take up to an hour. Plan for much longer if you incessantly have to keep opening the oven to check on them…
…which is why you need this:
Yes, you need a digital meat thermometer. Unless you work in a restaurant kitchen I am guessing you don't cook enough steaks to accurately decipher their degree of doneness by feel alone. This is one of my favorite items in the kitchen and at under $20 there is really no excuse why everyone shouldn't have one. Say goodbye to rubber chicken, ruined Thanksgiving turkeys and overcooked steaks. This one piece of equipment will result in more successful meals than anything else you can buy.
After the steak reaches your desired level of doneness, remove it from the oven and let it rest for 5 minutes. Why? Because if you cut into it now the juices will come running out and your steak won't be nearly as moist and succulent as it could be. You already put in all this effort to make a great meal, don't ruin it now.
There you have it. I think you will find this is likely the best frozen steak you've ever eaten. Not only is it more moist, more evenly cooked, but the slower cook time also provides greater margin for error. So don't feel bad for throwing a good cut of steak in the freezer, you just may have completed the first step to making the best steak that's ever come from your kitchen.
Print Recipe
How to Cook a Perfect Frozen Steak
Frozen steaks can be the the best tasting steak to ever come out of your kitchen. Not only is it more moist, more evenly cooked, but the slower cook time also provides greater margin for error.
Ingredients
2

Frozen Steaks

Cooking Oil

Salt and desired steak flavor enhancer

see my recipe below
Marinade
1

tbsp

olive oil

1/2

tsp

worcestshire

1/4

tsp

balsamic vinegar

1/4

tsp

high quality liquid smoke

(don't let BBQ diehards ever talk you out of buying it)

1

tsp

fresh ground pepper

¼

tsp

brown sugar

1/8

tsp

onion powder

1/8

tsp

garlic powder

1/8

tsp

paprika

(smoked is best)

1/8

tsp

cinnamon

Dash of salt
Instructions
Preheat oven to 275 degrees.

Heat 12" pan on high and add enough oil to thinly cover the bottom of the pan.

Sear each side of the steak for 90+ seconds, or until a brown crust forms.

Remove from pan and place on wire rack over a baking sheet.

Add desired steak seasonings, such as the marinade listed below, and generously dust with salt.

Insert oven thermometer inside the deepest part of the steak and place in the oven for 15-30 minutes, until it reaches your desired level of doneness. Opening the oven frequently will drastically increase cooking time. (Medium rare is 135 degrees)

Remove from oven and let rest 5 minutes prior to cutting and serving.
Marinade
Mix all ingredients together and brush on steak when putting it in the oven.
*Calories listed are a vague estimate and accuracy should not be assumed.
If you enjoyed reading How to Cook a Perfect Frozen Steak then you should probably like me on Facebook and follow me on Pinterest too. That's what I would do at least, because if you don't get to know me but you still use my recipe it is kind of like taking candy from a stranger, and your mom taught you not to do that. Don't disobey your mom, subscribe to Fox Valley Foodie today.
[jetpack_subscription_form title="Subscribe to Fox Valley Foodie" subscribe_text="Enter your email address to subscribe to FoxValleyFoodie.com and get every tantalizing post sent right to your inbox! Oh, and rest assured, I will never sell, share, or make fun of your embarrassing email address!"]