Serve up healthy fresh seafood for dinner with these lively marinated tuna steaks gently soaked in soy, lime, olive oil, and seasonings. This is a perfect main course for a weeknight meal or a special occasion!
I recently came upon a bounty of fresh tuna steaks. Now, I'll be honest, I am too cheap to typically buy fresh seafood for myself, however, my brother-in-law recently went deep sea fishing and between him and his fellow boat-mates, they purported to catch a fish market value of $11,000 worth of fresh tuna. Now, I am no fishmonger, so I can't verify that exactly, but fishermen would never lie, right?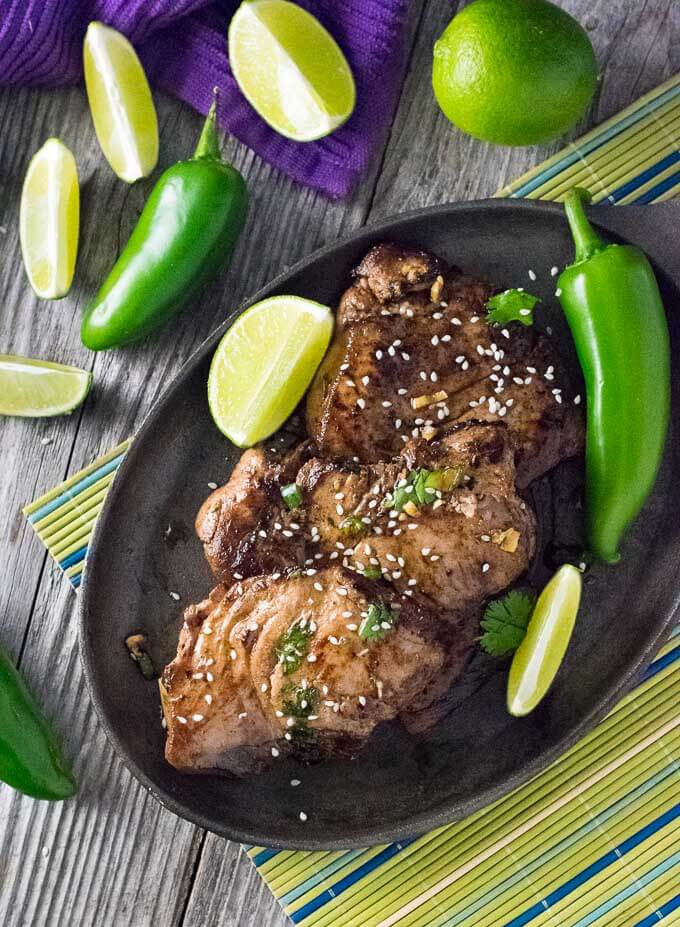 My family isn't crazy about seafood, so I am tasked with consuming these delectable steaks all by myself. Isn't life rough? Normally I would insist on my children eating it too, but that rule goes out the window once the price exceeds $10 a pound. So I am left to share this easy recipe with you all to enjoy.
What are

Marinated Tuna Steaks

?
My tuna steak marinade recipe plays off of an Asian-inspired theme by featuring simple ingredients such as a mixture of soy sauce, lime, and olive oil. I add a chopped jalapeno for a subtle kick, although that can be omitted if you are heat-adverse, however, the sweetness from the dash of sugar does provide balance to the mild heat.
Tuna is an exceptionally mild-flavored fish, making it ideal for taking on the flavors of a marinade. Though you can simply season tuna and brush it with olive oil, I think you will find this 15 minute marinade to be the best way to enjoy these tender tuna steaks. In particular, Asian flavors pair wonderfully with tuna.
Ingredients and Substitutions
Tuna steaks - You want fresh or frozen tuna steaks. You absolutely do not want canned tuna for this recipe. Any high-quality variety will work. Ahi tuna, yellowfin tuna, or albacore tuna are all common varieties of fresh fish you may find at your local grocery store, but feel free to grab another type of tuna if you find it.
Vegetable oil - Olive oil or sesame oil are great choices.
Sesame Seeds
Lime juice - You can use fresh limes or bottled lime juice. Fresh lemon juice and orange juice could be substituted in a pinch. Otherwise, you can also get acidity from rice vinegar, but you will lack the great flavor of citrus juice.
Soy sauce - I enjoy this recipe with regular soy sauce but a few people mentioned it was too salty for them, so I now recommend reduced sodium soy sauce for anyone who is sensitive to salt.
Fresh Cilantro - Fresh parsley can be substituted.
White Sugar
Fresh Garlic clove
Jalapeno pepper - A Thai pepper would be a great substitute. Otherwise, you can also add crushed red pepper flakes.
How Long Do You Marinate Tuna Steaks

?
It doesn't take long for the tuna to soak in the flavor of this tuna steak marinade. I think 30 minutes to an hour is the sweet spot, but more generally 15 minutes - 2 hours is what I aim for.
Can you marinate tuna too long?
Yes, absolutely fresh tuna can be marinated for too long. You do not want the tuna steaks to sit in the marinade for an excessive amount of time or the acids will ruin the texture of the fish, similar to making ceviche.
How to Cook Tuna Steaks
High-quality tuna is meant to be enjoyed rare. Ideally, you want to sear the tuna while leaving the interior perfectly pink. Overcooking this tuna steak recipe will leave it dry and flavorless. To achieve perfectly cooked tuna steaks you will want to employ a ripping hot skillet. The aim is to quickly sear both sides of the steaks before the interior heats up excessively. I like using my cast-iron skillet for this, otherwise, any large nonstick skillet will also work.
On most stoves, medium-high heat should be sufficient, but don't be afraid to go hotter if needed. Be sure to add a generous swirl of oil into the pan, as this will help with browning. Rare tuna only will require a couple of minutes per side to get a good sear. Obviously thinner tuna steaks will cook faster than a thick steak.
Tip: This can also be done on an outdoor grill!
What to Serve with Tuna Steaks
OK, so you are all set to serve your Marinated Tuna Steaks to your adoring family, but what should you serve with it? Aim for a light side dish like a simple salad, nothing too heavy. My Mexican Street Corn Salad, Honey Roasted Beets, or Coconut Milk Rice with Pineapple would all be flavorful accompaniments. Even something as simple as oven roasted asparagus would be appropriate.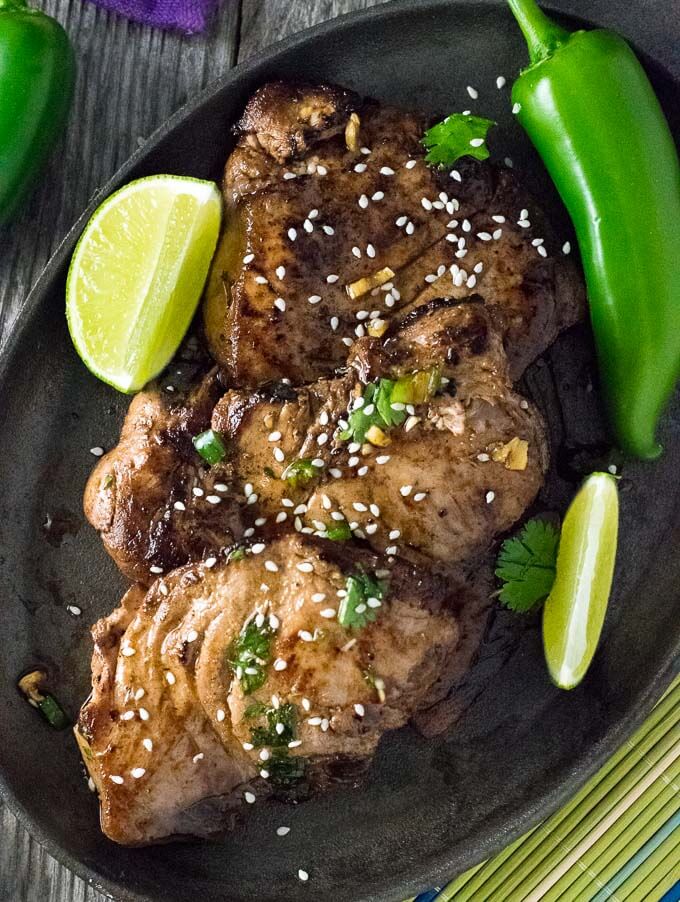 Can you do me a favor? If you enjoyed my post would you mind sharing it with your friends? You can see more of my recipes by liking me on Facebook and follow me on Pinterest too. Otherwise, stay up to date by getting each new post sent directly to your inbox by subscribing today.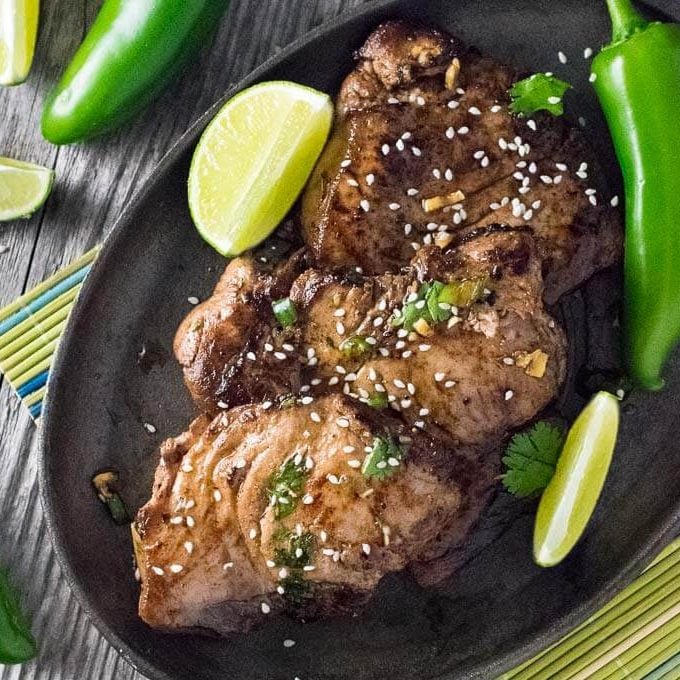 Marinated Tuna Steaks
Serve up healthy fresh seafood for dinner with these lively Marinated Tuna Steaks gently soaked in soy, lime, olive oil, and seasonings.
Print
Pin
Rate
Save
Saved
Ingredients
1

pound

fresh Tuna steaks

2

tablespoon

Cooking oil

1

teaspoon

Sesame Seeds
Tuna Steak Marinade
¼

cup

Lime juice

¼

cup

Soy sauce

2

tablespoons

Olive oil

¼

cup

chopped Cilantro

¼

teaspoon

Sugar

1

clove

Garlic

(minced)

½

Jalapeno pepper

(diced)
Instructions
Combine all of the marinade ingredients in a small bowl and whisk together with a fork.

Place raw tuna steaks in a gallon zip-lock bag and add marinade, reserving 1 tablespoon. Let marinade for 15 minutes - 2 hours.

Add cooking oil to a heated skillet set to medium-high heat.

When oil is heated and shimmering add tuna steaks. Cook for 2-3 minutes per side, aiming to sear the exterior while the interior remains pink. Cooking time can vary depending on the thickness of your tuna steak.

Remove the seared tuna steaks from the skillet and let rest for 5 minutes, spoon over the remaining tablespoon of marinade if desired, sprinkle with sesame seeds, then serve.
Notes
Optional: Green onions can also be sprinkled on as a fresh garnish.
Substitute reduced sodium soy sauce if you are more sensitive to salt. 
It is best to let your tuna steaks come to room temperature prior to cooking.
Discard marinade after use.
This recipe can also be used on other types of fish.
Nutritional Information
Calories:
407
kcal
|
Carbohydrates:
4
g
|
Protein:
38
g
|
Fat:
27
g
|
Saturated Fat:
4
g
|
Polyunsaturated Fat:
6
g
|
Monounsaturated Fat:
15
g
|
Trans Fat:
0.04
g
|
Cholesterol:
57
mg
|
Sodium:
825
mg
|
Potassium:
499
mg
|
Fiber:
0.4
g
|
Sugar:
1
g
|
Vitamin A:
3426
IU
|
Vitamin C:
9
mg
|
Calcium:
31
mg
|
Iron:
2
mg
This recipe was originally published June 13, 2018 on FoxValleyFoodie.com.