Slow Cooker BBQ Ribs are incredibly tender and moist but best of all, this is the easiest way to make ribs!
This recipe is a lot like teaching teenagers safe sex: it would be best if they abstained, but if they are going to do it, they should know how to do it correctly. Similarly, making BBQ ribs is best performed when a man falls in love with a smoker and is ready to commit a full afternoon of his life to care for the ribs through the highs and lows of the inevitable temperature swings. However, sometimes you just want some quick and dirty BBQ without the commitment. If that sounds like you, then let's discuss how to do it properly, lest you end up with something you'll regret.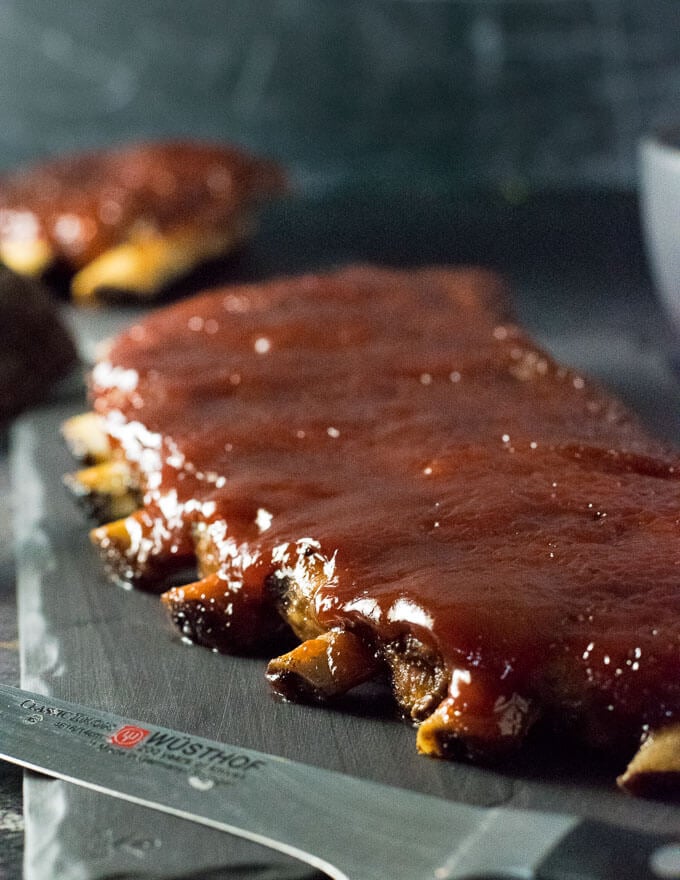 Best Way to Cook Ribs
This is certainly no secret, however, the best way to make BBQ ribs is in a smoker. The slow dry heat will render the tough slab of pork into mouthwateringly tender BBQ soaked in an intoxicating smoky flavor. However, similar to cooking ribs on the grill, this is also the most difficult way to make BBQ.
Instead, many home cooks prefer to cheat and bring their barbecue indoors, and I have been known to do this myself. My favorite way to make ribs indoors is cooking ribs in the oven. However, sometimes you just want something hassle-free, and that is where the slow cooker comes in. Slow cooker BBQ ribs are the easiest way to enjoy this barbeque classic.
Dry Rub for Ribs
Regardless of which cooking method you choose for BBQ ribs, the seasoning is the same. I use the same dry rub for ribs regardless if I am smoking, grilling, baking, or slow cooking. Apply it liberally on the ribs to fully coat them prior to cooking, you can even coat them the day prior and let rest in the fridge overnight. This rub works great on any other BBQ recipe too, such as pulled pork or country style ribs!
If you decide not to whip up a batch of my dry rub recipe, you can use your favorite store-bought BBQ rub instead. Same with BBQ sauce, you can make my homemade BBQ sauce for this recipe, or use a store-bought brand.
Slow Cooker BBQ Ribs
This recipe works best with a 6-quart slow cooker which will easily accommodate two full racks of ribs. I find it is best to cook the ribs standing on their sides. This raises them out of the pooling liquid on the bottom of the slow cooker. You will want to flip the ribs halfway through cooking so they cook evenly, otherwise, the lower portion of the ribs will cook in the liquid the whole time, resulting in a mushier texture.
How Long Do I Cook Ribs in the Slow Cooker
Individual cooking time will vary depending on the cooking temperature of your slow cooker. However, it takes me 4 ½ hours to on low to get perfectly tender ribs. After a couple hours of cooking, you will want to check on them every 30 minutes or so to see if they are done yet. If the ribs are still tough, just let them cook longer. The longer they cook the more tender they will become.
When Are Ribs Done?
Ribs are done when the bone can gently be pulled away from the meat and the meat cracks and threatens to break when lifted. Ideally, you want the rib meat to be comparable to an exceptionally tender steak. If the ribs cook for too long, the meat will fall off the bone, begin to shred, and simply fall apart.
Fall Off the Bone Ribs
Fall off the bone ribs is the biggest misnomer in cooking. You do not want fall off the bone ribs. Fall of the bone ribs are overcooked ribs that are less flavorful, lack texture, and are downright mushy. It is basically like eating a BBQ meat sponge. Next time someone mentions fall off the bone ribs, you have my permission to slap them.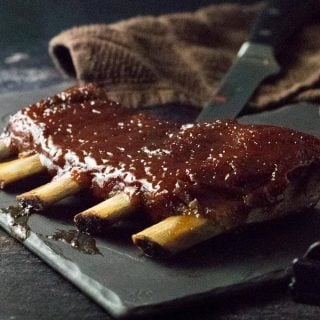 Slow Cooker BBQ Ribs
Slow Cooker BBQ Ribs are incredibly tender and moist but best of all, this is the easiest way to make ribs!
Print
Pin
Rate
Save
Saved
Ingredients
2

racks

Baby Back Ribs

(membrane removed)

1

recipe

Dry Rub for Ribs

(click link or use your favorite store bought rub)

¼

teaspoon

Liquid Smoke

1

bottle

BBQ Sauce
Instructions
Liberally coat the ribs with the dry rub until fully coated.

Place ribs in a 6-quart slow cooker, standing them on their side, leaning against the wall of the slow cooker.

Add liquid smoke to the slow cooker and cook on low for 2 ½ hours then flip the ribs and continue cooking for another 2 hours, for a total of 4 ½ hours.

Ribs are done when the bones can be pulled away from the meat, and the meat cracks when lifted, however, the meat should not fall apart. If the meat is not sufficiently tender yet, just let it cook longer.

Remove ribs from the slow cooker and set broiler on high.

Placing ribs on a rimmed baking sheet, place on middle oven rack under the broiler until a brown crust forms on the meat.

Remove from the broiler and liberally paint with BBQ sauce, then place on the top rack of the oven and broil until BBQ sauce thickens into a jam and threatens to burn.

Remove from oven, let cool briefly, and serve.
Notes
If your dry rub does not contain salt you will want to lightly dust the ribs with salt prior to cooking.
This recipe is designed for baby back ribs, however, it can be used with St. Louis style ribs too, however, the cooking time may be slightly longer.
IF YOU LIKED THIS RECIPE you will love my Slow Cooker BBQ Pulled Pork recipe too!
Nutritional Information
Calories:
553
kcal
|
Carbohydrates:
30
g
|
Protein:
36
g
|
Fat:
31
g
|
Saturated Fat:
10
g
|
Cholesterol:
130
mg
|
Sodium:
940
mg
|
Potassium:
641
mg
|
Sugar:
25
g
|
Vitamin A:
210
IU
|
Vitamin C:
0.4
mg
|
Calcium:
83
mg
|
Iron:
1.9
mg
If you enjoyed reading my Slow Cooker BBQ Ribs recipe then you should probably like me on Facebook and follow me on Pinterest too. That's what I would do at least, because if you don't get to know me but you still use my recipe it is kind of like taking candy from a stranger, and your mom taught you not to do that. Don't disobey your mom, subscribe to Fox Valley Foodie today.