Mouthwateringly tender pork ribs slathered in your favorite BBQ sauce, you won't be able to put these grilled country style ribs down!
My wife and I agreed, these Grilled Country Style Pork Ribs were quite possibly the greatest edible collection of calories I've crafted all year. Now, I don't actually keep an updated ranking my best meals displayed on the side of the refrigerator or anything. That would require too much effort. Instead, this infallible award is solely based on my less than perfect memory. So please forgive me next month when I have a new 'best meal of the year'.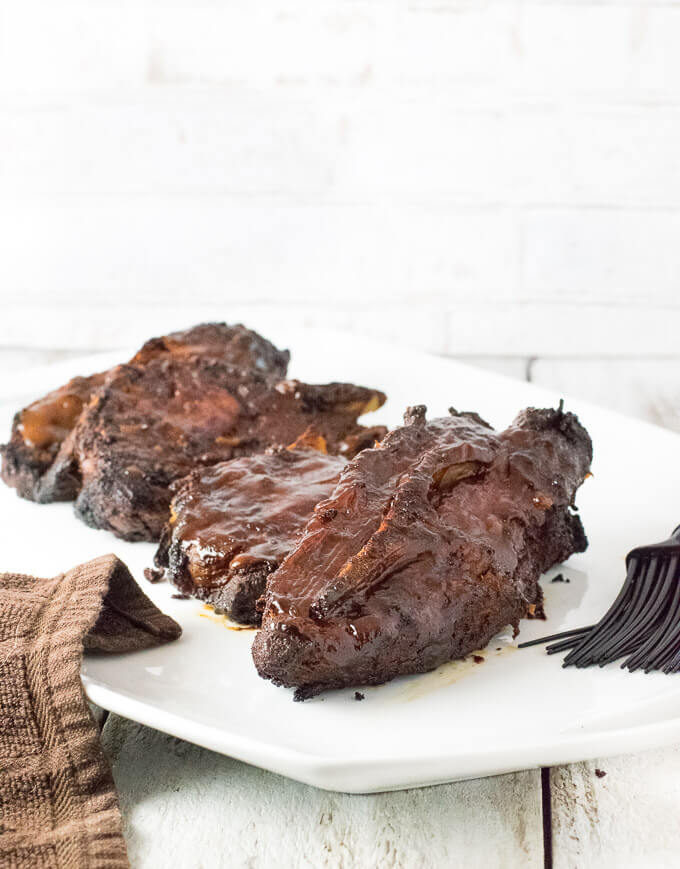 What Are Country Style Ribs
Country Style Ribs are cut from the loin but can also contain some shoulder meat. These are boneless ribs in the sense that they don't contain a rib bone, however, they can still have a portion of the shoulder blade instead. This is an incredibly meaty cut that also features a good bit of fat, making it ideal for slow smoking or grilling. As the ribs linger on the grill the fat will begin to melt and the meat will turn mouthwateringly tender.
Here is the best thing about country style ribs: they are incredibly inexpensive cuts of meat. You can find these for just a couple dollars a pound. I paid $1.19, on sale! That makes everything taste better.
BBQ Country Style Ribs
You can find country style ribs as both pork and beef cuts. Though this particular recipe features pork, both would taste excellent lacquered in barbeque flavors. I recommend coating the meat with a thin layer of mustard and then heavily seasoning it with a BBQ dry rub, my dry rub recipe is perfect for this! The mustard holds the rub in place and the brown sugar centric rub lends incredible flavor.
You can also coat these ribs in your favorite homemade BBQ sauce. Honestly, it tastes great with or without the sauce. I like slathering on the sauce while they are still cooking because it helps transform the sauce into a sticky jam that clings to each bite of the meat.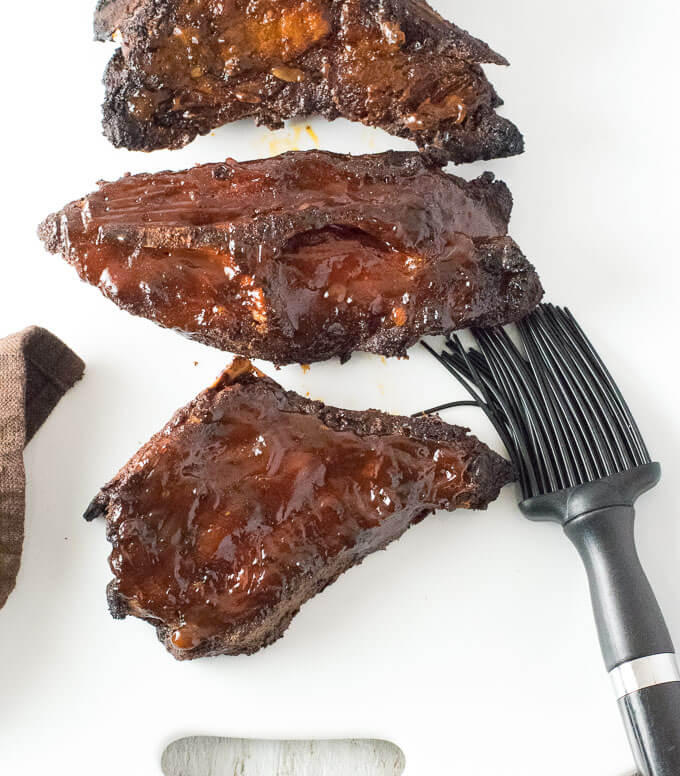 Grilled Country Style Ribs
I thought about doing this as an oven-baked ribs recipe, or even country ribs in a slow cooker, both methods work, however, country style ribs are meant for grilling. Grilling allows the meat to drink up the intoxicating flavors of the flames and charcoal that just can't be replicated elsewhere.
The best way to grill country style ribs is over indirect heat. If using a charcoal grill, set the ribs opposite as the charcoal. If using a gas grill turn on a burner away from the meat. If you light too many charcoal briquets at once the grill will want to run hot. You can close the air vents to reduce oxygen which will slow the burn, however, the best way to prevent this is to only light a handful of briquets and set them on a pile of unlit briquets. This will allow the heat to slowly spread over the course of your cooking session. Remember, low and slow is your grilling mantra with these ribs!
I recommend using a chimney starter for this recipe. Not only do they work great for lighting charcoal, using 1 full chimney will ensure you are using enough charcoal.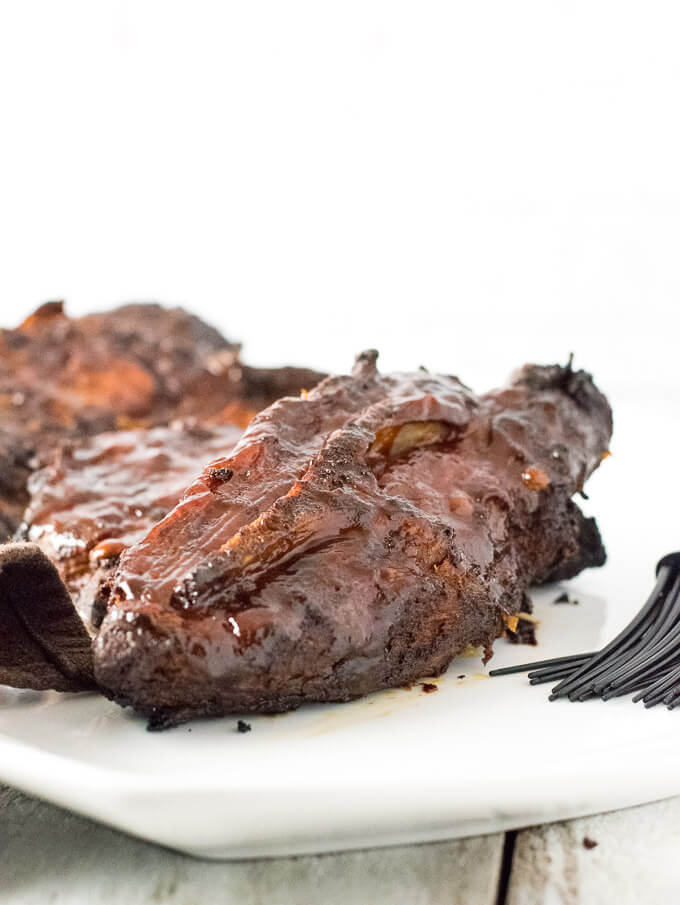 What is a Good Side with Ribs
For the best cookout your neighborhood has ever seen, be sure to add equally flavorful side dishes to the menu. My homemade baked beans and homemade coleslaw recipes are barbeque musts! Grilled baked potatoes are a perfect hearty side dish as well!
Grilled Country Style Ribs
Mouthwateringly tender pork ribs slathered in your favorite BBQ sauce, you won't be able to put these grilled country style ribs down!
Print
Pin
Rate
Ingredients
4

Country Style Pork Ribs

2

tablespoons

Yellow Mustard

(or as needed)

4

tablespoons

BBQ Dry Rub

(or as needed)

½

cup

BBQ Sauce

(or as needed)
Instructions
Coat each pork rib with a thin layer of yellow mustard, then generously dust with BBQ seasoning on all sides. (this can be done up to a day in advance or immediately prior to grilling)

Fill a charcoal chimney up with charcoal and dump 80% of it out onto one side of the grill. Light the remaining handful of briquettes and add them on top of the unlit charcoal. (see note)

Lightly oil the grill grates to prevent sticking and place the pork ribs on the far side of the grill, away from the coals. If using a gas grill, turn a row of burners on low and place the ribs on the grate opposite the flame.

Cover the grill while cooking. Rotate and flip the pork ribs every 30 minutes.

After 2 hours of cooking paint the pork ribs with BBQ sauce, if desired. After 30 more minutes, flip and apply a coat of sauce to the other side.

Remove ribs from the grill, let rest for 5 minutes and serve.
Notes
Only lighting a few briquettes helps your charcoal burn slower, at a lower temperature. This helps ensure your charcoal will last for the 3-hour cooking session and not burn too hot. If the grill is getting too hot, close the dampers to restrict oxygen.
Ignore the calorie count for this recipe. The calorie calculator is WAY off, but I have to include it or face Google's wrath. >-(
IF YOU LIKED THIS RECIPE check out my classic 3-2-1 Ribs Method, for the best baby back ribs ever!
Nutrition
Calories:
74
kcal
|
Carbohydrates:
14
g
|
Protein:
1
g
|
Cholesterol:
2
mg
|
Sodium:
454
mg
|
Potassium:
106
mg
|
Sugar:
11
g
|
Vitamin A:
80
IU
|
Vitamin C:
0.2
mg
|
Calcium:
16
mg
|
Iron:
0.3
mg
If you enjoyed reading my Grilled Country Style Ribs recipe then you should probably like me on Facebook and follow me on Pinterest too. That's what I would do at least, because if you don't get to know me but you still use my recipe it is kind of like taking candy from a stranger, and your mom taught you not to do that. Don't disobey your mom, subscribe to Fox Valley Foodie today.