Mouthwateringly tender pork ribs slathered in your favorite BBQ sauce, you won't be able to put these grilled country style ribs down!
These grilled country-style pork ribs were quite possibly the greatest edible collection of calories I've crafted all year. I love this easy recipe, not only because the ribs taste phenomenal, but they are a nice change of pace from traditional barbecue. Perhaps best of all, country style ribs are a dirt cheap cut of meat to purchase at the grocery store.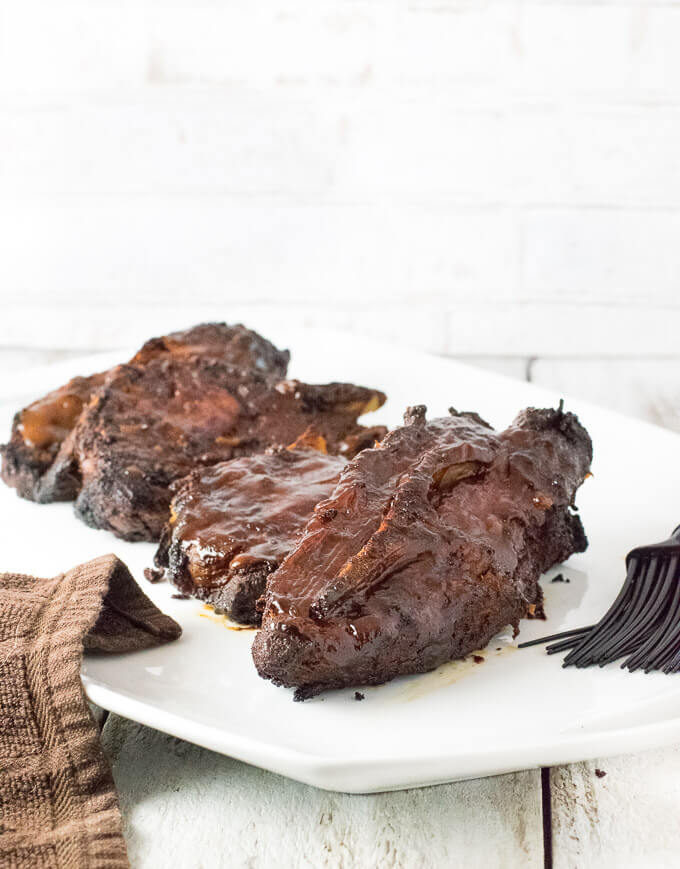 What Are Country Style Ribs
Country Style Ribs are cut from the blade end of the loin but can also contain some shoulder meat (they are actually closer to being pork chops than regular pork ribs). These are boneless ribs in the sense that they don't contain actual rib bones, however, they can still have a portion of the shoulder blade instead. This is an incredibly meaty cut that also features a good bit of fat, making it ideal for slow smoking or grilling. As the ribs linger on the grill the fat will begin to melt and the meat will turn mouthwateringly tender.
Here is the best thing about country style ribs: they are incredibly inexpensive cuts of meat. You can find these for just a couple dollars a pound. That makes everything taste better.
Ingredients and Substitutions
Country Style Pork Ribs - You can find country style ribs as both pork and beef cuts. Though this particular recipe features pork, both would taste great lacquered in BBQ! Feel free to grab boneless country-style ribs as well if desired.
Yellow Mustard - Coating the meat with mustard adds flavor and helps the seasonings stick.
BBQ Dry Rub - Mix together my BBQ dry rub recipe in a small bowl or use your favorite spice rub. My rub is a spice mixture of brown sugar, paprika, garlic powder, onion powder, dry mustard, salt, black pepper, and cayenne pepper.
BBQ Sauce - Homemade or your favorite barbecue sauce is fine, just use whatever your personal preference is. These ribs even taste great without any sauce, if you wish to let the dry rub shine.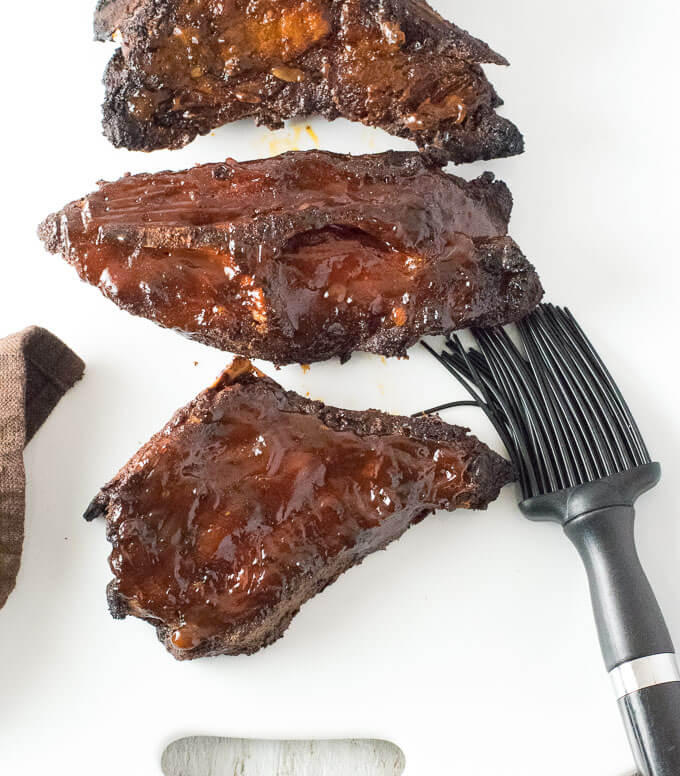 How to grill Country Style Ribs
I thought about doing this as an oven-baked ribs recipe, or even country ribs in a slow cooker, both methods work, however, country-style ribs are meant for grilling. Grilling allows the meat to drink up the intoxicating flavors of the flames and charcoal that just can't be replicated elsewhere.
Before grilling your ribs, they need to be prepped by coating them with a thin layer of mustard, then dusting them with your dry rub seasoning.
The best way to grill country style ribs is over indirect heat. If using a charcoal grill, place ribs opposite as the charcoal. If using a gas grill turn on a burner away from the meat. If you light too many charcoal briquets at once the grill will want to run hot. You can close the air vents to reduce oxygen which will slow the burn, however, the best way to prevent this is to only light a handful of briquets and set them on a pile of unlit briquets. This will allow the heat to slowly spread over the course of your cooking session. Remember, low and slow is your grilling mantra with these ribs!
I recommend using a chimney starter for this recipe. Not only do they work great for lighting charcoal, using 1 full chimney will ensure you are using enough charcoal.
Grill ribs in a single layer on the portion of the grate opposite your heat source. Close lid on your grill and rotate the ribs every 30 minutes. After cooking for two hours, paint them liberally with BBQ sauce, then add a second coat of sauce 30 minutes later. Finally, the ribs are done after three hours, or when tender.
Note: Cooking time can vary due to grilling temperature or the thickness of the meat. If your ribs are burning the temperature is too hot and the ribs should be backed away from the heat. If they are still tough (but not burnt) after three hours the temperature may have been too low and should be grilled longer.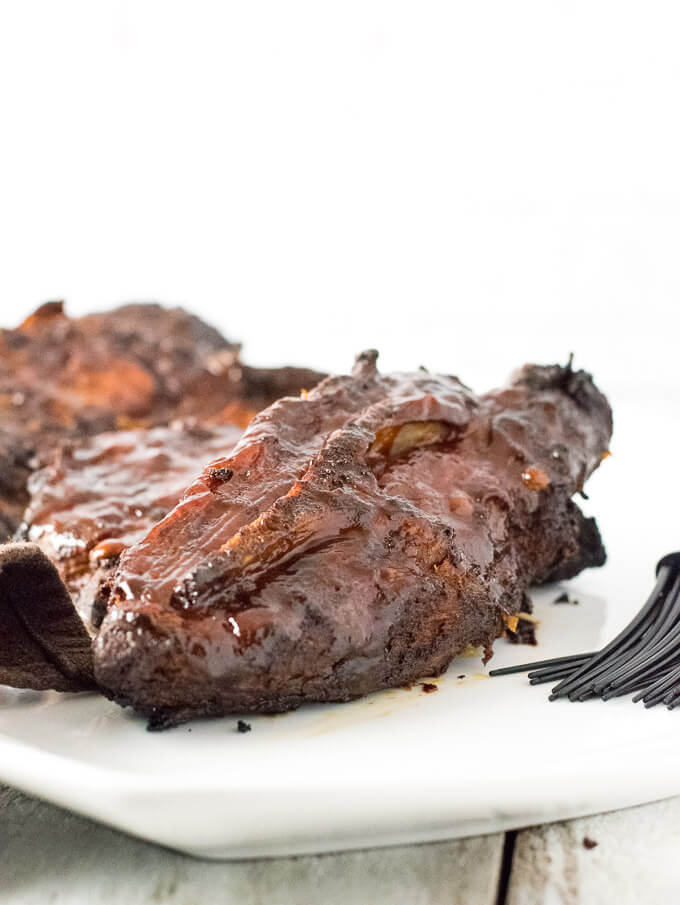 What are the best side dishes to serve with ribs?
For the best cookout your neighborhood has ever seen, be sure to add equally flavorful side dishes to the menu. My homemade baked beans, homemade coleslaw, and potato salad recipes are barbeque musts! Grilled corn on the cob is a wonderful hearty side dish as well!
Can you do me a favor? If you enjoyed my post would you mind sharing it with your friends? You can see more of my recipes by liking me on Facebook and follow me on Pinterest too. Otherwise, stay up to date by getting each new post sent directly to your inbox by subscribing today.
Grilled Country Style Ribs
Mouthwateringly tender pork ribs slathered in your favorite BBQ sauce, you won't be able to put these grilled country style ribs down!
Print
Pin
Rate
Save
Saved
Equipment
Outdoor Grill

(gas or charcoal)
Ingredients
4

Country Style Pork Ribs

2

tablespoons

Yellow Mustard

(or as needed)

4

tablespoons

BBQ Dry Rub

(or as needed)

½

cup

BBQ Sauce

(or as needed)
Instructions
Coat each pork rib with a thin layer of yellow mustard, then generously dust with BBQ seasoning on all sides. (this can be done up to a day in advance or immediately prior to grilling)

Charcoal grill - Fill a charcoal chimney up with charcoal and dump 80% of it out onto one side of the grill. Light the remaining handful of briquettes and add them on top of the unlit charcoal. (see note)

Lightly oil the grill grates to prevent sticking and place the pork ribs on the far side of the grill, away from the coals.

Gas grill - Turn a row of burners on low and place the ribs on the oiled grate opposite the flame.

Cover the grill while cooking. Rotate and flip the pork ribs every 30 minutes.

After 2 hours of cooking paint the pork ribs with BBQ sauce, if desired. After 30 more minutes, flip and apply a coat of sauce to the other side.

Remove ribs from the grill, let rest for 5 minutes and serve.
Notes
Only lighting a few briquettes helps your charcoal burn slower, at a lower temperature. This helps ensure your charcoal will last for the 3-hour cooking session and not burn too hot. If the grill is getting too hot, close the dampers to restrict oxygen.
Tip: I recommend letting the meat come to room temperature prior to grilling, however, you can still have great results if you don't have time for this step.
IF YOU LIKED THIS RECIPE check out my classic 3-2-1 Ribs Method, for the best baby back ribs ever!
Nutritional Information
Calories:
81
kcal
|
Carbohydrates:
18
g
|
Protein:
1
g
|
Fat:
1
g
|
Saturated Fat:
1
g
|
Polyunsaturated Fat:
1
g
|
Monounsaturated Fat:
1
g
|
Cholesterol:
1
mg
|
Sodium:
454
mg
|
Potassium:
124
mg
|
Fiber:
1
g
|
Sugar:
12
g
|
Vitamin A:
191
IU
|
Vitamin C:
1
mg
|
Calcium:
56
mg
|
Iron:
2
mg