These panko crusted chicken breasts have a delicious French onion infused crunch on the outside, with the melty goodness of Swiss cheese and crisp bacon lying in wait to reward whoever should bite into it!
Chicken is pretty much nature's blank canvass, inviting you to unleash your culinary creativity in a quest to create an unlimited number of flavor profiles. If you get bored with chicken, it's probably because you are in a recipe rut, not because you ran out of ways to make it. If you are in a rut, this panko crusted chicken recipe is the perfect solution.
Panko Crusted Chicken
Panko breadcrumbs add a wonderfully crispy crust to chicken breasts and provide a more satisfying crunch than regular breadcrumbs, without deep frying. This recipe further enhances the flavor by using French Onion Dip as the binder. Not only does it help the Japanese bread crumbs stick to the chicken, but it also adds wonderful flavor.
These chicken breasts are further improved by stuffing them with Swiss cheese and smoky bacon. You can customize this by substituting your favorite cheese, or even adding diced chives.
Ingredients and Substitutions
Chicken breasts - You want boneless and skinless chicken pieces. This recipe is written for chicken breasts, but any boneless chicken strips, such as chicken tenders, will work well.
Bacon - Regular cut bacon is perfect for this recipe.
Shredded Swiss cheese - Provolone cheese is my top choice to substitute.
Panko breadcrumbs
French Onion Dip - This is used instead of a standard egg wash. Feel free to use store-bought French Onion dip or my Homemade French Onion dip recipe. Either will work great. Otherwise, you could simply substitute sour cream.
How to make it
We begin this panko crusted chicken recipe by stuffing the chicken breasts. To do so, transfer chicken to a cutting board or a large plate and use a sharp knife to make a deep cut in the side of the breast a couple of inches long and use your fingers to gently open a cavity inside the breast for the filling. Add a half strip of bacon inside the cavity, then the cheese, and finally the other half of the strip of bacon.
Use toothpicks to hold the opening shut and prevent cheese from oozing out while baking. Placing bacon in last, kind of as a "door", will help prevent cheese from seeping out as it melts. See photo below.
Once all of the chicken has been stuffed it can be breaded with the panko mixture. To do this, place panko breadcrumbs in a small bowl with salt, and add French onion dip to a second shallow bowl. Dip the chicken in the French onion dip to act as a binder, and then dredge chicken in the dish with the panko. The panko mixture will stick to the French onion dip and hold tightly to the meat while it bakes.
Once the chicken has been coated in the panko crumbs place chicken on a wire baking rack set on a baking sheet and bake at 425 degrees for 35 minutes, or until the internal temperature reaches 165 degrees.
Tip: You can just use a baking sheet without the wire baking rack, but the chicken will cook more evenly if air can circulate underneath the chicken while it bakes.
When is stuffed chicken done baking?
Your panko chicken is done baking when it reaches 165 degrees. When stuffing chicken it is important to ensure the filling has also reached 165 degrees as it will contain juices from the cooking chicken. The easiest way to ensure your stuffed breast is cooked properly is using a digital meat thermometer.
Customize this recipe
This is a very easy breaded chicken recipe, but you can certainly jazz it up with your own personal twists. Here are a few suggestions:
Add seasonings such as garlic powder, paprika, black pepper, and onion powder to the panko bread crumb mixture.
Add chopped sundried tomatoes to the stuffed chicken.
Mix grated parmesan cheese with the panko bread crumbs to create Parmesan-panko crusted chicken.
Brighten the flavor of the panko coating by mixing in a small amount of lemon zest.
These panko coated chicken cutlets would make great sandwiches as well. Instead of stuffing them, cover the raw chicken in plastic wrap and flatten them with a meat mallet prior to breading them. You can expect them to bake quicker when pounded flat.
Slather the breaded chicken in your favorite sauce, such as buffalo sauce, as done in my baked buffalo chicken tenders recipe.
Side Dish Serving Suggestions
Serve this wonderfully tender juicy chicken with your favorite side dishes. If you are throwing a dinner party and want some suggestions to serve with the main dish, here are some great pairings:
More chicken breast dinner recipes
Can you do me a favor? If you enjoyed my post would you mind sharing it with your friends? You can see more of my recipes by liking me on Facebook and follow me on Pinterest too. Otherwise, stay up to date by getting each new post sent directly to your inbox by subscribing today.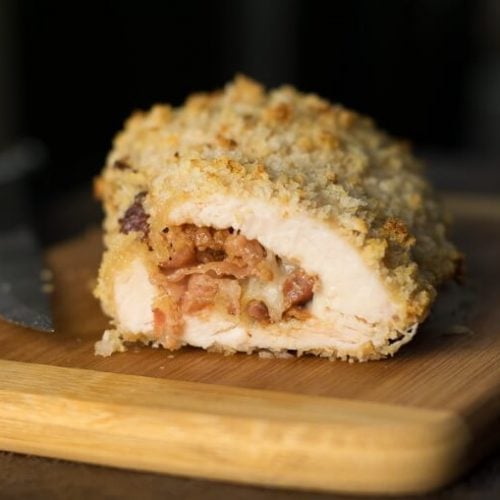 Panko Crusted Chicken Breast Stuffed with Swiss and Bacon
Panko crusted chicken breasts stuffed with Swiss cheese and bacon have a satisfying French onion infused crunch with the comforting flavors of cheese and bacon hiding inside!
Print
Pin
Rate
Save
Saved
Ingredients
4

chicken breasts

4

strips

cooked bacon

½

cup

shredded Swiss cheese

1

cup

panko breadcrumbs

½

cup

French Onion Dip

1

teaspoon

salt
Instructions
Preheat oven to 425 degrees.

Cut a slit into the side of each chicken breast a couple inches long.

Use your fingers to work open a deep opening inside the chicken breast without tearing a hole through the flesh.

Add half strip of bacon inside the cavity, then cheese, and finally the other half strip of bacon should block the opening.

Place dip and Panko in separate bowls, combining salt in the Panko dish.

Coat each chicken breast in a light, even, coating of dip and then coat in Panko breadcrumbs.

Place each coated breast on a wire baking rack and bake chicken at 425 degrees for 35 minutes, or until the internal temperature reaches 165 degrees.
Notes
Cooking time will vary depending on the thickness of the meat. This is why I always recommend using a meat thermometer.
Stuffing amounts will vary depending on size of the chicken cavity. Don't worry if you have extra.
Tip: The French Onion dip also doubles as a delicious condiment to serve with the chicken breasts, or use my Honey Mustard recipe, or a simple marinara sauce.
Nutritional Information
Calories:
519
kcal
|
Carbohydrates:
15
g
|
Protein:
58
g
|
Fat:
23
g
|
Saturated Fat:
10
g
|
Cholesterol:
165
mg
|
Sodium:
1438
mg
|
Potassium:
916
mg
|
Fiber:
1
g
|
Sugar:
5
g
|
Vitamin A:
180
IU
|
Vitamin C:
3
mg
|
Calcium:
221
mg
|
Iron:
2
mg