This baked chicken cordon bleu is coated with a crisp Parmesan panko crust and is loaded with forkfuls of ham and melted cheese in every tender bite!
Like Gone with the Wind, Moby Dick, and that Fox Valley Foodie bust on display at the Louvre, Chicken Cordon Bleu is a perennially impressive classic! Ok, maybe the Louvre doesn't have my bust on display, yet. However, anyone with good taste will recognize this recipe as worthy of preserving.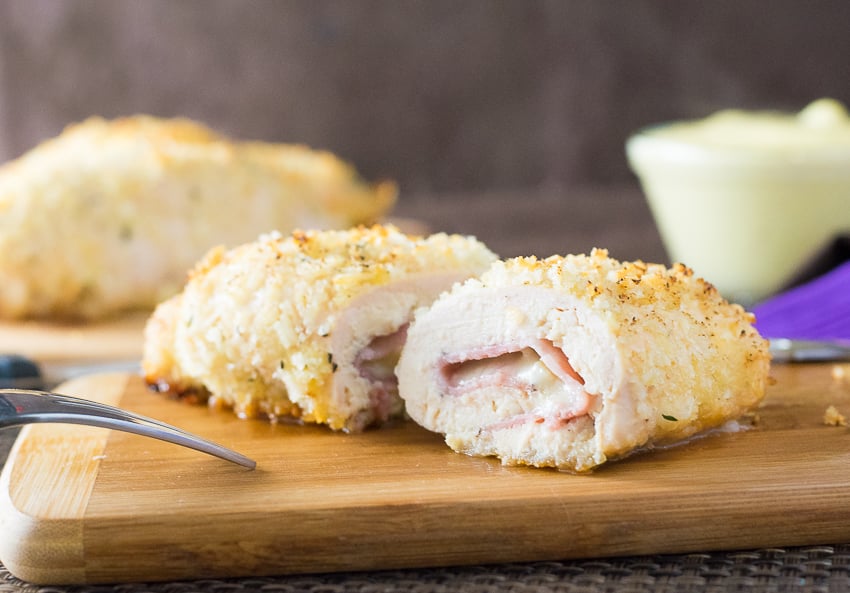 Baked Chicken Cordon Bleu
Sink your teeth into this French classic that you've probably enjoyed countless times but never dared to replicate. Stuffed with tender ham and melted Swiss, my baked chicken cordon bleu is encased in a shatteringly crisp Parmesan panko crust! Though it may seem intimidating, it is relatively simple to recreate.
One of the reasons this recipe is so easy is because we are baking everything, rather than searing or pan-frying, such as you would do with chicken parmesan. Traditionally, this recipe is made with a bread crumb coating, but I prefer the extra crunch provided by a mixture of panko and Parmesan. However, you could simplify this recipe by swapping out my homemade shake and bake breading instead.
Sauce for Chicken Cordon Bleu
This sauce for chicken cordon bleu is bright and savory, featuring a mixture of lemon juice, sour cream, and cream of chicken soup. This sauce is quick and easy to prepare as it only needs to be mixed together and heated.
How to make it
To make this baked chicken cordon bleu you will want to have a flat-sided meat mallet to pound the breasts thin.  This allows you to easily roll the ham and cheese into the interior of the chicken. I also recommend covering the chicken with plastic wrap when hammering to prevent splattering. Finally, I place the final product in a casserole dish because it makes the final cleanup easier than a baking sheet.
To maximize the crunchy coating on the chicken breasts, dust them with flour and then dip in an egg wash. This will create a sticky coating that the panko breadcrumbs and shredded Parmesan will cling to. Once sufficiently coated everything is baked in the oven at 425 degrees.
How do you know when it is done
This is important: When baking chicken, many people know that chicken meat needs to reach 165 degrees. However, when stuffing chicken breasts it is important that the filling reaches 165 degrees as well. The reason for this is because the juices from the chicken will pool with your fillings so it is important everything reaches a safe temperature.
As with any chicken recipe, I recommend you pay more attention to your digital meat thermometer than the exact baking time since the total time for baking will vary depending on the thickness of the meat and your oven temperature swings.
What to serve with chicken cordon bleu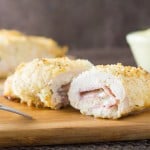 Print Recipe
Baked Chicken Cordon Bleu
This Baked Chicken Cordon Bleu with Parmesan Panko Crust yields forkfuls of ham and melted cheese in every tender bite!
Ingredients
4

skinless boneless chicken breasts

4

thin slices

ham

(deli ham is fine)

4

slices

Swiss cheese

2

eggs

3/4

cup

Panko breadcrumbs

3/4

cup

shredded Parmesan

(chopped)

1

tablespoon

butter

(melted)

Leaves from 6 sprigs of thyme

(finely chopped)

Salt and Pepper

1

cup

flour
Sauce
10.5

ounce

can cream of chicken soup

1/2

cup

sour cream

1

tablespoon

lemon juice

Fresh ground pepper to taste
Instructions
Preheat oven to 425 degrees.

Using a meat mallet, flatten the chicken breasts till they are 1/2" thick. Sprinkle lightly with salt and pepper on each side.

Place slice of ham on laid out chicken, then top with slice of Swiss cheese.

Tightly roll the chicken breast and then secure with a toothpick. Trim off any dangling pieces of chicken if desired.

Combine melted butter, thyme, breadcrumbs and Parmesan and mix to combine. Add salt until it tastes noticeably salty, but not overwhelmingly so. Beat eggs in separate dish.

Working in batches, lightly dust the exterior of the rolled chicken with flour, being careful not to flour the interior rolled portion.

Dip chicken into beaten eggs and let excess egg drip off.

Roll the chicken into the breadcrumb mixture till it is evenly coated and place on greased baking sheet.

Place in oven and bake for 30 minutes, or until interior reaches 165 degrees.

Remove from oven, let rest for 5 minutes and serve.
Sauce
Add all ingredients to a small saucepan and heat until it begins to simmer.

Serve along side chicken.
Notes
Cooking time will vary depending on the meat's thickness and size of the chicken breast.
I recommend covering the chicken in plastic wrap when pounding with the meat mallet. This will prevent splattering.
IF YOU LIKED THIS RECIPE be sure to check out my Chicken Cordon Blue Casserole recipe as well!
Loved this recipe?

Be sure to rate it and share you thoughts below!
*Calories listed are a vague estimate and accuracy should not be assumed.
This recipe was originally published on FoxValleyFoodie.com April 10, 2016.
Can you do me a favor? If you enjoyed my post would you mind sharing it with your friends? You can see more of my recipes by liking me on Facebook and follow me on Pinterest too. Otherwise, stay up to date by getting each new post sent directly to your inbox by subscribing today.