If you don't have any eggs on hand, don't worry. You can still create a mouthwatering meatloaf without eggs using simple ingredients! Is it still tender? You bet! Does it still hold together? Perfectly! Well, what's the secret? Let me tell you...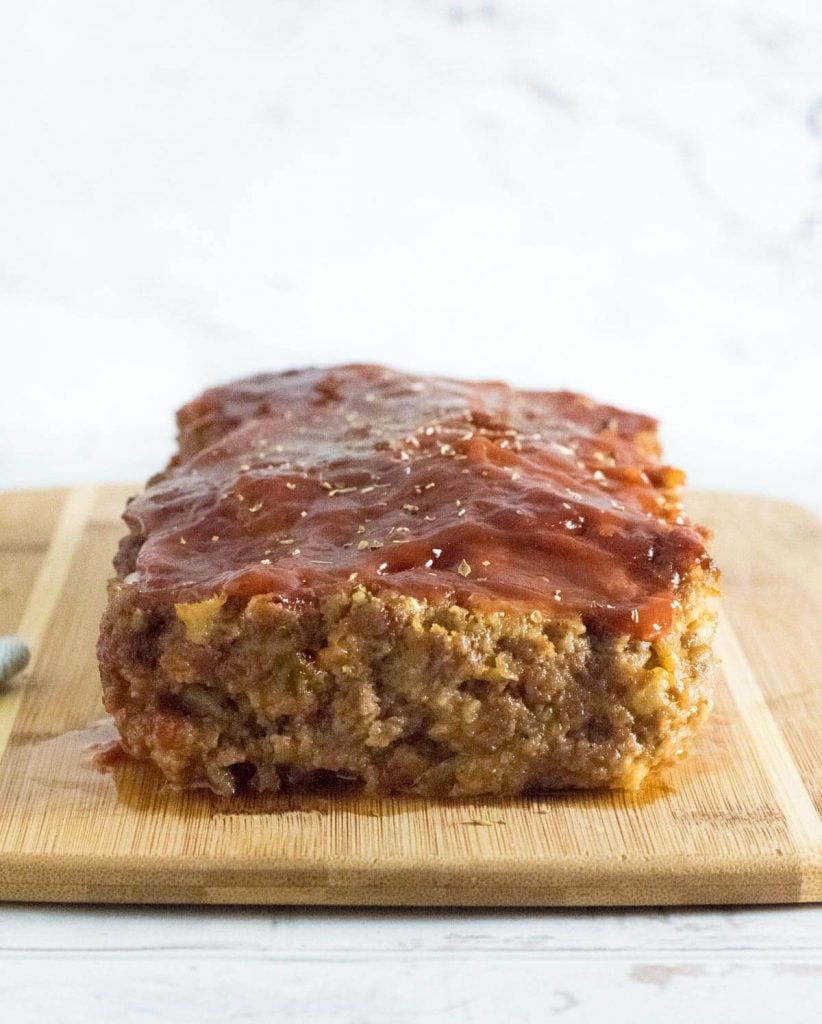 Why are eggs added to meatloaf?
Eggs are commonly used as a binder in a traditional meatloaf recipe to help hold everything together so it doesn't crumble and fall apart. The egg yolk in particular adds a little moisture, protein, fat, and flavor to the meatloaf. However, if you have an egg allergy, or just don't keep eggs on hand, you may think you can't make your favorite meal. Well, that is simply not true. This is a great recipe for anyone craving a flavorful meatloaf.
Here's the secret: You can still make an exceptionally flavorful and moist meatloaf without eggs. Their binding power is minimal, particularly when the appropriate ratio of liquid and breadcrumbs are used, and the protein and fat can easily be replaced.
What can I substitute for eggs in meatloaf?
The way I see it, you have two perfectly good options to choose from. Let me explain the pros and cons of each egg substitute.
Shredded Parmesan cheese - This is my favorite binding agent substitute. This is a great choice because it replaces the lost fat, protein, and moisture from the eggs. Plus it adds flavor.
Nothing - This is the easiest option. Most any homemade meatloaf recipe will still turn out exceptional if the recipe creator used the proper amount of breadcrumbs and liquid. Eggs can be eliminated from the recipe and you will likely never know.
Ingredients Needed for this Meatloaf Recipe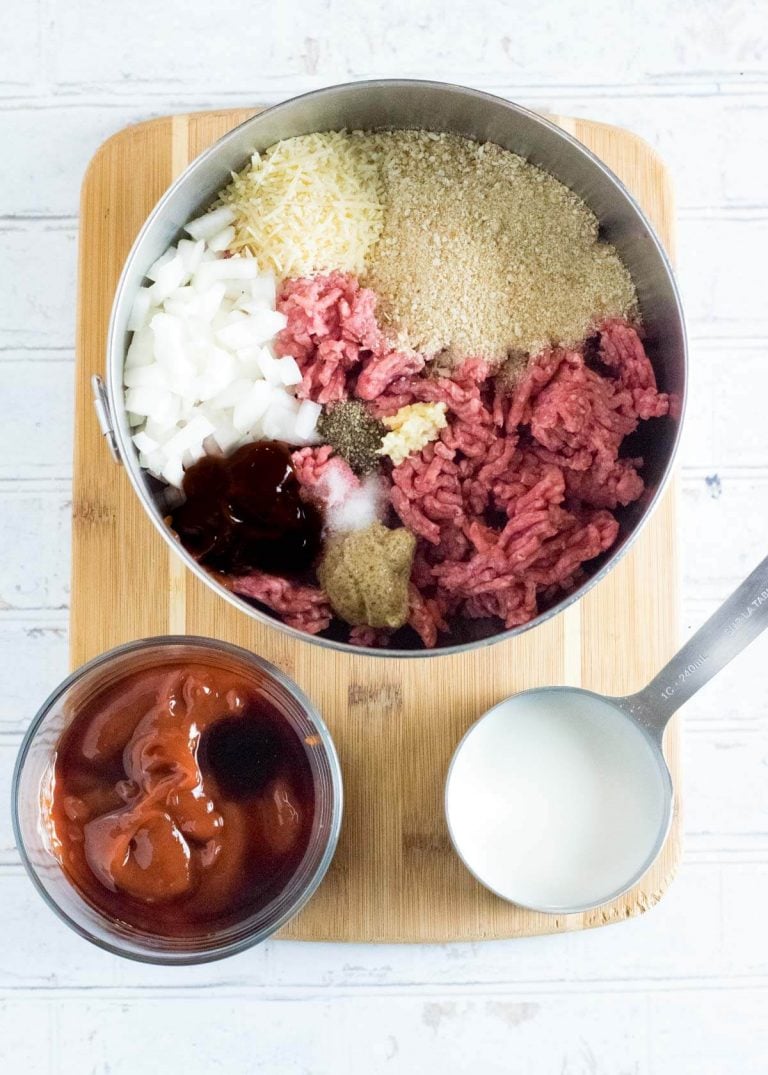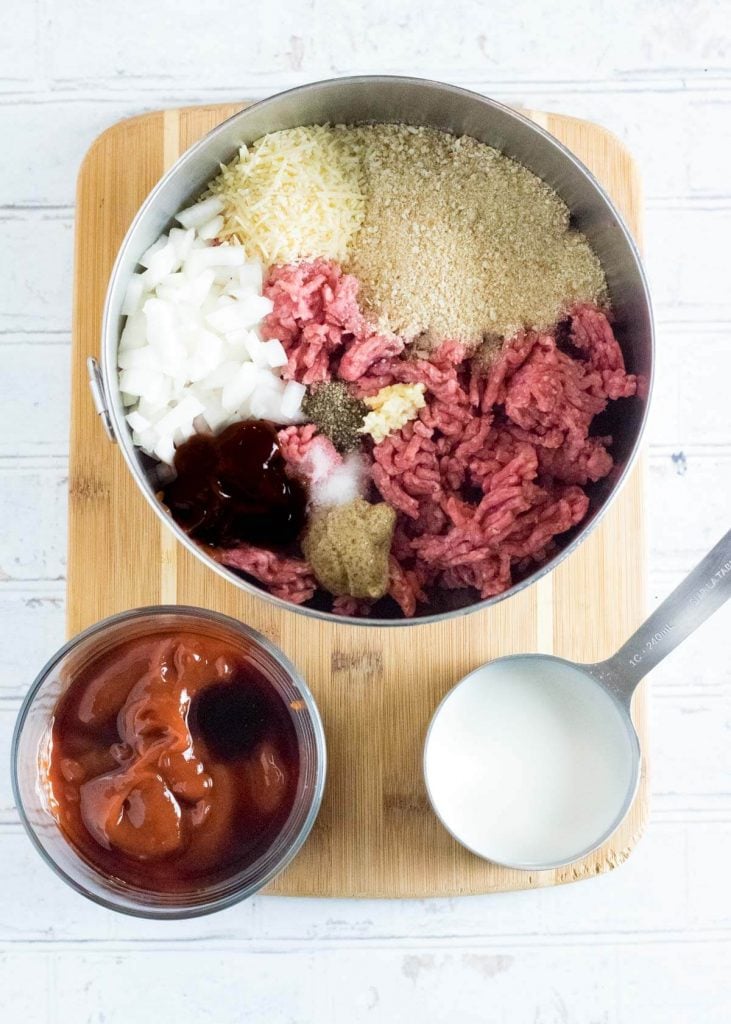 Ground beef - I recommend 85/15 lean ground beef, but anything between 80% and 90% lean will work. Avoid anything fattier or the eggless meatloaf will be too greasy. Anything leaner will be really dry.
Breadcrumbs - Plain bread crumbs work best, but Panko can also be used.
Milk - Beef broth can be substituted.
Shredded Parmesan cheese
Onion - Yellow onion or sweet onion is recommended.
Garlic clove - Garlic powder can be substituted.
Ketchup
Worcestershire sauce
Salt and black pepper
Meatloaf Glaze Ingredients
Ketchup
Worcestershire sauce
Balsamic Vinegar
How to make it
Crumble the ground meat into a large mixing bowl. Smaller crumbles are best because it will make it easier to combine with the remaining ingredients. Add breadcrumbs, milk, onion, garlic, ketchup, Dijon mustard, Worcestershire sauce, salt, and pepper to the bowl as well. Using clean hands, combine the mixture thoroughly, as shown.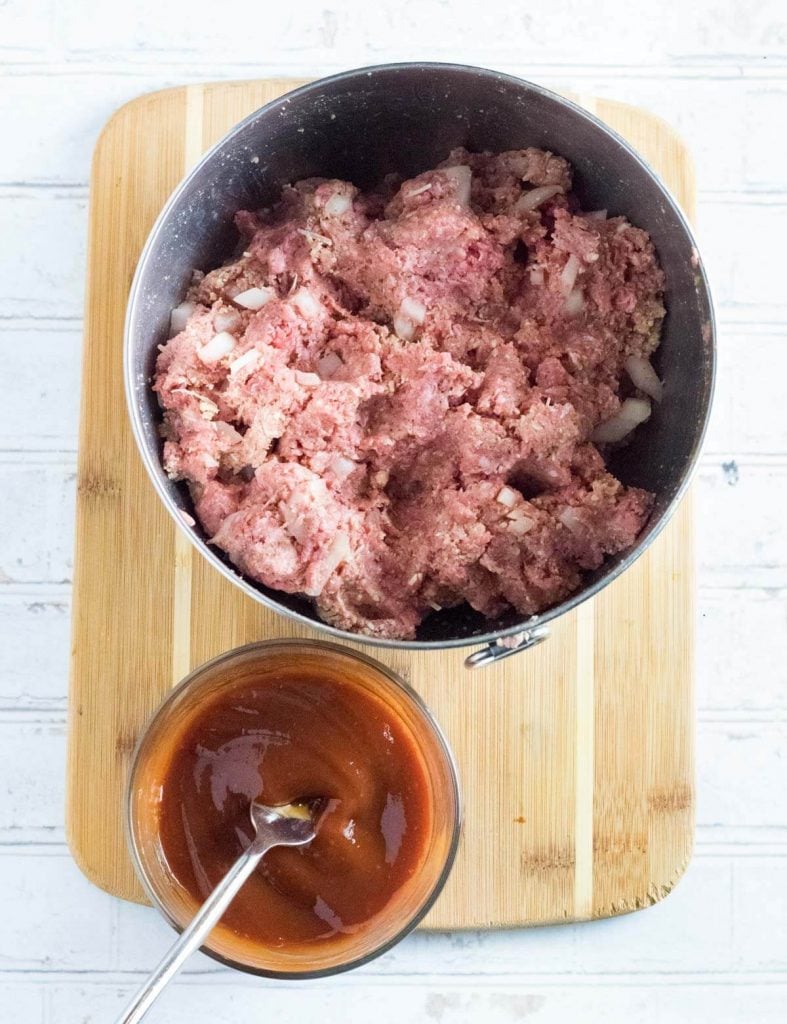 Prepare the simple sauce for your meatloaf in the same way. In a small bowl combine together ketchup, Worcestershire sauce, and Balsamic vinegar until well blended.
Next, line a bread loaf pan with aluminum foil. This not only helps prevent the meatloaf from sticking, but it also makes removing the meatloaf WAY easier since you can just lift the foil out. Add a smear of sauce to the bottom of the pan then add the meat mixture into the pan and firmly press to fill the crevices evenly. Finally, add all of the remaining sauce to the top of the raw meatloaf.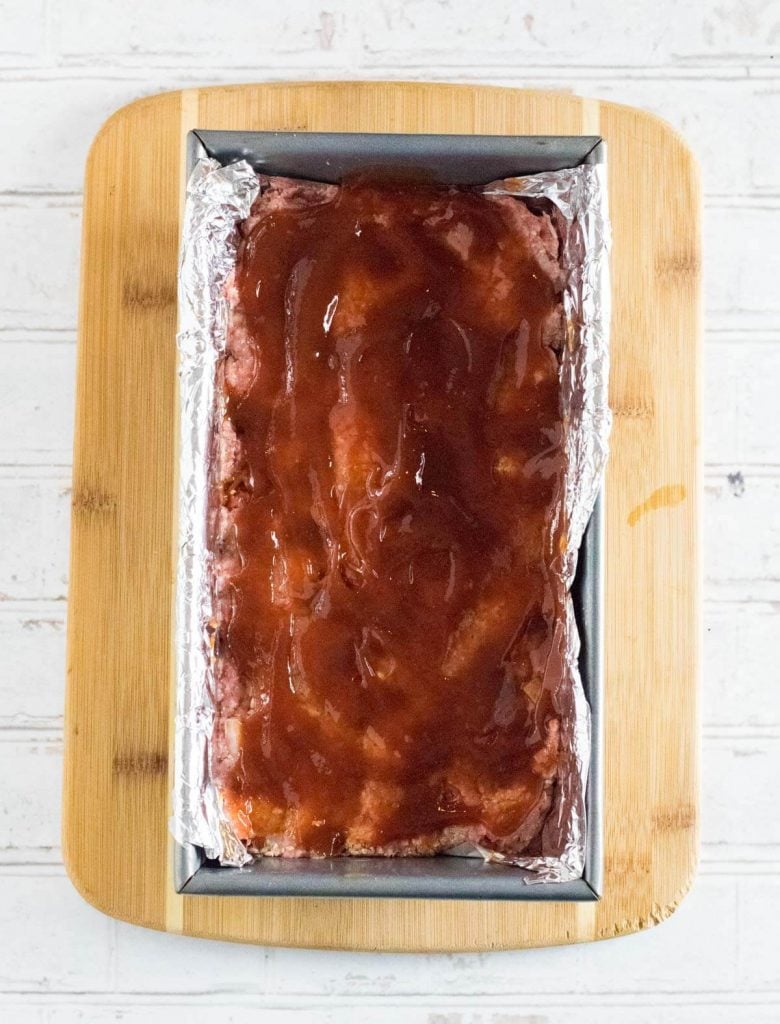 Place it in a 350-degree oven for one hour. Meatloaf is done when it reaches 160 degrees Fahrenheit when tested with a meat thermometer. Let the meatloaf rest briefly, then slice and serve.
Make-Ahead Tip: You can make the meatloaf in advance and freeze the raw mixture until you are ready to make it. Simply remove it from the freezer, giving it plenty of time to thaw out in the refrigerator. Then proceed to bake it.
What to serve with meatloaf
Round out this comforting family dinner with any of these mouthwatering side dishes.
Meatloaf Leftovers
Leftover meatloaf should be placed in an airtight container, or wrapped in plastic wrap, and stored in the refrigerator. To reheat it the next day, first cut it into individual slices then reheat in the microwave, oven, or stovetop until heated through. Personally, I like reheating them on the stovetop and then making leftover meatloaf sandwiches!
Tip: If you do not slice the meatloaf prior to reheating it will be hard to reheat it evenly due to the thickness of the loaf.
Can you do me a favor? If you enjoyed my post would you mind sharing it with your friends? You can see more of my recipes by liking me on Facebook and follow me on Pinterest too. Otherwise, stay up to date by getting each new post sent directly to your inbox by subscribing today.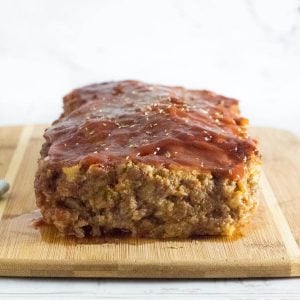 Meatloaf without eggs
This meatloaf recipe without eggs is exceptionally flavorful and tender. You would never know there aren't eggs in it!
Print
Pin
Rate
Save
Saved
Ingredients
Meatloaf
1 ½

pounds

ground beef

(85/15 beef recommended)*

¾

cup

breadcrumbs

¾

cup

milk

¼

cup

shredded Parmesan cheese

½

cup

diced onion

1

garlic clove

minced

2

tablespoons

ketchup

1

tablespoon

Dijon mustard

1

teaspoon

Worcestershire sauce

1

teaspoon

table salt

½

teaspoon

black pepper
Meatloaf Glaze
½

cup

ketchup

2

teaspoons

Balsamic vinegar

1

teaspoon

Worcestershire sauce
Instructions
Preheat oven to 350 degrees.

Crumble your ground beef into a large bowl and add breadcrumbs, milk, Parmesan cheese, onion, garlic, ketchup, Dijon, Worcestershire sauce, salt, and pepper.

Mix well to combine all of the meatloaf ingredients evenly.

Prepare the meatloaf glaze by mixing together the ketchup, balsamic vinegar, and Worcestershire sauce in a small bowl.

Line a bread loaf pan with aluminum foil and smear approximately two tablespoons of meatloaf glaze on the bottom to help prevent sticking. Then add the meat mixture into the pan, pressing firmly to fill the pan evenly.

Paint the top of the meatloaf mixture with the remaining glaze.

Place meatloaf in the oven for one hour, or until the internal temperature reaches 160 degrees.

Remove from the oven, and let cool slightly, then slice and serve.
Notes
Any ground beef between 80-90% lean will work well. 80% will be moister from the fat. 90% will have fewer calories.
If you do not have a bread loaf pan you can use a rimmed baking sheet instead and just free-form the meatloaf into a loaf shape.
Nutritional Information
Calories:
415
kcal
|
Carbohydrates:
20
g
|
Protein:
24
g
|
Fat:
26
g
|
Saturated Fat:
10
g
|
Trans Fat:
1
g
|
Cholesterol:
86
mg
|
Sodium:
918
mg
|
Potassium:
501
mg
|
Fiber:
1
g
|
Sugar:
9
g
|
Vitamin A:
215
IU
|
Vitamin C:
2
mg
|
Calcium:
142
mg
|
Iron:
3
mg