Flavorful seasoned beef is piled high on a bun creating a quick and easy meal your whole family will love. You don't have to be from Iowa to enjoy the classic Loose Meat Sandwich!
Yesterday I was at the grocery store picking up ingredients for Loose Meat Sandwiches, and, of course, some beer to wash it down. After giving my beer to the cashier she scanned it, looked and me and chuckled, "I'd say it is safe to say you are over 40", then proceeded to laugh at the absurdity of her own joke, and clicked proceed on the age verification screen without requiring an I.D. Good thing I was buying some comfort food to sulk in. I'm 35.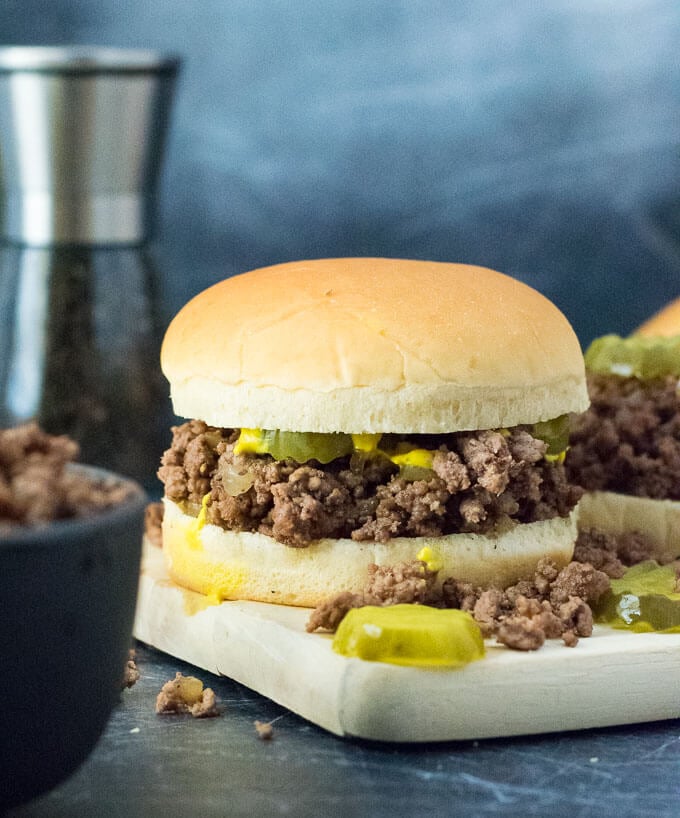 What is a Loose Meat Sandwich
With my youthful pride in tatters, I went home and prepared this Iowa classic. It is commonly known as a Loose Meat Sandwich, however, locals will often refer to it as a Made-Rite instead, after a popular restaurant chain, or simply as a Tavern Sandwich, where they are also frequently served.
Primarily consisting of finely crumbled seasoned ground beef and chopped onions, a Loose Meat Sandwich is eaten like a messy hamburger. Traditionally this sandwich is served on cheap hamburger buns with pickles and mustard. However, I have it on good authority that ketchup and sometimes even cheese is added by locals.
I guess it is one of those things like the classic Wisconsin bratwurst. It is claimed that it is only authentically served with mustard, but I don't know anyone in Wisconsin who actually adheres to that. Myself included... Beer Brat Sauce is where it is at folks! But, I am getting sidetracked...
Loose Meat Sandwich vs Sloppy Joe
So is a Loose Meat Sandwich just another name for homemade Sloppy Joes? No. The major difference between a Loose Meat Sandwich and a Sloppy Joe is the absence of a tomato-based sauce. Well, really a sauce of any kind. Rather than swimming in a seasoned sauce, a loose meat sandwich is simply dry crumbles of flavored ground beef served like a loose hamburger. However, if you are really craving a wet sloppy Joe that tastes like a burger, I got you covered! Check out my Cheeseburger Sloppy Joes recipe, I promise you'll love it!
Loose Meat Sandwich - Roseanne
Though regionally popular in Iowa since the 1920s, Loose Meat Sandwiches owe much of their national fame to the TV show Roseanne. The sitcom featured Loose Meat Sandwiches at Roseanne and Jackie's restaurant, 'The Landford Lunchbox'. However, the restaurant was not completely Hollywood fiction, Roseanne and then-husband Tom Arnold opened their own real-life restaurant, 'Roseanne and Tom's Big Food Diner' serving none other than Loose Meat Sandwiches.
How to Make a Loose Meat Sandwich
Making your own Loose Meat Sandwiches is incredibly simple and doesn't require much time. Ground beef is browned in a saute pan, often with a little extra fat to assist with the browning, then the fat is drained, and onions and seasonings are added. If you want the extra richness of the fat, you are welcome to keep it in the skillet, but draining it is certainly healthier and still flavorful.
I enhance the rich flavor of the beef by adding Worcestershire sauce and beef broth, plus a touch of sweetness and tang from brown sugar and apple cider vinegar. Though initially soupy, simply continue cooking the beef mixture until all of the liquid has evaporated. The flavor will soak into the beef.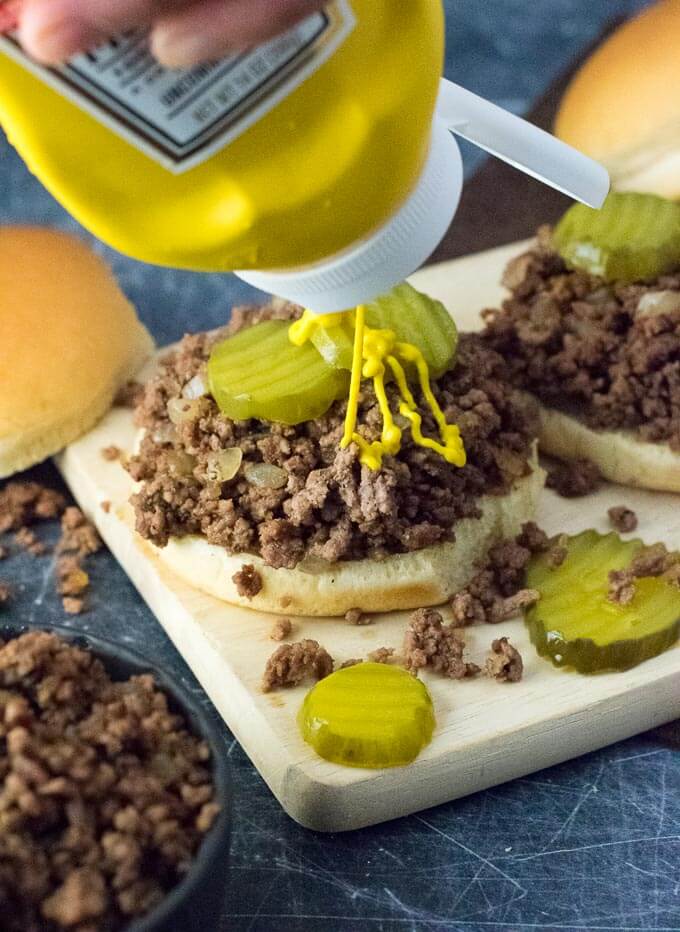 Loose Meat Sandwich
Flavorful seasoned beef is piled high on a bun creating a quick and easy meal your whole family will love. You don't have to be from Iowa to enjoy this classic!
Print
Pin
Rate
Ingredients
2

pounds

ground Beef

2

tablespoons

Butter

(oil or bacon grease can be substituted)

½

Onion

(diced)

2

cups

Beef broth

2

tablespoons

Worcestershire sauce

2

tablespoons

Apple Cider Vinegar

1

tablespoon

Brown Sugar

1

teaspoon

Kosher Salt

1

teaspoon

ground Black Pepper
Instructions
Melt butter in saute pan over medium heat and add ground beef.

Cook the beef until it browns and is no longer pink, breaking it up into crumbles as it cooks.

Drain fat from the pan and add onions, beef broth, Worcestershire, vinegar, brown sugar, salt, and pepper. Bring to a simmer and cook until all liquid has evaporated.

Serve on hamburger buns with pickles and mustard.
Nutrition
Calories:
450
kcal
|
Carbohydrates:
24
g
|
Protein:
24
g
|
Fat:
27
g
|
Saturated Fat:
10
g
|
Cholesterol:
88
mg
|
Sodium:
872
mg
|
Potassium:
437
mg
|
Fiber:
1
g
|
Sugar:
4
g
|
Vitamin A:
85
IU
|
Vitamin C:
1.7
mg
|
Calcium:
105
mg
|
Iron:
4
mg
If you enjoyed reading my Loose Meat Sandwich recipe then you should probably like me on Facebook and follow me on Pinterest too. That's what I would do at least, because if you don't get to know me but you still use my recipe it is kind of like taking candy from a stranger, and your mom taught you not to do that. Don't disobey your mom, subscribe to Fox Valley Foodie today.