Making Homemade Baked Beans from Scratch is not only simpler than you imagined, the sweet and smoky flavor will have everyone asking for more!
Next year, to celebrate the 5th of July I am buying a drone and attaching fireworks to it that will rain down shock and awe upon any neighbor having their own personal fireworks show after midnight, while the rest of the neighborhood tries to sleep. Perhaps I'll even attach speakers blaring 'Ride of the Valkyries', Apocalypse Now style.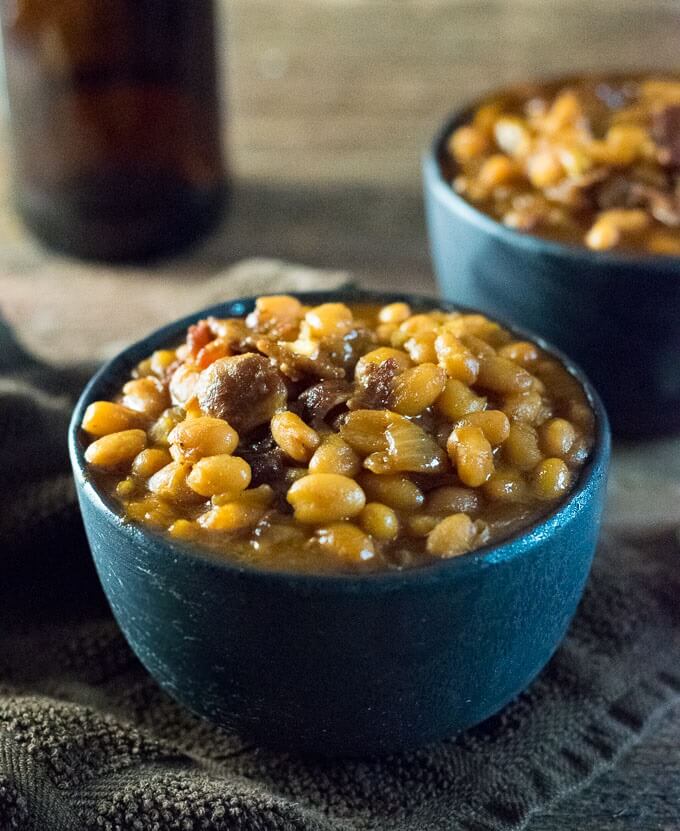 Don't let this make you think I don't love celebrating the 4th of July, I do! I just also love sleeping on the 5th of July. I'm a grumpy old man in training.
I am very aware I should have had this Homemade Baked Beans from Scratch recipe ready to go for you guys to make over the holiday, but I was still testing out the recipe on my family. So you will have to pin it and save it for later. I was extremely happy with how the recipe turned out so it will certainly be worth saving!
How to Make Baked Beans from Scratch
If you are looking to make baked beans from scratch I think using dried beans is non-negotiable. You will get better texture from them rather than using canned beans. I also like adding bacon in for its meaty flavor and smoky taste.
Almost every homemade baked beans recipe calls for soaking beans overnight. This is the preferred way to do it, but if you are like me, you don't typically plan that far ahead. Soaking your beans overnight is not required. You can simply simmer the beans on the stove top for 2 hours to soften them as well, and then continue with the recipe.
I recommend using a Dutch Oven for this meal. It can be used on the stove top for sauteeing the onions, and cooking the bacon, then moved to the oven to bake the beans as well. The thick sides of this pot are perfect for retaining heat during long cooking sessions. Technically, you can make baked beans in a slow cooker as well (even though they aren't really baked then), but you will build deeper layers of flavor by using a dutch oven recipe.

The above link is an affiliate link. Any Amazon purchases made through this link helps support FoxValleyFoodie.com at no additional cost to you.
Are Baked Beans Healthy?
Homemade baked beans don't have a lot of fat in them, so they are not overly caloric. However, making baked beans from scratch typically calls for a lot of sugar from molasses, ketchup, and brown sugar which diminishes how healthy it is.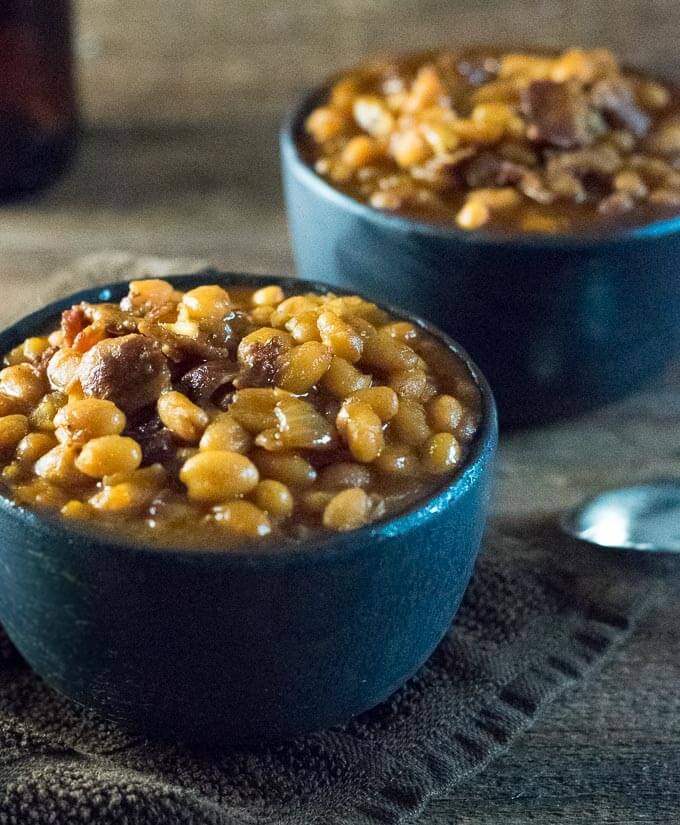 If you are making my Homemade Baked Beans from Scratch recipe, I suspect you are having a cookout. If so, you will want to pair this with my homemade cole slaw and dill pickle pasta salad.
Homemade Baked Beans from Scratch
Making Homemade Baked Beans from Scratch is not only simpler than you imagined, the sweet and smoky flavor will have everyone asking for more!
Print
Pin
Rate
Save
Saved
Ingredients
16

oz

dry navy beans

8

oz

thick sliced bacon

1

onion

(chopped)

¼

cup

molasses

¼

cup

brown sugar

¼

cup

ketchup

1

tablespoon

Worcestershire sauce

1

teaspoon

black pepper

1

teaspoon

yellow mustard

¼

tsp

liquid smoke

salt to taste

water as needed
Instructions
Soak beans for 6 hours, or overnight. Add to dutch oven with enough water to cover and simmer on the stovetop for an hour, or till beans start to become tender. Drain and remove beans from pot. (If you don't have time to soak the beans, simply simmer them longer)

Preheat oven to 325 degrees.

Chop bacon into 1" chunks and cook in dutch oven until almost crisp. When bacon is almost crispy add chopped onion and continue cooking till bacon is crisp and onion is tender.

Add beans back into dutch oven, along with remaining ingredients and enough water to cover. Mix to combine.

Add cover to the dutch oven and place baked beans in the oven for 3-4 hours. Remove lid for the final hour and cook until sauce has thickened.

Check periodically during baking and add more water as needed.
Nutritional Information
If you enjoyed reading my Homemade Baked Beans from Scratch recipe then you should probably like me on Facebook and follow me on Pinterest too. That's what I would do at least, because if you don't get to know me but you still use my recipe it is kind of like taking candy from a stranger, and your mom taught you not to do that. Don't disobey your mom, subscribe to Fox Valley Foodie today.