Ground beef quesadillas are loaded with seasoned beef and salsa, along with a generous helping of shredded cheese to ensure each bite is gooey and delicious!
Looking for a quick and easy meal? This is it! Quesadillas are a great way to make taco night more exciting, while ground beef makes them heartier. Add your favorite taco customizations to them as well to fit your family's tastes!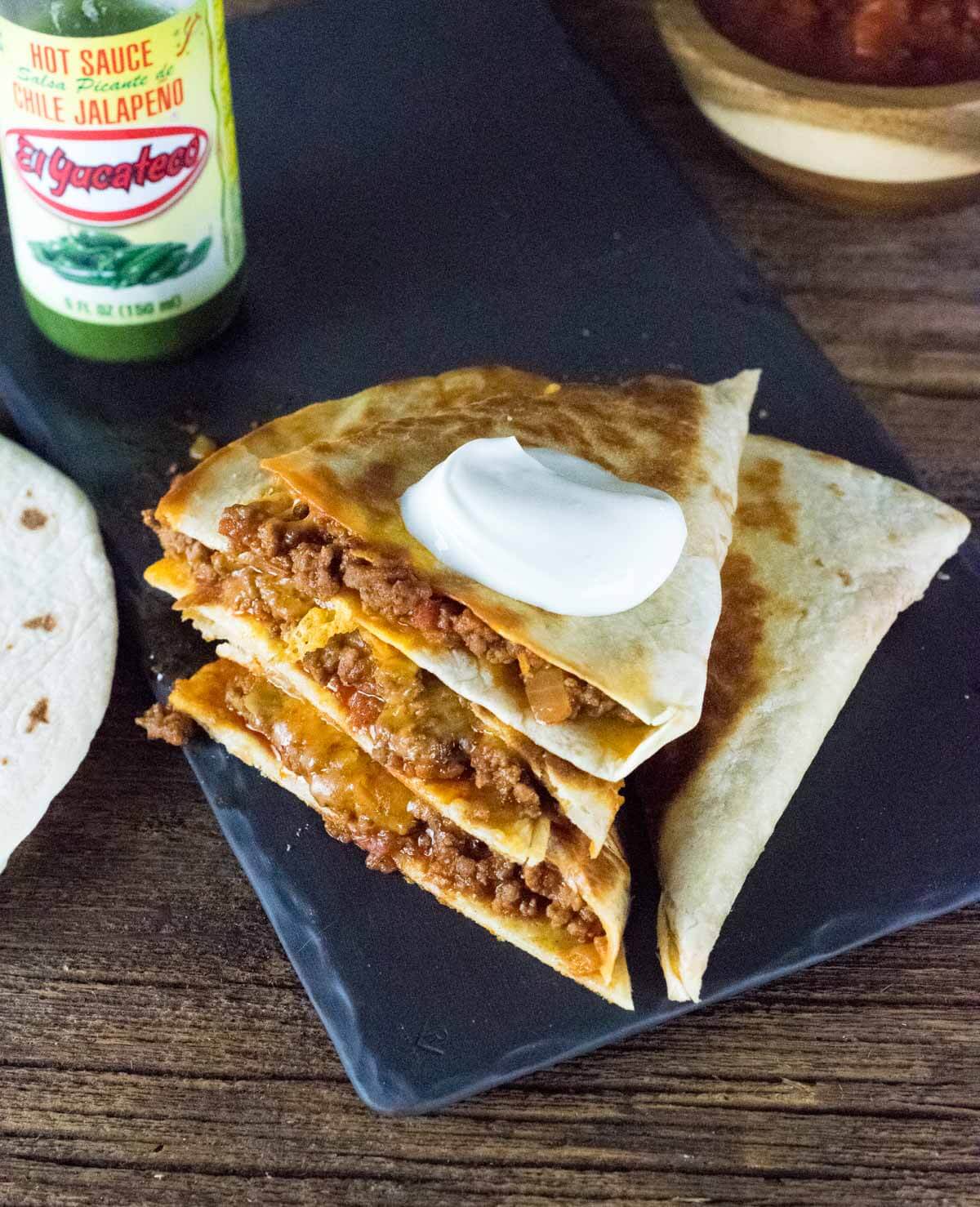 Ground Beef Quesadillas
Ground beef quesadillas are an easy meal that is quick and easy to whip up. Ground beef is flavored with taco seasoning and salsa, then loaded into a flour tortilla and cooked in a skillet until melty and crisp. These are a crowd-pleaser for all ages.
Ground beef quesadilla ingredients
Tortillas - I use large, burrito-sized, flour tortillas. However, you can use whatever size you think is appropriate for the appetites around your dinner table.
Ground beef - I recommend using lean ground beef such as 90/10. Fattier ground beef is great for burgers but will make your quesadilla greasy.
Taco seasoning - Use an appropriate amount of taco seasoning for one pound of meat, typically one packet. Store-bought or homemade taco seasoning both work great.
Salsa - Salsa fortifies the beef with additional flavor while also adding chunky vegetables for texture. Mild, medium, or hot salsa all work great depending on your preferences.
Cheese - Any of your favorite taco cheese blends will work well. Alternatively, to switch things up you could even make some nacho cheese sauce instead.
Quesadilla toppings and additions
If you want to keep things simple, top your quesadilla with sour cream and call it a day. However, my roasted tomatillo guacamole would be phenomenal with these as well, and of course, don't forget some hot sauce.
You can also make additions to the interior of your quesadilla, like a taco. Shredded lettuce, chopped onion, and pico de Gallo would all add freshness. However, you will want to add any fresh ingredients after the quesadillas are cooked.
How to cook quesadillas
You can bake quesadillas in the oven, but making them in a skillet is the easiest. I like using a skillet on the stovetop instead because you can more easily keep an eye on your quesadillas, preventing them from burning or overcooking. Set a large skillet over medium-low heat and cook until the underside of the quesadilla is browned, then flip and repeat. This should only take a approximately 3 minutes per side.
You don't want to use too high of heat when making quesadilla because you need the heat to melt the cheese before the tortilla burns. Using a lower heat gently warms the interior of the quesadilla while the exterior slowly crisps.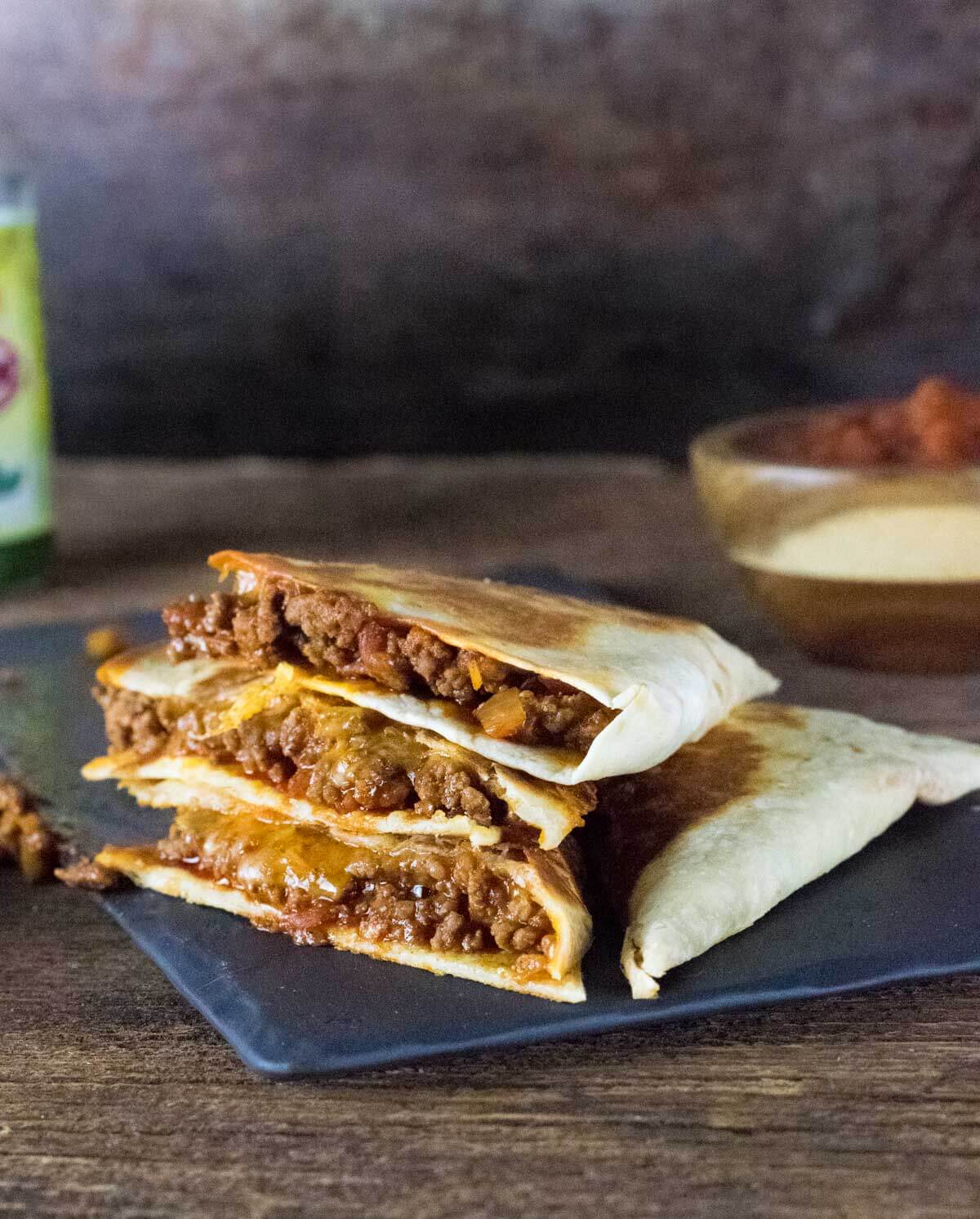 Ground Beef Quesadillas
Ground beef quesadillas are loaded with seasoned beef, salsa, and a generous helping of shredded cheese to ensure each bite is gooey and delicious!
Print
Pin
Rate
Instructions
Brown beef in a skillet, then add in taco seasoning and salsa. Simmer until most of the liquid from the salsa has evaporated, approximately 3 minutes.

Divide the seasoned beef evenly amoung 4 tortilla (can use additional smaller tortillas instead if your desire), then top generously with shredded cheese and fold the quesadillas in half to close.

Place quesadilla in a large skillet set over medium-low heat and cook until nicely browned and cheese has melted, approximately 2-3 minutes. Flip and repeat.
Nutrition
Calories:
626
kcal
|
Carbohydrates:
20
g
|
Protein:
37
g
|
Fat:
44
g
|
Saturated Fat:
21
g
|
Cholesterol:
140
mg
|
Sodium:
1092
mg
|
Potassium:
593
mg
|
Fiber:
2
g
|
Sugar:
4
g
|
Vitamin A:
880
IU
|
Vitamin C:
1
mg
|
Calcium:
481
mg
|
Iron:
4
mg