This gnocchi mac and cheese is loaded with pillowy gnocchi swimming in a luxurious cheese sauce infused by the smoky flavor of crumbled bacon!
OK, so this gnocchi mac and cheese recipe is not going to give you that beach bod that you have been futilely striving for since the Reagan administration. But if you have to endure ol' sawbones prattling on about your unhealthy BMI, you might have well have eaten something worthy of the stretchy pants!  Anyone who says, "Nothing tastes better than skinny" has never eaten my gnocchi mac and cheese with bacon!
Gnocchi Mac and Cheese
Gnocchi mac and cheese with bacon is quite possibly the ultimate comfort food! Pillowy gnocchi swim in a luxurious cheese sauce infused by the smoky flavor of crumbled bacon! It is one of those foods that make your eyes roll back in your head with your first forkful.
Best Cheese for Mac and Cheese
The best mac and cheese is crafted with at least two cheese, one creamy mild cheese to form a silky base, and a second more strongly flavored cheese to amp up the flavor. My favorite go-to combination for this is provolone cheese blended with sharp cheddar.
Tip: If you live in Wisconsin, or around a specialty cheese shop, I recommend substituting solid Farmer's cheese (not the crumbled kind) for Provolone.  This is what I've always used in my traditional Mac & Cheese recipe. However, Farmer's cheese can be difficult to find in many areas of the country.
How to Make Gnocchi Mac and Cheese
Using store-bought gnocchi is a quick and easy way to make this dish but if you are feeling motivated making your own gnocchi from scratch will bring this meal to the next level! Plus, if you make a big batch you can freeze any leftover gnocchi for your next meal! You will never eat a lighter, more pillowy gnocchi than ones you've made yourself!
Bring one pot of water to a boil to cook the gnocchi while the sauce is being prepared separately in a saucepan (affiliate link). Gnocchi only takes a couple of minutes to cook and can be removed from the water as soon as it floats.
Prepare the cheese sauce by first creating a roux with butter and flour. The roux is cooked until light blond then milk is slowly added. You want to make sure you are adding milk a few splashes at a time so it incorporates smoothly. Finally, add the cheese in batches as well.
Gnocchi Recipes
If you are looking for more great ways to enjoy gnocchi, try my creamy Turkey and Gnocchi Soup, easy to prepare Pizza Baked Gnocchi, or the savory Pan-Seared Gnocchi and Sage Butter. If you crave a lighter way to enjoy gnocchi, my Healthy Italian Gnocchi has been a favorite of mine for years!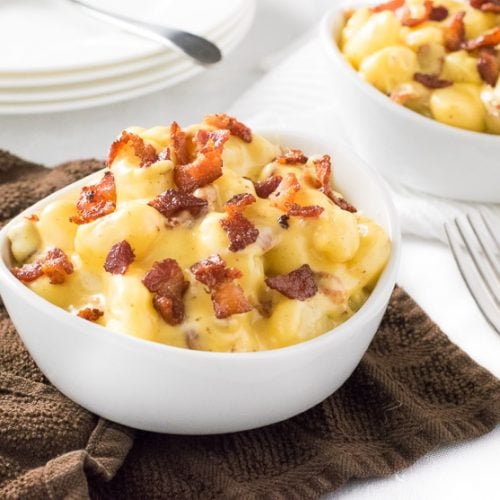 Gnocchi Mac and Cheese with Bacon
Gnocchi Mac and Cheese with Bacon is quite possibly the ultimate comfort food! Pillowy gnocchi swim in a luxurious cheese sauce infused by the smoky flavor of crumbled bacon!
Print
Pin
Rate
Save
Saved
Ingredients
Instructions
Add butter to pot and heat over medium-low until melted. Slowly add flour, mixing continuously until the flour mixture turns light blond, about six minutes.

Gradually add milk until fully incorporated, then add cheese in batches until all cheese has melted into the sauce. Taste for salt and pepper, adding more as needed.

While making the sauce boil a separate pot of water and cook the gnocchi in batches, removing them from the water once they float.

Add gnocchi to the cheese sauce along with crumbled bacon and mix to combine.

Serve immediately.
Notes
This is best enjoyed the same day. Most homemade mac and cheese recipes don't reheat well, as the cheese sauce separates when reheating. If you do wish to make this to be reheated I recommend added ¼ cup of Velveeta cheese to the sauce to help it hold together when reheating.
The cheese sauce will thicken the longer it cooks. If it becomes too thick stir in a splash of milk until it reaches the desired consistency. If it become too thin, cook it down a few minutes longer.
IF YOU LIKED THIS RECIPE you will also want to check out my Baked Gnocchi and Sausage recipe too.
Nutritional Information
This recipe was originally published on FoxValleyFoodie.com February 10, 2016.
If you enjoyed my Gnocchi Mac and Cheese with Bacon recipe then you should probably like me on Facebook and follow me on Pinterest too. That's what I would do at least, because if you don't get to know me but you still use my recipe it is kind of like taking candy from a stranger, and your mom taught you not to do that. Don't disobey your mom, subscribe to Fox Valley Foodie today.