This Healthy Italian Gnocchi features pillowy soft gnocchi bathed in a briny vegetable sauce with diced tomatoes, capers, black olives, and more.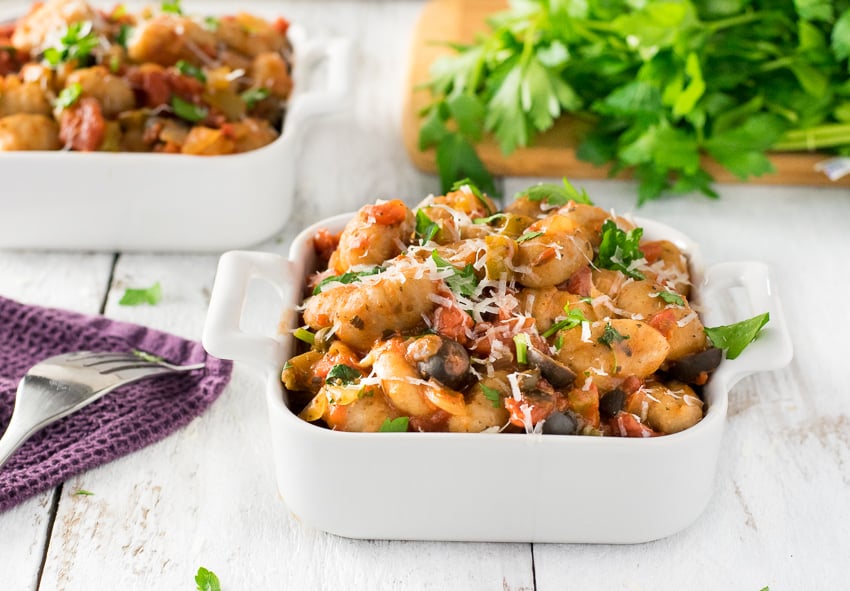 In 2008 I quit my career working in politics to move back to Wisconsin. Yes, back when I wore horns and carried a pitchfork I worked in politics. Please don't hate me. And after looking at the debacle shaping up to be this year's presidential election, I couldn't be more thankful to be a lifetime removed from it. Given the news of late, I'll probably cast my vote for a giant meteor to end it all.
In those days, I'd pop cigarettes like Pez and could wash down a 12 pack of beer as an nightcap. However, along with my change in vocations, I decided I needed to make a lifestyle change as well. I immediately quit smoking, moderated my drinking, and started eating better which quickly gave birth to my love affair with cooking. This Healthy Italian Gnocchi recipe was a result of that, and the first "good" recipe I ever learned how to cook.
I would make this Healthy Italian Gnocchi for friends and family whenever I had people over, and it made frequent appearances in my meal rotation. The recipe has evolved slightly over the years, but it will always maintain a soft spot in my heart because, in a large part, it kicked off who I am today.
If you are up to the challenge, I recommend trying your hand at making the gnocchi from scratch.  I have a detailed recipe that will perfectly walk you through the steps.  You can make a big batch and freeze the gnocchi you don't need.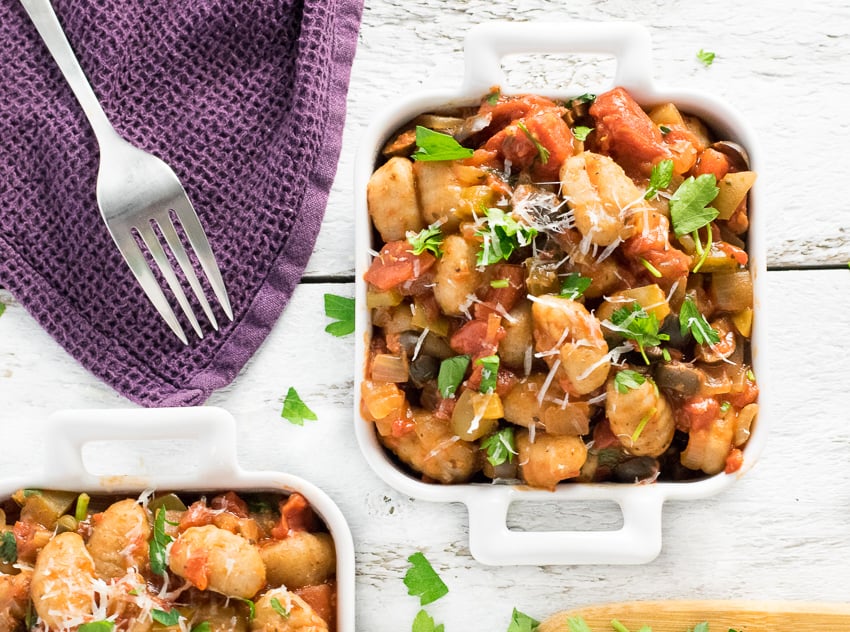 Do you like the serving bowls I'm using in the pictures? I think they are quite stylish, plus I love that they are oven safe. They are exceptional high quality Revol Baking Dishes made in France, and you can buy them on Amazon. 
The above link is an affiliate link. Any Amazon purchases made through these links help support FoxValleyFoodie.com at no additional cost to you.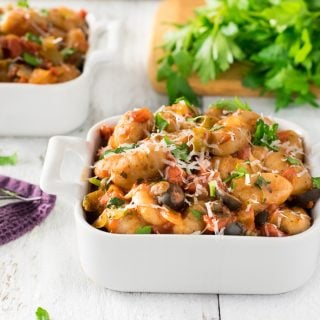 Healthy Italian Gnocchi
This Healthy Italian Gnocchi features pillowy soft gnocchi bathed in a briny vegetable sauce with diced tomatoes, capers, black olives, and more.
Print
Pin
Rate
Save
Saved
Ingredients
1

lb

package whole wheat gnocchi

Or Gnocchi from scratch recipe

28

oz

can diced tomatoes

2.5

oz

can of chopped black olives

drained

1

medium onion - chopped

1

tablespoon

capers

drained

1

" strip of anchovy paste

½

green pepper - chopped

2

cloves

garlic

minced

1

tablespoon

Italian seasoning

¼

cup

chopped parsley

¼

teaspoon

crushed red peppers

Salt to taste

Freshly grated Parmesan
Instructions
Add all ingredients to a pot, minus gnocchi and simmer for ~30 minutes, or until sauce is no longer watery.

Boil gnocchi in separate pan until it floats and add to the soup pot.

Serve with grated fresh Parmesan.
Notes
If this is served as an entree, it will yield 2 servings, however you can expect 4 servings if it is a side dish.
You can use regular gnocchi instead of whole wheat gnocchi, however whole wheat is recommended if you are trying to make the dish healthier.
If you are absolutely terrified of anchovy paste, you can omit it. However, it add a nice earthiness to the dish and you don't taste the fish flavor.
If doubling or tripling this recipe for a larger crowd, plan on a longer simmering time.
If you enjoyed reading my Healthy Italian Gnocchi recipe then you should probably like me on Facebook and follow me on Pinterest too. That's what I would do at least, because if you don't get to know me but you still use my recipe it is kind of like taking candy from a stranger, and your mom taught you not to do that. Don't disobey your mom, subscribe to Fox Valley Foodie today.