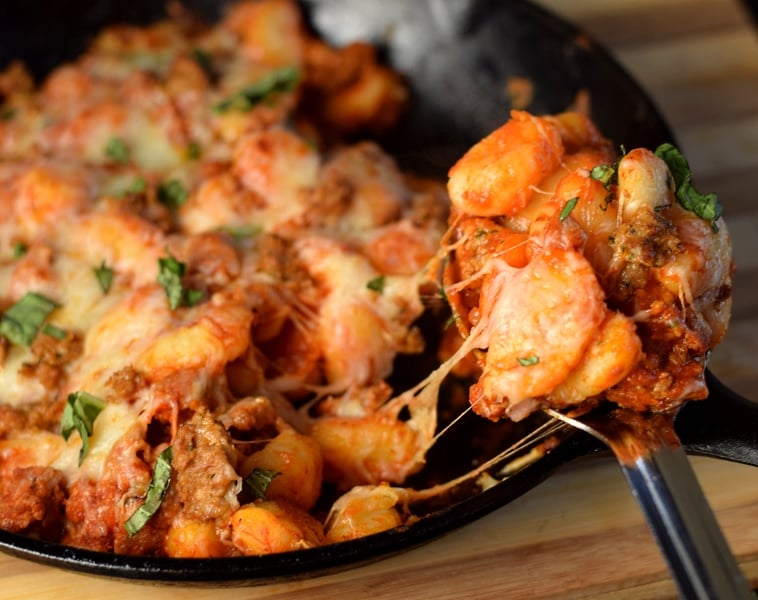 Deliciously gooey, stretchy cheese makes everything better.  How can anyone be sad holding a fork full of melted cheese?  Well, maybe if you were lactose intolerant you could be sad, but that doesn't count. Add in some soft, pillowy gnocchi, along with tangy pasta sauce and sausage and you have the makings of a great meal!
I love baked gnocchi and sausage.  It is such an easy mid-week meal. It doesn't require a lot of ingredients, and it doesn't require much prepping at all. Just brown the sausage, boil the gnocchi, toss it all in a pan and bake!  How easy is that?!
You know what baked gnocchi and sausage reminds me of?  Pizza.  The soft gnocchi rounds resemble a light, chewy pizza dough, pasta sauce resemble marinara, and the cheese and sausage rounds out the classic pizza taste.  I will probably try to make this with pepperoni some day, I am sure it would taste amazing!
Baked gnocchi is a great substitute when I am feeling guilty for eating too much pizza lately and I feel obligated to make a change in my diet for appearances but in reality I don't really want to change anything at all.  It is kind of like coming to the realization that you drink too much so you quit drinking tequila and start drinking whiskey instead.  I say as long as you can rationalize it, it is still a victory.
Buying prepackaged gnocchi in the store is a really easy way to make this dish.  If you haven't tried gnocchi before you absolutely must!  Gnocchi is a potato dumpling that functions similar to pasta in Italian dishes.  Good gnocchi is light, soft, and slightly chewy.  But the best gnocchi is always made from scratch.  It may take a little more effort but I have always found that store-bought gnocchi never can compare to anything I make myself.
If you are not feeling up to making the gnocchi yourself you can buy it here.  It is carried in many grocery stores, but I wouldn't be surprised if it was harder to find in some areas. Since it is vacuumed sealed it will ship well so I would have no concerns ordering it online.
The above link is an affiliate link. Any Amazon purchases made through this link helps support FoxValleyFoodie.com without any additional cost to you.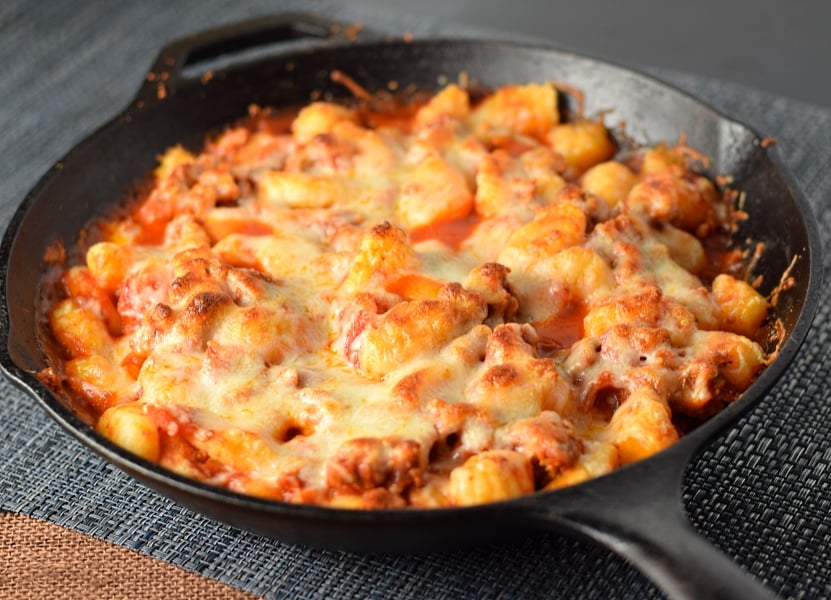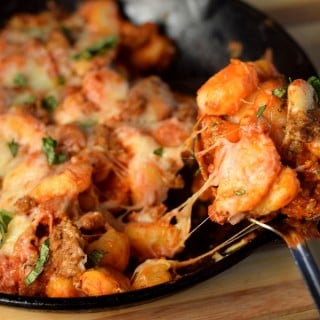 Baked Gnocchi and Sausage Recipe
This baked gnocchi and sausage recipe is simple, filling, and delicious. It is easy comfort food at its finest and the perfect dinner for a busy work week!
Print
Pin
Rate
Save
Saved
Ingredients
32

ounces

Gnocchi

1

lb

Italian Sausage

(casings removed if necessary)

28

ounces

Pasta Sauce

½ - 1

cup

shredded Mozzarella

Salt
Instructions
Bring pot of water to boil, salt lightly.

Preheat oven to 425.

While the water is boiling brown the sausage in skillet.

Place gnocchi in the boiling water and cook until it floats, roughly 2 minutes.

Remove gnocchi and sausage from their pans and add to lasagna pan, or cast iron skillet, and combine with pasta sauce.

Top generously with cheese.

Bake in 425 degree oven for 10 minutes, or until cheese has browned to your liking.
Notes
You do not need to add a lot of salt to the water when boiling the gnocchi. It will absorb the salt pretty easily and can taste over-salted.
The amount of cheese needed will depend on the surface area of your baking vessel.
If you enjoyed reading How to Make Gnocchi from Scratch then you should probably like me on Facebook and follow me on Pinterest too. That's what I would do at least, because if you don't get to know me but you still use my recipe it is kind of like taking candy from a stranger, and your mom taught you not to do that. Don't disobey your mom, subscribe to Fox Valley Foodie today.