Cheeseburger macaroni is an easy to throw together family meal that is inspired by the iconic flavors of the classic cheeseburger.
Last week I was feeling lazy so I grabbed a box of Hamburger Helper cheeseburger macaroni and whipped it up for dinner. And you know what? It had about as much flavor as a box of air. Everyone in the family agreed it tasted like absolutely nothing. And just like that, the idea for a more flavorful version of that dish was born.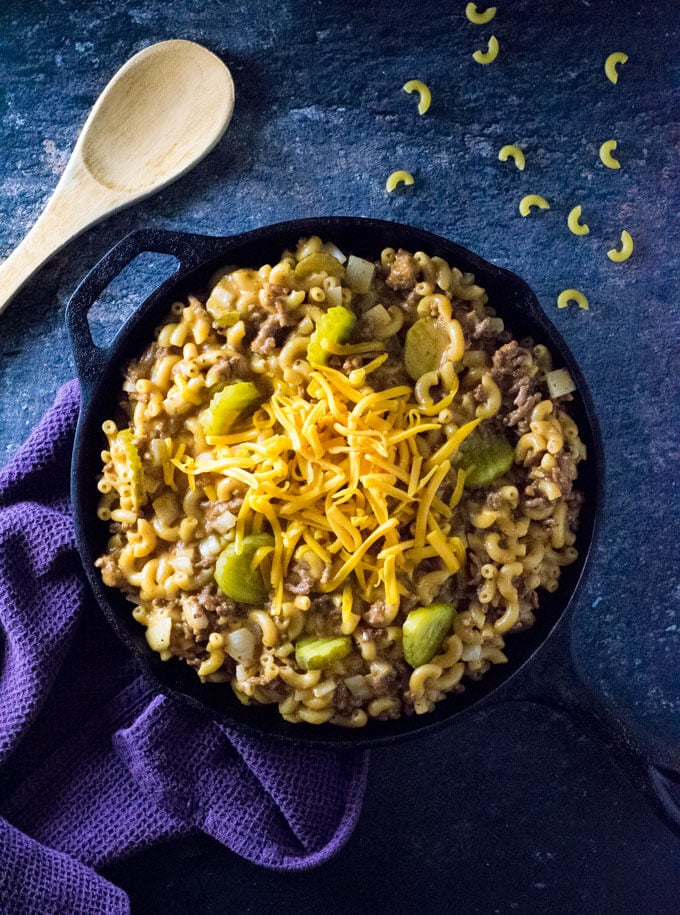 Cheeseburger Macaroni
Cheeseburger macaroni is a classic Midwestern one-pot dish that typically features ground beef and macaroni noodles in a generic cheese-based sauce. My recipe takes this a step future by incorporating flavors found in the classic cheeseburger such as ketchup, mustard, pickles, and onions.
Not only do these additional ingredients give the dish a lot more depth, but it also tastes better too! You can also customize this dish to better fit your own tastes, but more on that later.
How to Make Homemade Cheeseburger Macaroni
I created this recipe to be a one-skillet dish to match the simplicity of the Hamburger Helper. Everything fits perfectly in a standard saute pan (affiliate link).
Create this meal by first browning the beef, then adding seasonings, liquid, and noodles. Stir everything together and cover the pan and bring to a simmer. You will let everything simmer for about 12 minutes, or until the sauce has thickened and noodles are tender. You will want to stir everything periodically so the noodles don't stick to the bottom of the skillet.
Tip: If the sauce reduced too much and the noodles aren't tender yet, you can add in additional beef broth or even water.
How to Customize Cheeseburger Macaroni
I customized traditional cheeseburger macaroni by adding dill pickles and raw onions to replicate a cheeseburger. However, you can leave these out if you wish. You can even saute the chopped onion with the beef if you don't want to have the raw crunch in your dish.
Another flavorful addition to any burger is bacon! Cook up a half-pound of thick-cut bacon and chop it into 1" pieces, and stir it into the dish with the pickles and onions.
Homemade Hamburger Helper
My cheeseburger macaroni was inspired by the Hamburger Helper meal of the same name. If you are looking for more made from scratch versions of this easy family dinner, check out my Homemade Hamburger Helper recipe as well as my Beefaroni recipe. Though not Hamburger Helper exactly, my Homemade Sloppy Joes are another made-from-scratch recreation your family will love!
Print Recipe
Cheeseburger Macaroni
Cheeseburger macaroni is an easy to throw together family meal that is inspired by the iconic flavors of the classic cheeseburger.
Ingredients
1

lb

lean ground beef

1

tablespoon

cornstarch

1

teaspoon

paprika

1

teaspoon

garlic powder

1

teaspoon

onion powder

1

teaspoon

kosher salt

1/2

teaspoon

freshly ground black pepper

1 1/4

cup

beef broth

2

cup

milk

1/2

cup

ketchup

1

tablespoon

Dijon mustard

2

teaspoons

Worcestershire sauce

2

cups

dry macaroni noodles

2

cups

shredded Cheddar cheese

(divided)

1

cup

dill pickles

(chopped or sliced)

1/2

medium

onion

(chopped)
Instructions
Add beef into a saute pan and cook over medium heat until the beef is browned. Break it apart to crumble it while cooking.

Add cornstarch along with all seasonings, and mix with the beef, then add beef broth, milk, ketchup, mustard, and Worcestershire sauce to the saute pan and mix further to ensure the seasonings are incorporated.

Stir in macaroni noodles, cover, and bring to a simmer. Simmer for 12 minutes, or until the sauce has thickened and noodles are tender, stirring occasionally.

Stir in half of the cheese with the beef and noodles, until melted. Then add pickles and onions. Top the dish with the remaining cheese and serve.
Loved this recipe?

Be sure to rate it and share you thoughts below!
*Calories listed are a vague estimate and accuracy should not be assumed.
Can you do me a favor? If you enjoyed my post would you mind sharing it with your friends? You can see more of my recipes by liking me on Facebook and follow me on Pinterest too. Otherwise, stay up to date by getting each new post sent directly to your inbox by subscribing today.