If you are in the Midwest looking for perch recipes, none reign supreme quite like Beer Battered Perch, the classic Wisconsin fish fry!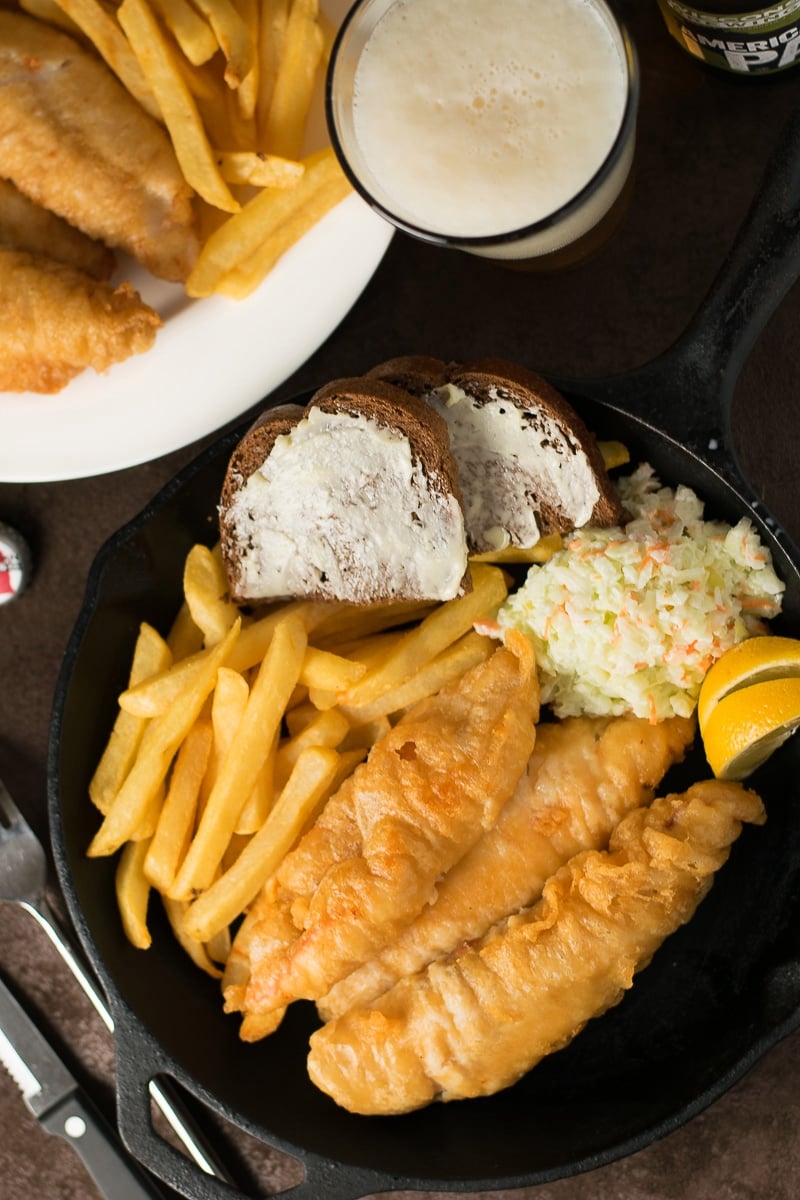 Wisconsin may be famous for beer, cheese, and brats but ask any resident and they will tell you the reverence we hold for the classic Wisconsin Friday night fish fry is only surpassed by our passion for the Packers. Stop by any eatery in the state on a Friday night and, once you are finally able to get a table, you will be likely to find their menu featuring beer battered perch or simply saying, "Friday Fish Fry."  
People eat deep fried fish everywhere, so why the big deal in Wisconsin?  The history of the Wisconsin Friday night fish fry is two fold. It stems back to the 1800's when an influx of Catholic Germans, Polish, and Irish arrived in the state.  During lent they were forbidden from eating meat on Fridays so eating fish was a popular alternative.  Fast forward to prohibition, and bars were looking for alternative ways to make money and found selling food to be an attractive solution. In particular, deep frying fish was cheap and easy so it was an ideal way to market to their Catholic patrons. A prohibition bar can't stay in business selling a lot of fish just during lent so it became popular to promote it every Friday, all year long.
As anyone who knows anything about drinking can contest, Wisconsin certainly knows its way around a bar; so if all the bars start doing something it won't take much for it to turn into a statewide tradition.  To this day the most popular Wisconsin Friday night fish frys are found in the local bars. Many, if not most, of these establishments only offer this menu item one day a week.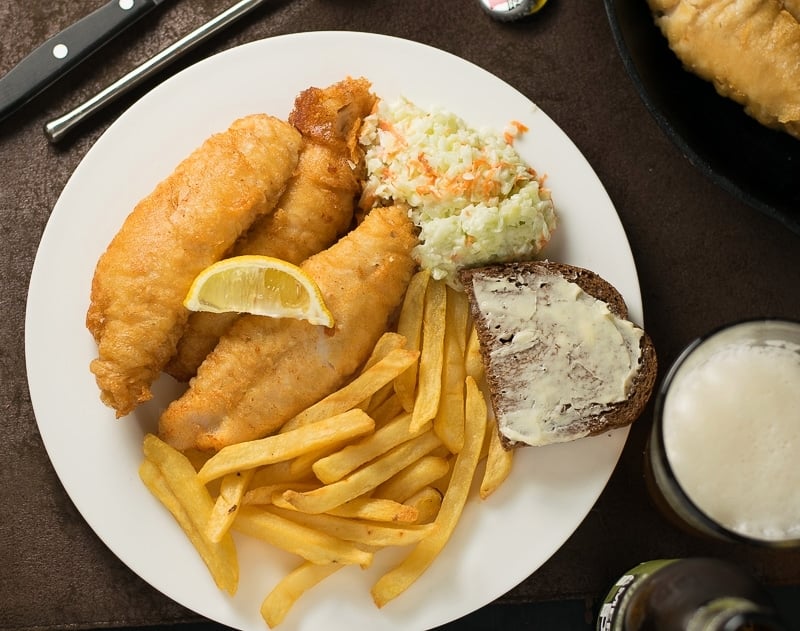 The Friday night fish fry is traditionally deep fried perch or walleye, though beer battered perch is most popular. You will also find cheaper fillets of fish, like Whitefish, offered at a lower price point. However, just serving deep fried fish with any ol' sides will not a Wisconsin fish fry make! Any traditional Wisconsin fish fry will be served along with sides of coleslaw, buttered rye bread, and a potato (most commonly French fries).  Without these items, you just have fried fish.  If you really want to cap off your experience grab a Wisconsin craft beer or a Brandy Old Fashioned!

The best fish fry in each community is a highly contentious debate.  I would argue the best fish fry in the Fox Valley is right here.  Lightly beer battered perch fillets, no long waits for seating, crabby waitresses, or expensive drinks. Plus, unlike most restaurants, you can make your French fries from scratch!  Pony on up to the dinner table and bite into your own Friday night tradition!
When deep frying it is always important to use a thermometer to know when the oil is ready to fry. I recently was sent this Lavatools thermometer to test, and I can't recommend it enough.  It is quick, accurate, and well designed. Plus, I love the lifetime warranty. I use it for anything from checking meats to deep frying.
The above link is an affiliate link.  Any Amazon purchases made through this link help support FoxValleyFoodie.com without any additional cost to you.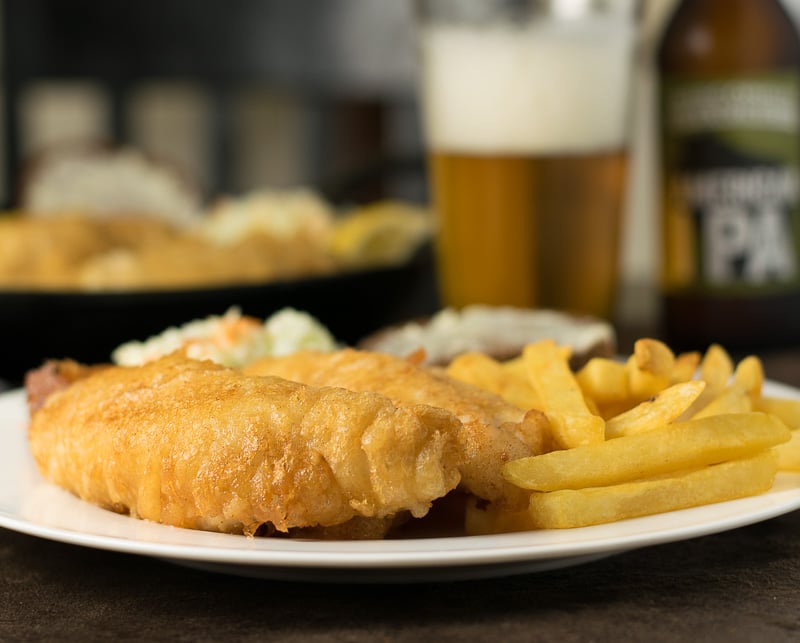 Print Recipe
Beer Battered Perch - The Classic Wisconsin Fish Fry
If you are in the Midwest looking for perch recipes, none reign supreme quite like Beer Battered Perch, the classic Wisconsin fish fry!
Ingredients
1

lb

Perch fillets

1

cup

Flour

plus 1/3 cup for dusting

1 12

oz

Beer

1/2

tsp

Salt

1

Lemon

cut into wedges

Tartar sauce for dipping.

Peanut Oil
Sides
French Fries

Buttered Rye Bread
Instructions
Heat oil to 375 degrees

Place 1/3 cup of flour in a bowl.

Add 1 cup of flour and 1/2 tsp salt in a separate bowl and add beer until the batter has a thin consistency that just coats the back of a spoon. You don't want the batter to be thick at all.

Dip the fillets in flour, shaking off the excess and then dip evenly in the batter.

Place battered fillets in hot oil, working in batches.

Fry fish 2-4 minutes, or until it reaches golden brown. The fish will cook quickly inside so don't be afraid to judge the doneness solely by the color of the breading.

Remove from oil and let drain on a cooling rack or paper towel prior to serving.

Plate with French fries, coleslaw, buttered rye bread, tartar sauce for dipping and lemon wedge.
Notes
It is OK if you dip the fish in the batter and you can still faintly see the fish through the thinness of the batter. That is a good consistency.
Using 12oz of beer will get you close to the right consistency, use more or less as needed.
Loved this recipe?

Be sure to rate it and share you thoughts below!
*Calories listed are a vague estimate and accuracy should not be assumed.
If you enjoyed reading my beer battered perch recipe then you should probably like me on Facebook and follow me on Pinterest too. That's what I would do at least, because if you don't get to know me but you still use my recipe it is kind of like taking candy from a stranger, and your mom taught you not to do that. Don't disobey your mom, subscribe to Fox Valley Foodie today.