If you are looking to make your own deep fried fish, no meal reigns supreme quite like beer battered perch and the classic Wisconsin fish fry!
Wisconsin may be famous for beer, cheese, and brats but ask any resident and they will tell you the reverence we hold for the classic Wisconsin Friday night fish fry is only surpassed by our passion for the Packers. Stop by any eatery in the state on a Friday night and, once you are finally able to get a table, you will be likely to find their menu featuring beer battered perch or simply proclaiming, "Friday Fish Fry."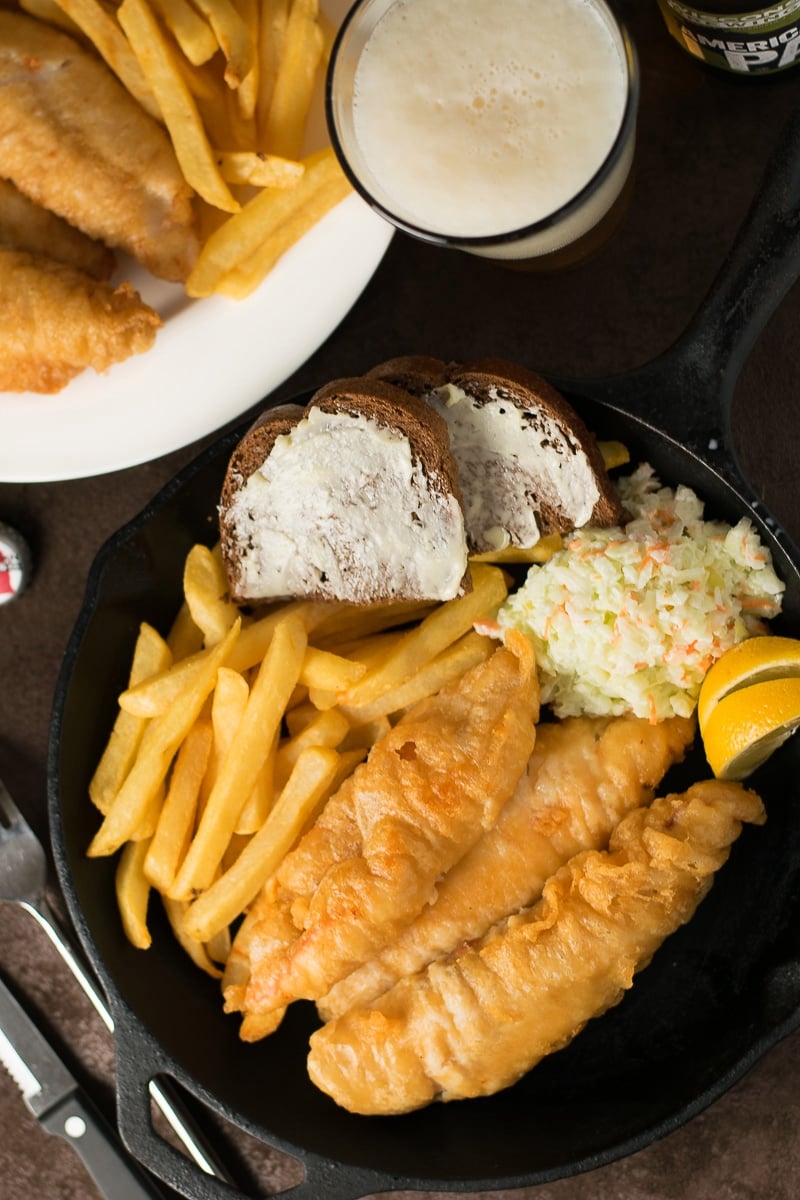 Wisconsin Friday Night Fish Fry
People eat deep fried fish everywhere, so why the big deal in Wisconsin?  The history of the Wisconsin Friday night fish fry is two-fold. It stems back to the 1800's when an influx of Catholic Germans, Polish, and Irish arrived in the state.  They were forbidden from eating meat on Fridays so eating fish was a popular alternative. 
Fast forward to prohibition, and bars were looking for alternative ways to make money and found selling food to be an attractive solution. In particular, deep frying fish was cheap and easy so it was an ideal way to market to their Catholic patrons.
As anyone who knows anything about drinking can contest, Wisconsin certainly knows its way around a bar; so when all the bars start doing something it doesn't take much for it to turn into a statewide tradition. To this day the most popular Wisconsin Friday night fish frys are found in the local taverns. Many, if not most, of these establishments only offer this menu item one day a week.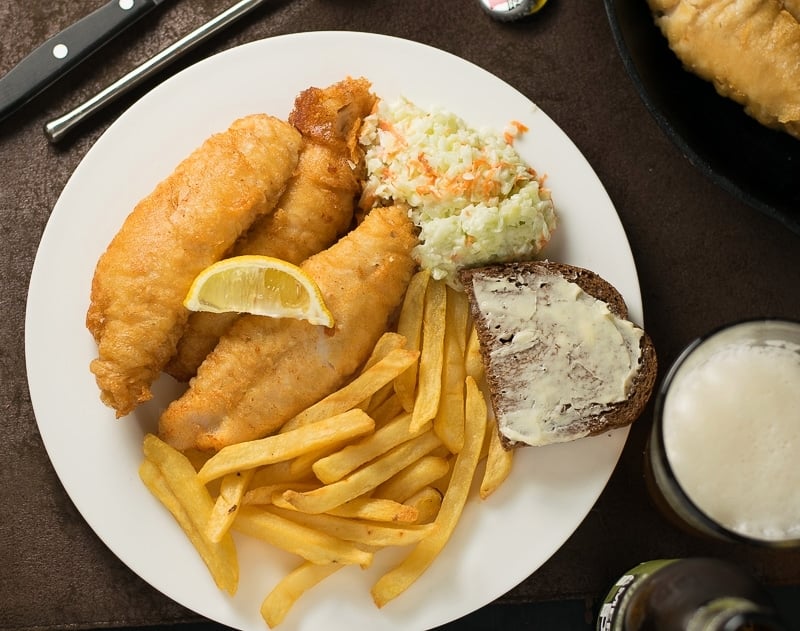 What Fish is Served at a Fish Fry
The Friday night fish fry is traditionally deep fried perch or walleye, although beer battered perch is most popular. You will also find cheaper fillets of fish, like Whitefish, offered at a lower price point. You can substitute any of these fish in my beer battered perch recipe. However, just serving deep fried fish with any ol' sides will not be a true Wisconsin fish fry.
Wisconsin Fish Fry Sides
Any traditional Wisconsin fish fry will be served along with sides of coleslaw, buttered rye bread, and a potato (most commonly French fries). Without these items, you just have fried fish. If you really want to cap off your experience grab a Wisconsin craft beer or a Brandy Old Fashioned!
Beer Battered Perch
The best fish fry in each community is a highly contentious debate. I would argue the best fish fry is right here with your own homemade lightly beer battered perch fillets. Flavorful and flaky, the perch fillets are dipped in a beer batter that fries up crisp and golden. There are no long waits for seating, crabby waitresses, or expensive drinks, so pony on up to the dinner table and bite into your own Friday night tradition!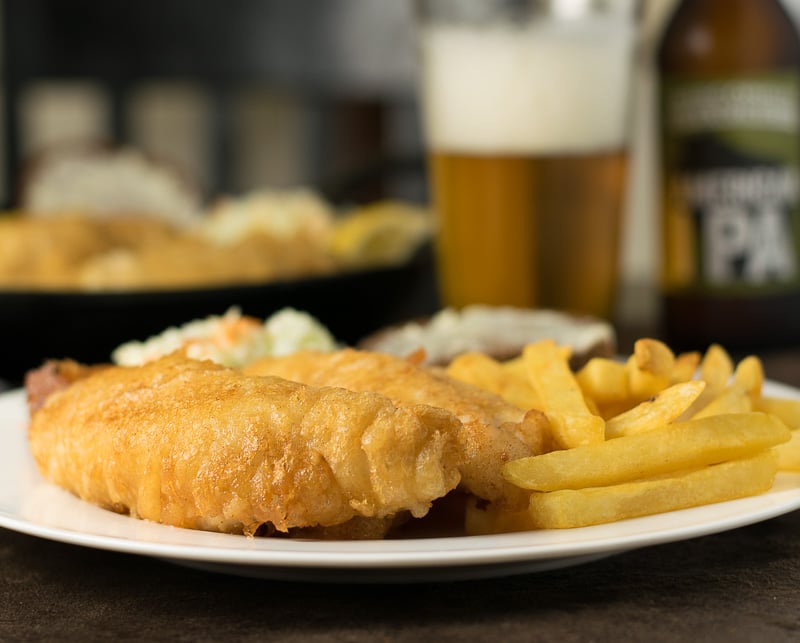 How to make Beer Battered Perch
To make beer battered perch you first need to create a dredging station. Add ⅓ cup of flour to one bowl and 1 cup of flour with ½ teaspoon of salt to another bowl along with approximately 12 ounces of beer. The perch will be dipped in flour then dredged in the beer batter before going into the frying oil. At home I typically deep fry in a high walled cast iron skillet.
Tip: I recommend using a cheap lager for your beer batter, such as a Bud, Miller, Pabst, etc... The exact amount of beer needed will vary, so add more or less as needed until it thinly coats the back of a spoon, but isn't soupy.
When deep frying it is always important to use a thermometer to know when the oil is ready to fry. Rather than purchasing a separate deep frying thermometer, I just use my digitial meat thermometer to test the oil. You want to keep the oil around 375 for frying. The fish is done when the batter is golden brown, approximately 2-4 minutes.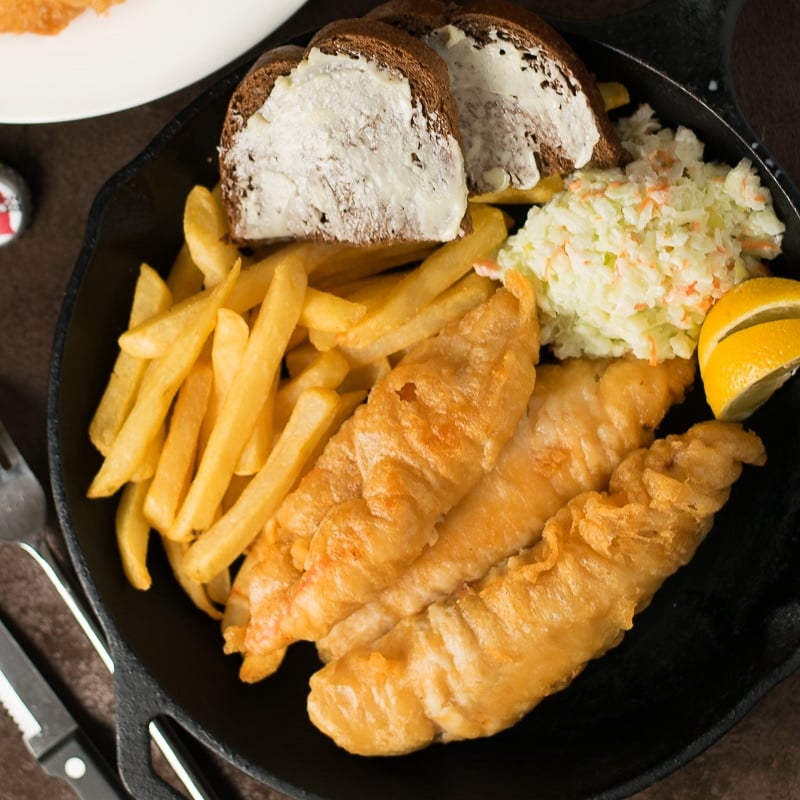 Beer Battered Perch - The Classic Wisconsin Fish Fry
If you are looking to make your own deep fried fish, no meal reigns supreme quite like beer battered perch and the classic Wisconsin fish fry!
Print
Pin
Rate
Save
Saved
Ingredients
1

lb

Perch fillets

1 ⅓

cups

flour

(divided)

12

oz

beer

(recommend cheap lager)

½

teaspoon

Salt

1

Lemon

(cut into wedges)

Tartar sauce for dipping

Peanut Oil
Instructions
Add 2-3" of oil to a high walled skillet or fill a deep fryer. Heat oil to 375 degrees.

Place ⅓ cup of flour in a bowl.

Add 1 cup of flour and ½ teaspoon salt in a separate bowl and whisk in beer until the batter has a thin consistency that just coats the back of a spoon.*

Dip the fillets in flour, shaking off the excess and then dip evenly in the batter.**

Place battered fillets in hot oil, working in batches.

Fry fish 2-4 minutes, or until it reaches golden brown. The fish will cook quickly inside so don't be afraid to judge the doneness solely by the color of the breading.

Remove from oil and let drain on a cooling rack or paper towel prior to serving.

Plate with French fries, coleslaw, buttered rye bread, tartar sauce for dipping and lemon wedge.
Notes
*You don't want the batter to be thick, or you will have a thick and soggy breading on your fish. Using 12 ounces of beer will get you close to the right consistency, use more or less as needed.
**It is OK if you dip the fish in the batter and you can still faintly see the fish through the thinness of the batter. That is a good consistency.
IF YOU LIKED THIS RECIPE check out my Wisconsin Beer Brat Sauce recipe as well!
Nutritional Information
Calories:
383
kcal
|
Carbohydrates:
48
g
|
Protein:
36
g
|
Fat:
2
g
|
Saturated Fat:
1
g
|
Cholesterol:
136
mg
|
Sodium:
488
mg
|
Potassium:
540
mg
|
Fiber:
3
g
|
Sugar:
1
g
|
Vitamin A:
45
IU
|
Vitamin C:
22
mg
|
Calcium:
143
mg
|
Iron:
4
mg
This recipe was originally published on FoxValleyFoodie.com August 7, 2015.