The Wisconsin Brandy Slush is a midwest classic featuring an icy mix of fruit juice, tea, and brandy. This boozy punch is perfect to serve at your next party.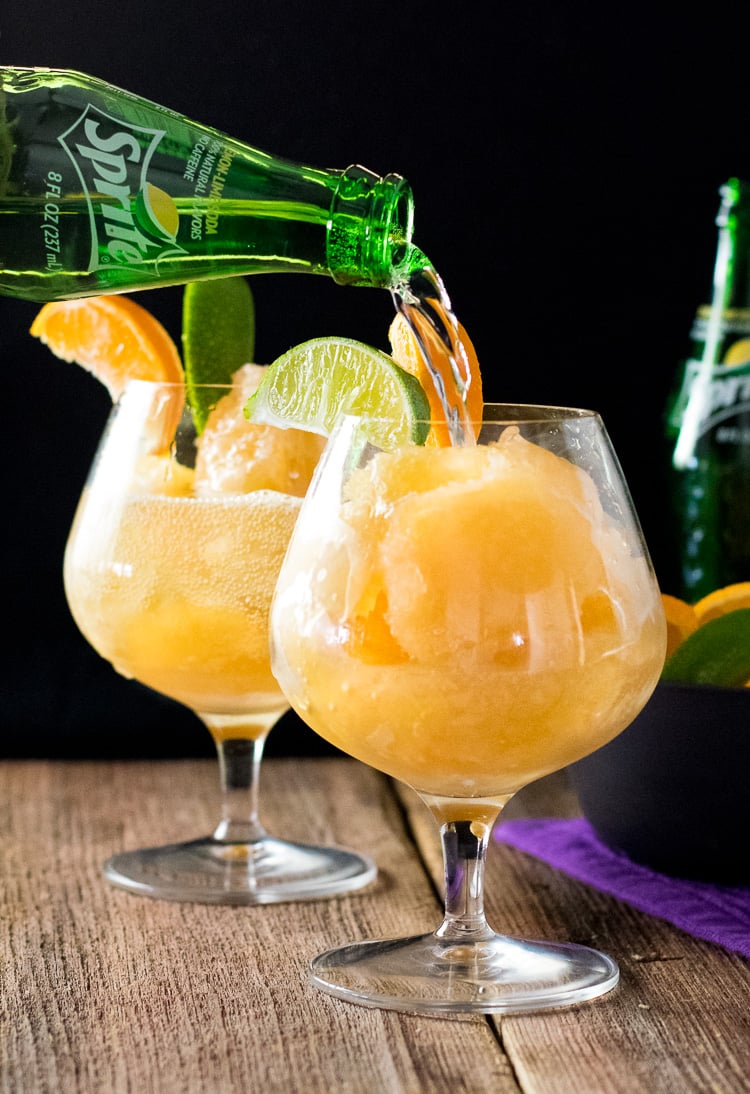 My 120-pound puppy woke me up early this morning, no doubt pretending to be a chainsaw or something. I was tempted to just lay in bed till I drifted back to sleep, but I realized I this was a great chance to get some work done in peace and quiet. So with misguided determination, I rolled out of bed and am currently sucking down insufficiently weak black fuel in a vain attempt to prolong my inevitable crash as long as possible.
Sometimes waking up early is a bit like drinking alcohol. It is nice at first, but you are sure going to pay for it later!
That, of course, hasn't stopped any Wisconsinite from enjoying a little brandy. Wisconsin is the top state in the country for brandy consumption per capita. Well, to be honest, Wisconsin is pretty much the top state in the country for any drinking statistic, but ignore that for a moment and let me make brandy feel special.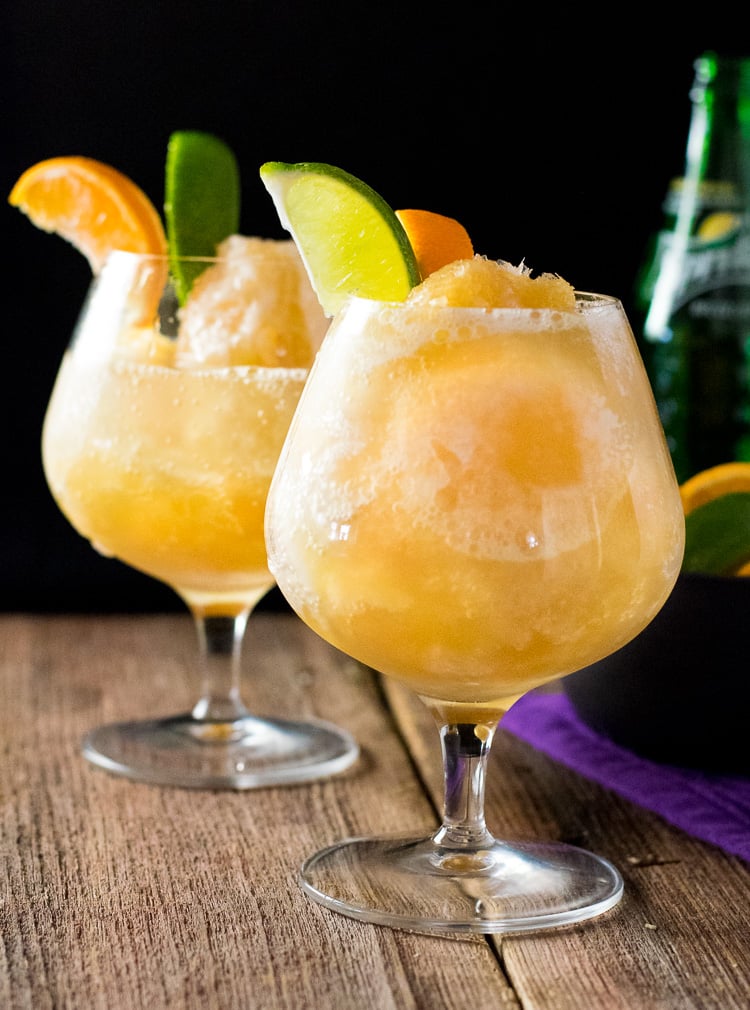 When your neighbors drink so much brandy, you are bound to develop a regional recipe or two. The Wisconsin Brandy Old Fashioned is the most famous one and my personal favorite. However, the Wisconsin Brandy Slush is a lesser known classic that is perfect to enjoy on muggy midwestern summer days. Or just in the middle of winter, like this, when you are just looking for an excuse to make a cocktail.
The Wisconsin Brandy Slush is the grown up version of a snow cone. Tart fruit juice and tea are frozen with a generous pour of brandy and then scooped into a glass with a couple of glugs of lemon lime soda. Adding the brandy to the juice prior to freezing prevents the mixture from forming a solid block of ice. Instead, the lower freezing point of alcohol makes it a perfect slushy consistency!
I use these Brandy Snifters for this brandy slush recipe simply because I love how they look and they are exceptionally high quality. However, any old fashioned glass will work fine. Actually, the only bar-ware brand I will purchase is Luigi Bormioli because their glass is exceptionally high quality for the price. It is lightweight and thin, giving you an exceptionally refined feel in your hand, as compared to traditionally thick and clunky glassware you typically find.
I was not paid for my recommendation of this product, however, the links are affiliate links which help support this website if any Amazon purchases are made.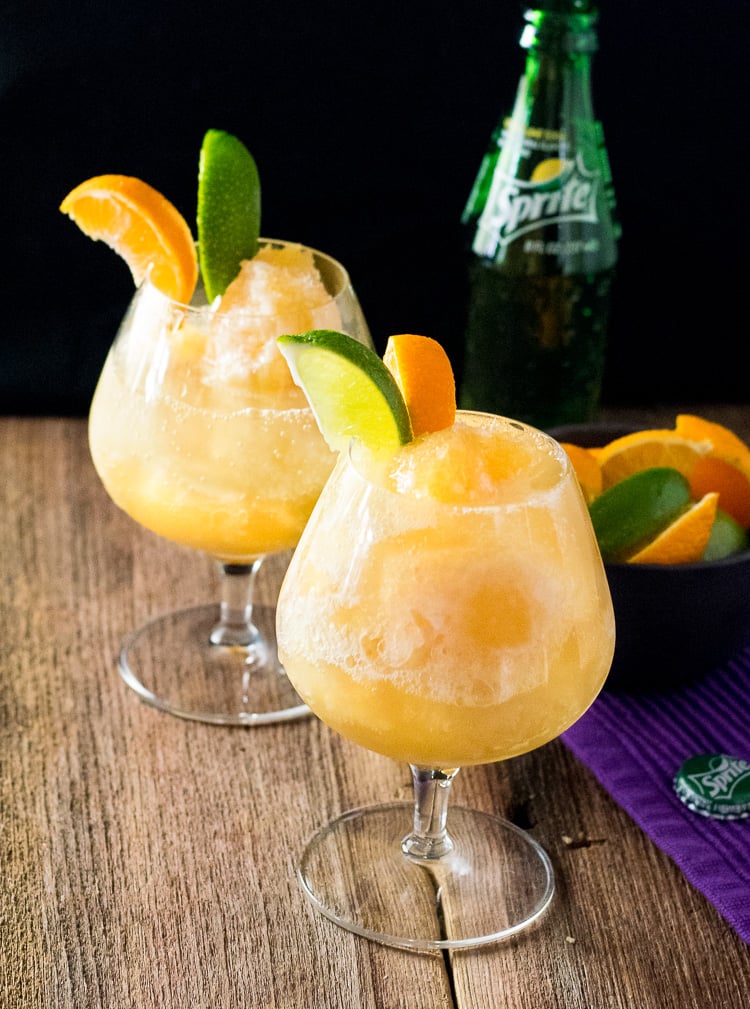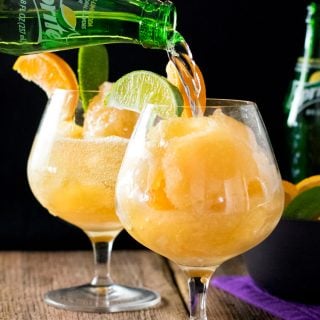 Wisconsin Brandy Slush
The Wisconsin Brandy Slush is a midwest classic featuring an icy mix of fruit juice, tea, and brandy. This boozy punch is perfect to serve at your next party.
Print
Pin
Rate
Ingredients
5

cups

water,

divided

4

bags

green tea

1

cup

sugar

12

oz

can frozen lemonade concentrate

12

oz

can frozen orange concentrate

2

cups

brandy

2

liter

lemon-lime soda
Instructions
Boil 5 cups of water, then stir three cups of the water with sugar until dissolved and let tea bags steep in remaining two cups for 10 minutes. (make sure all of the sugar dissolves or the brandy slush will taste grainy)

Remove tea bags, and pour liquid together into a large bowl and add lemonade concentrate, orange concentrate, and brandy. Stir to combine, cover, and place in the freezer overnight.

To serve, scoop frozen mixture into glasses and fill with lemon-lime soda (~¼ cup). Stir and enjoy!
Nutrition

If you enjoyed reading my Wisconsin Brandy Slush recipe then you should probably like me on Facebook and follow me on Pinterest too. That's what I would do at least, because if you don't get to know me but you still use my recipe it is kind of like taking candy from a stranger, and your mom taught you not to do that. Don't disobey your mom, subscribe to Fox Valley Foodie today!