This easy ground venison jerky recipe is effortless to make in your dehydrator and the perfect snack for enjoying a successful harvest! You can save yourself hundreds of dollars by processing your own deer meat, and still enjoy tasty venison snacks that will be the envy of deer camp.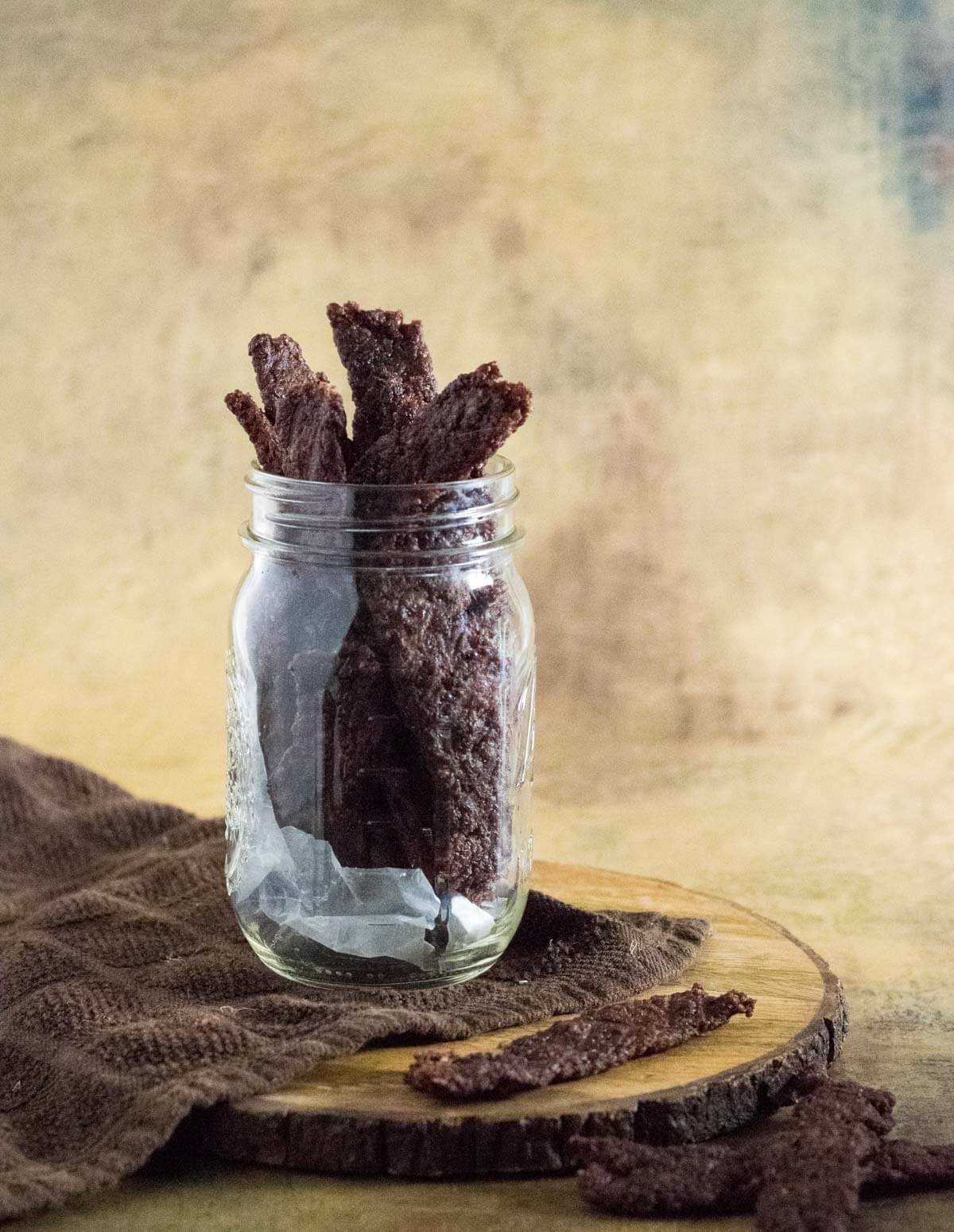 What is it?
Ground venison jerky is made with lean ground deer meat aggressively flavored with seasonings, then dehydrated at a low temperature to cook and dry. Pink curing salt is added to make your homemade jerky shelf stable and to prevent botulism from forming during the slow drying process. Skip the store-bought seasoning packets, making this homemade jerky is a great way to create a snack you'll be proud of!
Ingredients & Substitutions
Lean ground venison - Ideally you want ground meat without fat added, but it will still taste great even with fat. However, it won't store as long. Although this recipe is designed to use with deer meat, you can substitute any ground meat or wild game meat.
Soy sauce
Worcestershire sauce
Liquid smoke
Ground black pepper
White sugar - Brown sugar can be substituted for a deeper flavor. If you try to avoid sugar in your diet, it can be omitted from the recipe.
Garlic powder
Onion powder
Ground mustard - Yellow mustard can be substituted.
Canning salt - Sea salt and table salt can also be substituted.
Ground coriander
Cayenne pepper - To make spicy jerky you can add up to a full teaspoon. Otherwise, hot sauce and crushed red pepper flakes can also be used.
Pink curing salt - There are different types of curing salts, so it is important to use pink curing salt referred to as Prague Powder #1 or Insta Cure #1. You won't find this in the typical grocery store, so ask your local butcher or order it online.
Equipment Needed
You will need a couple of pieces of specialized equipment to make your homemade ground deer jerky. Specifically, a dehydrator, or at least an oven with a dehydrating feature. Alternatively, you can make your jerky in a smoker as well. I also strongly recommend using a jerky gun (which is like a caulking gun) to easily create uniform thin strips of meat.
How to make it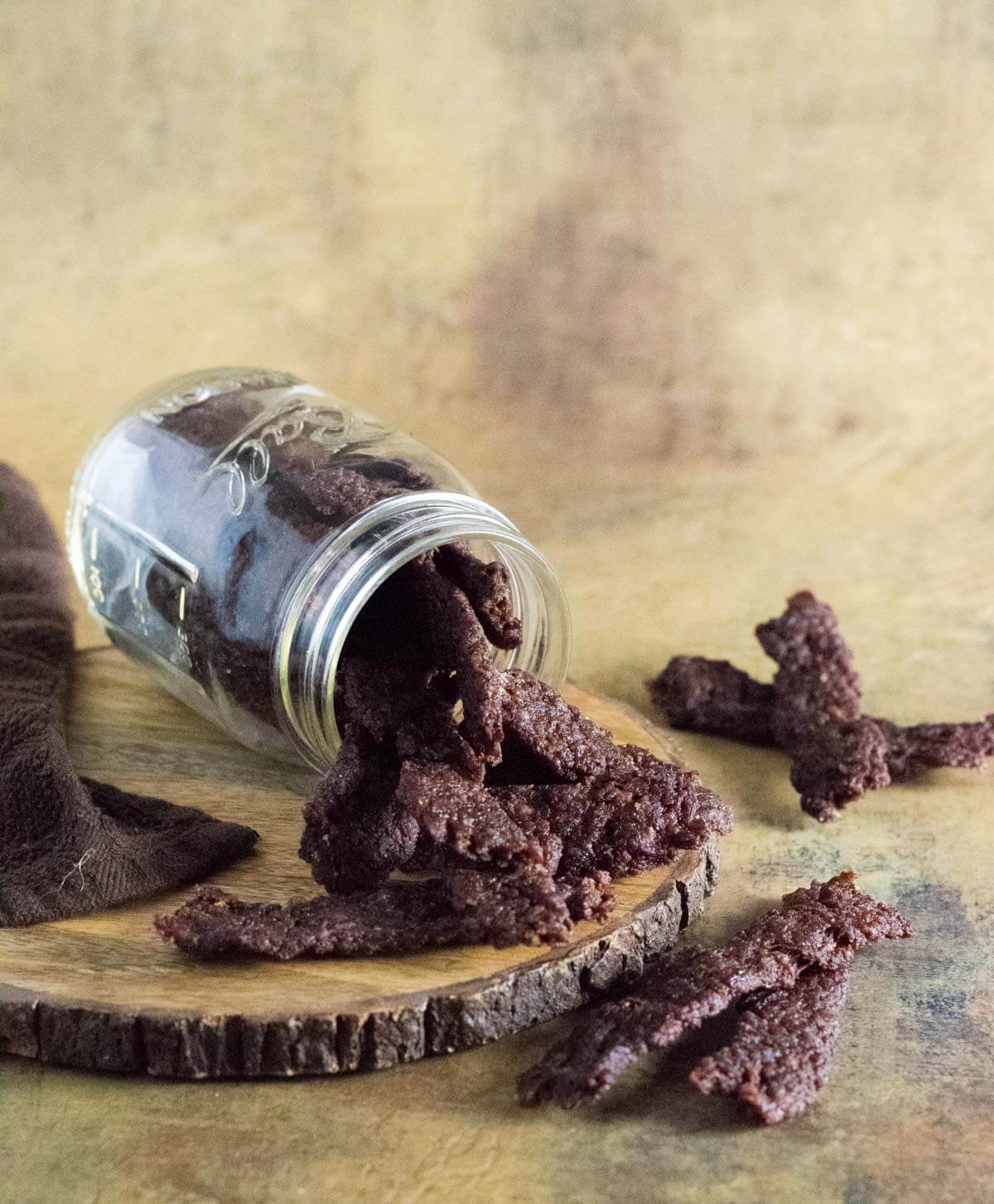 Begin making your homemade ground venison jerky by crumbling the ground venison into a large mixing bowl, then adding the soy sauce, Worcestershire sauce, liquid smoke, black pepper, sugar, garlic powder, onion powder, canning salt, coriander, cayenne pepper, and the pink curing salt. Mix everything together until well combined, then place in the refrigerator to allow the flavors to meld together for 24 hours.
After 24 hours, remove the raw ground meat jerky mixture from the fridge and load it into your jerky cannon. Squeeze long strips into a single layer on your dehydrator's wire racks and set the dehydrator to 160 degrees. Let your meat dehydrate for 3-5 hours. It is done with the dry meat bends without breaking.
Note: I always recommend butchering your own deer so you have full control over the process from start to finish. If you have never done it before, grab a meat grinder and follow my guide on how to butcher a deer.
Venison Jerky FAQs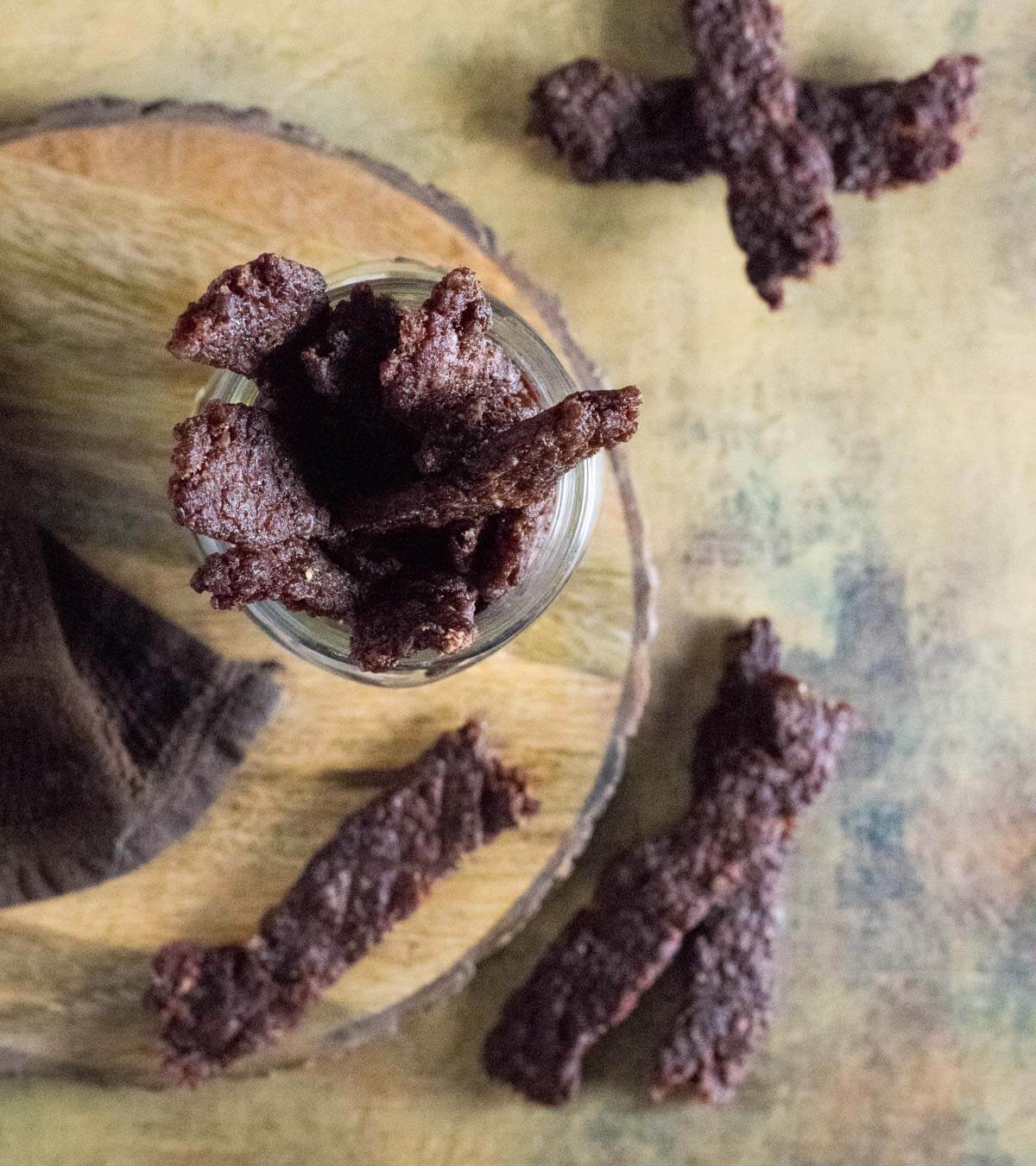 How can I make ground venison jerky without a jerky gun?
If you don't have a jerky gun, you can make your venison jerky by rolling it flat over parchment paper with a rolling pin, and then slicing it into strips with a knife or pizza cutter. Place the individual strips on the dehydrator trays and discard the wax paper.
When is ground jerky done?
Dehydrate your ground venison jerky for 3-5 hours and periodically check for doneness by doing the bend test. If you gently bend the jerky strips and they don't break, they are done and ready to enjoy!
How long can you store venison jerky?
The more fat you have in your jerky, the quicker it is going to spoil. This is why we recommend using lean meat. Your jerky will also have a longer shelf life the longer it is dried, however, it also becomes harder to chew as it is dehydrated longer. According to the National Center for Home Food Preservation, homemade venison jerky can be stored at room temperature for up to two weeks when properly prepared.
More Venison Snack Recipes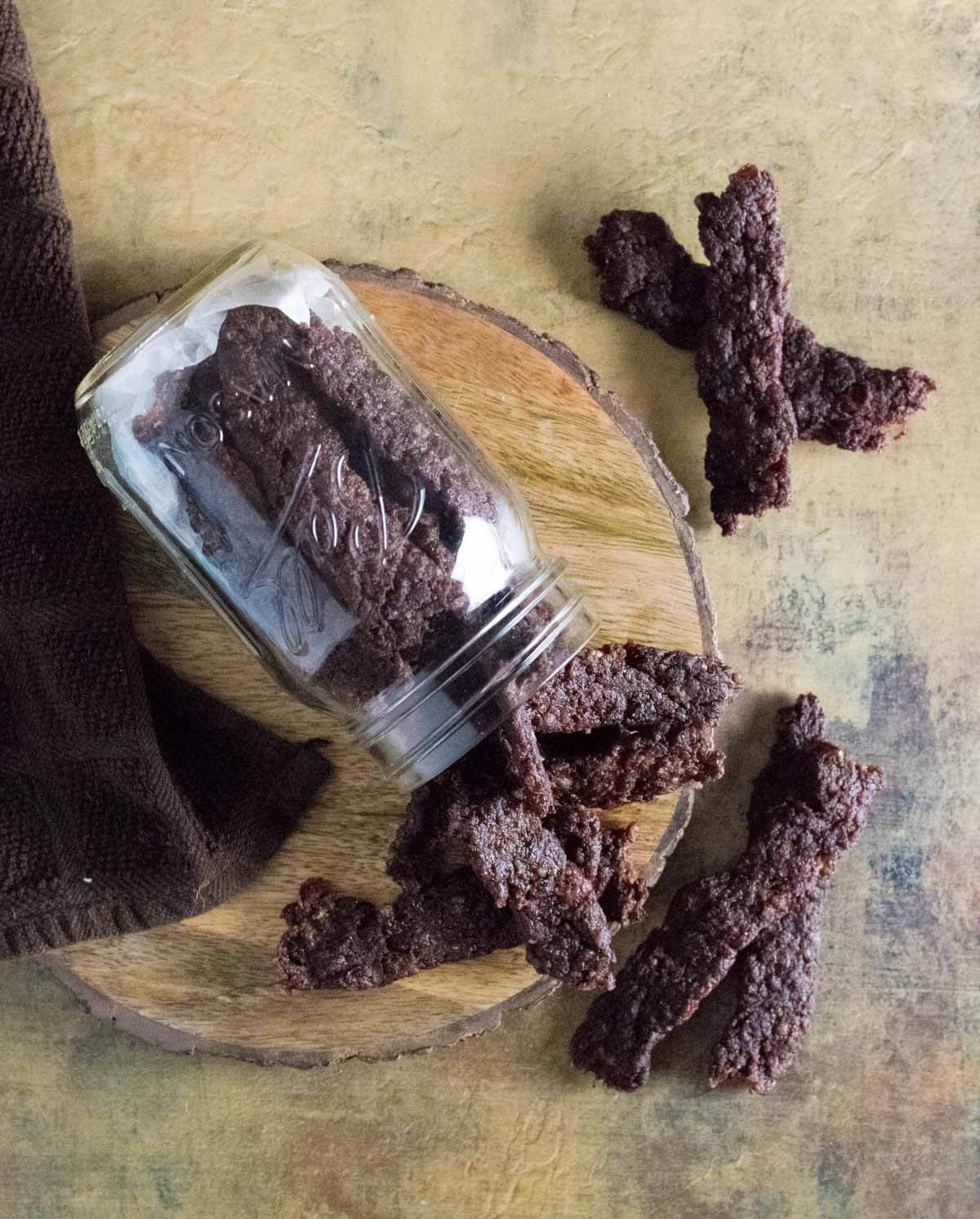 Can you do me a favor? If you enjoyed my post would you mind sharing it with your friends? You can see more of my recipes by liking me on Facebook and follow me on Pinterest too. Otherwise, stay up to date by getting each new post sent directly to your inbox by subscribing today.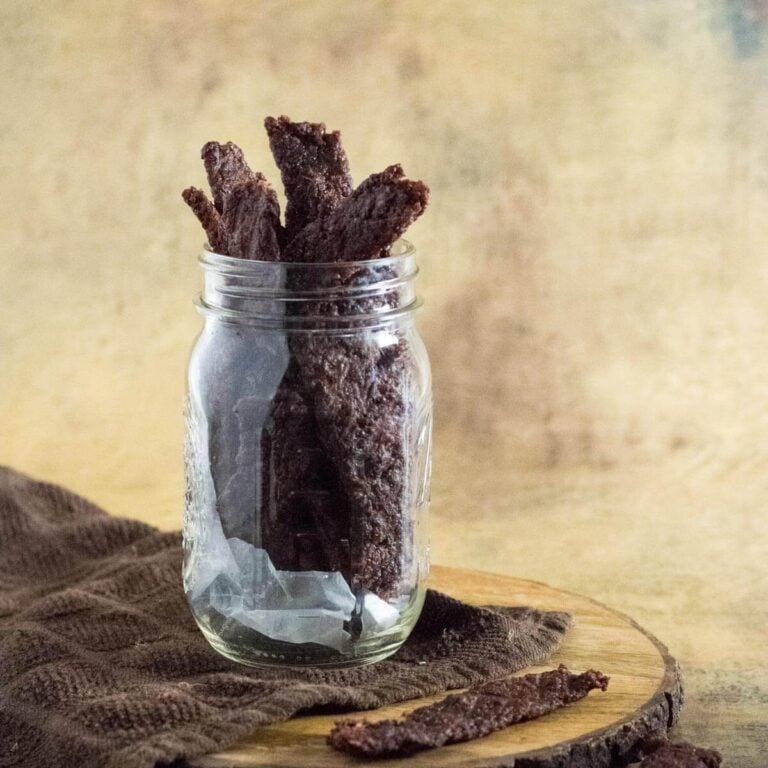 Ground Venison Jerky
This easy ground venison jerky recipe is effortless to make in your dehydrator and the perfect snack for enjoying a successful harvest!
Print
Pin
Rate
Save
Saved
Ingredients
1

pound

lean ground venison

2

tablespoons

soy sauce

2

tablespoons

worcestershire sauce

2

teaspoons

liquid smoke

2

teaspoons

ground black pepper

2

tablespoons

sugar

1

teaspoon

garlic powder

1

teaspoon

onion powder

1

teaspoon

ground mustard

½

teaspoon

canning salt

½

teaspoon

ground coriander

¼

teaspoon

cayenne pepper

¼

scant teaspoon

pink curing salt

(prague powder #1)
Instructions
Mix all ingredients together in a large bowl until well combined. Place the meat mixture in an airtight container and set it in the refrigerator to chill for 24 hours.

After 24 hours, remove the ground venison mixture from the refrigerator and load it into your jerky gun. Squeeze out individual strips onto your dehydrator trays, leaving a gap between each strip for airflow.

Set your food dehydrator to 160 degrees, and dehydrate for 3-5 hours. The jerky is done when it is dry and bends without breaking.

Store in an airtight container at room temperature, or refrigerate, and enjoy within two weeks.
Notes
You can make great ground jerky even with ground meat that contains fat, but it won't keep as long, as the fat will go rancid eventually. It will stay fresher longer by storing it in the refrigerator.
A scant teaspoon is less than a full teaspoon. 1 teaspoon of curing salt is used per 5 pounds of meat, so a scant ¼ teaspoon would specifically equal ⅕ teaspoon of curing salt.
Nutritional Information
Calories:
112
kcal
|
Carbohydrates:
5
g
|
Protein:
13
g
|
Fat:
4
g
|
Saturated Fat:
2
g
|
Polyunsaturated Fat:
0.3
g
|
Monounsaturated Fat:
1
g
|
Cholesterol:
45
mg
|
Sodium:
498
mg
|
Potassium:
249
mg
|
Fiber:
0.3
g
|
Sugar:
4
g
|
Vitamin A:
32
IU
|
Vitamin C:
1
mg
|
Calcium:
17
mg
|
Iron:
2
mg