Tangy and delicious, pickled garlic is a versatile treat that can be use in a variety of dishes or alone as a snack.
Do you have an abundance of garlic growing in your garden? Or maybe, you are just plain ol' obsessed with the stuff. Well, I have a flavorful new way for you to enjoy garlic and add an exciting twist to your favorite dishes.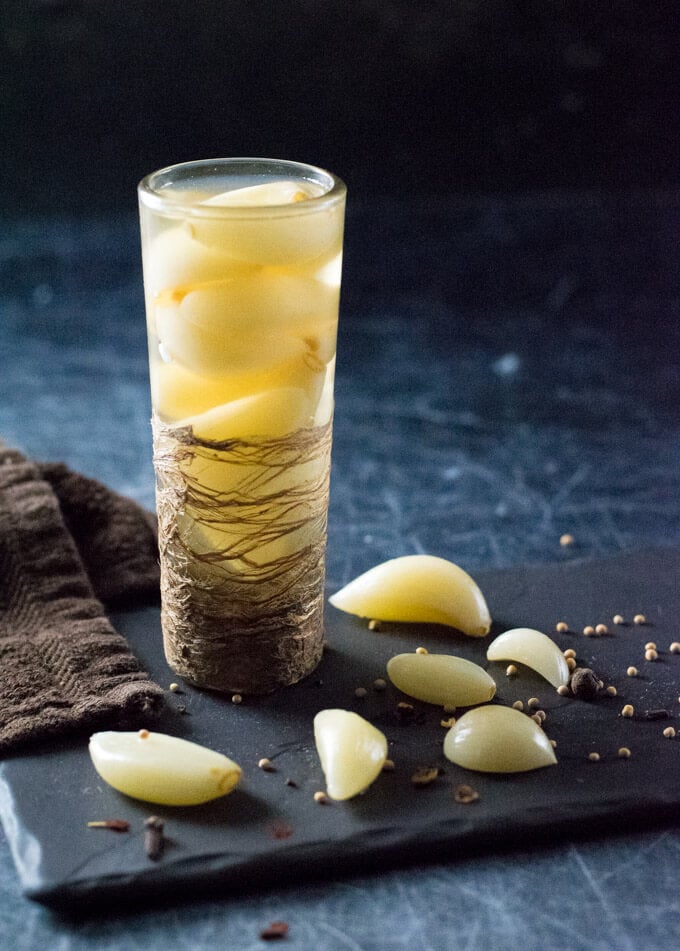 Pickled Garlic
Garlic can easily be pickled in vinegar solution to add a satisfying tang to each clove. My recipe uses my pickling spice blend as the primary flavor component, however, you can customize the blend to add more or less of your favorite (and disliked) seasonings, or buy a store-bought blend instead.
Feel free to customize the recipe further by adding herbs like dill, or even making spicy pickled garlic by including a Thai pepper in each jar.
How to pickle garlic
Pickling garlic is easy. The garlic is peeled and added to pint jars along with pickling spices, then a pickling solution of white vinegar, water, sugar, and salt is simmered on the stove top until sugar and salt dissolves. While the vinegar is still hot it should be poured into the jars with the garlic. This will slightly cook the garlic, softening it partially, which will allow it to take on the pickling flavors better.
Why did the cloves turn blue?
Garlic can discolor while pickling, but it is still safe to eat. Minerals in tap water, iodine in table salt, or excessive exposure to sunlight can all cause garlic to turn blue. To avoid this use pickling salt, which is iodine free, distilled water, and store in the refrigerator.
What to do with pickled garlic?
Pickled garlic is easy to make at home and can be enjoyed as a simple snack, or added to your favorite dishes as a flavor booster. Try mincing it and adding to egg salad, German cucumber salad, mixing with sauerkraut, or to brighten up charred corn salad. It is best added to your favorite cold dishes so the bright flavor isn't cooked out.
Can this recipe be used for canning?
Garlic is not a suitable vegetable for canning. Its low ph requires a pressure canner to process properly, however, doing so will cook most of the flavor out of the cloves, defeating the purpose. This recipe is best used for strictly for refrigerator pickling. Read more about safe storage of garlic here.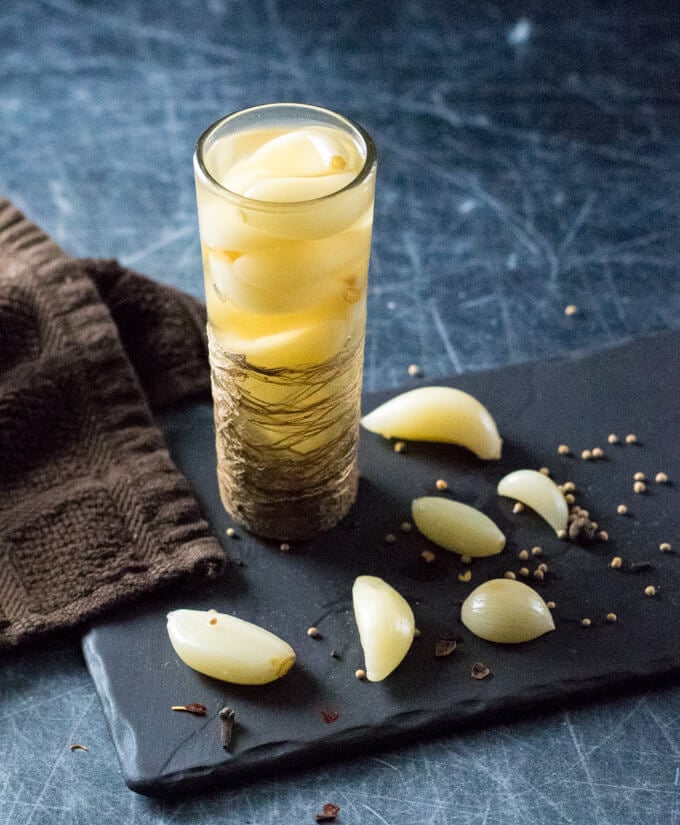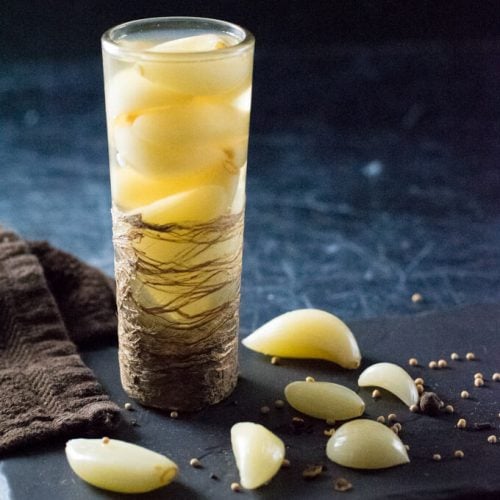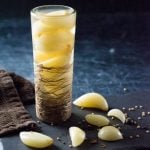 Print Recipe
Pickled Garlic Recipe
Tangy and delicious, pickled garlic is a versatile treat that can be use in a variety of dishes or alone as a snack.
Ingredients
4

cups

peeled garlic cloves

(about 1 pound)

1 1/2

cups

white vinegar

1/2

cup

distilled water

1/4

cup

sugar

1

teaspoon

pickling salt

2

teaspoons

pickling spice

(homemade or store bought)

2

pint

jars
Instructions
Add peeled garlic cloves and pickling spice to sterile pint jars, divided evenly.

Add vinegar to a saucepan with water, sugar, and salt. Bring to a simmer and cook until sugar and salt has dissolved.

While vinegar solution is still hot, carefully pour into jars with garlic, leaving 1/2" of head-space. Remove any air bubbles and adjust head-space as needed.

Seal with lids and store in the refrigerator for at least a week prior to enjoying. However, additional weeks will improve the flavor. Use within 3 months.
Loved this recipe?

Be sure to rate it and share you thoughts below!
*Calories listed are a vague estimate and accuracy should not be assumed.
Can you do me a favor? If you enjoyed my post would you mind sharing it with your friends? You can see more of my recipes by liking me on Facebook and follow me on Pinterest too. Otherwise, stay up to date by getting each new post sent directly to your inbox by subscribing today.