This Homemade Asian Hot Sauce is bursting with sweet heat you'll want to drip on everything! Similar to sriracha, this sauce is smoother, with a more robust flavor.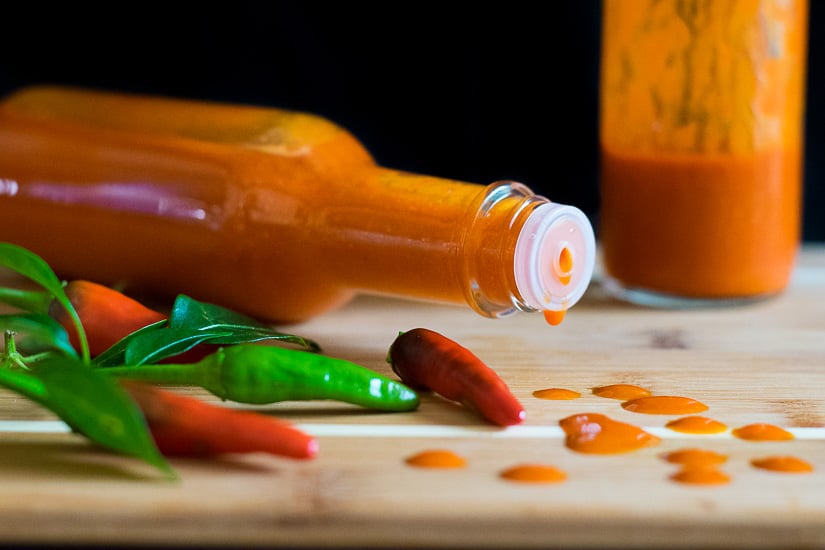 I was squeezing the last firecracker that would fit into my dad's five-gallon bucket.  It was all a kid could do to entertain himself while playing hooky from school on such a beautiful spring day.  However, I decided loading all of my fireworks into a bucket wasn't quite enough, this show needed bigger pyrotechnics! I think it was Jesus who said, "Go big or go home", and since I was already home the decision was pretty much made for me. There was still room to top off that bucket of firecrackers with gasoline!
This may sound dangerous, but it's OK.  I did this as a teenager while I was still invincible.
I lit a rag on fire and dropped it down into my bucket of hell, promptly giving me an up close and personal look at the inside of a fireball.  I jumped out of the flames to gaze in fear of the fireworks scattering like politicians fleeing a lie detector, my bucket melting down, and the dry grass starting on fire.
Hmmm, I hadn't really planned for that.
I wasn't near a hose, so I had to run inside and fill up mop buckets of water in an effort to douse the fire one pail at a time.  When I was done there was a 15′ x 15′ charred piece of earth where our lawn used to be.  I spent the remainder of the afternoon raking burnt lawn and replacing it with sand and fresh grass clippings to hide the mayhem. It worked.  My parents never said a word.
Now you have some context for my love obsession with hot sauce.

I'm addicted to the stuff, as you could probably have guessed from the multitude of posts I have referencing it.  I even have my five-year-old stepson hooked on a mild jalapeno sauce I make.  Yeah, proud stepdaddy here.
My Homemade Asian Hot Sauce is a flavorful sauce that is similar to sriracha, though a little thinner and smoother, with a slightly deeper flavor.  This is my go-to sauce on any Asian food, and pizza.  Yes, pizza! If you ever wanted a hot sauce for your pizza, I got the goods right here!
You can make hot sauce and just store it in the fridge, but if you are like me and enjoy building up a little stockpile to enjoy throughout the year, invest in some bottles and caps.  They aren't expensive and you can reuse the bottles.  This sauce is shelf stable for 6 months when properly bottled.
The above link is an affiliate link.  Any Amazon purchases made through this link helps support FoxValleyFoodie.com without any additional cost to you.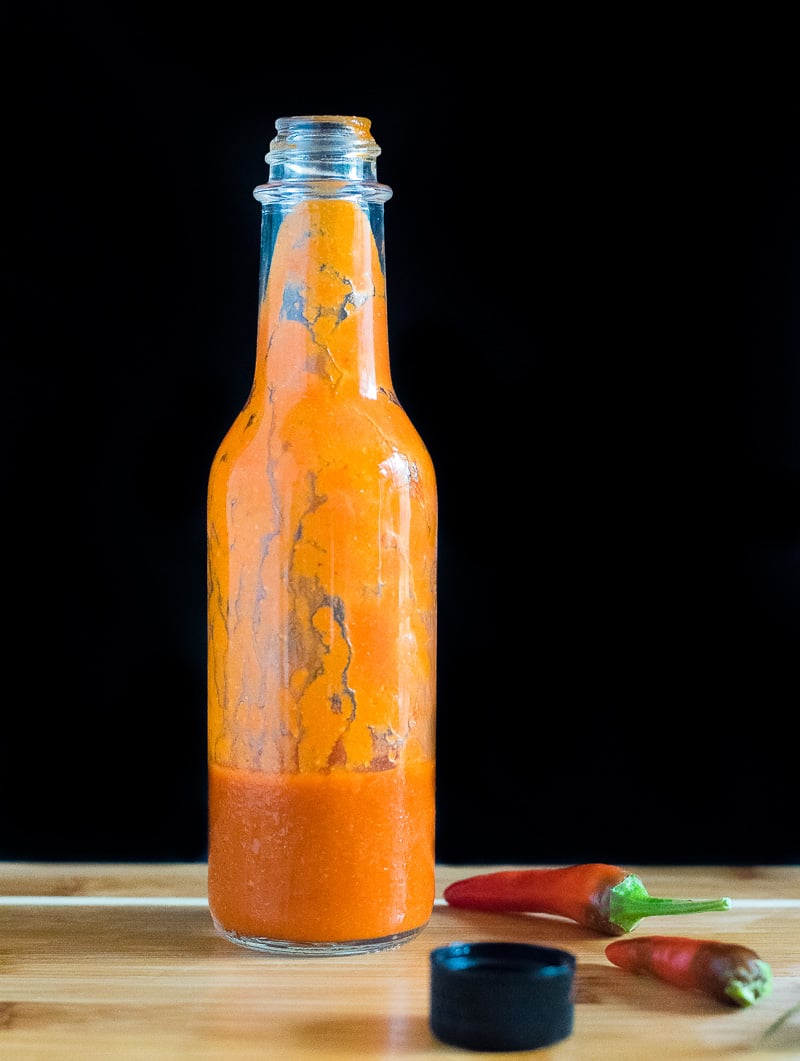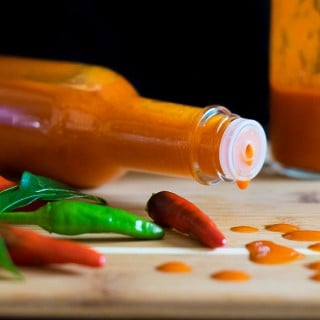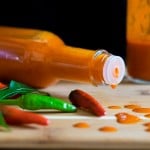 Print Recipe
Homemade Asian Hot Sauce with Thai Peppers
My Homemade Asian Hot Sauce is a flavorful sauce that is similar to sriracha, though a little thinner and smoother, with a slightly deeper flavor. This is my go to sauce on any Asian food, and pizza.
Ingredients
16

oz

Thai peppers,

~4 cups

3/4

cup

water

4

cloves

garlic

4

tbsp

brown sugar

1

tsp

hoisen

1

cup

rice vinegar

1

cup

white vinegar
Instructions
Roast peppers in 450 degree oven until starting to char slightly.

Roast garlic till softened.

Add water, brown sugar, hoisen, garlic, and peppers to blender and puree till smooth.

Add vinegar to mixture and blend.

Run through food mill on finest setting and pour into saucepan.

Heat to 180+ degrees, place in containers and store.

If you are bottling the sauce, pour into sanitized bottles while still above 180 degrees, screw on clean caps, and flip upside down for at least 5 minutes to sanitize cap.
Notes
The PH of hot sauce needs to be below 4.6 to be shelf stable, for home use I recommend aiming for keeping it under 4.0.
If the sauce is too mild I recommend adding more vinegar, however increasing the ratio of rice vinegar will raise the PH. White vinegar will keep the PH level low.
*Calories listed are a vague estimate and accuracy should not be assumed.
If you enjoyed reading my Homemade Asian Hot Sauce with Thai Peppers recipe then you should probably like me on Facebook and follow me on Pinterest too. That's what I would do at least, because if you don't get to know me but you still use my recipe it is kind of like taking candy from a stranger, and your mom taught you not to do that. Don't disobey your mom, subscribe to Fox Valley Foodie today.