Get rave reviews from your party guests with the best homemade Bloody Mary mix recipe you'll find. Best of all, it is easy to prepare with simple ingredients and can be made in advance.
It isn't a party without a tall Bloody Mary in your hand, or maybe, it isn't the morning after the party without a tall Bloody Mary in your hand! This is the original hair of the dog that bit ya'. Whether you enjoy it as a classic cocktail or your favorite go-to hangover cure, it is a must-have in your cocktail recipe repertoire!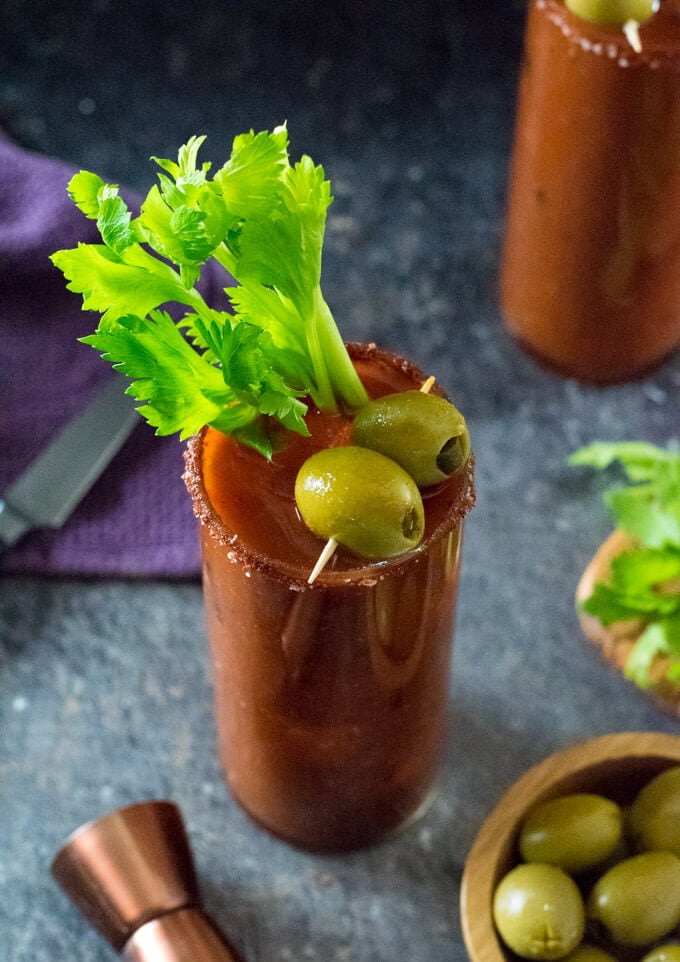 What is it?
Similar to its Mexican cousin the Michelada, a classic Bloody Mary mix recipe is traditionally tomato-based, mixed with prepared horseradish, hot sauce, seasonings, and acidity such as lemon juice. My recipe features Worcestershire and steak sauce for added depth and balance, along with a secret ingredient: Brown sugar.
As with many classic cocktail's folklore, the origin of the Bloody Mary namesake is a bit obscure. Many claim the drink is named after the bloody reign of Queen Mary I of England, while others claim the name originates from the actress Mary Pickford, or even a waitress at a Chicago bar that was among the first to serve the drink. Pick your favorite answer, and impress your party guests with your knowledge of the drink's history. No one can prove you wrong!
Ingredients & Substitutions
Tomato juice - You can substitute V-8, but plain tomato juice gives you more control over the flavor.
Fresh lemon juice - Lime juice, apple cider vinegar, olive brine, or even dill pickle juice can be substituted.
A-1 steak sauce
Prepared horseradish
Worcestershire sauce - This is important to add a subtle umami flavor.
Hot sauce - I found 1 teaspoon of a vinegar-based hot sauce (such as Tabasco or Texas Pete) to be a good balance, but if you want a spicier drink for your guests, bump it to 1 ½ teaspoons. If you really crave a spicy Bloody Mary mix, substitute my Ghost Pepper Hot Sauce instead. The fruity flavor of the ghost peppers pairs beautifully with tomato-based recipes. Start with a little and add more to taste
Brown sugar - Most commonly a classic Bloody Mary recipe won't include brown sugar, but a little bit really adds a lot to this homemade mix. I tested this recipe with and without brown sugar and not only does it add a touch of sweetness, but it also makes the overall flavor less sharp and more balanced.
Celery salt - You can substitute celery powder if needed and add a pinch of salt.
Fresh ground black pepper
Vodka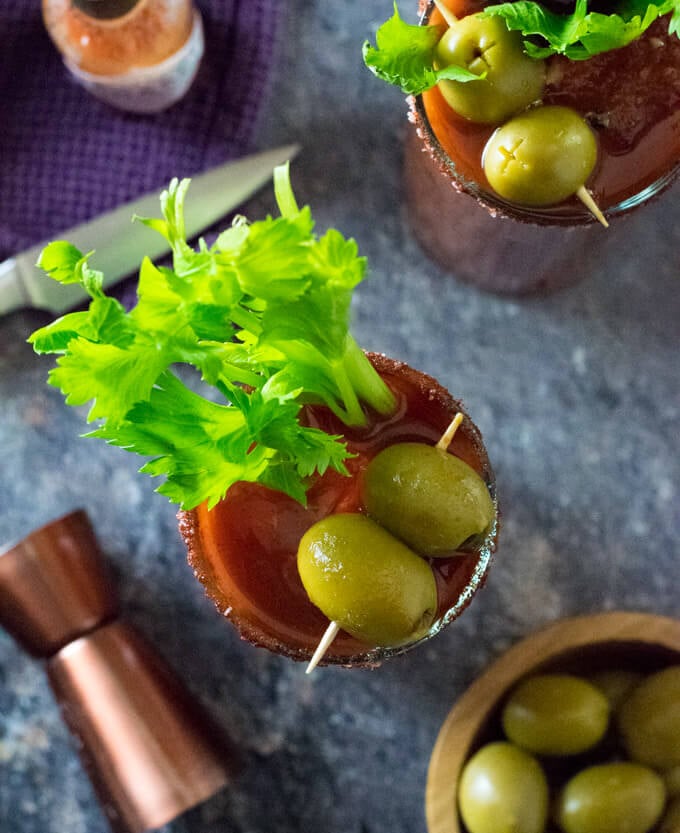 How to make it
The best part about this Bloody Mary cocktail is you do not have to prepare it during the party. Not only can this easy recipe be prepared in advance, it actually tastes best if you make a big batch the day prior. Making your mix in advance allows the flavors time to meld together.
To prepare this recipe, grab a large pitcher and pour in the tomato juice, then mix with the lemon juice, steak sauce, horseradish, hot sauce, brown sugar, celery salt, black pepper, and vodka. Give it a good stir prior to serving.
Note: Crafting your own homemade Bloody Marys allows you to add your desired amount of vodka. If you enjoy stronger drinks go with a ratio of 2:1 mix/vodka. However, if I am preparing a large batch for a party I will typically mix the drink a bit weaker than that to accommodate guests who prefer the liquor to be a background flavor. In such cases, I use a ratio of 4:1.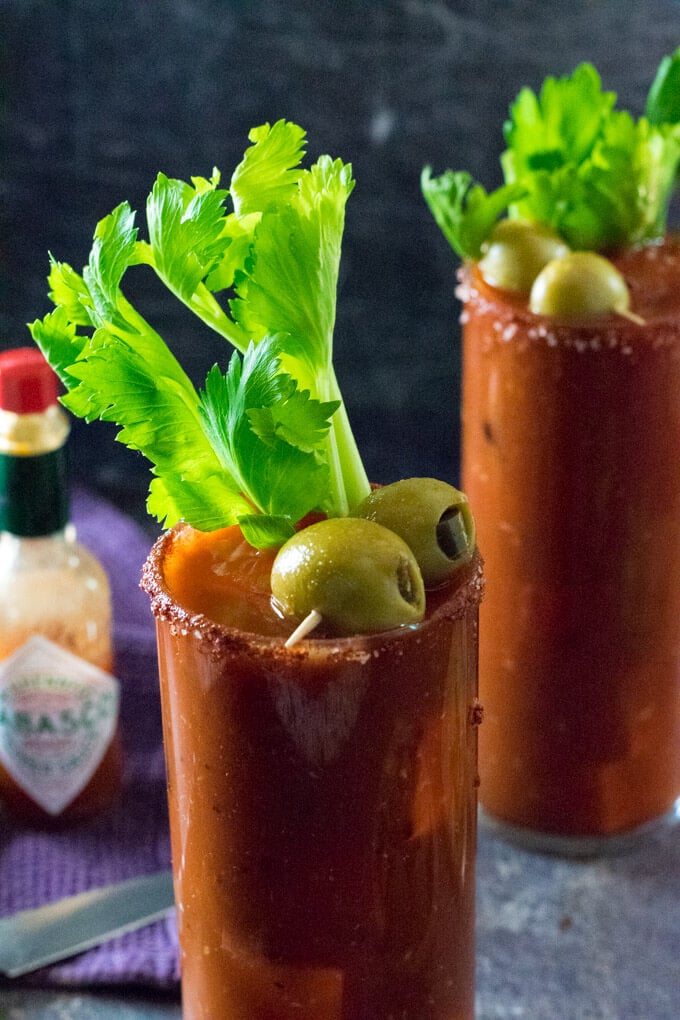 How to serve it
Serve your homemade Bloody Mary cocktail in a tall glass filled with ice cubes along with simple classic garnishes. It can be fun to set up your own Bloody Mary bar for party guests to choose from garnishes such as lemon wedges, dill pickle spears, cocktail onions, celery sticks, cherry tomatoes, and green olives.
The rim can be dipped in a mixture of paprika and kosher salt for added flavor. Old Bay seasoning also is great to place around the rim of the glass.
You have no doubt seen those ridiculously extravagant loaded Bloody Marys served at some restaurants and bars. If you really want to go all out and craft the ultimate Bloody Mary, the possibilities for garnishes are completely endless. Some suggestions you can mix and match include beef jerky, homemade mozzarella sticks, fried pickles, hard-boiled eggs, pickled green beans, and pickled okra.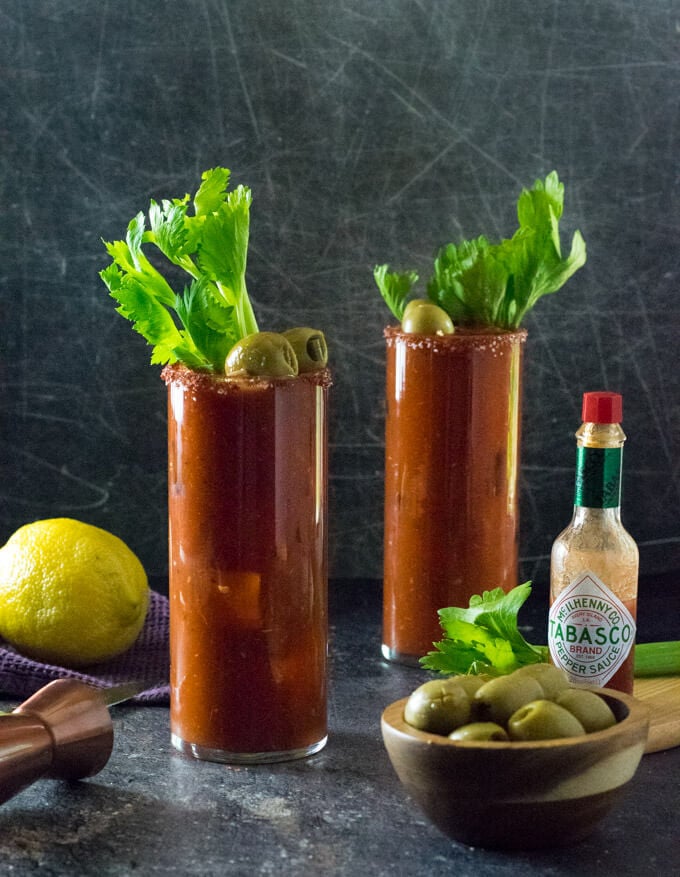 Can you do me a favor? If you enjoyed my post would you mind sharing it with your friends? You can see more of my recipes by liking me on Facebook and follow me on Pinterest too. Otherwise, stay up to date by getting each new post sent directly to your inbox by subscribing today.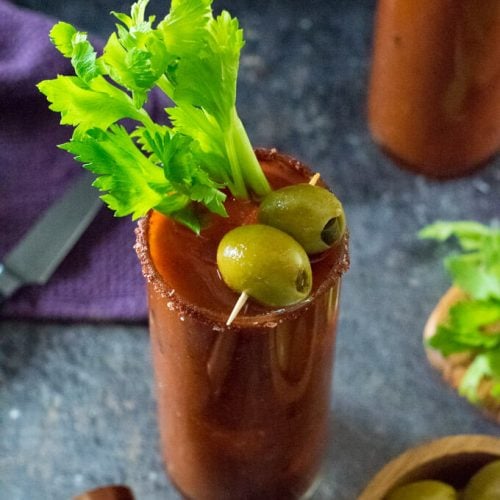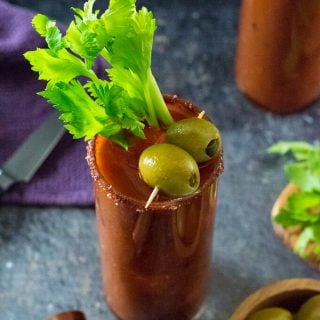 Best Homemade Bloody Mary Mix
Everyone will rave this is the best homemade bloody Mary mix they've ever had! Best of all, it's easy to prepare and can be made in advance!
Print
Pin
Rate
Save
Saved
Ingredients
3

cups

tomato juice

2

tablespoons

lemon juice

4

teaspoons

A-1 steak sauce

1

tablespoon

prepared horseradish

1

tablespoon

Worcestershire sauce

1

teaspoon

hot sauce

(such as Tabasco or Franks)

1

teaspoon

brown sugar

½

teaspoon

celery salt

½

teaspoon

fresh ground black pepper

vodka for serving
Instructions
Combine all ingredients into a pitcher and mix to combine with a wooden spoon.

Pour your homemade mix and vodka into a tall glass with ice cubes at a ratio of 4:1 to 2:1, according to your preferred taste.

The flavor is best if allowed to meld in the refrigerator overnight.
Notes
If you are a dill pickle fan, this recipe also tastes great substituting pickle brine for the lemon juice, or for a brighter flavor, add 2 tablespoon of each!
Optional finishing touches include wetting the rim of your glasses and dipping in a mixture of salt and paprika or adding celery, olives, and or pickles.
Nutritional Information
Calories:
146
kcal
|
Carbohydrates:
10
g
|
Protein:
1
g
|
Fat:
1
g
|
Saturated Fat:
1
g
|
Sodium:
394
mg
|
Potassium:
461
mg
|
Fiber:
1
g
|
Sugar:
8
g
|
Vitamin A:
820
IU
|
Vitamin C:
38.5
mg
|
Calcium:
23
mg
|
Iron:
1
mg
This recipe was originally published here on July 9, 2019.