This German Skillet with Mustard Cream Sauce features tender potatoes, seared sausage, and tangy sauerkraut bathed in a simple mustard cream sauce.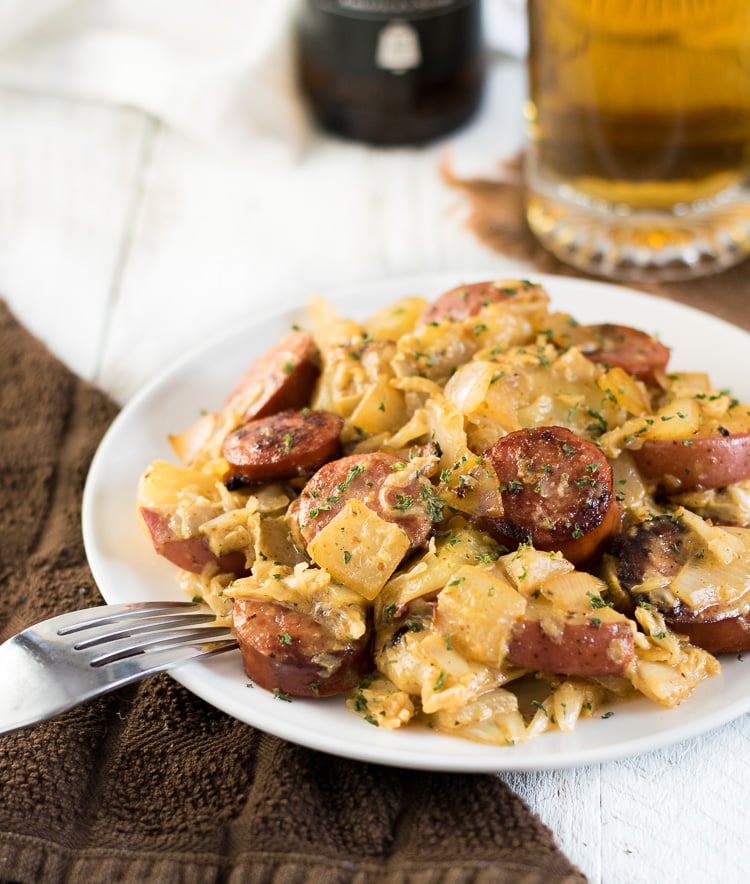 Running your own business is great because you dictate your own schedule. However, sometimes it is equally frustrating when unexpected emergencies require you to drop everything and tend to the website. This was the case Christmas morning. Before the first glimmer of daylight I already spent an hour and a half trekking out to go hunting, only to barely get in my treestand before learning this website crashed and I wasn't able to troubleshoot it from the woods.
With the sun still barely peaking over the horizon I had to climb down from my treestand, pack up, and journey back home. I wasted 4 hours of my morning only to hunt for 45 minutes. Then I spent the rest of Christmas morning on the phone with tech support. Bleh.
I'm hoping those troubles are finally behind me because I finally upgraded to a more reliable hosting service. Either way, I still wouldn't trade this website on its worst day for another corporate jail cell, err job. I enjoy sharing my creations, like this German Skillet with Mustard Cream Sauce, too much!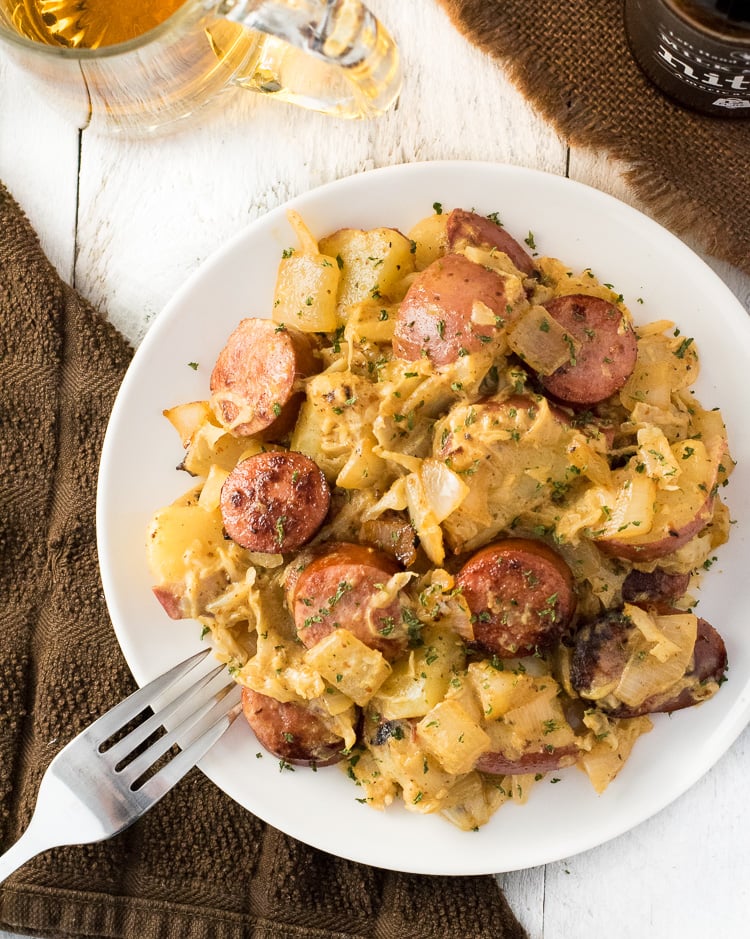 I invented this meal the other night when I was looking to finish up the rest of the sauerkraut languishing in my fridge. Pondering what to cook it with, I reached for my favorite German staples - sausage, potatoes, and mustard. 30 minutes later I had an easy dinner on the table!
For simplicity, I boiled the potatoes and then briefly saute them in oil to firm them up. However, you are welcome to roast them in the oven instead. If you do saute them, I recommend using a Nonstick Skillet so the par-boiled potato doesn't stick to the pan as easily.
The above link is an affiliate link. Any Amazon purchases made through this link helps support FoxValleyFoodie.com at no additional cost to you.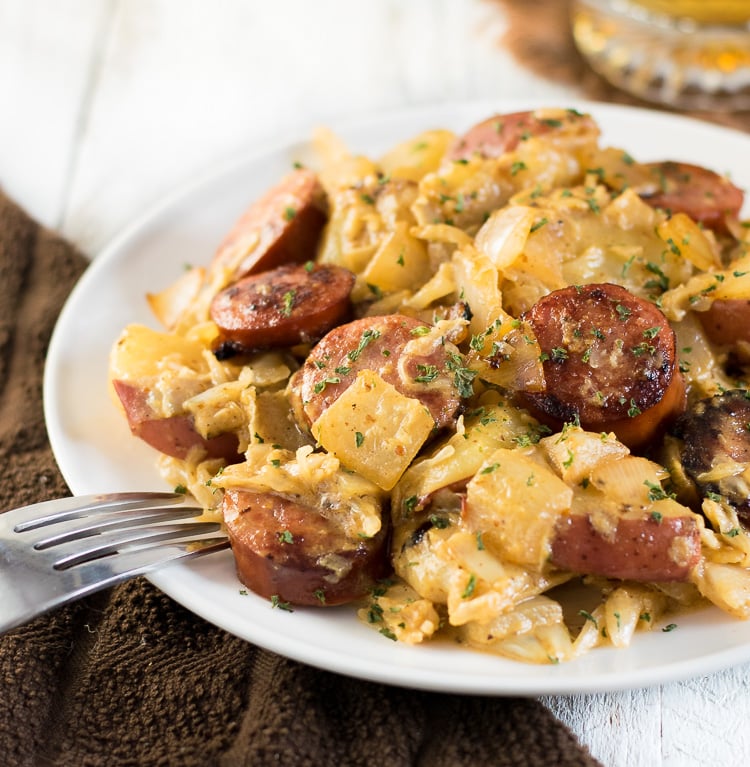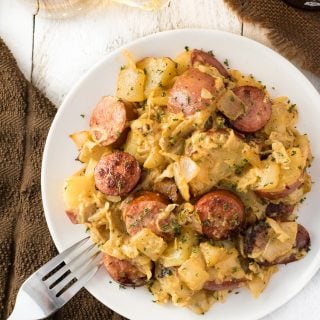 German Skillet with Mustard Cream Sauce
This German Skillet with Mustard Cream Sauce features tender potatoes, seared sausage, and tangy sauerkraut bathed in a simple mustard cream sauce.
Print
Pin
Rate
Save
Saved
Ingredients
1.5

lbs

Red Potatoes

1

medium

Onion,

large chop

14

oz

German Sausage or Keilbasa,

sliced ½" thick

1

cup

Sauerkraut,

drained

½

cup

Heavy Cream

2

tablespoon

Brown Mustard

(or favorite German mustard)

Oil

Salt
Instructions
Cut red potatoes in half then slice ¼" thick so you have half rounds.

Add potatoes to salted pot of boiling water and cook till almost cooked through.

While potatoes are cooking add sausage and chopped onion to skillet and cook until sausage rounds are cooked through and seared and onion is browned. (add oil to pan if sausage does not release enough oil to saute onion)

Drain potatoes from water once done cooking and add to oiled skillet to brown. (Recommend nonstick skillet)

Once potatoes have browned and finished cooking through add sausage and onion mixture back to the skillet, along with sauerkraut.

Add heavy cream and mustard to the pan and stir to combine. Continue cooking 5 minutes to thicken, stirring occasionally.
Notes
You can use your favorite German sausage for this recipe. However, a simple smoked sausage or Polish Kielbasa works exceptional well too.
IF YOU LIKED THIS RECIPE check out my Wiener Schnitzel with Lemon Dill Sauce recipe! 
If you enjoyed my German Skillet with Mustard Cream Sauce recipe then you should probably like me on Facebook and follow me on Pinterest too. That's what I would do at least, because if you don't get to know me but you still use my recipe it is kind of like taking candy from a stranger, and your mom taught you not to do that. Don't disobey your mom, subscribe to Fox Valley Foodie today.