Loaded with fresh dill and the tangy punch of vinegar these refrigerator dill pickled eggs are the perfect briny snack for pickle lovers!
I love this easy recipe because it eliminates any hassle involved with the traditional canning process. The pickle brine is quickly prepared on the stovetop, cooled and poured into a jar with hard-boiled eggs, and then stored in your refrigerator. These are perfect for keeping on hand whenever you are craving a delicious protein-packed snack!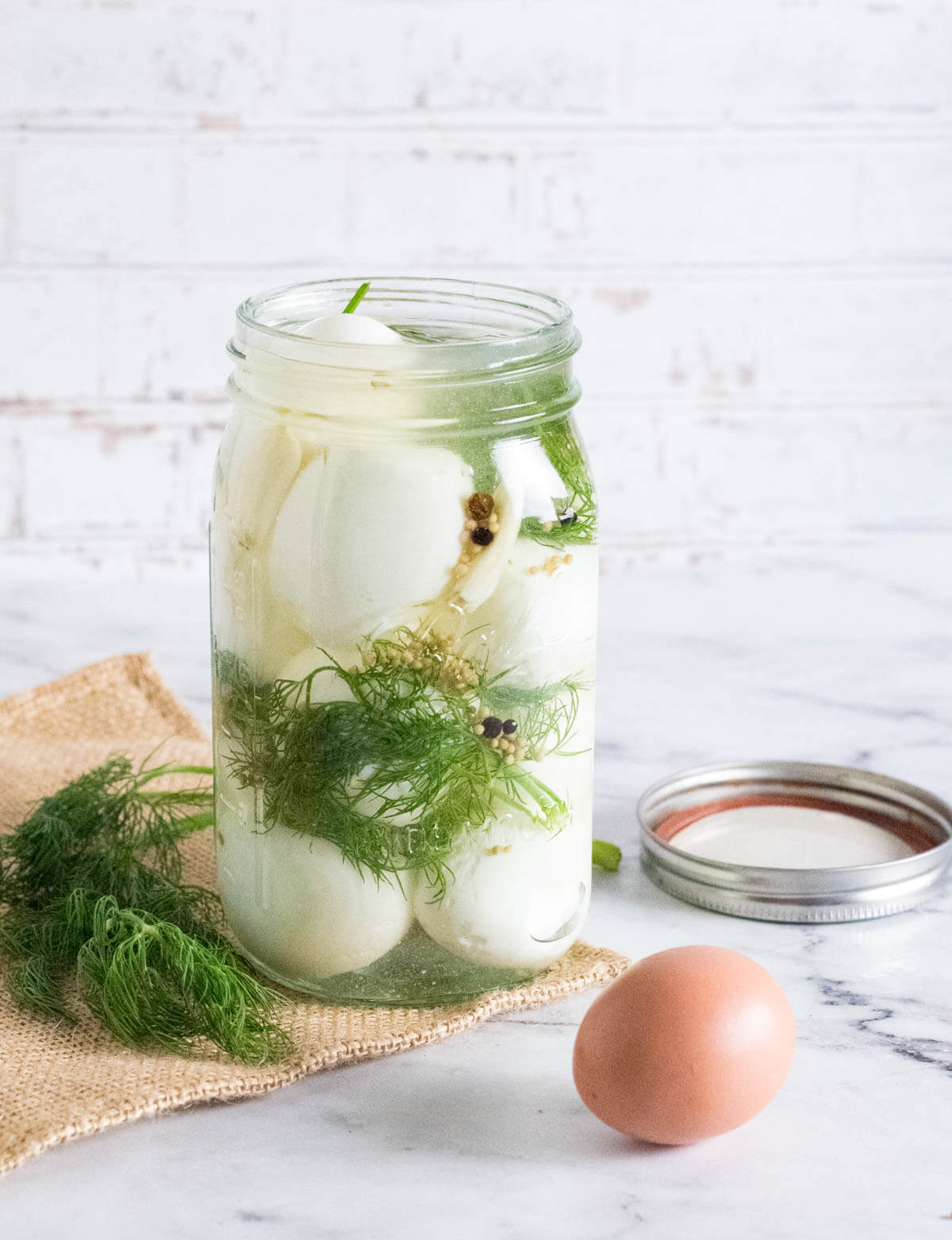 What are they?
Dill pickled eggs were inspired by combining my classic bar pickled eggs recipe with the fresh flavor of my refrigerator dill pickles. Obviously, rather than using pickling cucumbers, we are pickling hard-boiled eggs which are then soaked in a vinegar brine loaded with fresh dill for one week, while sitting in your refrigerator. This is not a canning recipe, so refrigeration is required.
Ingredients and Substitutions
Hard boiled eggs - You can easily make your own hard-boiled eggs using fresh eggs or purchase them from the grocery store. If you make extra, I recommend trying my old fashioned pickled egg recipe as well.
White vinegar - Cider vinegar can be substituted, but it will change the flavor considerably.
White sugar - Sugar can be left out, but it does take the edge off the vinegar. Brown sugar can be substituted, but I don't think it adds a very complimentary flavor.
Salt - For a clearer brine I recommend using pickling salt. Table salt contains iodine which can cloud the brine.
Fresh garlic cloves
Mustard seeds
Whole black peppercorns
Fresh dill - Fresh dill is by far the best, but you can use 3 teaspoons of dried dill weed or dill seed instead. You can also try using other fresh herbs too!
Customize this recipe: Adding sliced yellow onions or a bay leaf to your pickling solution are both good options. I would avoid using a red onion because the flavor is too strong. If you love a little heat, try my spicy pickled eggs recipe too.
How to hard boil eggs
You need a dozen hard boiled eggs for this pickling recipe. You can buy them at a grocery store, but it is pretty effortless to make them yourself.
The quick and easy way to boil eggs is to place a dozen large eggs in a large pot in a single layer and cover them with one inch of cold water. Then place a lid on them and bring them to a boil on your stovetop over high heat. Once they begin to boil remove the pot from the heat and let the eggs sit for 15 minutes. They can now be removed from the hot water and cooled.
For a more in-depth tutorial, I recommend reviewing my how to boil eggs write-up.
Tip: For a cheater method, you can reuse your favorite dill pickle brine and simply store your hard boiled eggs in the leftover pickle juice after you have eaten all of the pickle spears.
How to make it
This refrigerator dill pickled eggs recipe begins by simmering your vinegar, water, sugar, salt, garlic, mustard seeds, and peppercorns in a small saucepan on the stovetop for ten minutes. This should be plenty of time to allow the salt and sugar to dissolve.
Next, remove the saucepan from the heat and let the liquid mixture cool completely. I like placing it in the refrigerator or freezer to cool faster. Once the pickling solution has cooled place eggs in a mason jar with the fresh dill sprigs. Pour in the cooled brine to cover the eggs completely, then discard excess brine. You want to ensure some of the mustard seeds, garlic, and peppercorns also make it into the jar for maximum flavor.
Store the jarred pickled eggs in the refrigerator for one week, then enjoy.
How to serve pickled eggs
Pickled eggs are a great snack to enjoy on their own. However, you can also use them in all of your favorite egg recipes calling for hard boiled eggs. If you want a little inspiration, try your dill pickled eggs in any of these great recipes:
Recipe FAQs
How long do pickled eggs last?
For best quality, the pickled eggs should be eaten within 3 months when properly stored in the refrigerator.
Do you put sugar in pickled eggs?
Sugar is used in pickled eggs to sweeten the brine, but more importantly, it also mellows out the vinegar so it tastes less harsh. Sugar is a good addition to pickled eggs, but it is an optional ingredient that can also be eliminated.
Can you get botulism from pickled eggs?
Improperly storing pickled eggs at room temperature can cause botulism according to the National Center for Home Food Preservation. There are no approved canning recipes for pickling eggs, instead all pickled eggs should be stored in your refrigerator for safe eating.
Can you do me a favor? If you enjoyed my post would you mind sharing it with your friends? You can see more of my recipes by liking me on Facebook and follow me on Pinterest too. Otherwise, stay up to date by getting each new post sent directly to your inbox by subscribing today.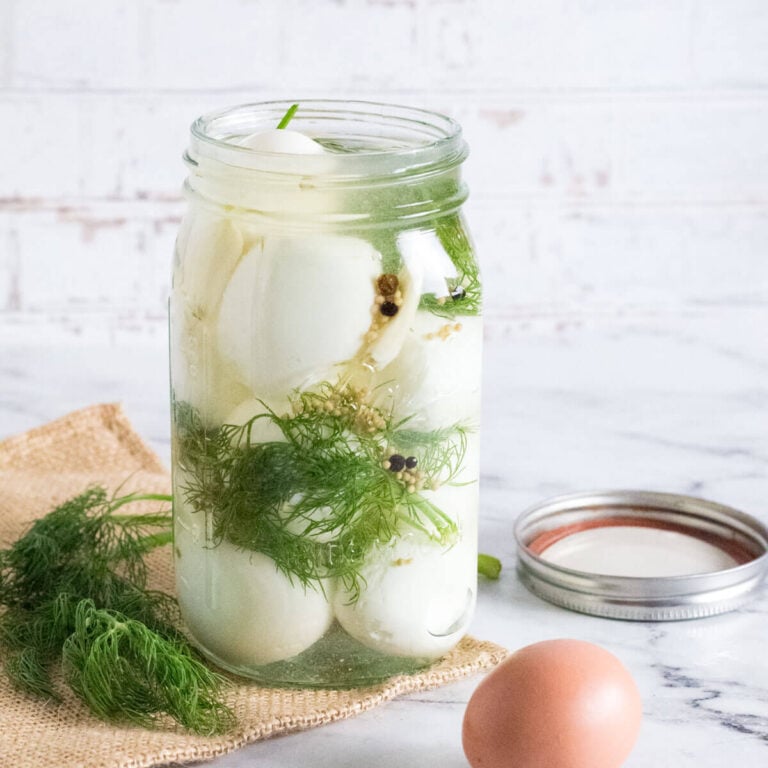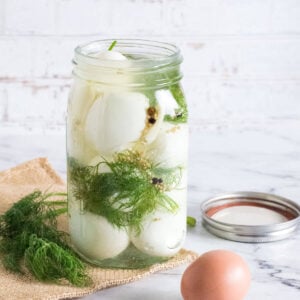 Dill Pickled Eggs
Loaded with fresh dill and the tangy punch of vinegar these refrigerator dill pickled eggs are the perfect briny snack for pickle lovers!
Print
Pin
Rate
Save
Saved
Ingredients
12

hard boiled eggs

peeled

3

cups

white vinegar

1

cup

water

2

tablespoons

sugar

1

tablespoon

salt

2

cloves

garlic

1

teaspoon

mustard seeds

½

teaspoon

whole peppercorns

3

sprigs

fresh dill
Instructions
In a small saucepan combine vinegar, water, sugar, salt, garlic cloves, mustard seeds, and peppercorns.

Place saucepan on the stovetop over medium-high heat and bring to a simmer. Cook 10 minutes, or until the sugar and salt have completely dissolved.

Remove the saucepan from the heat and let the brine cool to room temperature. The saucepan can be placed in the refrigerator or freezer to speed cooling.

Place the peeled eggs in a quart jar with fresh dill sprigs, then pour in cooled brine along with the garlic cloves, mustard seeds, and peppercorns. Any excess brine can be discarded.

Seal the jar and place it in your refrigerator for one week, then enjoy.
Notes
The brine should be able to accommodate up to 24 eggs, which would require 2-quart jars.
I like my pickles to have an assertive vinegary punch. If you prefer more mellow pickles, use 2 cups of white vinegar instead.
Keep the eggs refrigerated, even after pickling.
Any big jar works well for storage. A large glass jar is best but a hard plastic container can also be used, however, plastic has the tendency to soak up odors.
Nutritional Information
Calories:
198
kcal
|
Carbohydrates:
6
g
|
Protein:
13
g
|
Fat:
11
g
|
Saturated Fat:
3
g
|
Polyunsaturated Fat:
1
g
|
Monounsaturated Fat:
4
g
|
Cholesterol:
373
mg
|
Sodium:
1292
mg
|
Potassium:
142
mg
|
Fiber:
1
g
|
Sugar:
5
g
|
Vitamin A:
530
IU
|
Vitamin C:
1
mg
|
Calcium:
65
mg
|
Iron:
1
mg