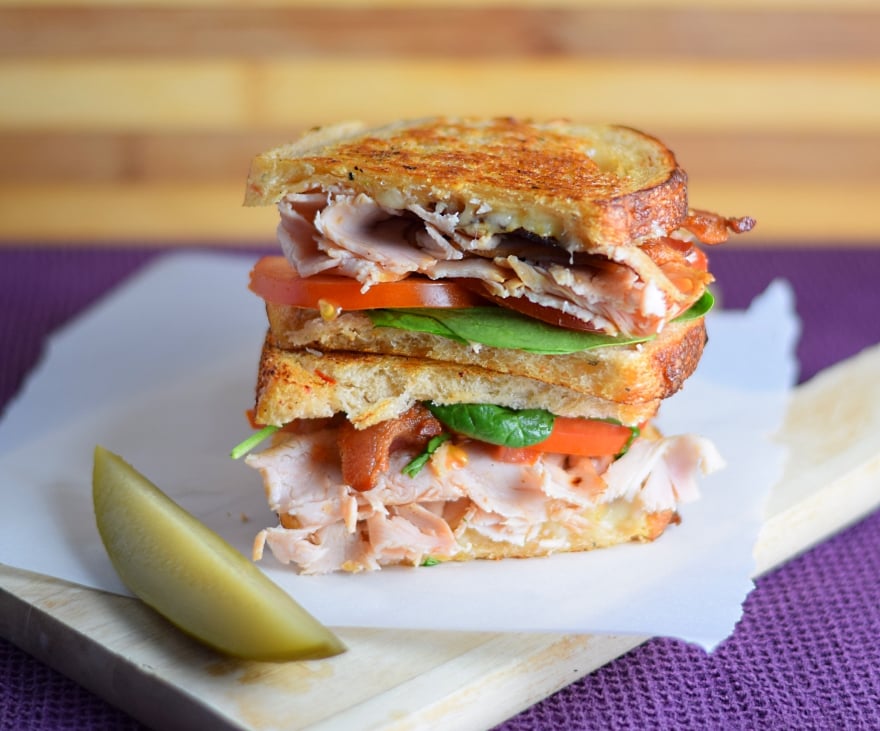 Over the past few years one of my favorite sandwiches to make at home has been the Panera Bacon Turkey Bravo sandwich. Obviously Panera knows what they are doing so the sandwich tastes great cold, as it is served in the restaurant, but it is even better as a grilled sandwich! I'll show you how to make both.
Now, I don't really like using brand names in my posts if I don't have to, unless of course someone wants to pay me to do so, in which case hand me a sandwich board and send me out to the nearest intersection on the information super highway! However, I can't help but mention Panera in this recipe because they hold the integral key to this recipe.
The secret ingredient that makes this sandwich so amazing is love. No wait, that's my mom's cooking... really, really, overcooked love. In reality, the secret ingredient is Panera's Tomato Basil Bread, which is kind of like love sprinkled with a little yeast, minus all the embarrassing childhood photos, of course.
If you haven't tried their Tomato Basil Bread I highly recommend it. This soft loaf has the tart taste of tomato which is balanced nicely by the sweet taste of basil. But my favorite part is the top of the bread. The crust is coated in a deliciously sticky tomato basil spread!  Oh, and you can buy entire loaves of it at Panera to make your own homemade Bacon Turkey Bravo sandwich!

You can customize this sandwich however you would like. I often add sweet onion slices and substitute baby spinach for the lettuce. Since they don't share the recipe of their signature sauce with me I think Caesar dressing is the perfect condiment for this sandwich, though mayo would certainly suffice. Finally, you can eat this as a cold sandwich like it is served at Panera, or you can grill it up like a panini. I recommend the grilled sandwich.
Eating it as a cold sandwich doesn't require any special equipment.  However, if you want to make it as a grilled sandwich, a panini press would make quick work of it.  However, I prefer to use a good 12" nonstick skillet to brown each side of the sandwich.
The two above links are affiliate links.  Any purchases made through those links help support this blog.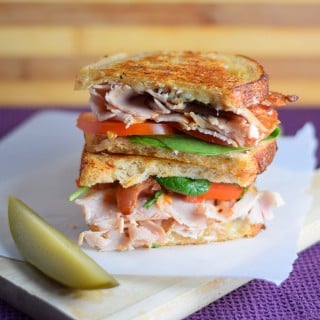 How to Make Panera's Bacon Turkey Bravo Sandwich
Let's make an insanely delicious Bacon Turkey Bravo sandwich like Panera!
Print
Pin
Rate
Ingredients
2

slices

Tomato Basil Bread

from Panera

¼

lb

turkey deli meat

2

slices

bacon

1

slice

Gouda

Handful Baby Spinach

2

slices

thin tomato

1

tbsp

Caesar dressing

1

tbsp

Butter

divided
Instructions
Cook bacon until crispy, then set aside.

Gently warm turkey meat in a pan, just until heated, not browned.

Butter outside of two pieces of bread.

Assemble bread, meat, and cheese into a sandwich.

Toast the exterior of the panini in the pan, buttered side down, until it starts to brown.

Flip the panini over and toast the other side as well.

Remove from pan once both sides are toasted and the cheese has melted.

Open up the sandwich and add spinach, tomato and Caesar dressing.

Slice in half and serve.
Notes
If you want it exactly like Panera, don't cook the sandwich like a panini. However, I think you will find it tastes much better as a panini. I also enjoy substituting smoked turkey and smoked Gouda for the regular turkey and Gouda.
If you liked the Panera Bacon Turkey Bravo Sandwich recipe then be sure like me on Facebook and follow me on Pinterest too to stay on top of all my latest posts. Thanks for reading!