Dehydrated Bananas are the perfect healthy snack for any lover of the outdoors looking for fuel they can enjoy on the go.
I have been looking forward to writing this post. Not so much because I am just really passionate about dehydrated bananas (don't get me wrong, they're great and all), but rather, I get to give you a peak at my life away from this computer screen and talk about what I am truly passionate about – the great outdoors and beer.
When I am not pecking away at this keyboard, or in my kitchen crafting my next recipe, you will most likely find me trudging through a swamp scouting for deer sign. I am absolutely addicted to hiking. I have hiked Death Valley, Denali National Park, the Rockies and more. However, I am really in my element when I am scouting in preparation for deer hunting.
Scouting is by far my favorite way to hike. Rather than just being a tourist in nature, I am actively exploring, blazing my own trail, and trying to unlock the secrets of the forest from a handful of tracks, beds, and rubs. Deer hunting may be a fall activity, but my scouting hikes keep me active all year long.
You burn a lot of energy during an afternoon of weaving through dogwood and stomping through muck, so I always bring snacks along to keep me fueled. Dehydrated bananas are great because they are lightweight to carry, but they still pack a ton of energy. However, when the scouting is done and it is time to unwind, it is nice to reach for a beer that doesn't undo all of my recent exercise.
Don't get me wrong, I've always enjoyed just about every style of beer. However, for me, being passionate about beer means there is a style to fit my every mood. I reach for Michelob ULTRA Pure Gold when I am craving a crisp beer that aligns with an active lifestyle. Quite honestly, the older I get the less I find myself chasing a buzz. Sometimes it is just nice to relax with a light and refreshing beer and maintain a clearer head.
Michelob ULTRA Pure Gold is a sustainably sourced beer inspired by nature. Made with organic grains and with sustainable packaging in partnership with the Sustainable Forestry Initiative. Plus with only 2.5 carbs and 85 calories, it is the perfect light lager to enjoy with an active lifestyle. Though, with limited quantities,  you will want to get your hands on some while you can.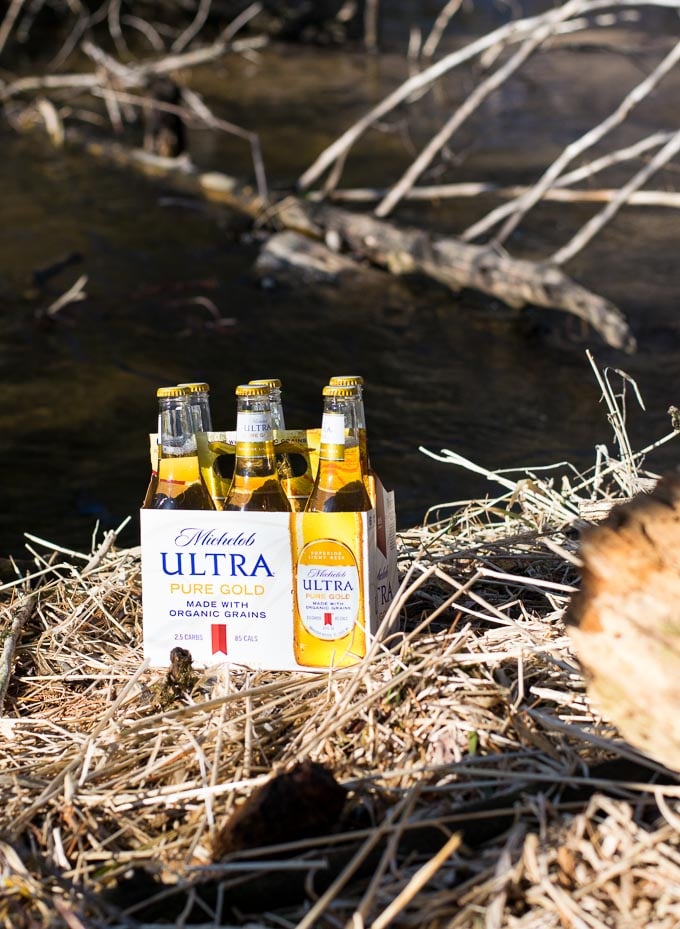 Print Recipe
Dehydrated Bananas
Dehydrated Bananas are the perfect healthy snack for any lover of the outdoors looking for fuel they can enjoy on the go.
Ingredients
4

large

bananas

1/3

cup

lemon juice

(or as needed)
Instructions
Cut the bananas into 1/8" thick slices.


Brush lemon juice over the bananas on each side. Alternatively you can add bananas to a bowl with the lemon juice and toss to evenly coat. Any excess lemon juice can be discarded.


Place on a dehydrator and cook at 135 degrees for 6 hours, or until fully dried.

*Calories listed are a vague estimate and accuracy should not be assumed.
If you enjoyed reading about my Dehydrated Bananas recipe then you should probably like me on Facebook and follow me on Pinterest too. That's what I would do at least, because if you don't get to know me but you still use my recipe it is kind of like taking candy from a stranger, and your mom taught you not to do that. Don't disobey your mom, subscribe to Fox Valley Foodie today.