The Diablo sandwich is a spicy sloppy Joe inspired by the classic movie Smokey and the Bandit. This sweet and spicy creation is an easy recipe to prepare and can be ready to eat in less than 15 minutes. Oh, and of course, it is best served with a Dr. Pepper.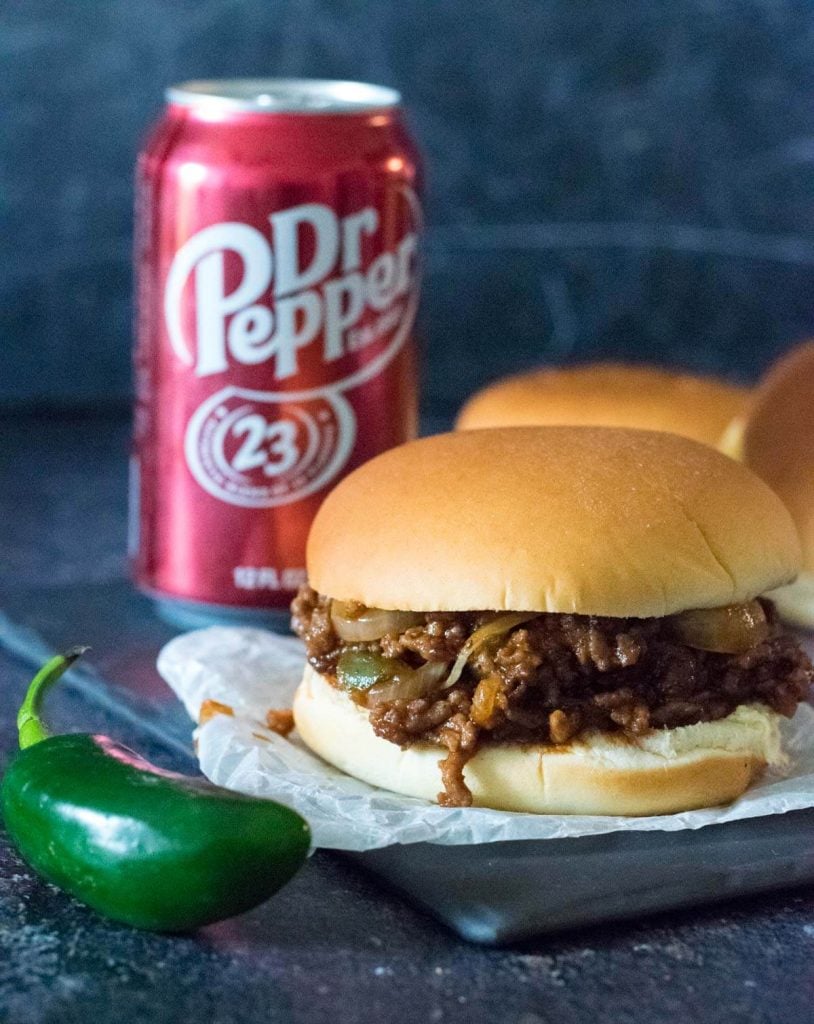 Where did this sandwich come from exactly?
The mysterious Diablo sandwich is ordered by Sheriff Buford T. Justice, played by Jackie Gleason, at the Old Hickory House BBQ joint in the movie Smokey and the Bandit, when he famously barks, "Give me a Diablo sandwich and a Dr. Pepper, and make it quick. I'm in a G.D. hurry!"
However, the exact contents of this sandwich, nor its recipe are ever revealed. Fans of the movie have searched high and low to see if such a sandwich ever existed, but unearthed menus from before and after the movie didn't show any such sandwich listed. This has led to years of speculation and debate as to what it could be, or if it was a real item menu at the time.
What do we know about the Diablo Sandwich?
We know the Diablo sandwich is a saucy sandwich. Sheriff Justice spills some on his shirt, which Burt Reynolds attempts to clean off for him.
We know it is a meaty sandwich. There does not appear to be any lettuce, or toppings of any kind, on the sandwich.
We know there are long skinny strands of some sort in the sandwich. We see these stringy bits sticking out of the sheriff's mouth while taking hurried bites.
This has led to conjecture that the diablo sandwich is either a spicy sloppy joe with sliced onions in the mixture, or a pulled pork sandwich with a thick and spicy finishing sauce.
There are recipes online for a tex-mex style diablo sandwich that includes taco seasoning, sour cream, lettuce, corn, and tomatoes. However, I am not sure where this came from because it is not at all close to what is shown in the movie.
What is in a Diablo Sandwich?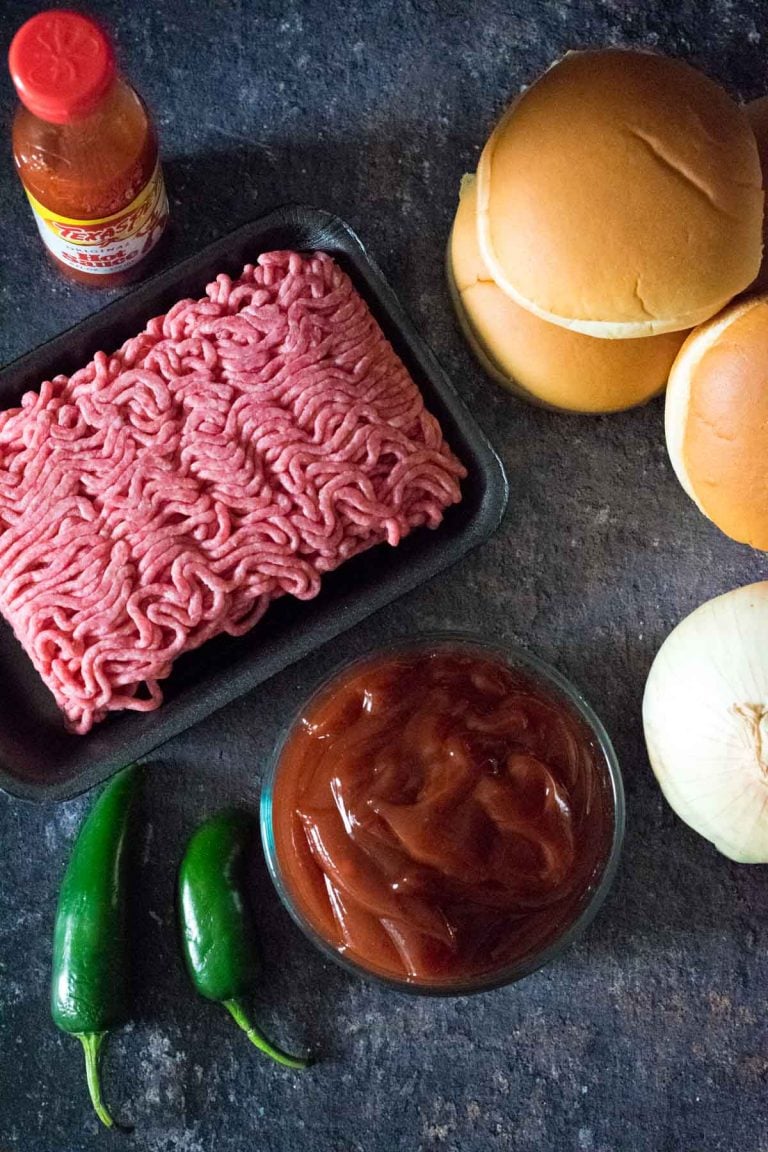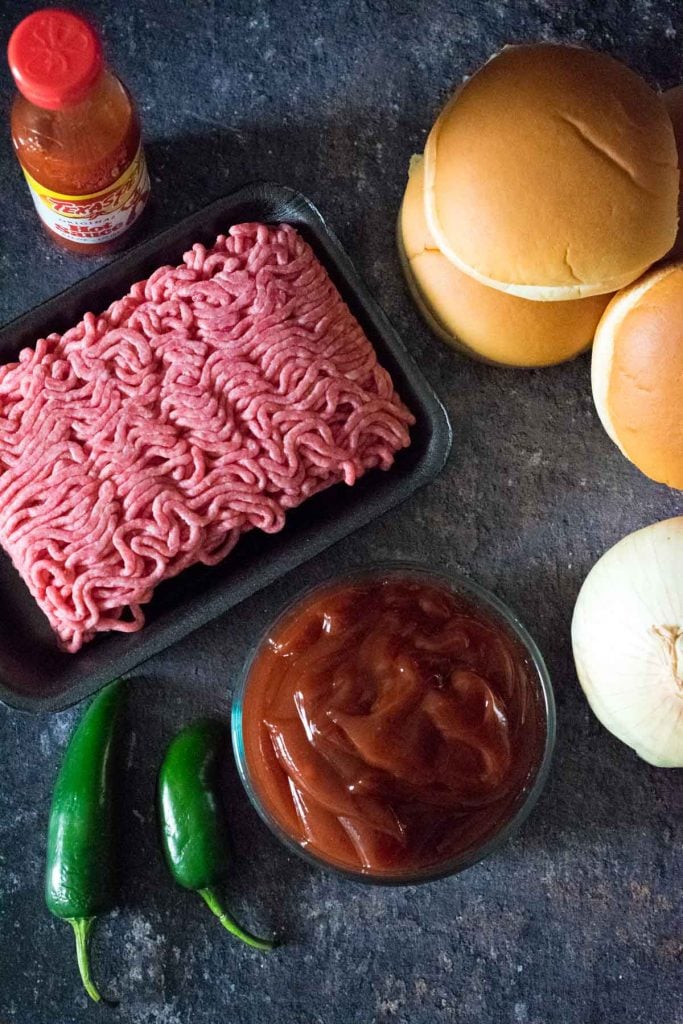 For my re-creation, I went with a spicy sloppy joe loaded with a spicy and smoky sauce. As well as plenty of sliced onions.
Ground beef - I use 80/20 hamburger because the fat helps carry the heat throughout the sandwich.
Sweet onion - You could use red onion as well, but I like the sweetness of Vidalia onion best. Plus, Vidalias are also from Georgia, the same state where this famous sandwich was served.
Jalapeno peppers - Swap out serrano peppers for even more heat!
Garlic - Fresh cloves are best, but you can substitute garlic powder.
Ketchup
Cider vinegar
Worcestershire sauce
Brown sugar
Hot sauce - I use Texas Pete hot sauce, but you can use buffalo wing sauce as well.
Liquid smoke - After all, it is "SMOKEY" and the Bandit.
Seasonings: Smoked paprika, cayenne pepper, black pepper, and salt.
How to make it
This is a great one-pan recipe. It is quick to make and easy to clean up after. Once you have your vegetables prepped you can toss the peppers and sliced onion in a saute pan with your hamburger, set over medium heat.
Break up the meat into little pieces and cook until your hamburger is browned and your onions are tender. Then add your garlic and cook until the garlic is fragrant.
Note: Cooking jalapenos can irritate your eyes and make you cough. I recommend turning on your vent above your cooktop.
Add all of the remaining ingredients for your sloppy Joes and let the mixture stew for a few minutes so the flavors can combine. Place equal amounts of meat mixture on hamburger buns and serve right away, or this can be made in advance and reheated later.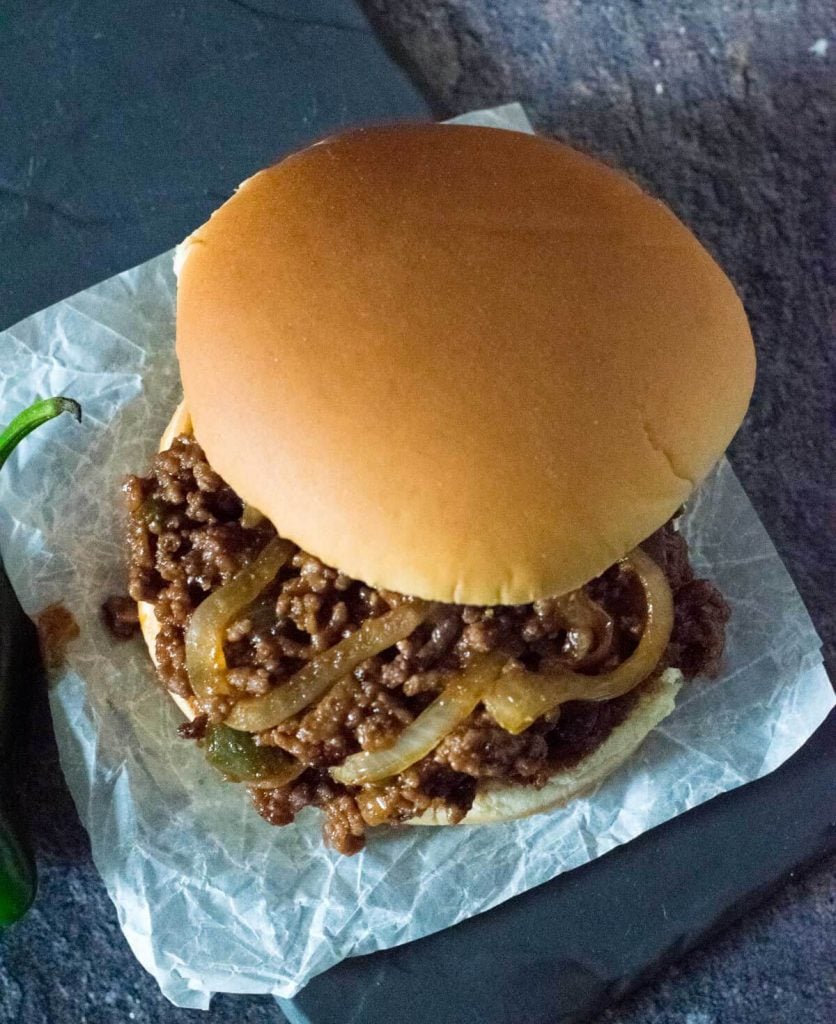 How to serve the Diablo Sandwich
Serve it with a Dr. Pepper, of course! And be quick about it!
This sandwich is best served on a simply hamburger bun. No additional condiments or toppings are needed. However, a couple slices of dill pickles would be right at home on this sandwich, if you chose to add them.
Can you do me a favor? If you enjoyed my post would you mind sharing it with your friends? You can see more of my recipes by liking me on Facebook and follow me on Pinterest too. Otherwise, stay up to date by getting each new post sent directly to your inbox by subscribing today.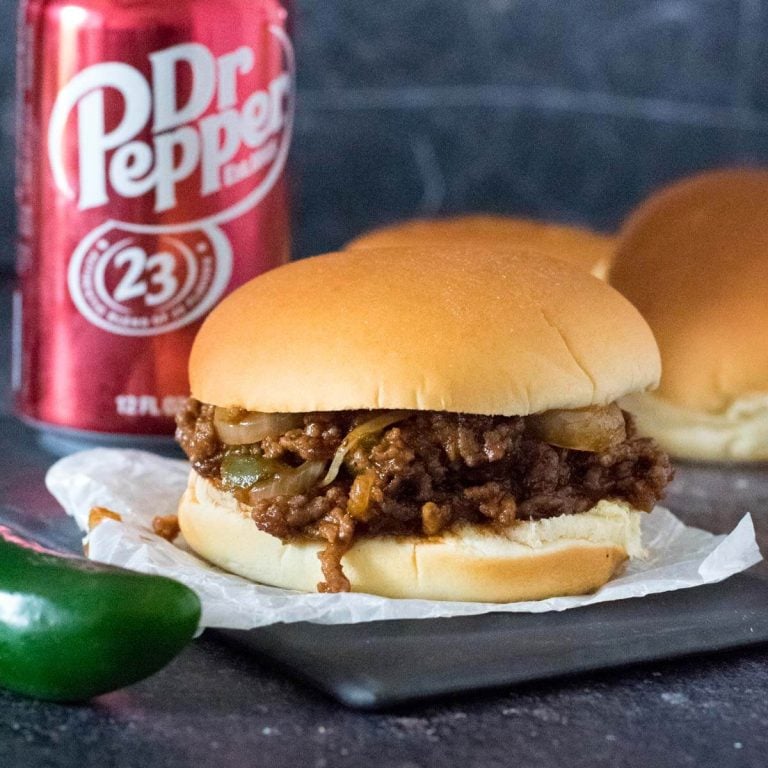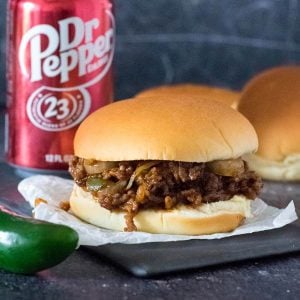 Diablo Sandwich
The Diablo sandwich is a spicy sloppy Joe inspired by the classic movie Smokey and the Bandit.
Print
Pin
Rate
Save
Saved
Ingredients
2

pounds

ground beef

1

sweet onion

sliced

2

jalapeno peppers

small diced

2

cloves

garlic

minced

1 ¼

cup

ketchup

1

tablespoon

cider vinegar

1

tablespoon

worcestershire sauce

3

tablespoons

brown sugar

2

tablespoons

vinegar hot sauce

½

teaspoon

smoked paprika

1

teaspoon

cayenne pepper

½

teaspoon

black pepper

¼

liquid smoke

2

teaspoons

salt

8

hamburger buns for serving
Instructions
Set a saute pan over medium heat and add beef, onion, and peppers. Break the meat apart into small chunks and cook until the hamburger is browned and the onions are tender.

Add the garlic cloves and continue cooking another two minutes, until the garlic is fragrant.

Add all remaining ingredients into the pan and simmer for a few minutes to allow the flavors to combine.

Serve sloppy joe mixture in equal portions on hamburger buns.
Nutritional Information
Calories:
366
kcal
|
Carbohydrates:
18
g
|
Protein:
20
g
|
Fat:
23
g
|
Saturated Fat:
9
g
|
Trans Fat:
1
g
|
Cholesterol:
81
mg
|
Sodium:
1109
mg
|
Potassium:
520
mg
|
Fiber:
1
g
|
Sugar:
15
g
|
Vitamin A:
351
IU
|
Vitamin C:
11
mg
|
Calcium:
44
mg
|
Iron:
3
mg