Haluski is a quick and easy Eastern European meal featuring buttery fried cabbage and noodles.
Being raised in a Wisconsin family of German heritage, I ate my fair share of buttery egg noodles growing up. Buttered noodles with cabbage? Nope. Buttered noodles with sausage? Nope. Just noodles with lots of butter. I was a pretty picky kid. Thankfully my tastebuds have since evolved to enjoy delicious comfort food like Haluski, which, in my humble opinion, is the ultimate buttered noodle meal!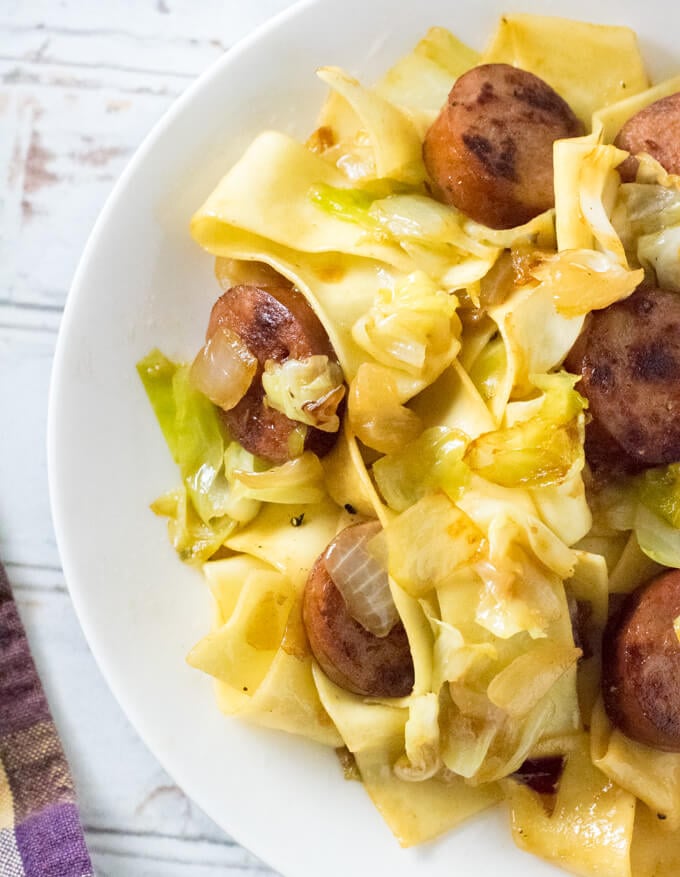 What is Haluski
Traditional haluski is an easy main dish from Eastern Europe that has roots in many different countries. It is particularly popular with Polish and Slovak nationalities, however, due to the simplistic nature of the base recipe, there are as many different ways to make this delicious dish as there are claims of origin.
My Haluski recipe features simple ingredients, such as cabbage and onion, which are sauteed in butter until tender and beginning to sweeten, then tossed with hearty egg noodles. This simple dish can be served as a meatless meal, which also makes it a great side dish. However, I like to round out the meal with the addition of Polish sausage and serve it as the main course.
Ingredients and Substitutions
Wide egg noodles - Although this recipe is for fried cabbage and noodles, potato dumplings are a very popular alternative to use as well. If you are going the easy route you can just buy gnocchi at the grocery store, although bonus points will be awarded for making gnocchi from scratch

. Alternatively, this is a perfect dish to substitute

homemade spaetzle

too.

Polish sausage - I prefer to make haluski with Polish sausage (kielbasa), however, if you are looking for other protein alternatives your favorite smoked sausage, pancetta, and crisp bacon are all great additions (using bacon makes it similar to southern fried cabbage). If using bacon I recommend draining the bacon fat or using less butter. Ham can be used as well and is a great use for any leftovers you may have after a holiday meal. Alternatively, fried cabbage and noodles is also often served without any meat.
Head of Cabbage 
Butter - Bacon grease can be used with melted butter or in place of it.
Yellow onion - A sweet onion is a good substitute, however, a red onion can be used if you want a stronger onion flavor. Alternatively, for even more flavor try using caramelized onions.
Garlic cloves - ¼ teaspoon of garlic powder can be substituted.
Fresh ground black pepper
How to Make It
Although it can be baked, I love making my haluski recipe as an easy stovetop meal in a large non-stick skillet, while I boil the noodles according to the package directions in a separate large pot of water until they become al dente.
Begin by adding the Polish sausage to your large frying pan and saute until browned and cooked through. Next, in the same skillet cabbage and onion are slowly sauteed in a generous amount of butter until tender and golden brown. At this point, the seared sausage, tender cabbage, onion, and cooked noodles can be combined and served.
Tip: When chopping cabbage for haluski, I cut the cabbage in half with a sharp knife and then into quarters. When it is quartered the core is more exposed and easier to remove from the cabbage leaves. Once the core is removed, I cut one more time into eights, then chop the leaves for sauteing. For step-by-step photos, check out my how to cut cabbage tutorial.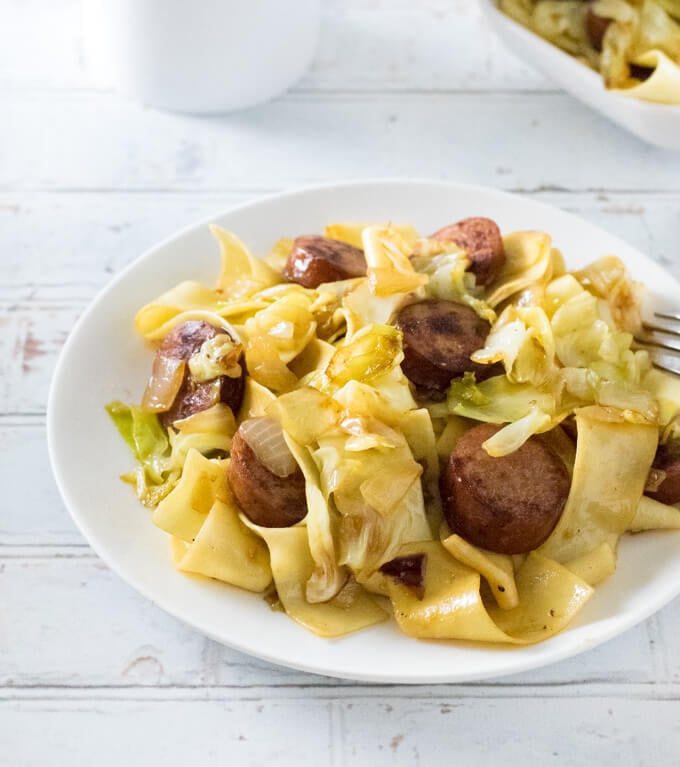 Storing and Reheating Leftovers
This fried cabbage and noodles recipe will be best enjoyed fresh, but the leftovers do store and reheat well too. The leftover haluski should be stored in an airtight container in your refrigerator and eaten within a week. The easiest way to reheat this meal is to microwave it in individual serving until everything is warmed through.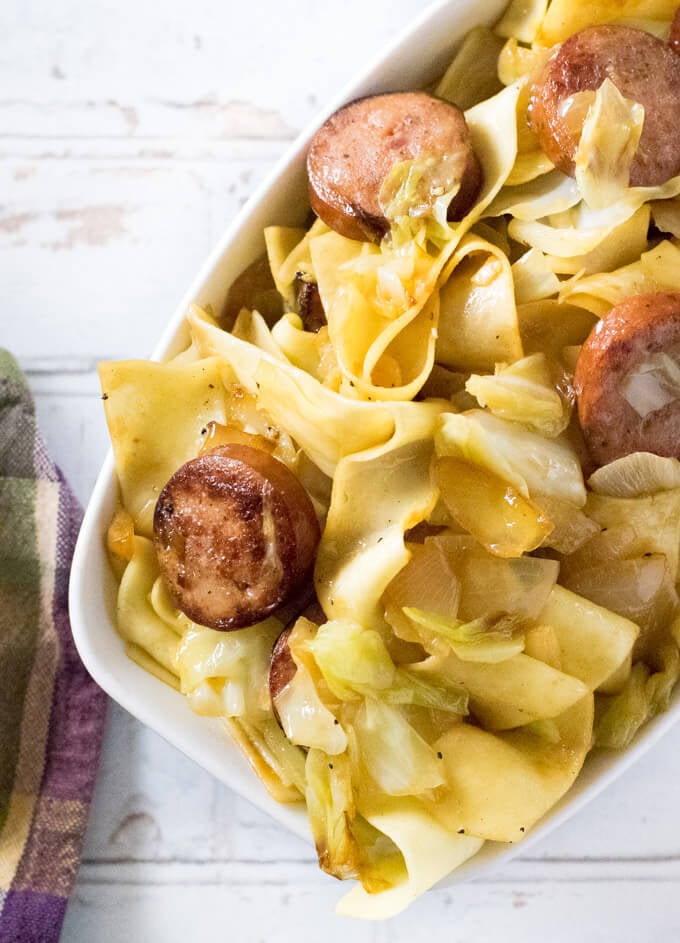 Can you do me a favor? If you enjoyed my post would you mind sharing it with your friends? You can see more of my recipes by liking me on Facebook and follow me on Pinterest too. Otherwise, stay up to date by getting each new post sent directly to your inbox by subscribing today.
Haluski - Fried Cabbage and Noodles
Haluski is a quick and easy Eastern European meal featuring buttery fried cabbage and noodles.
Print
Pin
Rate
Save
Saved
Ingredients
Instructions
Cook egg noodles according to package instructions until al dente.

Add sliced sausage to a large non-stick skillet over medium heat and cook until browned and cooked through. Remove from skillet and set aside.

Melt butter in the skillet then add chopped onion, cabbage, and garlic. Saute until tender and turning slightly brown, approximately 10-15 minutes.

Return the sausage to the skillet with the cabbage mixture and add egg noodles. Sprinkle with fresh ground pepper and toss to combine.
Notes
Tip: To prevent egg noodles from clumping together, try to finish cooking them when they can be immediately combined with the sauteed cabbage and onions. Otherwise, tossing the egg noodles with olive oil will help keep them separated if they have to sit for a few minutes.
IF YOU LIKED THIS RECIPE you will also love my Wiener Schnitzel with Lemon Dill Sauce.
Nutritional Information
Calories:
743
kcal
|
Carbohydrates:
52
g
|
Protein:
22
g
|
Fat:
50
g
|
Saturated Fat:
24
g
|
Cholesterol:
168
mg
|
Sodium:
981
mg
|
Potassium:
588
mg
|
Fiber:
5
g
|
Sugar:
6
g
|
Vitamin A:
852
IU
|
Vitamin C:
46
mg
|
Calcium:
94
mg
|
Iron:
3
mg
This recipe was originally published on October 25, 2019 on FoxValleyFoodie.com.