This easy herb chicken marinade adds fresh flavor to chicken breasts and is perfect for featuring as an entree or dressing up your favorite salad.
This marinade uses fresh herbs to enhance the flavor of your favorite cuts of chicken. I like using it on chicken breasts in particular, but it will really work on any cut of chicken.
Herb Chicken Marinade Ingredients
Olive Oil - Regular is fine, no need to use extra virgin.
Light soy sauce - I found regular soy sauce makes the chicken too salty.
Worcestershire sauce - It really pairs nicely with soy sauce.
Lemon - Juiced.
Garlic - Smash to release more flavor.
Basil - Use fresh basil.
Oregano - Use fresh oregano.
Dijon mustard - I used my own dijon mustard recipe but any store brand is great too.
Black pepper - Peppercorns are best, but you can use ground pepper in a pinch.
How to make the herb chicken marinade
This marinade is easy to create. All of the ingredients simply get whisked together in a bowl and it is ready to use. You can make your marinade go furthest by marinating your chicken in a gallon ziploc bag. The soft-sided bag requires less volume of liquid to cover the entire surface area of the meat when air is removed from the bag, as compared to using a solid-sided dish, which requires you to fill it completely with liquid.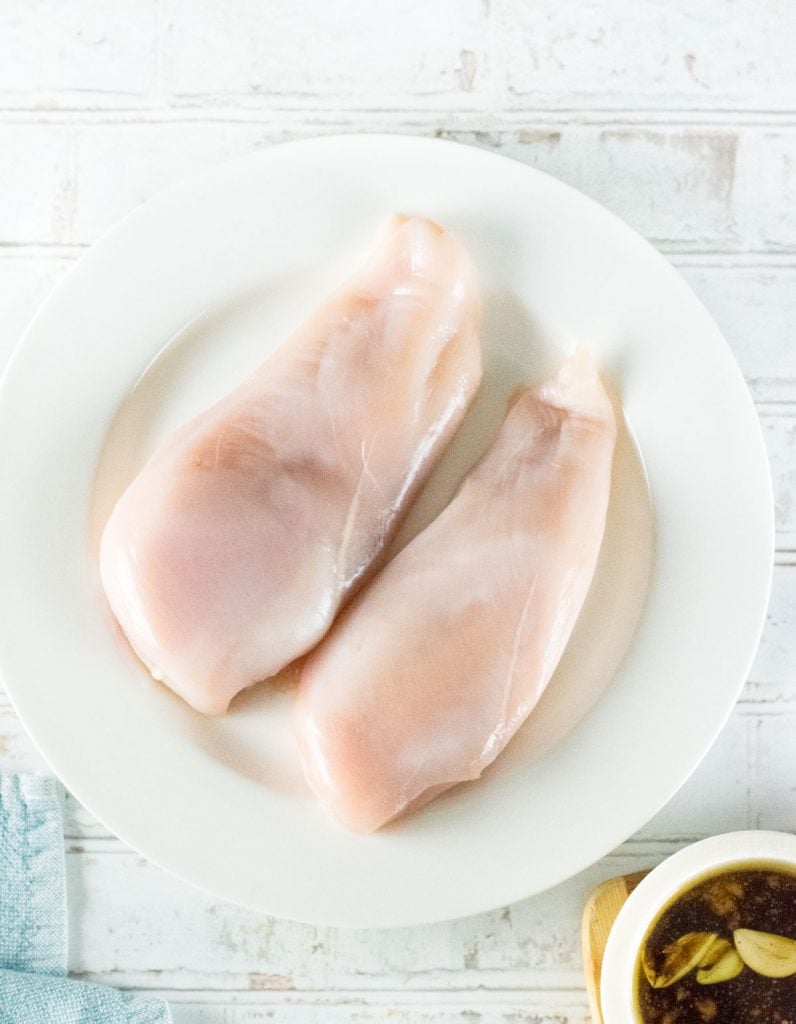 How long to marinate chicken
The ideal time to soak chicken in this marinade is about 4 hours However, chicken benefits from any length of time in soaking in the marinade, regardless of how short. Marinades don't penetrate the meat nearly as much as people imagine. Instead, they are primarily an exterior flavor enhancer.
The acidity and salt in the marinade can have an effect on the meat itself though. A salty liquid will "brine" the meat, and acidity from citrus or vinegar can break down the muscle fibers, making the texture mushy. For this reason, you want to avoid marinating too long. I wouldn't soak the chicken in this solution for more than a day.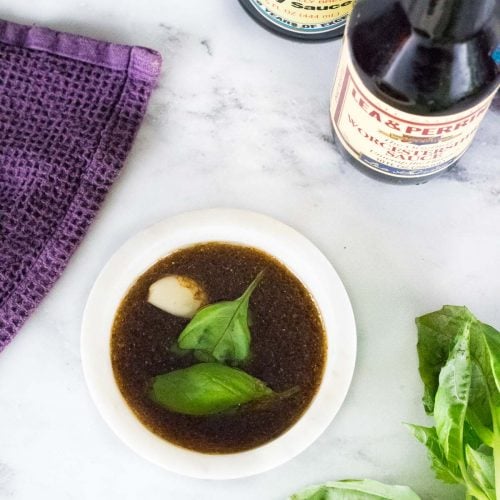 Print Recipe
Herb Chicken Marinade
This easy herb chicken marinade adds fresh flavor to chicken breasts and is perfect for featuring as an entree or dressing up your favorite salad.
Ingredients
1/4

cup

olive oil

1/4

cup

light soy sauce

1/4

cup

Worcestershire sauce

2

cloves

garlic

(smashed)

1

Lemon

(juiced)

1

bunch

fresh basil

1

bunch

fresh oregano

1

tablespoon

dijon mustard

1/2

teaspoon

black peppercorns
Instructions
Mix all ingredients in a dish.

Pour marinade in a large ziploc bag along with fresh chicken breasts. Let marinate in the refrigerator for four hours and cook your perferred way.
Notes
This marinade works well for two chicken breasts. 
Want more ways to flavor chicken? Try my healthy chicken seasoning recipe as well!
Loved this recipe?

Be sure to rate it and share you thoughts below!
*Calories listed are a vague estimate and accuracy should not be assumed.
Can you do me a favor? If you enjoyed my post would you mind sharing it with your friends? You can see more of my recipes by liking me on Facebook and follow me on Pinterest too. Otherwise, stay up to date by getting each new post sent directly to your inbox by subscribing today.