This chicken salad without mayo uses a blend of Greek yogurt and avocado to give it great flavor with all of the creaminess you crave in a traditional chicken salad.
My favorite salads don't have any lettuce in them. If God wanted me to eat leaves all day he would have made me a bunny rabbit. However, that doesn't mean I don't want my salads to be healthy. I switched up the classic chicken salad and made a few healthy substitutions to ensure I could enjoy one of my favorite meals with zero guilt!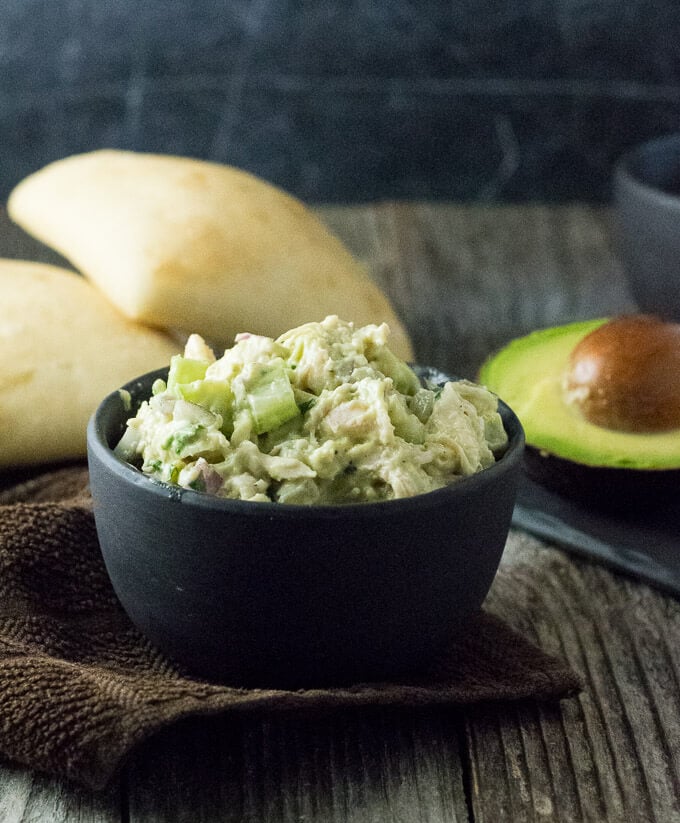 Is Chicken Salad Healthy?
Classic recipes such as my traditional chicken salad is not typically a "healthy" salad since it gets its creaminess from a generous helping of mayo. There are other variations of creamy chicken salads like a chicken salad with apples or grapes and pecans that include healthier additions, however, everything is still swimming in a fatty sauce.
The best way to create a healthy chicken salad is to make it without mayonnaise. I make my healthy chicken salad recipe by substituting Greek yogurt and a blend of fresh avocado, which is loaded with healthy fats, to create a lot of great flavor while still giving me the creamy salad I crave.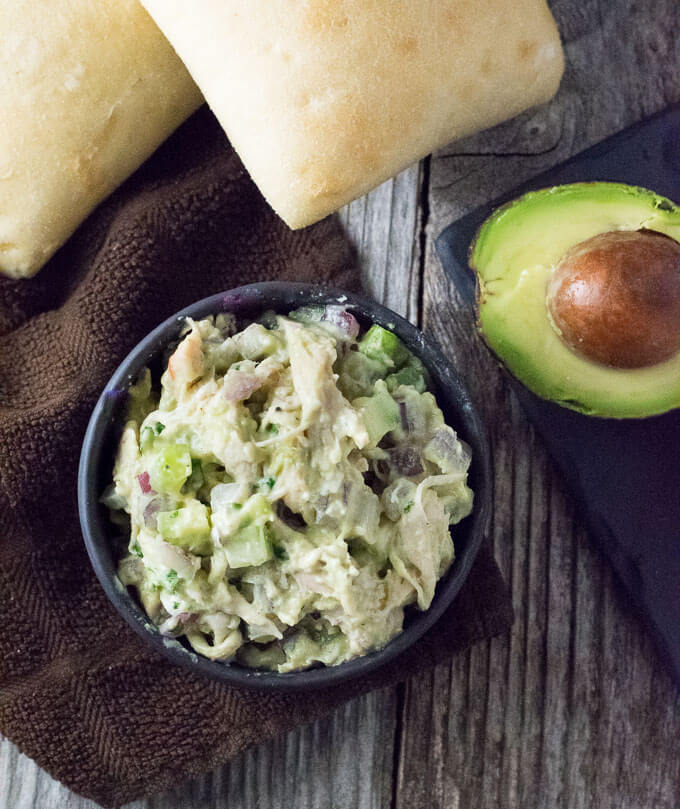 Ingredients and Substitutions
Chicken Breasts - Buying a rotisserie chicken at your grocery store is a great way to make chicken salad. The rotisserie chicken is already cooked, it is incredibly tender and incredibly flavorful. In other words, is it PERFECT for chicken salad!
Avocado - Purchase a ripe avocado with black skin that is slightly soft to the touch when gently pressed.
Plain Greek Yogurt - To make a no-mayo chicken salad, Greek yogurt is the best substitute to replicate the creamy texture.
Dijon mustard - You can substitute other hearty mustards, such as brown mustard.
Lemon Juice - Lime juice would also go well with the cilantro, or red wine vinegar would also be great.
Celery 
Red Onion - For less pronounced onion flavor, substitute a yellow onion, or green onions.
Cilantro - You can substitute fresh parsley instead. Otherwise you can add your favorite fresh herbs, such as fresh dill.
How to make it
Making this chicken salad recipe without mayo is extremely easy, particularly if you are using a leftover rotisserie chicken. Begin by preparing the "dressing" by adding the Greek yogurt, avocado, Dijon mustard, and lemon juice to a large bowl and whisking it together until creamy. You can leave some chunks of avocado for added texture, if desired.
Next, shred the cooked and shredded chicken and place it in the bowl along with the celery, onion, and cilantro. Serve immediately, as the avocado will oxidize and darken as it sits out.
How Do You Make Chicken Salad Sandwiches
Chicken salad is fantastic for making quick sandwiches. You can keep the chicken salad sandwich healthy by using whole grain wheat bread, or low carb wraps, such as a lettuce wrap, depending on your diet. Honestly, my favorite way to enjoy them is to toast up some Ciabatta buns. It isn't the healthiest option, but it fits in with a balanced diet.
Troubleshooting this Recipe
This healthy chicken salad recipe is pretty straightforward, the only potential issue is getting the perfect amount of creaminess. Depending on how thinly you shred the chicken you may require more Greek Yogurt. If your dressing isn't as creamy as you prefer, feel free to add up to an additional ¼ cup of Greek yogurt.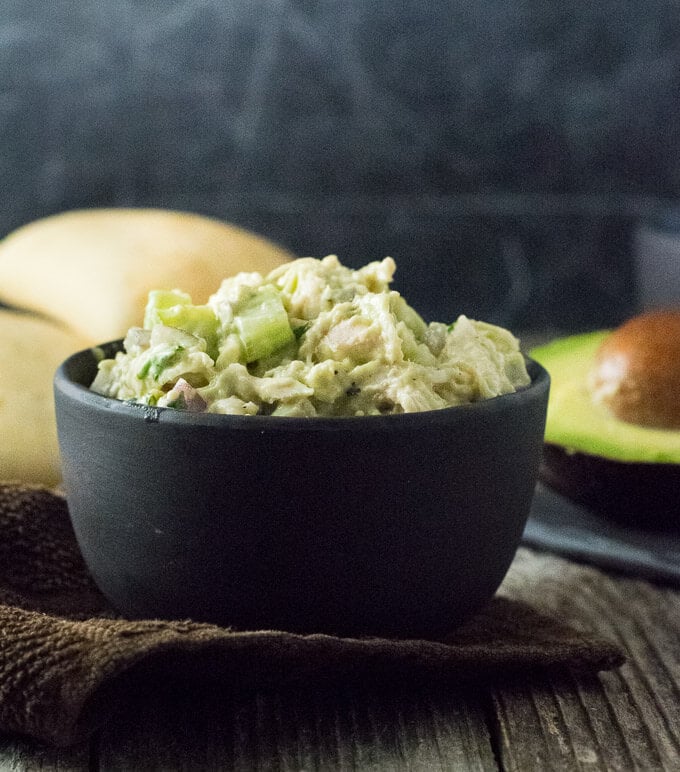 How to Store Leftover Chicken Salad
Anyone who has cooked with avocado can tell you it does not store well. Typically, avocado-based recipes, like my avocado egg salad and avocado tuna salad must be consumed shortly after they are prepared or the avocado will oxidize and blacken. However, there is a trick to storing this healthy chicken salad successfully.
Rather than just putting it in an airtight container, you should store leftovers in a bowl and place a sheet of plastic wrap tightly over the top of the chicken salad, ensuring 100% contact. By eliminating any air between the chicken salad and the plastic wrap you prevent the chicken salad from oxidizing. I have stored this chicken salad in my refrigerator for days using this method.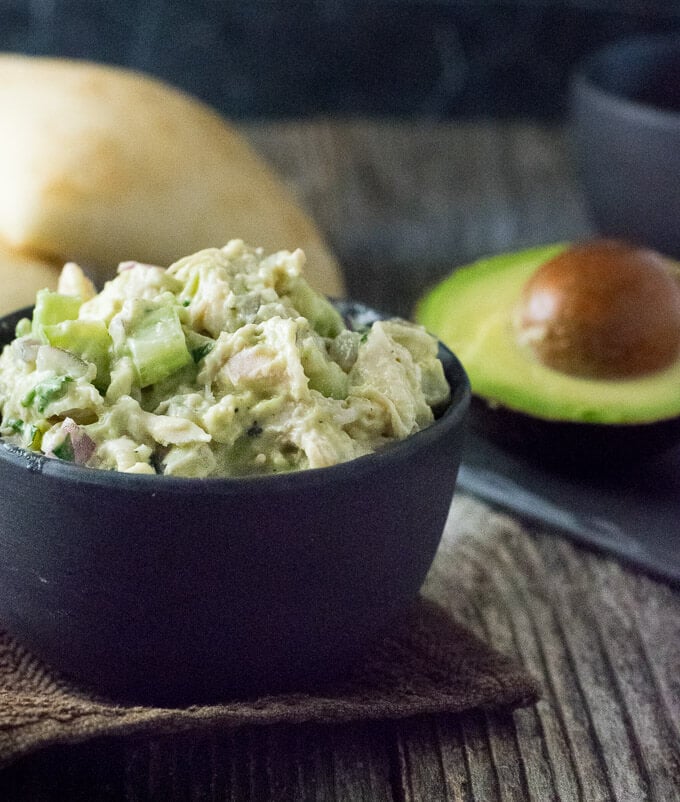 Can you do me a favor? If you enjoyed my post would you mind sharing it with your friends? You can see more of my recipes by liking me on Facebook and follow me on Pinterest too. Otherwise, stay up to date by getting each new post sent directly to your inbox by subscribing today.
Chicken Salad without Mayo
This healthy chicken salad without mayo uses a blend of Greek yogurt and avocado to give it great flavor with all of the creaminess you expect from a traditional chicken salad!
Print
Pin
Rate
Save
Saved
Ingredients
2

cups

Chicken Breasts

(cooked and shredded)

1

large

Avocado

¼

cup

Plain Greek Yogurt

1

tablespoon

Dijon mustard

1

tablespoon

Lemon Juice

1

rib

Celery

(diced)

½

medium

Red Onion

(diced)

2

tablespoons

diced Cilantro

½

teaspoons

Salt

¼

teaspoon

ground black pepper
Instructions
Place Greek yogurt, avocado, Dijon, and lemon juice in a large bowl and mix to combine, mashing the avocado as you stir. Avocado should be mashed so it is creamy enough to blend into the dressing while some chunks remain for texture.

Add chicken, celery, onion, cilantro, and seasonings to the bowl and mix to evenly coat with the dressing.
Notes
Feel free to add up to an additional ¼ cup of Greek Yogurt for more creaminess.
IF YOU LIKED THIS RECIPE check out my BBQ Chicken Salad recipe too!
Nutritional Information
Calories:
65
kcal
|
Protein:
11
g
|
Fat:
1
g
|
Cholesterol:
32
mg
|
Sodium:
288
mg
|
Potassium:
214
mg
|
Vitamin A:
45
IU
|
Vitamin C:
1.7
mg
|
Calcium:
14
mg
|
Iron:
0.2
mg