Making homemade rotisserie chicken that mimics the store-bought juiciness and flavor can be done right in your own kitchen with a rotisserie, oven, or slow cooker.
Rotisserie chicken is frequently a lifesaver in my kitchen. Not only is it a great meal to enjoy on its own, it can easily be repurposed to make other meals simpler. For example, I use it to make easy Shredded BBQ Chicken Sandwiches and Chicken Enchiladas.
Homemade Rotisserie Chicken
Obviously the best way to make homemade rotisserie chicken is to use a kitchen rotisserie. However, I understand most people do not own one, so I tested out oven and slow cooker methods as well. Each will gives you incredibly juicy meat, however, the skin will be the biggest variable that changes depending on the method you use.
How to Prepare the Chicken
There are a couple steps you can take to improve your results. First, coating the chicken with oil or butter will help the skin crisp while cooking. I also like to add a light dusting of seasonings for additional flavor. Particularly, paprika, garlic, onion powder, salt, and pepper.
Finally, make sure you truss the chicken with butcher twine. Trussing ties the bird up into a tight little package by keeping the legs and wings close to the body for more even cooking.
What Temperature is Rotisserie Chicken Baked?
I stopped in my local grocery store to pick the brains of the ladies behind the deli counter to ensure I mimicked their cooking method as closely as possible. Rotisserie chicken is baked at 350 degrees for 90 minutes.
Rotisserie Chicken in the Oven
If you are recreating rotisserie chicken in your oven, you will still roast at 350 degrees for 90 minutes. However, I also add three cups of water to the bottom of a rimmed baking pan for added moisture. I set the whole chicken above the liquid on a raised wire rack that sits on the baking pan.
Rotisserie Chicken in the Slow Cooker
Perhaps no surprise, the slow cooker cooking method yields the most tender meat. However, the skin is the least crisp. To circumvent this problem, after cooking the bird to completion on high for 3-4 hours, I finish it under the broiler to crisp the skin slightly.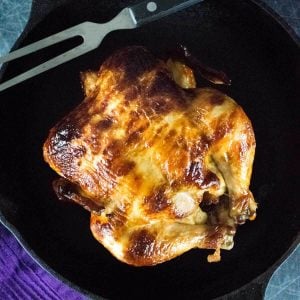 Homemade Rotisserie Chicken
Making flavorful and juicy homemade rotisserie chicken can be done right in your own kitchen with a rotisserie, oven, or slow cooker.
Print
Pin
Rate
Ingredients
1

whole

chicken

(5 pounds)

1

tablespoon

olive oil

1

teaspoon

paprika

½

teaspoon

garlic powder

½

teaspoon

onion powder

¼

teaspoon

fresh ground black pepper

salt as needed
Instructions
Tie the legs together with butcher twine. Optionally, you can also truss the whole chicken.

Rub olive oil over the skin of the chicken then lightly dust with salt. Sprinkle the remaining seasonings on top.
Rotisserie Method
Place chicken in the rotisserie for 90 minutes at 350 degrees, or until the meat reaches 165 degrees.
Oven Method
Preheat oven to 350 degrees.

Place three cups of water in a rimmed baking pan and set a wire rack over it. Set the chicken on the wire rack and place in the oven for 90 minutes or until the internal temperature reaches 165 degrees.
Slow Cooker Method
Place chicken in the slow cooker, cover, and set on high heat. Cook 3-4 hours or until the chicken reaches 165 degrees.

Turn the oven broiler on high.

Remove the chicken from the slow cooker and set on a baking pan. Place directly under the broiler and cook until the skin crisps up.
Nutrition
Calories:
240
kcal
|
Carbohydrates:
3
g
|
Protein:
1
g
|
Fat:
14
g
|
Saturated Fat:
2
g
|
Cholesterol:
1
mg
|
Sodium:
4
mg
|
Potassium:
46
mg
|
Fiber:
1
g
|
Sugar:
1
g
|
Vitamin A:
985
IU
|
Iron:
1
mg
Can you do me a favor? If you enjoyed my post would you mind sharing it with your friends? You can see more of my recipes by liking me on Facebook and follow me on Pinterest too. Otherwise, stay up to date by getting each new post sent directly to your inbox by subscribing today.