This Healthy Avocado Egg Salad is made with simple all natural ingredients and is mayo free. Avocado adds flavor to this creamy classic without the guilt!
Who decides when something qualifies to be a salad? Egg salad doesn't seem very salady to me, but I guess I'm no expert in the fine art of salad designation. However, somewhere along the line someone decided that when protein is tossed with excessive amounts of mayo, it counts as a salad.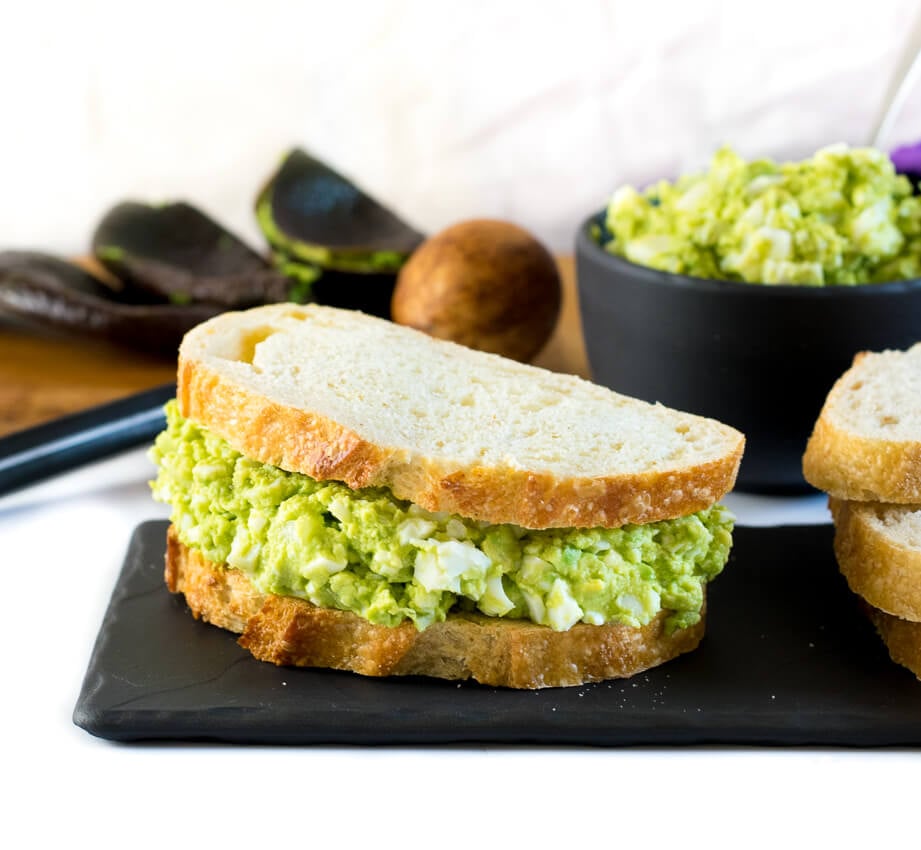 This was no doubt coined by a man whose wife was nagging him to eat more salads.
However, that doesn't mean we can't twist the classic egg salad into something equally enjoyable to consume, yet healthy. Actually, I may like my Healthy Avocado Egg Salad version better.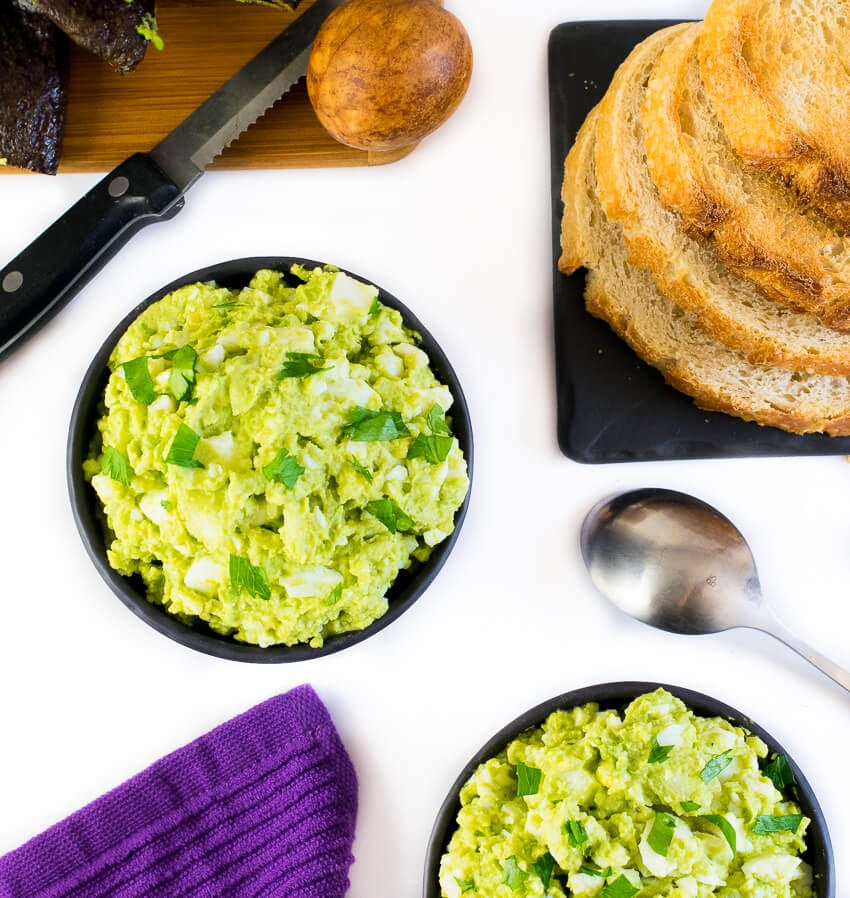 I am kind of obsessed with healthy avocado recipes. Open-Faced Avocado Sandwich with Egg and Parmesan anyone? This is one of my favorite go-to lunches!
You can eat this Healthy Avocado Egg Salad with no mayo and not feel bad about indulging. Avocado provides plenty of creaminess and more flavor than mayo, making it the perfect way to update a classic!
If you don't know how to boil eggs perfectly, check out of my guide to perfect boiled eggs. It is an older post that could use a stylistic face-lift, but the content is spot on!

How to Make Healthy Avocado Egg Salad
This recipe requires no cooking, simply stir/mash the ingredients together. You can use a fork or a potato masher (affiliate link) to cut down the eggs and avocado, but do you know what really works well? A simple pastry cutter (affiliate link). Its blades are perfect for ensuring everything gets broken down without a big hassle. It really makes this recipe quick and easy.
How Long Does Avocado Egg Salad Last
Avocado Egg Salad is best enjoyed immediately. Avocado does not have a long shelf life once the air reaches it, as it will quickly turn black from oxidization. Adding lemon juice to this recipe not only adds a bright punch of flavor, but it also helps prevent the avocado from oxidizing.
If you have leftovers that need to be stored, the best way to do so is placing a sheet of plastic wrap directly over the avocado egg salad to prevent air from reaching it. To be clear, the plastic wrap literally needs to touch the surface of the egg salad. Be sure there are no bubbles or air pockets, or these areas will oxidize.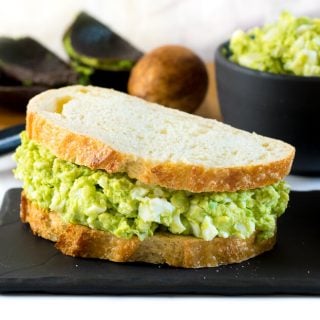 Print Recipe
Healthy Avocado Egg Salad
This Healthy Avocado Egg Salad is made with simple all natural ingredients and is mayo free. Avocado adds flavor to this creamy classic without the guilt!
Ingredients
2

avocados

pit and skin removed

1 1/2

tbsp

lemon juice

1/3

cup

Onion

chopped

½

tsp

kosher salt

Black pepper to taste

Bread for serving
Instructions
Add all ingredients to a bowl and mash and stir to combine.

Serve on bread or open faced-on toast.
Loved this recipe?

Be sure to rate it and share you thoughts below!
*Calories listed are a vague estimate and accuracy should not be assumed.
If you enjoyed reading my Healthy Avocado Egg Salad recipe then you should probably like me on Facebook and follow me on Pinterest too. That's what I would do at least, because if you don't get to know me but you still use my recipe it is kind of like taking candy from a stranger, and your mom taught you not to do that. Don't disobey your mom, subscribe to Fox Valley Foodie today.