This Classic Chicken Salad is perfectly tender and creamy with crunchy bits of celery and onion sprinkled throughout.  You will never want to use another chicken salad recipe again!
Well, I finally did it. I scheduled my first doctor check up as an adult. With the exception of being sick or injured, I don't think I've seen a doctor since my mother brought me for my regular appointments as a teenager. In my expert opinion, seeing doctors are bad for your health. The way I see it, I can't ever be diagnosed with a terminal illness if I never let a doctor look at me. That is bulletproof logic right there my friends!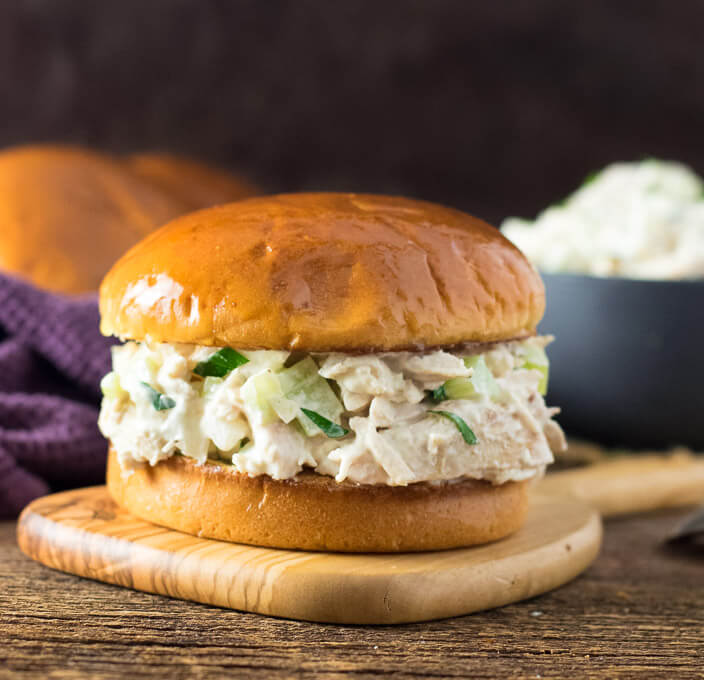 If I come back next week to tell you I am dying I want this classic chicken salad recipe served at my funeral. I also want a comedian at my funeral telling inappropriate jokes. If you have to choose between getting the chicken salad or the comedian, go with the comedian.
Traditional Chicken Salad Recipe Ingredients
You shouldn't wait for my funeral to enjoy this easy chicken salad though. I have a tendency of sticking around just to annoy people. Go ahead and whip up this traditional chicken salad recipe for lunch. It has all of the classic chicken salad ingredients you crave - tender shredded chicken, chopped celery and onions, and plenty of creaminess!
The celery and onions add a satisfying crunch to each bite, while mayo soaks up the flavor of the seasonings and dijon mustard. Parsely is added for color and herbal freshness. You can customize the ingredients to fit your tastes, but you can't go wrong by sticking to the recipe.
Easy Rotisserie Chicken Salad Recipe

Do you want to know my secret to making the best chicken salad? Use rotisserie chicken! Seriously, it is perfect. It is already cooked, it is exceptionally tender, and loaded with flavor.  Not only does it make this chicken salad recipe easier, it tastes better too!
Can I Make Chicken Salad Ahead of Time?
Yes! This Chicken Salad recipe is great to make ahead. It is meant to be enjoyed cold, so you can simply whip up a batch and store it in the refrigerator. Plus, this gives time for the flavors to meld properly. However, there is nothing wrong with eating it right away either. This salad will last approximately 4 days before the quality starts noticably degrading. 
How to Serve Chicken Salad
Chicken salad is a very versatile dish. My favorite way to enjoy it is as a sandwich on a bun. Though cheap "bread-aisle" buns will work fine, getting artisan buns from the bakery department can really elevate this dish. Alternatively, serving chicken salad on crackers or simply naked in a bowl are perfectly suitable options as well.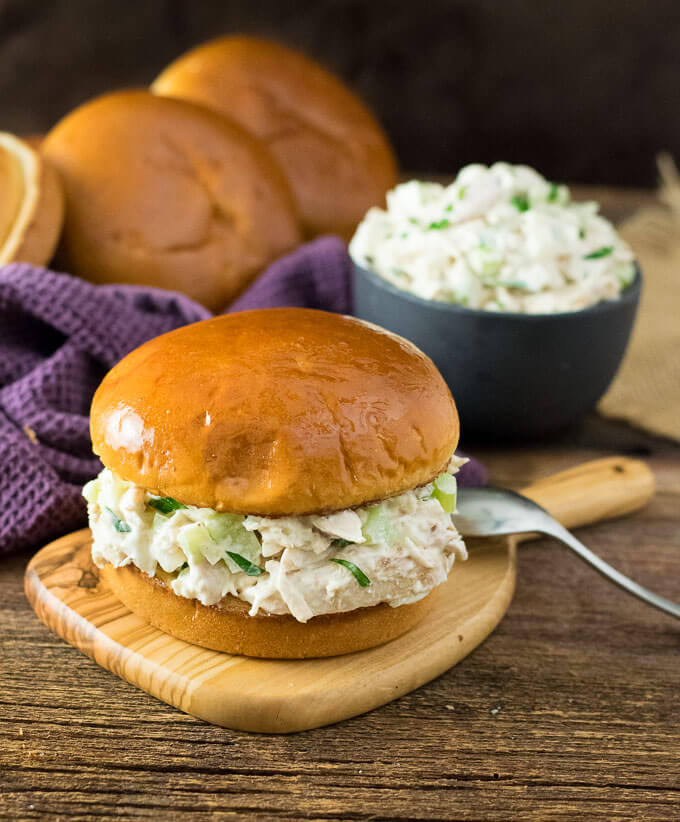 More Ways to Make Chicken Salad
Though this classic chicken salad recipe is a very popular way many people enjoy chicken salad, there are many flavorful variations to try as well! If you are craving a jazzed up chicken salad with punches of fruit dazzling your taste buds, try my Chicken Salad with Grapes and Pecans or my Chicken Salad with Apples.
If you are looking for a boldly flavored chicken salad recipe, check out my BBQ Chicken Salad, or Grilled Chipotle Chicken Salad. Otherwise, avocado is an extremely flavorful creative addition that stars in my Avocado Chipotle Chicken Salad and my Bacon Avocado Chicken Salad.
Print Recipe
Classic Chicken Salad
This Classic Chicken Salad is perfectly tender and creamy with crunchy bits of celery and onion sprinkled throughout. You will never want to use another chicken salad recipe again!
Ingredients
2

cups

shredded chicken breast

(can use 1 rotisserie chicken), cooked & cooled

1/2

cup

mayo

1

tbsp

dijon mustard

1

stalk celery

(chopped)

1/2

medium

yellow onion

(chopped)

1

tbsp

chopped parsley

1/4

tsp

salt

fresh ground pepper to taste

buns for serving
Instructions
Add all ingredients to a large bowl and mix to combine.

Place ~1/3 cup of mixture on buns and enjoy. Or refrigerate chicken salad for later use.
Loved this recipe?

Be sure to rate it and share you thoughts below!
*Calories listed are a vague estimate and accuracy should not be assumed.
If you enjoyed my Classic Chicken Salad recipe then you should probably like me on Facebook and follow me on Pinterest too. That's what I would do at least, because if you don't get to know me but you still use my recipe it is kind of like taking candy from a stranger, and your mom taught you not to do that. Don't disobey your mom, subscribe to Fox Valley Foodie today.