These Crispy Pork Carnitas are braised until mouthwateringly tender then quickly placed under the broiler until the meat has charred, crisp, edges. These will be the best pork tacos you've had!
Pork shoulder is the most underrated cut of meat in the grocery store. There I said it. It feels good to get that off my chest. You won't find a protein packing more flavor per penny spent. When cooked long and slow, pork shoulder slowly transforms into tender delectable shreds that have the uncanny ability to soak up whatever flavorings it is bathed in. It is the caterpillar/butterfly of the culinary world. Fly little piggy, fly!
This is what makes these Crispy Pork Carnitas so dang tantalizing! Pork is braised on the stovetop in a pool of Mexican seasonings until it renders down into tender chunks of meat just waiting to lie in a warm tortilla blanket. "Carnitas" means 'little meats', as they typically refer to braised or roasted pork that is cooked until is can be shredded into little pieces.
I often see people use pork loin incorrectly when pork shoulder should be used. Don't do this! Pork loin costs more money, and it is too lean to be a good candidate for shredding. The fattier nature of pork shoulder makes it ideal for longer cooking times because the rendering fat will keep it moist and luxurious. This holds true whether you are making pork carnitas, pulled pork, or any other dish that requires shredding.
How to Make Crispy Pork Carnitas
There are two important steps to making these Crispy Pork Carnitas. Even if you decide not to follow my recipe specifically, following my methods will yield exceptional pork tacos.
The first step of the process is to braise your meat. True, this can be done in the slow cooker, however, you will extract more flavor if using a Dutch oven, or similar pot. The reason this is better is because the slow cooker doesn't kick out enough heat to brown the meat, or effectively reduce the braising liquid into a concentrated sauce. Browning the meat takes 5 minutes of your time and creates a rich depth of flavor that simply can't be replicated in a slow cooker.
The braising liquid I use in my Crispy Pork Carnitas recipe is dark beer with a bit of orange juice. However, if you are adverse to alcohol, simply substitute chicken broth. Both will taste exceptional. Lime juice is another equally good substitute.
The final step is broiling the meat. Braising makes the meat exceptionally tender, but broiling it briefly will create crisp edges that really add great texture to the pork tacos. I recommend broiling the pork before you shred it so it doesn't dry out. You are only looking to crisp the exterior of the pork, you don't want to crisp the entire shred.
These make exceptional leftovers. Simply reheat the carnitas in the microwave till it reaches your desired temperature. If the pork seems dry add a splash of water to rehydrate.
This article contains affiliate links. Any Amazon purchases made through these links helps support FoxValleyFoodie.com at no additional cost to you.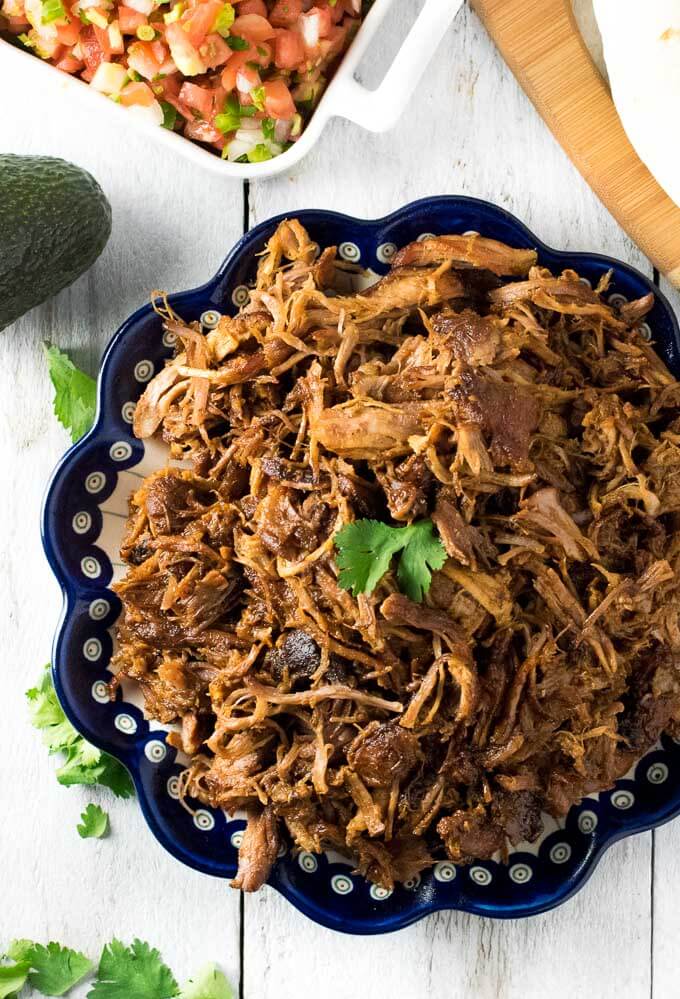 Crispy Pork Carnitas
These Crispy Pork Carnitas are braised until mouthwateringly tender then quickly placed under the broiler until the meat has charred, crisp, edges. These will be the best pork tacos you've had!
Print
Pin
Rate
Ingredients
Pork Carnitas
¼

cup

lard

(can substitute oil)

4

pounds

pork shoulder,

cut into large chunks

kosher salt to taste

24

oz

dark beer

(can substitute chicken broth if you don't like beer)

½

cup

orange juice

1

onion,

chopped

8

cloves

garlic,

crushed

1

tbsp

chili powder

1

tbsp

ground cumin

1

tsp

dried oregano
Taco Assembly
6" flour tortilla shells

Guacamole

Pico de Gallo

Cilantro,

chopped
Instructions
Pork Carnitas
Heat lard in a dutch oven on medium-high heat.

Liberally sprinkle salt on pork shoulder pieces then place in dutch oven to brown. Approximately 3-5 minutes per side.

Once pork has formed a nice crust add remaining ingredients, cover, and reduce heat to low.

Cook for 3 hours, or until pork is tender and easily shredded with a fork.

Once tender, remove pork pieces from dutch oven (reserving juices) and set on a baking pan. Place pork under the broiler until slightly charred. Rotate as needed to prevent excessive burning.

Add pork back to the dutch oven, shred and combine with the juices. Taste for salt and adjust as needed.
Taco Assembly
Gently warm flour tortillas in a pan and add ¼ cup of pork carnitas. Top with guacamole, pice de gallo, and cilantro.
Notes
Pork carnitas can be made in advance and reheated. 
IF YOU REALLY WANT TO JAZZ THESE UP use my Roasted Tomatillo Guacamole as a topping! They will taste insane!
Nutrition
If you enjoyed reading my Crispy Pork Carnitas recipe then you should probably like me on Facebook and follow me on Pinterest too. That's what I would do at least, because if you don't get to know me but you still use my recipe it is kind of like taking candy from a stranger, and your mom taught you not to do that. Don't disobey your mom, subscribe to Fox Valley Foodie today.