The corned beef sandwich is a Jewish deli classic piled high with sliced corned beef, coleslaw, pickles and Russian dressing.
I am mildly obsessed with crafting Jewish deli sandwiches at home. I do not have an authentic deli around me, so if I want a great Hot Pastrami Sandwich, I need to make it myself. Lately, I have been on a corned beef kick, and since I have a fridge full of the stuff right now, I didn't want to pass up the opportunity to make this deli classic as well.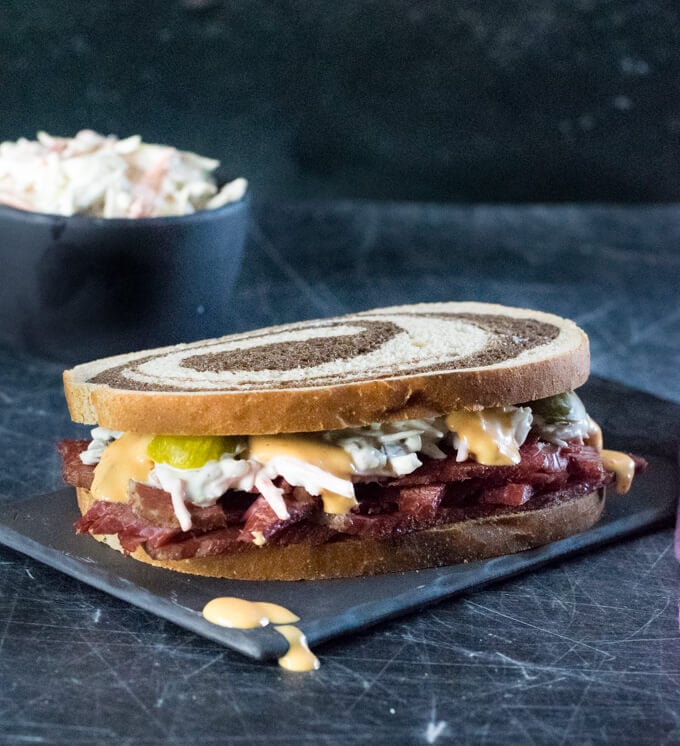 Homemade Corned Beef Sandwich
A properly homemade corned beef sandwich will taste better than any deli or restaurant you can purchase one in. I promise you. Why do I say this? Simple, you have complete control over all of the ingredients. I will provide you a recipe to make all of the sandwich fillings from scratch, or you can simply purchase you favorite brands from the grocery store. It is all up to you.
What goes on this sandwich?
Traditionally a corned beef sandwich features rye bread piled high with corned beef, coleslaw, pickles, and Russian dressing. Using dill pickles is the most common option, but feel free to whip up a batch of my half sour pickles to use instead!
Store-bought Russian dressing can vary considerably in flavor, which is why I recommend using my Russian Dressing recipe. Alternatively, you can feel free to use Thousand island dressing instead, which has a similar flavor profile.
Using shredded coleslaw will give you better texture than the chopped coleslaw you often find in grocer delis. For this reason, I also recommend using my homemade coleslaw recipe... well, that and the fact that my recipe is just really dang good!
Best Corned Beef for Sandwiches
If you want to cheat you can purchase sliced corned beef from the deli counter. It won't have the same texture, or taste as good as making corned beef from scratch, but it will do in a pinch.
The second easiest option is to buy a corned beef brisket from your grocer's meat department. This is a good option, as it only requires you to bring it home and boil the brisket in a pot of water for about 3 hours, or until tender. However, if you really want to go all out, check out my tutorial on how to make corned beef from scratch. Making your own corned beef is the best option because you have complete control over the flavor.
How to customize this recipe
When making a sandwich for yourself there are no rules that say you HAVE to make it authentically. Feel free to swap out the pickles for relish, or omit them entirely. The coleslaw can be replaced with the crunch of homemade sauerkraut, and if you are like me and crave cheese on everything add a slice of Swiss cheese.
More St. Patrick's Day Recipes
Though popular at Jewish delis, corned beef sandwiches are also commonly consumed as part of St. Patty's Day celebrations. And it make sense since they perfect to make with leftover corned beef and cabbage. However, if you are looking for more ways to savor the flavor of the holiday, check out these ideas: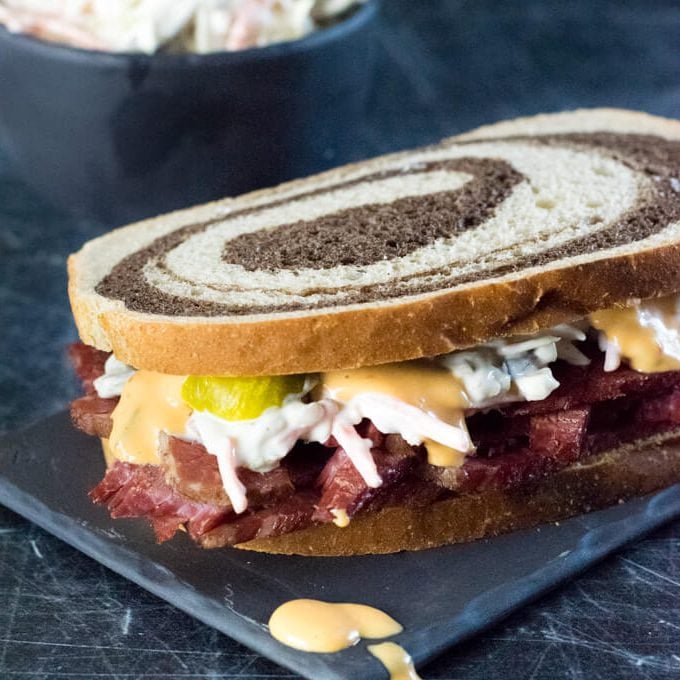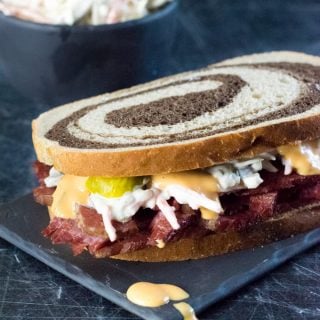 Corned Beef Sandwiches
The corned beef sandwich is a Jewish deli classic piled high with sliced corned beef, coleslaw, pickles and Russian dressing.
Print
Pin
Rate
Save
Saved
Instructions
If using leftover corned beef, gently reheat it in a double boiler until warmed through or place slices in a skillet set over medium low heat.

Assemble the sandwich by placing corned beef on a slice of rye, top with coleslaw, pickles, and Russian dressing. Add remaining slice of rye bread, cut the sandwich in half and serve.
Notes
Scale this recipe up for as many sandwiches as you wish to make.  All quantities listed can be adjusted to fit your tastes.
Serve this sandwich with authentic deli Half Sour Pickles.
Nutritional Information
Calories:
395
kcal
|
Carbohydrates:
32
g
|
Protein:
22
g
|
Fat:
19
g
|
Saturated Fat:
6
g
|
Cholesterol:
61
mg
|
Sodium:
1778
mg
|
Potassium:
443
mg
|
Fiber:
4
g
|
Sugar:
3
g
|
Vitamin C:
37
mg
|
Calcium:
47
mg
|
Iron:
4
mg