This flavorful dinner features tender chicken and sweet sun-dried tomatoes tossed with al dente pasta and a creamy pesto alfredo sauce.
Want to impress someone with a gourmet twist on a classic dish? Or perhaps someone just talks too much at the dinner table and you want to keep their mouth preoccupied. Either way, what better way to do that than with an incredibly flavorful meal they will be too busy eating by the forkful to say anything except the occasional exclamation of praise for the chef.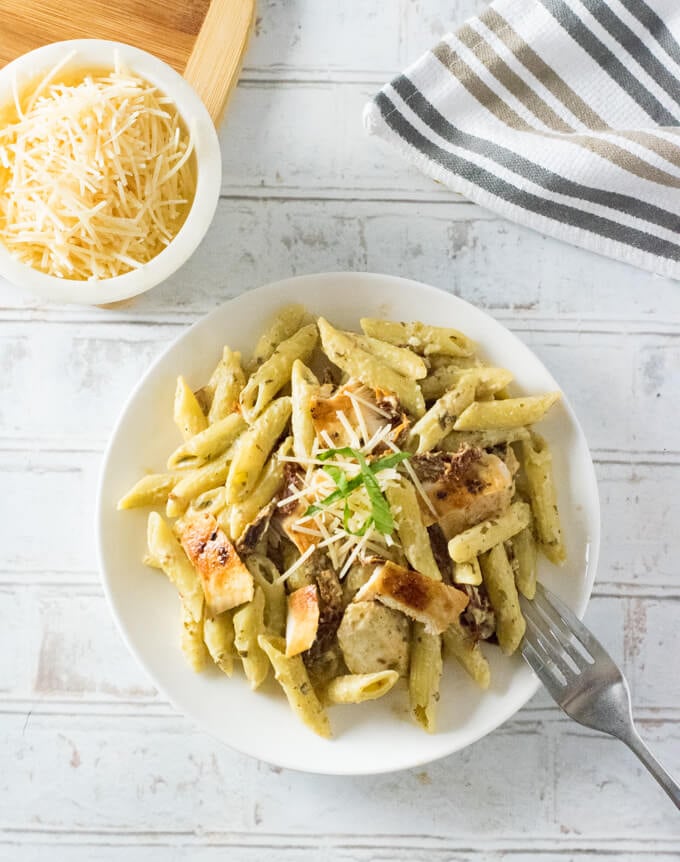 Pesto Alfredo
My pesto alfredo recipe starts with a classic alfredo sauce base, with the bright punch of pesto blended into it. This is served over noodles with chicken and sun-dried tomatoes. The tomatoes can be removed from the recipe if you don't care for them, without greatly affecting the final dish.
Chicken Pesto Alfredo
Chicken alfredo is a classic combination, so I added chicken to my pesto alfredo as well. The recipe calls for pan-searing the chicken breasts, which works great, however, you can bake them instead if you wish. You could even use leftover chicken in a pinch.
I recommend using a meat mallet (affiliate link) to pound the chicken breasts into a 1" thickness. This will allow them to cook more evenly, as well as cook quicker. The slightly thinner breasts will also be a better size for slicing and incorporating into the dish. No one wants a giant chunk of chicken on their fork!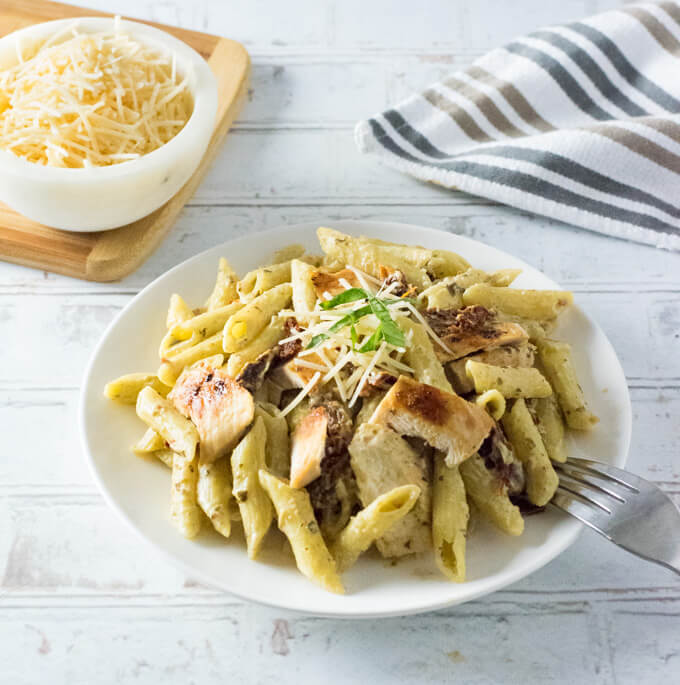 What Noodles for Alfredo
I used penne pasta in this alfredo recipe, however, that is admittedly not the traditional choice. Penne pasta just sounded really good to me at the time, so I ran with it. The traditional noodle choice for an alfredo dish is fettuccini. You can certainly substitute fettuccini noodles instead of penne in this dish, but penne works great too!
How to Make Alfredo Sauce
This pesto alfredo is made the same way as a classic alfredo sauce. Start by making a roux, which is an equal mixture of butter and flour continuously stirred in a skillet until the flour cooks out. Then slowly add half and half to create the base of the sauce.
Tip: It is important to add the half and half a few splashes at a time, while stirring, to ensure it incorporates smoothly.
Once the half and half has been added, then you can sprinkle in Parmesan cheese. Keep stirring, and slowly add more cheese until it has all melted into the sauce. Parmesan is the primary flavoring agent for alfredo sauce. This recipe adds a twist by also mixing in pesto.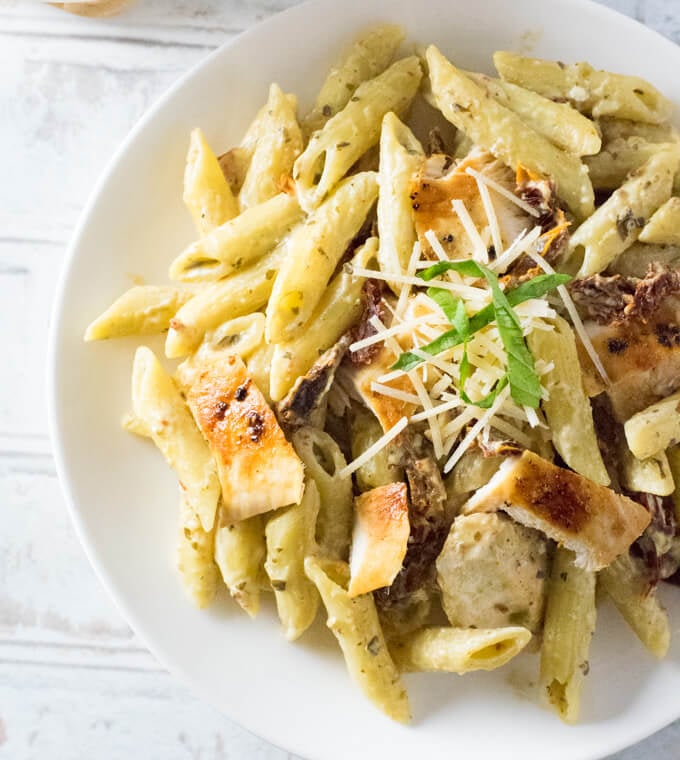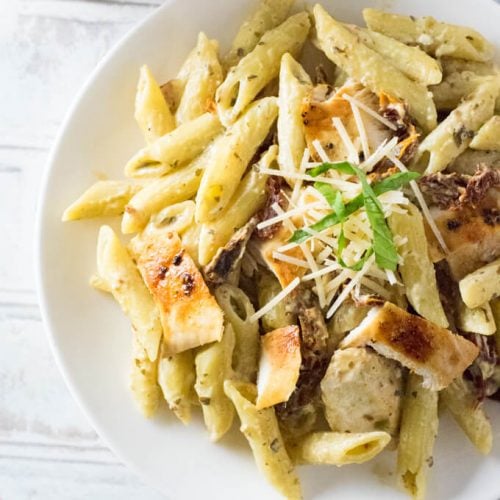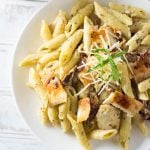 Print Recipe
Pesto Alfredo
This flavorful dinner features tender chicken and sweet sun-dried tomatoes tossed with al dente pasta and a creamy pesto alfredo sauce.


Ingredients
12

oz

penne pasta

(cooked according to package instruction)

1

lb

chicken breast

salt

(as needed)

fresh ground pepper

(to taste)
Pesto Alfredo Sauce
2

tablespoons

butter

2

tablespoons

flour

1 1/4

cup

half and half

1/3

cup

pesto

1/3

cup

shredded parmesan cheese

1/2

cup

sliced sundried tomatoes

fresh ground pepper

(to taste)
Instructions
While bringing pot of water to a boil for the pasta, gently pound the chicken breasts into an even thickness about 1" thick. Lightly salt and pepper the chicken and place in a skillet over medium-low heat. Cook for 10 minutes, flipping once, or until the internal temperature reaches 165 degrees.

Remove the chicken from the pan, and let rest. Slice chicken into 1" chunks prior to serving.
Pesto Alfredo Sauce
While pasta is boiling, prepare the pesto alfredo sauce by melting butter in a saucepan over medium-low heat, then sprinkle in flour and stir continually for 2 minutes, while the raw flour taste cooks out.

Very slowly add half and half, only a few splashes at a time, while continuing to stir. Once half and half has all been added, Parmesan can be sprinkled in as well. Continue to stir to ensure the parmesan fully melts into the sauce.

Add pesto and sun-dried tomatoes to the sauce as well and let gently simmer until it reaches your desired thickness. If it gets too thick you can thin it out with more half and half. Add fresh ground pepper to taste.

Add cooked noodles and sliced chicken to a large bowl and pour alfredo sauce over, and toss to coat.
Notes
You can substitute fetticcini noodles instead in this recipe if you wish.
IF YOU LIKED THIS RECIPE you will love my Chili's Cajun Chicken Pasta as well!
Loved this recipe?

Be sure to rate it and share you thoughts below!
*Calories listed are a vague estimate and accuracy should not be assumed.
Can you do me a favor? If you enjoyed my post would you mind sharing it with your friends? You can see more of my recipes by liking me on Facebook and follow me on Pinterest too. Otherwise, stay up to date by getting each new post sent directly to your inbox by subscribing today.