Smoked corned beef takes the classic brined beef roast and slowly smokes it to impart a whole new level of flavor! St. Patrick's Day never tasted so good, but I recommend enjoying this any time of year!
Have you ever taken a bite of anything and have your eyes roll back in your head because it is just so dang good? That's what we are talking about here. This is easily the best corned beef my tastebuds have ever had the pleasure to sample. It is an incredible combination of tangy brined brisket and rich smoky flavor.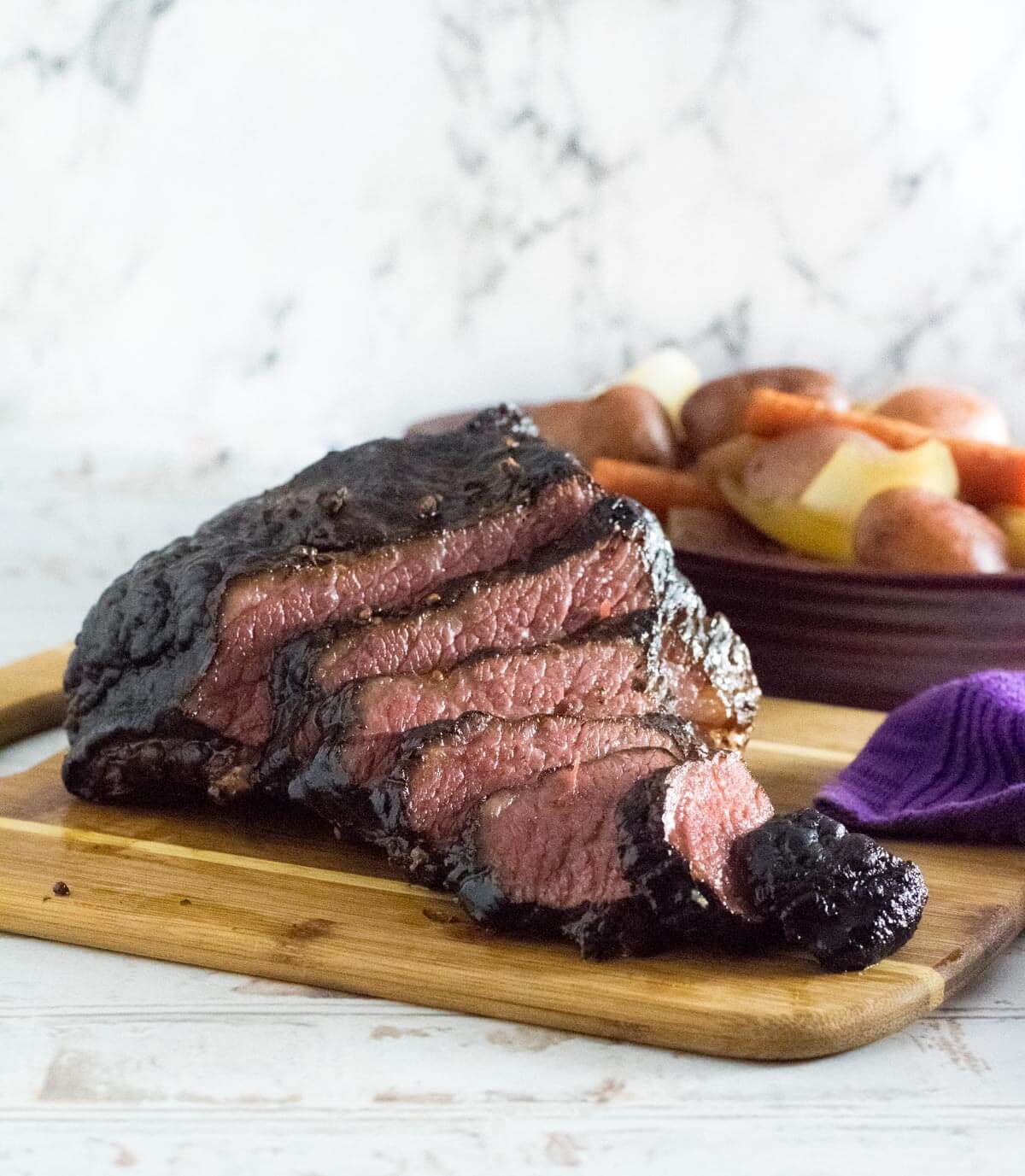 What is corned beef?
Corned beef is a brined beef brisket that is typically salt-cured and most commonly associated with Reuben sandwiches at Jewish delis and Irish Saint Patty Day celebrations. However, corned beef was actually more popular with Irish-American immigrants than it was with the Irish before reaching the new land, primarily due to affordability.
Corned beef can be purchased already brined and ready to cook, or patient home cooks can make their own homemade corned beef. However, the curing process can take almost two weeks. The brined brisket is typically boiled in liquid with pickling spices until tender. Then sliced and served with boiled vegetables such as cabbage, carrots, and potatoes.
Smoking corned beef
Smoking corned beef combines the wonderful tanginess of the brining process and the deep flavor of a properly smoked beef roast. The brisket is first smoked at a low temperature to saturate the meat with smoky flavor and then boiled in the smoker like traditional corned beef, until fork tender. The cooking process transforms one of the toughest cut of beef into incredibly tender slices. Not to mention, this creates one of the best smoky and tangy flavor combinations you'll ever try. I promise!
Ingredients You Will Need
Corned beef brisket - I recommend a flat-cut brisket. They have a more even shape and are less fatty.
Pickling spices - If you bought your corned beef from a grocery store it likely already comes with pickling spices. These typically include a mixture of seasonings such as coriander, mustard seed, black pepper, allspice, and more.
Wood chips - The nuances of the pickling spices can quickly be overwhelmed by strong smoke from hickory or mesquite, so I recommend using more lightly flavored fruit woods like cherry, or even pecan wood chunks.
Liquid - Boiling the meat in water is most common, but you can also add beef broth or beef stock for more flavor.
Vegetables - Adding vegetables such as potatoes, cabbage, onion, or carrots to the boiling liquid adds flavor and gives you an incredibly flavorful side dish!
How to smoke it
Preheat your smoker temperature to 275 degrees and add your wood chips. Your brisket should be rinsed to remove excess brine, patted dry with paper towels, and placed in the smoker with its fat side up. Let it cook until it reaches 165 degrees. This will take approximately four hours, depending on the thickness of the brisket. I recommend using an instant read thermometer to monitor the brisket as it smokes.
Once the thickest part of the meat reaches 165 degrees it has soaked in plenty of smoke flavor and it is ready to be boiled. Place the meat in an aluminum pan and fill it halfway up with water, along with a tablespoon of pickling spices. Then add chopped vegetables as well. Cover the deep foil pan with aluminum foil and place back in the smoker for another 3-4 hours. The total cook time will vary, so let the temperature be your guide.
The beef is done when the internal temperature reaches 190-205 degrees, however, it is best to judge it by its tenderness. You will know it is done when the meat is exceptionally tender when pierced with a fork. A fork should slide right into the meat with minimal resistance.
Prior to serving, you should let the meat rest for approximately 30 minutes. This allows the juices to redistribute inside the meat. Keep your pan covered while resting.
How to serve smoked corned beef
The easiest way to serve smoked corned beef brisket is to slice it and simply enjoy it with the boiled vegetables. However, transforming it into mouthwatering corned beef sandwiches is my favorite way to eat it.
Craft your own smoked Reuben by piling thin slices of smoked corned beef on rye bread, with sauerkraut, Swiss cheese, and Russian dressing. Then thank me later!
This can also be enjoyed for breakfast by creating a smoked corned beef hash with eggs, potatoes, and onion.
Can you do me a favor? If you enjoyed my post would you mind sharing it with your friends? You can see more of my recipes by liking me on Facebook and follow me on Pinterest too. Otherwise, stay up to date by getting each new post sent directly to your inbox by subscribing today.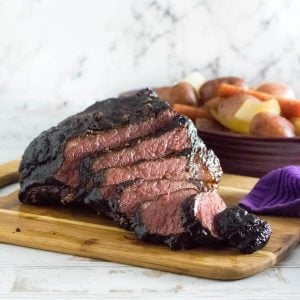 Smoked Corned Beef
Smoked corned beef takes the classic brined beef roast and slowly smokes it to impart a whole new level of flavor!
Print
Pin
Rate
Save
Saved
Ingredients
4-5

pound

corned beef brisket

uncooked

Fruit wood chips

water as needed

3

carrots

6

red potatoes

1

onion

¼

cabbage
Instructions
Preheat smoker to 275 degrees, add water to the smoker's water pan to help maintain a consistent temperature and add wood chips for smoking.

Most store-bought corned beef briskets will include pickling spices inside the packaging. Remove these spices and set them aside. Then rinse the brisket under cold water to remove any excess salt, and pat dry with a paper towel.

Set the beef brisket on the smoker rack with the fat cap facing up and let smoke for 3 to 4 hours, until the corned beef reaches 165 degrees.

Chop your vegetables and place them in an aluminum foil pan along with reserved pickling spices. Add the brisket along with enough water to fill half of the pan. Cover tightly with foil and return to the smoker for another 3 to 4 hours.

The smoked corned beef brisket is done with it is easily pierced with a fork with minimal resistance. The final meat temperature will be around 190-205 degrees.

Remove the corned beef from the smoker and let rest for 30 minutes while keeping it covered, then slice and serve with vegetables.
Notes
I recommend purchasing a flat cut corned beef brisket rather than the brisket point cut. Flat cuts are easier to slice due to having a more consistent thickness and are less fatty.
It is also best to let the brisket come to room temperature prior to smoking, but this is not required.
Use my homemade corned beef recipe if you wish to brine your own brisket rather than purchasing one from the grocery store.
Nutritional Information
Calories:
777
kcal
|
Carbohydrates:
41
g
|
Protein:
49
g
|
Fat:
45
g
|
Saturated Fat:
14
g
|
Cholesterol:
163
mg
|
Sodium:
3747
mg
|
Potassium:
2056
mg
|
Fiber:
6
g
|
Sugar:
6
g
|
Vitamin A:
5148
IU
|
Vitamin C:
117
mg
|
Calcium:
72
mg
|
Iron:
7
mg