The classic Cuban Sandwich is a staple at sandwich shops all across the country and can easily be prepared in your own kitchen.
You know what always makes me laugh? Neighborhood Watch signs. Sunday afternoon I stopped at my sister's house wearing camouflage and carrying an ax. When no one answered the door I let myself in while her neighbors went about their business without a concern. I think she needs to move to a more vigilant neighborhood.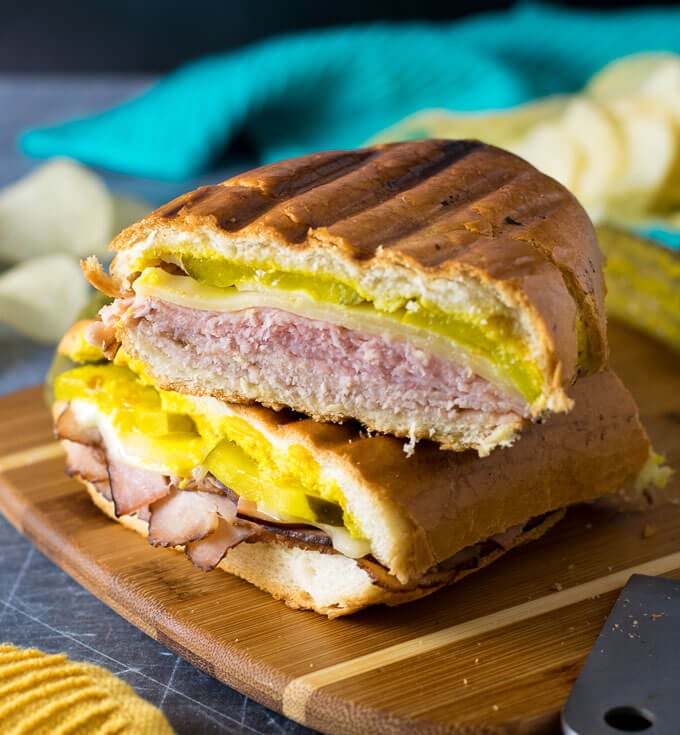 In case you were wondering why I would break into a house in full camo with an ax in hand, it was because I decided to return my brother in law's ax on my way out to go hunting. See, that is way less creepy, right? I spent the full day wandering around the woods working up a ferocious appetite for a hot and melty Cuban sandwich!
Cuban Sandwich Ingredients
The classic Cuban Sandwich has been a favorite of mine as long as I can remember. Loaded with savory roast pork, sweet ham, melted Swiss cheese, and tangy pickles and mustard, it is a phenomenal combination.
Making these in your own home is simple because you can buy all of the ingredients already made. Admittedly, many people recommend using traditional Cuban roasted pork, but any grocery store deli will sell traditional roast pork that works just as well for the average home cook.
Cuban Sandwich Bread
The thing that trips up the most people when making a Cuban sandwich, is the bread. Around most parts of the country getting your hands on Cuban bread is nearly impossible. You can substitute French or Italian bread instead. I like French bread as long as it is not mouth-cuttingly crusty. I have also seen people use hoagie buns with success.
How to Make a Cuban Sandwich
The secret to the best Cuban sandwiches is grilling them of course. The easiest way to do this is with a panini press, however, I don't own one and I suspect most of you don't either. Instead, you can use a traditional skillet and press the sandwich down with a heavy object such as a cast iron pan. Flattening the sandwich helps ensure it gets heated through.
What to serve with Cuban Sandwiches?
If you are looking for a side dish to serve with these phenomenal sandwiches, give any of these ideas a try:
The Classic Cuban Sandwich
The classic Cuban Sandwich is a staple at sandwich shops all across the country and can easily be prepared in your own kitchen.
Print
Pin
Rate
Save
Saved
Ingredients
1

loaf

Cuban bread

(can substitute French or Italian)

4

tablespoon

butter

1

lb

sliced ham

(Honey ham, or another sweet ham is best)

1

lb

sliced roast pork

(this can be purchased in the deli)

½

lb

sliced swiss cheese

8

slices

dill pickles

(or as needed to cover)

3

tablespoon

yellow mustard

(or as needed)
Instructions
Heat skillet on medium-low heat.

Slice the loaf in half lengthwise and cut into sections sufficient to make four sandwiches.

A

ssemble sandwiches by laying 3-4oz of ham, and 3-4oz of roast pork on bottom half of the bread. Cover meat with slices Swiss cheese and pickles and dress with mustard to taste.

Butter exterior of bread on both sides and place in the heated skillet. Add heavy pan on top to press the sandwich flat.

Heat approximately 8 minutes per side, or until cheese is melted and meat is heated. Adjust the heat as needed to ensure bread doesn't burn. If the pan is too hot the bread will burn before the meat is warmed.
Nutritional Information