These decadent Cheesy and Creamy Twice Baked Potatoes will transform your kitchen table into your new favorite steakhouse!
If twice baked potatoes are something you have only enjoyed in a steakhouse, it is time to craft them in your own kitchen. They really aren't difficult, it is simply a combination of making baked potatoes and creamy mashed potatoes.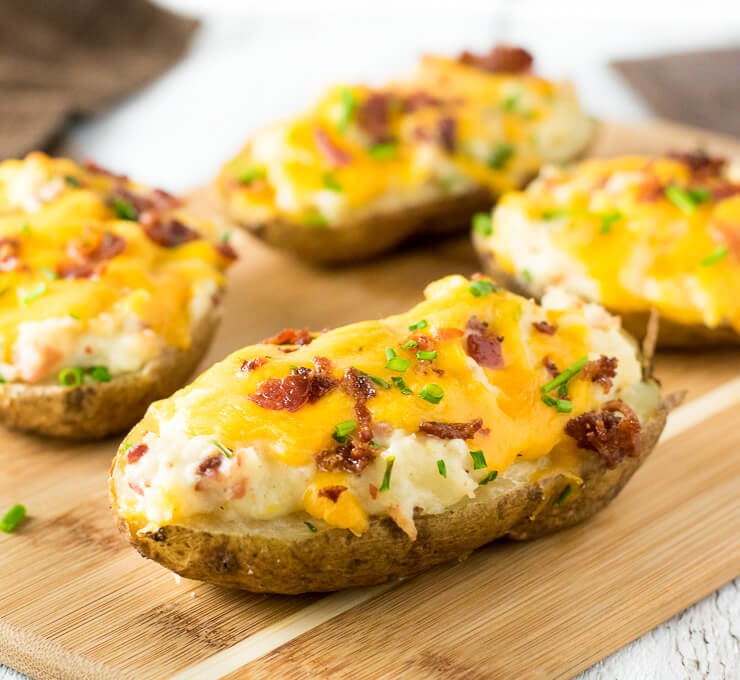 Twice Baked Potatoes
Twice baked potatoes is a decadent side dish popularly served with a fat and juicy grilled steak. Baked potato skins are loaded with a mixture of mashed potatoes, and flavorings such as bacon, cheese, sour cream, and chives.
How to Make Twice Baked Potatoes
To make twice baked potatoes begin by baking the potatoes until tender, then cut the potatoes in half lengthwise and scoop out the interior, leaving enough to allow the skin to retain its structure. The flesh is mashed and combined with the other flavorings and then loaded back into the potato skins. Top with cheese, chives, and remaining bacon and return to the oven a second time to melt the cheese and ensure everything is heated through.
Best Potato for Twice Baked Potatoes
Russet potatoes, also known as baking potatoes are the only logical choice for traditional twice baked potatoes. Russet potatoes bake up light and fluffy and the exterior skin bakes to a delectable crisp. Afterall, who doesn't love crispy baked potato skins?
Yukon gold and red potatoes are poor substitutions for this recipe because their waxy texture detracts from the texture of the mash, and the skin doesn't retain crispness well.
When Are Potatoes Done Baking?
The standard way of testing baked potatoes for doness is to pierce them with a knife or fork. If the untinsil slides in effortlessly they are probably done. However, did you know you can check the doneness of a baked potato with a digital thermometer? (affiliate link) Potatoes will be light and fluffy upon reaching an internal temperature of 210 degrees.
Tip: Whenever you are baking potatoes it is important to pierce them a few times with a fork. This allows steam to escape as the potato bakes, preventing the skin from bursting open.
Make-Ahead Twice Baked Potatoes
Twice baked potatoes are a great side dish to make in advance. Simply prepare the side dish as instructed, but instead of baking them one final time, place them in your refrigerator or freezer until you are ready to enjoy them.
To serve, cover them loosely in foil on a baking pan and bake at 350 degrees until reheated, approximately 20-25 minutes depending on size. If frozen, I recommend thawing them first, however, you can bake them from frozen as well (approximately 45 minutes), you just risk them drying out a bit more.
Print Recipe
Cheesy and Creamy Twice Baked Potatoes
These decadent Cheesy and Creamy Twice Baked Potatoes will transform your kitchen table into your new favorite steakhouse! Your family won't be able to get enough of this comforting side dish!
Ingredients
6

large baking potatoes

2

tablespoons

vegetable oil

12

slices

bacon

1 1/2

cups

shredded sharp Cheddar cheese,

divided

1

cup

sour cream

1/2

cup

milk

4

tablespoons

butter

3

tablespoons

chives,

divided

1

teaspoon

kosher salt,

(Plus more for salting the potato skins)

1/2

teaspoon

pepper
Instructions
Preheat oven to 375 degrees.

Lightly coat each potato with vegetable oil, sprinkle with salt, and pierce a few times with a fork.

Place potatoes in oven and let bake for 1 hour, or until potatoes are cooked completely through.

While potatoes are baking cook bacon in a skillet, drain fat, and crumble.

Remove potatoes from oven and let rest till cool enough to handle. Cut in half lengthwise and scoop out the interior, leaving just enough to prevent the potato skin from collapsing.

In large bowl combine potato flesh, 1/2 cup of cheese, sour cream, 2 tbsp chives, butter, salt, and pepper. Add crumbled bacon, reserving some crumbs for topping.

Mash potato mixture until smooth and slowly incorporate milk while mashing until you reach the desired texture. (Since potato size varies it is OK if you don't use the full 1/2 cup, or if you add a bit more)

Spoon potato mixture back into the potato skins then top with remaining cheese, chives, and crumbled bacon.

Place on a baking sheet and bake for an additional 15 minutes.

Remove from oven, let cool slightly and serve.
Loved this recipe?

Be sure to rate it and share you thoughts below!
*Calories listed are a vague estimate and accuracy should not be assumed.
This recipe was originally published on FoxValleyFoodie.com January 31, 2017.
If you enjoyed reading my recipe then you should probably like me on Facebook and follow me on Pinterest too. That's what I would do at least, because if you don't get to know me but you still use my recipe it is kind of like taking candy from a stranger, and your mom taught you not to do that. Don't disobey your mom, subscribe to Fox Valley Foodie today.