My Ultimate Philly Cheesesteak Grilled Cheese recipe has been sponsored by Martin's Famous Potato Rolls and Bread. All opinions are mine alone, as always.
This Ultimate Philly Cheesesteak Grilled Cheese is piled with layers of melted provolone cheese, thinly sliced steak, and sauteed onion and peppers on top of thick slices of buttery bread grilled to golden-brown perfection!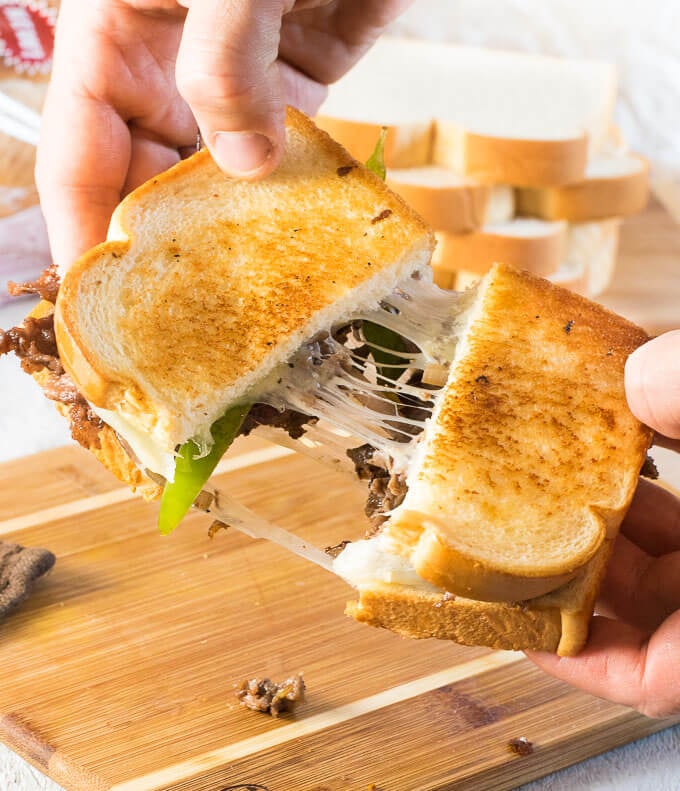 Is there anything better than a warm and melty grilled cheese sandwich? The classic version was practically a diet staple as a child growing up, however, as an adult, I've grown more creative in my creations. Combining the grilled cheese with other classic comforting flavors, like the Philly Cheesesteak, not only was a no-brainer, it is ridiculously delicious!
Sure, you could just slap some meat on your grilled cheese with some peppers and onions, and call it a day. But that wouldn't be the ultimate Philly Cheesesteak Grilled Cheese, now would it? To make the ultimate Philly Cheesesteak Grilled Cheese you need to perfect the details.
The most important consideration when making a gourmet grilled cheese sandwich is the bread. I highly recommend a Texas toast style, thickly sliced loaf, because it will soak up the flavor of the grilled cheese while adding body to the sandwich. No wimpy slices of bread people!! Martin's Old Fashioned Real Butter Bread is the best bread for grilled cheese, in my not so humble opinion. Made with real butter and cane sugar, Martin's Butter Bread has exceptional flavor on its own, and it really shines in this Philly Cheesesteak Grilled Cheese recipe.
If you have been a longtime reader of FoxValleyFoodie.com, you may already know Martin's Famous Potato Rolls and Bread is one of my favorite brands to write about (check out my Bacon Jam Burger & Baked Mississippi Roast Sandwiches). I am honestly in love with the exceptional flavor and texture of their breads, plus it feels great supporting a family owned business that showcases their values front and center in their mission statement. I highly recommend checking to see if Martin's bread is sold near you.
Grilled Cheese Bread Tip: I like to lightly toast my bread to firm it up before making a grilled cheese sandwich. The drier bread can better absorb the flavors of the grilled cheese without getting soggy or collapsing. I don't toast it enough to brown it, just to crisp the exterior.  
Once you have selected the perfect loaf of bread, you need to think about the Philly Cheesesteak meat. There are two options you can choose: You can purchase a ribeye steak, and slice it yourself, or you can buy it pre-sliced in your grocery store's frozen food section. If you decide to slice it yourself, like I did for this Philly Cheesesteak Omelette, I recommend partially freezing it. The firmer texture of the meat will make constructing paper thin slices far easier!
No gourmet grilled cheese would be complete without, well, CHEESE! You are looking for a mild flavored cheese for this Ultimate Philly Cheesesteak Grilled Cheese. Provolone is the best cheese for this, though if you are feeling adventurous feel free to use half provolone and half mild cheddar. Sorry Philadelphia purists, you can keep your processed cheese in a can. I'm from Wisconsin!
Finally, what temperature should you cook a grilled cheese sandwich? I recommend medium-low. It is hot enough to brown the buttered bread to form that mouthwatering crust, yet low enough to allow the cheese to melt before the bread burns. Stovetop temperatures can vary, so adjust your heat as needed.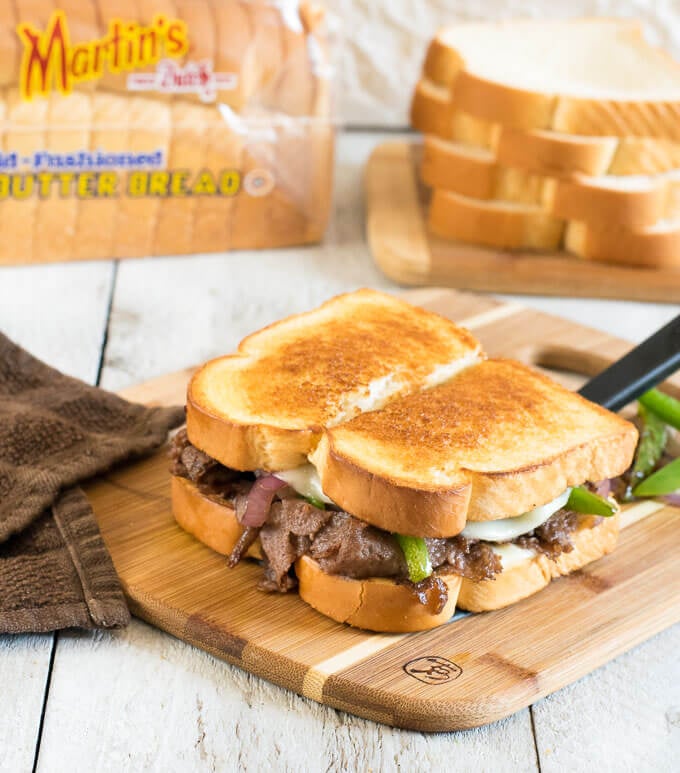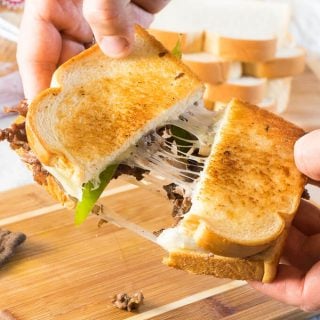 Ultimate Philly Cheesesteak Grilled Cheese
Layers of melted cheese, tender steak, and grilled peppers and onions are piled between two thick slices of bread painted with butter and grilled to golden brown. This is the ultimate Philly Cheesesteak Grilled Cheese!
Print
Pin
Rate
Save
Saved
Ingredients
12

slices

Bread

(Recommend Martin's Butter Bread)

7

tablespoon

butter,

divided

12

slices

provolone cheese

18

oz

very thinly sliced steak

(Ribeye is a great choice)

1

small

red onion,

sliced

1

green pepper,

sliced

salt and pepper
Instructions
Cook thinly sliced steak in skillet on medium-high until nicely browned and forming bits of char. Season with salt and pepper.

Melt one tablespoon of butter in a skillet and saute green peppers till beginning to soften, then saute onions. (These can be sauteed together, however green onions cook slower, so start them first)

While vegetables saute, lightly toast bread to firm it up. Toasted bread should still be pale in color.

Divide beef, onions, and peppers into 6 equal portions for 6 sandwiches.

Liberally butter one side of each slice of bread, place buttered side down, top bread with 1 slice of cheese, 1 serving of cooked steak, 1 serving of onion, and 1 serving of peppers. Then top with a second slice of cheese and cover with a second piece of bread, buttered side up.

Working in batches as needed, place sandwich in a clean skillet on medium-low heat and grill until bread is crispy and golden brown and cheese has melted. Adjust heat as needed.
Notes
Partially freeze steak to thinly slice it. Otherwise, pre-sliced steak can be found in the frozen food section of your grocery store.
This recipe can easily be adjusted for any family size. Plan on 3oz of steak per sandwich, 2 slices of bread, 2 slices of cheese, and 1 tablespoon of butter. 1 green pepper and onion will yield up to 6 sandwiches, so use as needed.
IF YOU LIKED THIS RECIPE you will love Bacon Jam Burger with Martin's Potato Rolls!
Nutritional Information
If you enjoyed reading my Ultimate Philly Cheesesteak Grilled Cheese recipe then you should probably like me on Facebook and follow me on Pinterest too. That's what I would do at least, because if you don't get to know me but you still use my recipe it is kind of like taking candy from a stranger, and your mom taught you not to do that. Don't disobey your mom, subscribe to Fox Valley Foodie today.